Our Colour and Trend Forecast at UK Construction Week
Our UK Design Manager talks on Future Vision Volume Two at UK Construction Week.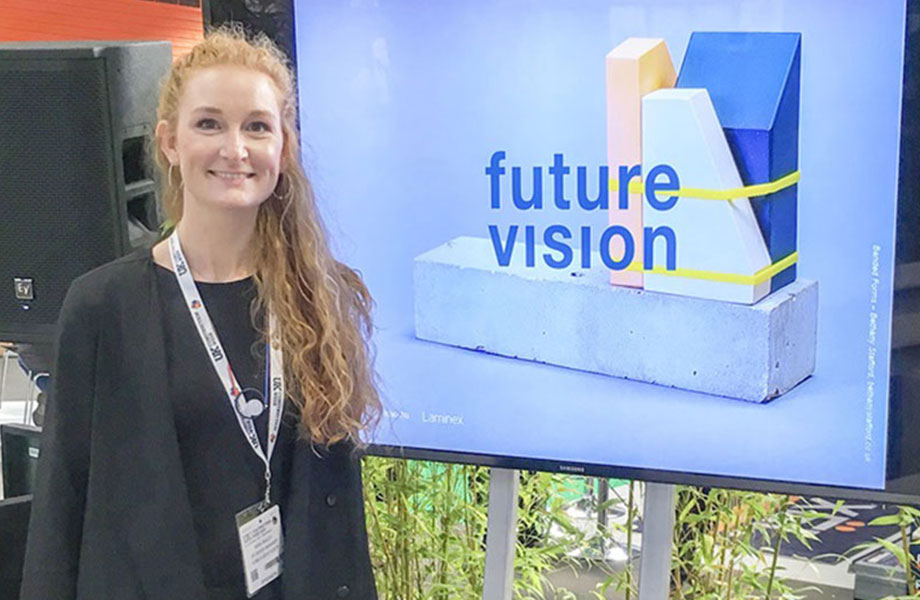 Nobody knows what the future holds but when it comes to design, tomorrow's trends don't so much come out of the blue as gradually filter in, at least to the more discerning eye.
Nina Bailey, our UK Design Manager, held a talk at UK Construction Week on the Future Vision Volume Two trend and colour forecast. Created by our global design team, Homapal and Laminex, the trend guide anticipates the design needs of architects, designers and end users for 2019, looking at the drivers behind the trends and early adopters. Nina began by outlining how the predictions can be split into three overarching themes, each accompanied by their own colour palette.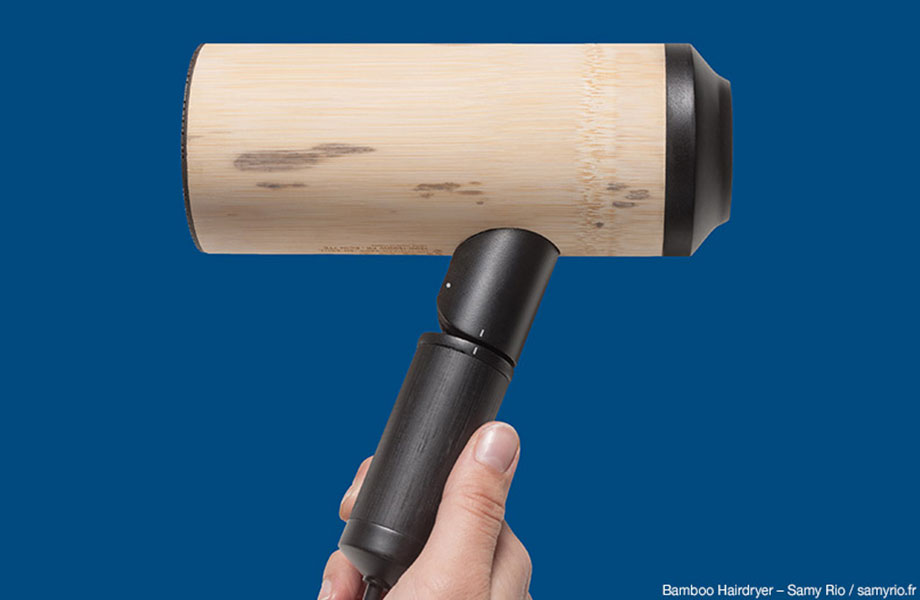 Engineered Design
The introduction to the first theme, Engineered Design, looked at how in an age of fake news, there's been a resurgence in the need for truth endorsed by sources we deem trustworthy. People search for truth, clarity, the organised and structured. In design we see this marked by a desire for real expertise and the return of the skilled maker. Providing an example, Nina cited Samy Rio's hairdryer that sees the introduction of bamboo into a day-to-day consumer appliance.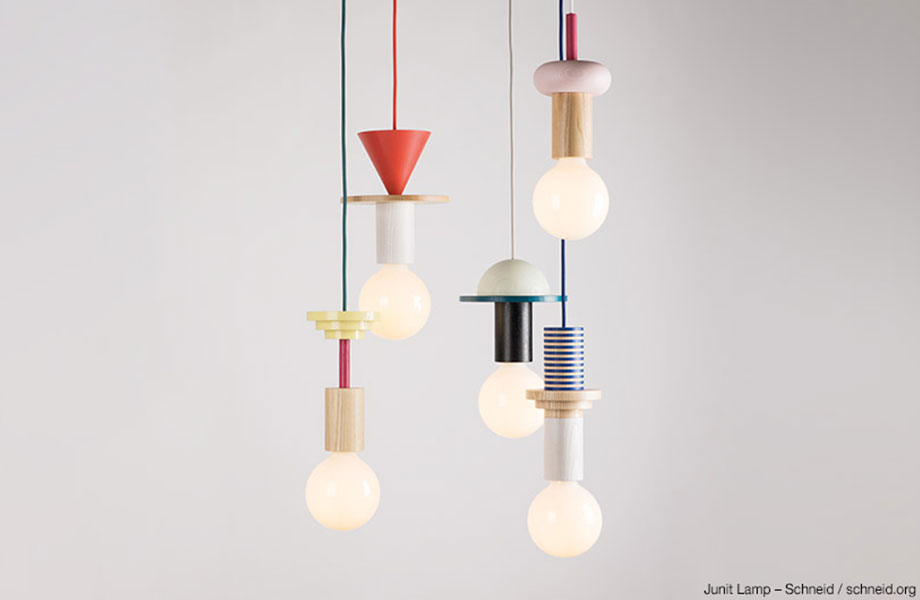 Turning her attention to colour, Nina explained how the palette for the Engineered Design theme is inspired by automation and a technical approach. All about synthetic on-screen shades, the likes of bright oranges and greens such as Energy and Electro Green work perfectly against the darker backdrops of Winter Sky and Blueprint.
No Boundaries
Nina then spoke about how the technological change driving the transition to a knowledge-based society isn't just gathering pace but also changing our attitudes to our lived environment. Being ever more aware of environmental problems, we've left our material desires behind to embrace a more experience-driven life.

With this renewed sense of connection to nature, Nina said, we seek extreme adventures and push the limits of what's possible. Design is increasingly inspired by outdoor activities and travel experiences, for example Ligne Roset's 'Backpack' sofa.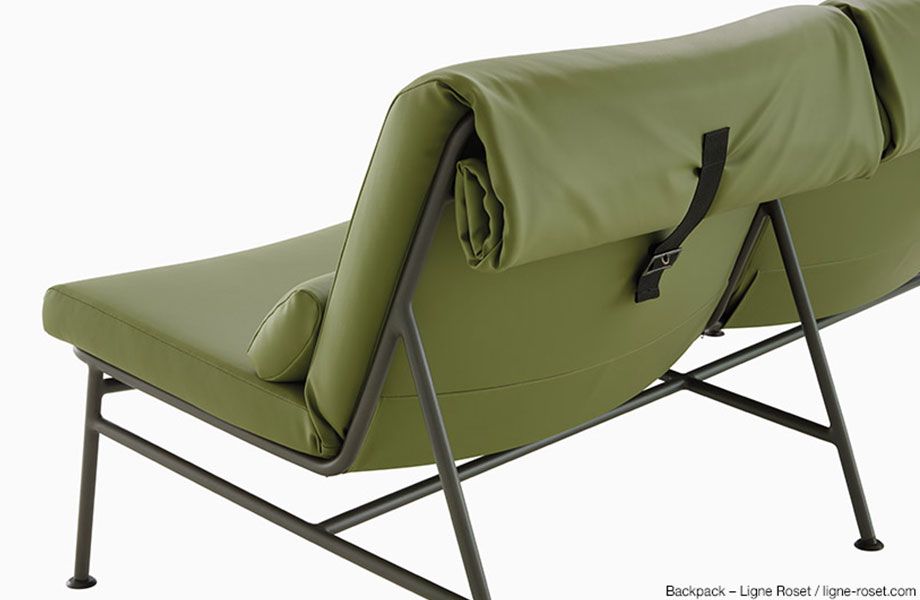 In the workplace this is seen in less traditional, less rigid work models and flexible co-working communities. We're embracing ideas that have a sense of purpose, such as materials made from waste, or turning everyday objects into something desirable, such as the 'Richman Dustpan' by Christopher Specce.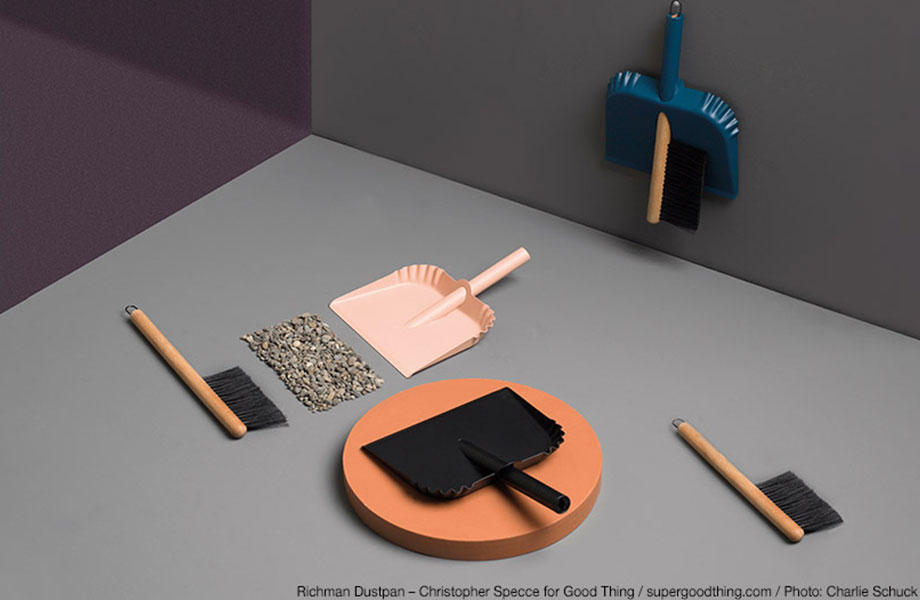 Fluidity
Last but not least, Nina explored the final theme, talking about how fluidity is a response to the complexity of the digital age, inspired by questions around what is real in our virtual world, about giving technology soul. Tech becomes more human, offering new and extended sensations. We blend technology with the senses and use sight, sound, touch and taste to create even more immersive environments in which we might be able to reach a more conscious state of being.

Nina described the Fluidity aesthetic as the meeting point of man and machine, both futuristic and ethereal. Interacting with our senses, the palette is otherworldly, with soft pastels, iridescent effects and soft gradients, even in materials such as wood where they've not been seen before. Surface finishes are tactile, but not afraid of a synthetic appearance created by light and reflection. Among the key hues for Fluidity are Lilac Cellophane, Purple Haze, Liquid Glass and Solar Orange.

The talk concluded with Nina fielding questions from the audience.

Order your free copy of Future Vision Volume Two today.