Wood with wood design: exploring the key trends behind our new additions
Nina Bailey, European Design Lead at Formica Group Europe, explains how new approaches and design themes have shaped the development of exciting woodgrains in the Formica® Collection.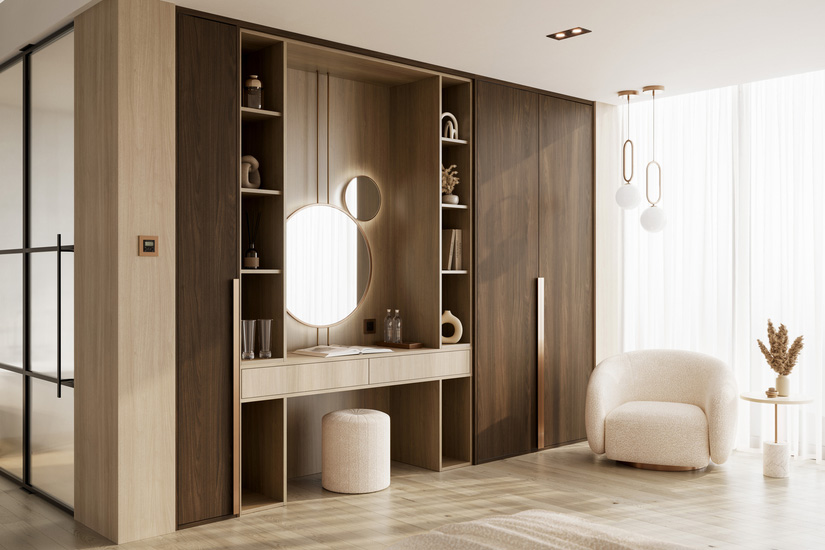 "We're seeing designers become much bolder with their choice of woods," says Nina. "They're becoming much more aware of how you can use wood grains… as a colour palette." She highlights three emerging themes in interior design that have been considered by Formica Group's design team.
1. Pairing different woods to create cosy and warm environments

Among the introductions are four new walnuts – Refined Walnut, Formal Walnut, Peruca Walnut and Cetina Walnut – that can come together to create beautiful hospitality environments. We have taken this theme of combining similar woodgrains in varying hues and have also added in a trio of new cedar woods, Blond Cedar, Mocha Cedar and Noir Cedar as well as continuing our Ash wood series, with the introduction of three new Ash tones, Dark Ash, Aged Ash and Pale Ash.
2. Local species and bringing the outside in

"As we come out of the pandemic," says Nina, "we're wanting to reflect what is naturally around us." That desire is fuelling demand in both rustic and minimal oak, ash, walnut and elm woods. The simple grains and muted tones of Fjord Elm and Sund Elm take on a refined wood look that is subtle and delicate, these are designed to mix well with Carpentry Oak, Evergreen Oak, Satin Oak and Quercus Beige. The Carpentry Oak and the Quercus Beige are more rustic woodgrains, complete with knot details and intricate saw cut marks.
3. Japanese-inspired light and dark design

"We're seeing people use really dark wood grains with equally light wood grains," says Nina. "We wanted to make sure our collection had a real versatility." Blond Cedar, Pale Ash and Tromso Maple are all beautiful products that combine well with almost-burned, black-looking woods.

Other trends highlighted by Nina include the ongoing popularity of grey woods (check out Belvedere Beech, Flute Oak and Ventura Oak) and an increasing demand for large-scale wood grains, such as the new Birchply woods, including Dark Sky Birchply, Green Slate Birchply, Raw Birchply, White Washed Birchply and Black Birchply.