Our top tips for wayfinding in hospitals
Do you know where you're going to?
Hospitals can leave you feeling bewildered in a maze of corridors, waiting rooms, offices, units and wards. The environment can be complex and disorientating for the average person, let alone for vulnerable patients, some of whom may be confused as to where they are.
It's frustrating getting lost, and even more so when emotions and stress levels are running high, which is not uncommon in hospitals. As a result, directions need to be communicated effectively, which is best achieved through good design.
Here are some of our tips for an effective healthcare wayfinding system:
Pictures paint a thousand words
Hospital phrases and titles are not always clear and to add to the confusion staff sometimes use different terms to what's labelled. Signs that provide direction using visuals can be understood by a much wider group. Using small images or symbols alongside words allows for clearer communication and can be more easily understood by visitors and patients regardless of language, age or ability.
At the Interregional Clinical Diagnostic Centre (ICDC) in Kazan, Russia project partner NAYADA, who specialise in workspace design, applied our Younique service to create bespoke navigational panels which help patients and visitors find their way around the centre.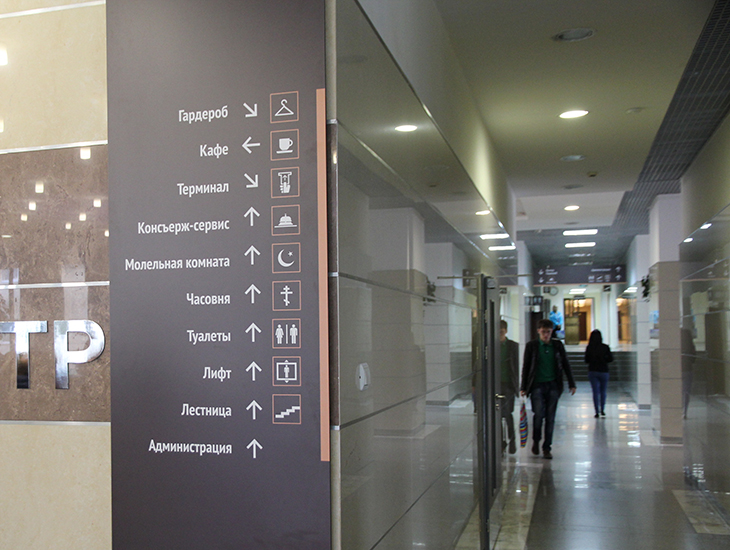 In the zone
Giving different units a distinct and unique look is a simple and practical wayfinding strategy that breaks away from the sterile atmosphere associated with most hospitals. At the NHS experience centre at Chorley & South Ribble Hospital, architects Frank Whittle Partnership focussed the design to aid with wayfinding. All rooms are colour coded: for example, a purple scheme leads the way to the ward area where timber-clad beds feature purple branding as a continuation of the theme.
Technically speaking
Effective use of technology can be used as another key wayfinding strategy in hospitals and GP practices. Interacting with various tools such as virtual maps and mobile phone apps can provide an aid that allows patients, visitors and staff to navigate efficiently.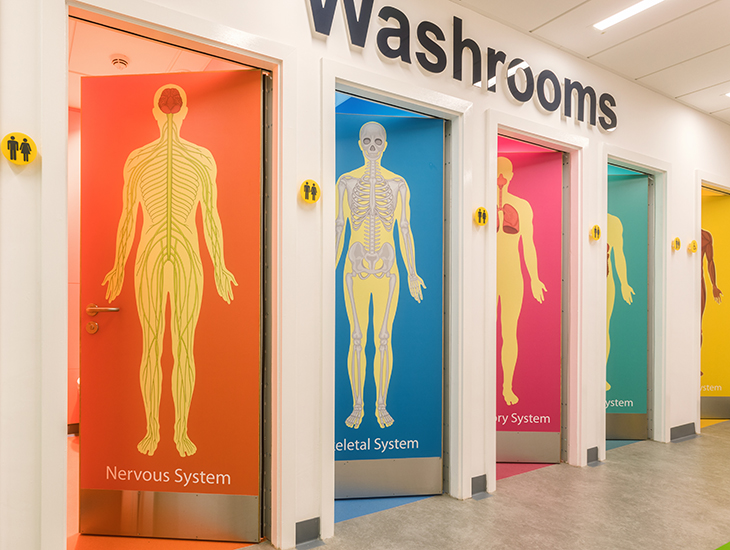 Picture this
Installing graphics on walls and doors can add visual impact to a design. These designs can be used by people to find their way around and to indicate important rooms. At Chorley & South Ribble Hospital our Younique® by Formica Group service was used to create a fun and visual design feature on the toilet doors. The bespoke images are not only memorable and aid in helping patients and visitors find their way around, they're educational too.