SurfaceSet® Retail Designs
Welcome to the SurfaceSet® 2020 collection from Formica Corporation.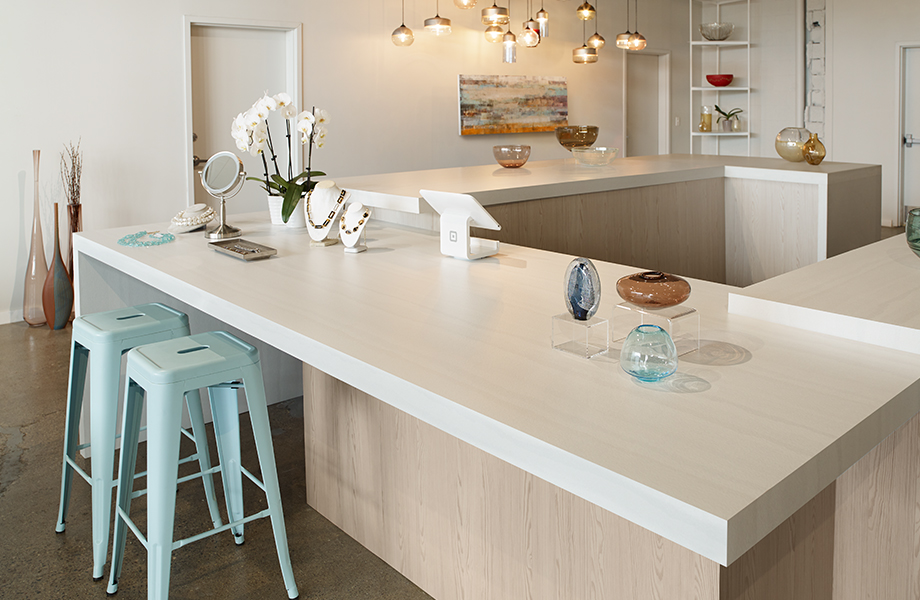 Note: This article was published prior to the Covid-19 pandemic, which has greatly impacted design best practices.
Sure to inspire new ideas in retail design, SurfaceSet® 2020 includes 30 new Formica® Laminate colors, patterns and woodgrain designs, and one new finish.
Creating an Inviting Environment for Shoppers
The challenge for retail designers is to create an inviting space that reinforces the client's brand, displays products effectively and allows for cost-effective updates over time. Material choices such as Formica® Laminate and Everform™ Solid Surface address these needs with products that are beautiful, stylish, and easy to install and update.


Retail Trends From Experts in the Field
Holley Bakich holds several titles at Milwaukee-based Retailworks, Inc.: Interior Designer, Project Manager and Graphic Designer. She is known to coworkers and clients as someone who likes to include something memorable and fun in all her designs. "We need to give people an experience. You can buy things online, but when you walk into a store, you want something else—little elements of delight," she said. "People want to be surprised and find things in stores they can't get from a computer."

Sarah Chappell is an Interior Designer with Urban Design Group Architects Ltd. in Vancouver, British Columbia. As a designer in an architectural office, she thinks not only about décor, but also about building code, planning, functionality, millwork design, wall finishes, CAD drawings and finishing touches that go along with it. "Most retailers have a defined brand, and the store should be recognized easily by their prototype, brand colors and finishes, both inside and out. If the space is a one-off, these elements need to convey what the store is about—its ethos and its product," Chappell said. She added that some retailers might want customers to feel comfortable and cozy, while others wish to convey a bright and fresh vibe.

"There's definitely a design trend of making people feel at home, not just in hotels and other spaces, but also in retail," Bakich said. "Right now, there is particular interest in vintage design. For young designers, it's all new to them." Likewise, younger customers experience 'retail stories' in entirely new ways. "Today's retail designs should create spaces that have them wanting to take a selfie. They'll share on social media, promoting the store for the retailer," she added. "Millennials want authenticity and ethically produced, locally sourced items, and the design has to reinforce this."

When it comes to laminates, both Chappell and Bakich use them frequently in their designs. "Laminates expand our creativity," Chappell said. "Formica [Corporation] has changed laminates overnight. They have a very strong design orientation," she said, citing the newer faux stones available in large-scale, true-to-life patterns. Bakich added, "Laminate is very effective for flat walls with slots where shelves or other display accessories hook in (called slatwall). "It's a flexible way to display merchandise," she said. "With Formica® Laminate you can achieve an upscale look that goes with the retailer's branding."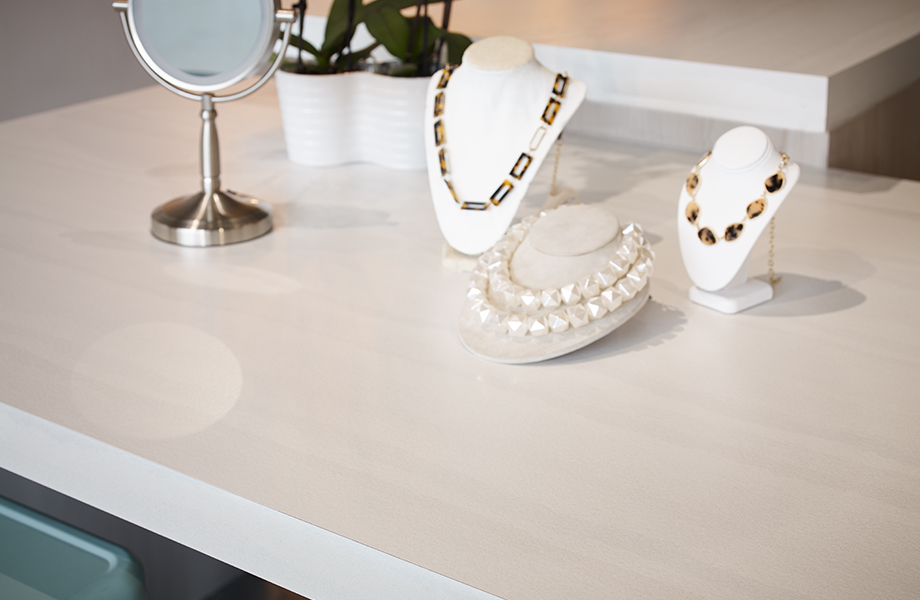 Creating a Memorable Retail Experience With Formica® Laminates
To keep retail environments crisp, clean and inviting, retailers need durable, eye-catching surfaces that highlight their merchandise and reinforce their brand.

Durability:
"These surfaces take a lot of wear and tear, and we need to be particular about how and where something will be used, especially on a countertop," Chappell said. She noted that laminate is often used for bulkheads and counters, and is key in details for ceiling features such as lighting boxes.

Ease of Maintenance:
Bakich said retail surfacing needs to be easy to clean and maintain over time. "It's harder now to scratch laminates, and they're a lot less maintenance than real wood," she said.

Color:
When it comes to color, Bakich said she has seen "a lot of purple in showrooms lately!" Chappell is a big fan of French and navy blues, as well as dark teal. She also uses red and orange to make things pop. "It really depends on the client and whether they need a specific color to be used for their brand or logo," Chappell said.

Unique Finishes:
"We went to NeoCon to get an idea of design trends, and there was so much gold, especially rose gold," Bakich said. "It's being used in a fresher way now, alongside light colors and natural materials." Chappell agreed, observing that metallics have moved from silver and chrome through to copper and toward gold. "Rose gold is showing up in millwork for checkouts and cabinetry, in shelving, and also for hardware and finishing edges," she said. "Leather also works anywhere along with the woods and metals."

Woodgrains:
Chappell said a lot of retail design is moving toward an eclectic, warm, West Coast look with reclaimed wood planks in different colors. "We're seeing less formal, refined woods in modern spaces," she said.

Cost Control:
Displaying merchandise with custom cabinetry from solid wood can be expensive, especially if it's a large area, Bakich said. "Laminates look so convincingly like wood these days that they make for a great substitute for the more costly alternative," she added.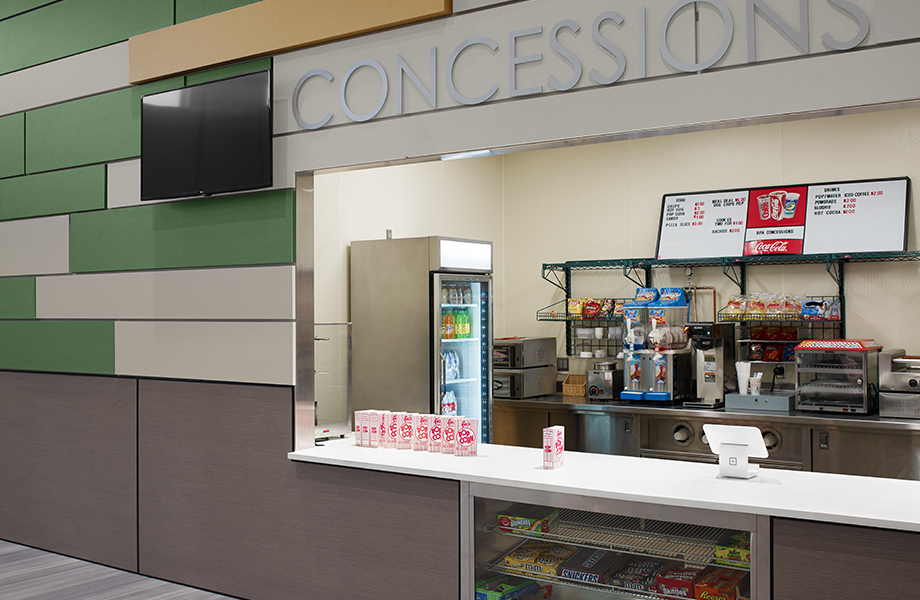 Delivering the Unexpected in Retail With Formica® Brand Laminates
Retail spaces represent a wide range of different environments, from grocery and clothing stores to spas, art galleries, eateries and more. You can be sure that the inspiring colors and textures of Formica® Brand products can help you bring style and functionality to countertops, casework, wall panels, cabinets, furniture, permanent seating, and much more.

Everform™ Solid Surface:
Shape surfaces into any seamless design concept to achieve an upscale look and feel across a thoughtful color palette. Not only do these versatile surfaces provide a beautiful backdrop to a retailer's brand, but their non-porous structure means they are also hygienic and water resistant.

DecoMetal® Metal Laminates:
Add sophistication and style with interesting metallic textures and rich colors for feature walls, fixtures, furniture and displays.

ColorCore2® Laminates:
Convey elegance with Formica® laminates where the color goes all the way through, eliminating edge seams to keep the focus on the product display.

Formica Envision™ Custom Laminate:
Add visual drama and reinforce your client's unique brand by creating a 100% customizable work of art on any horizontal or vertical surface.

Formica® Compact Structural Laminate:
This versatile, practical and eye-catching laminate is a structural, two-sided decorative panel ideal for interior applications such as wall panels, restroom partitions, cabinets or furniture.

Formica® Markerboard:
Give customers the chance to express their personalities and interact with the retail brand using high-gloss dry-erase surfaces across a range of colors.