If you can imagine it, we can make it.
Introducing Formica Envision™ Custom Laminate, a completely unique surface. Whatever your application, you create your very own look. Make your mark. Build your brand. Stand out... any way you like.
Imagine the possibilities of creating a surface that's all your own: Design your unique surface art on our high-performance laminate using your design, photography, logo, illustration or painting. If you can imagine it, we can make it.
Any questions? Call us at 1-800-786-3286 or email us at [email protected]

How To Start A Project
Step 1:
Start a Formica Envision™ project by contacting your local Formica® Sales Representative, or call Formica Corporation at 1-800-786-3286.

Step 2:
Submit fullsize artwork. Please refer to the Formica Envision™ Artwork Guidelines.

Step 3:
Send in your lab sample approval form and place your order through your local Formica® Distributor.
Formica Envision™ Artwork Guidelines
File Types
In order of preference we accept PDF, EPS, TIFF, JPG, and PSD files. Embed fonts or convert to outlines before saving. We can accept native files from Adobe CSS or MS Office software but prefer you export it to a PDF to ensure the integrity of your layout. We recommend using PDF/X-3 format when possible. If unable to make a PDF be sure to "package" your file for an outside printer with all fonts and linked images.
Resolution
Pixel based – 200-300 DPI is best for most applications. Larger resolutions just make the file larger and take more processing time without adding visual quality. Submitting files with a lower resolution than 100 can make the image look pixilated and blurry especially if the file needs to be enlarged. Files that need to be enlarged more than 200% should be at least twice the resolution (200 DPI+) to help ensure the quality of the final print.
Vector Based – If you're submitting images that are vector based, resolution will not be affected by scaling and the file data size is typically small in comparison to pixel based images.
Color
When possible please prepare files in the CMYK color space. Files submitted using Spot/PMS colors that don't have a color profile embedded will be converted to CMYK for printing. We will attempt to match the intended color as close as possible, but there could be a slight color shift in the finished product.
File Size (Bleed)
Pixel based – 200-300 DPI is best. Most projects can be built using a minimum of .5" bleed on all sides of image area. Image must be submitted at full size (meaning the size it will be printed on the laminate sheet). Final image area must be indicated using crop lines.
Safety Zone
Do not place any critical images or text beyond the safety zone, which is at least 1/8" from the final trim size, in order to avoid it getting cut off when the finished piece is trimmed.
Borders
If your graphic files contain a border, the border must have a minimum 1" from all surrounding edges. If you leave less than 1", your finished product may result in the appearance of unequal borders from top to bottom and from side to side. This is due to the final cutting process in which some "draw" or "slippage" might occur. Ideally, you want to create the border with 1" from all surrounding edges.
Typographical/Grammar Errors
Make sure you have proofread your artwork to ensure the spelling and grammar is correct. We will not be held responsible for typographical or grammar errors.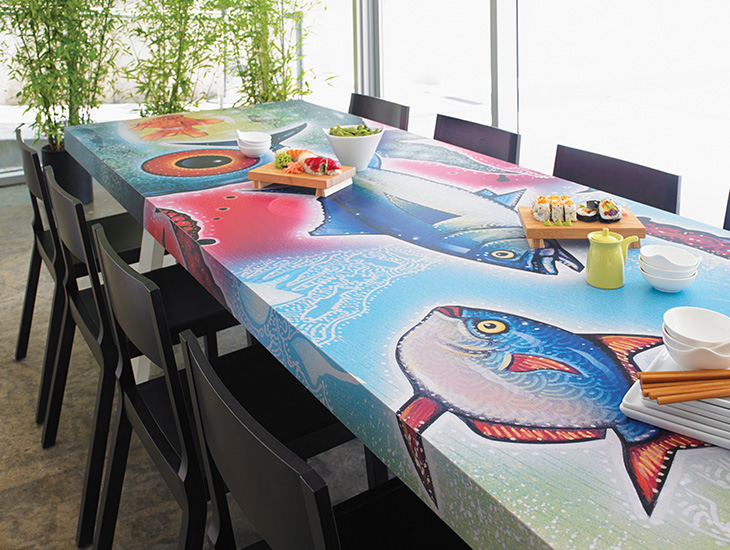 Sushi X Restaurant
Envision customizable laminate transforms into a captivating sushi table.
Read more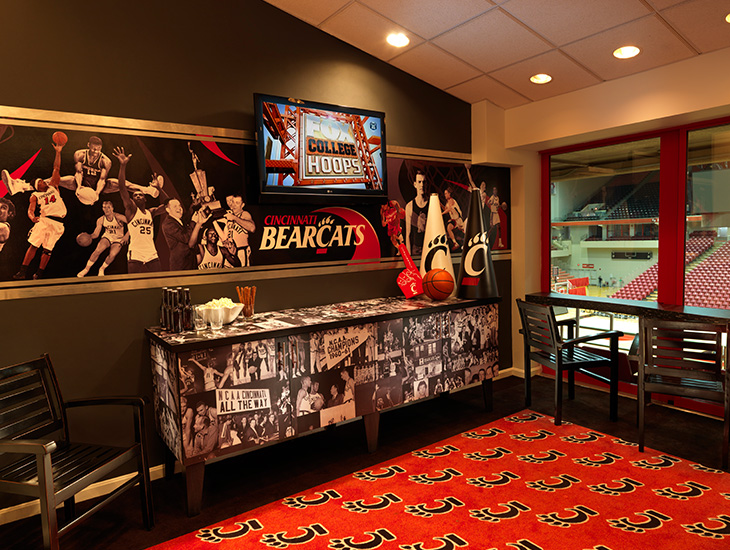 University of Cincinnati
The corporate suite near center court of the University of Cincinnati's basketball stadium is featuring Formica Envision™
Read more
Formica Envision™ FAQs
What is the minimum order quantity on Formica Envision™?
The minimum order quantity for Formica Envision is 1 sheet.
What thicknesses and sizes is Formica Envision™ available in?
Formica Envision™ is available in standard laminate Grades D5 (HGS) and D4 (VGS) in these sizes: 3'x8', 4'x8', 4'x10', 5'x10', and 5'x12. It is also available in Formica® Compact Grades S6 (.5") and S7 (.75") in 4'x8' size only.
Can Formica Envision™ form?
No. Formica Envision™ sheets are non-forming.
What finishes are available?
Formica Envision™ is offered in Matte (58) finish 3'x8', 4'x8', 4'x10', 5'x10', 5'x12', and in Gloss (90) finish in 4'x8' ONLY.
What is the lead time for a Formica Envision™ lab sample?
Once the artwork is received, you will receive a sample within 7 business days.
What is the production lead time for Formica Envision™?
Once the production order is received by Formica customer service, lead time is 4-6 weeks. It's important to note the lead time does not begin until the sample is approved and the production order is sent to Formica from a Formica Distributor.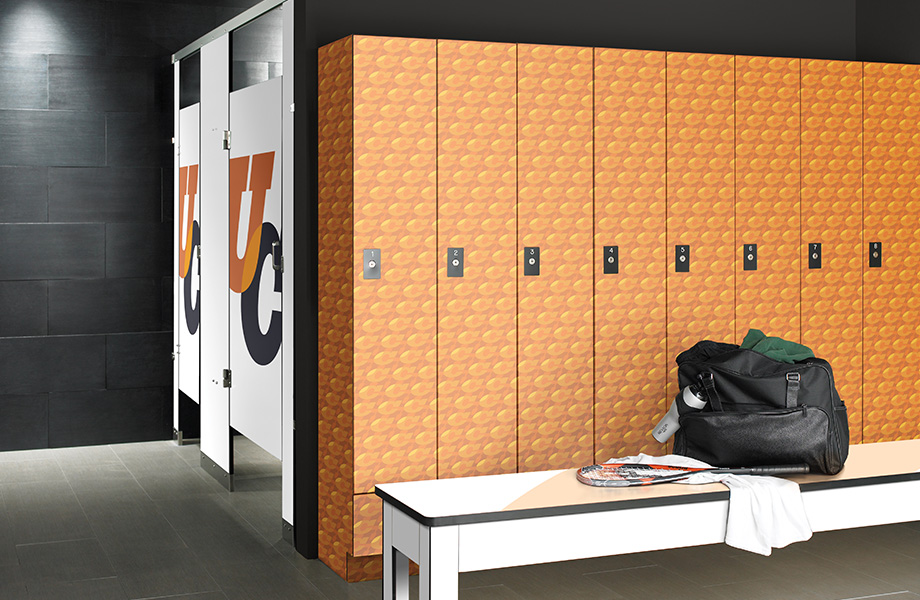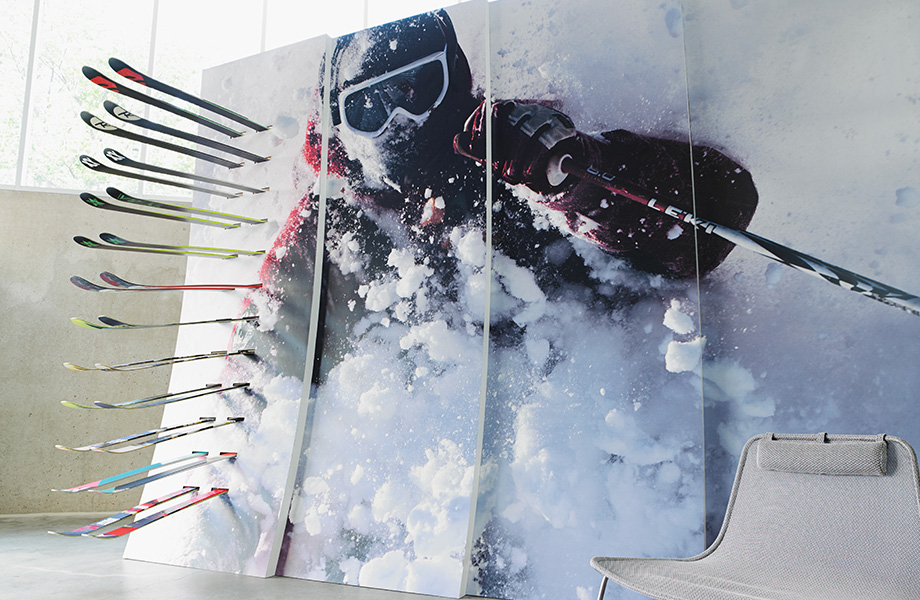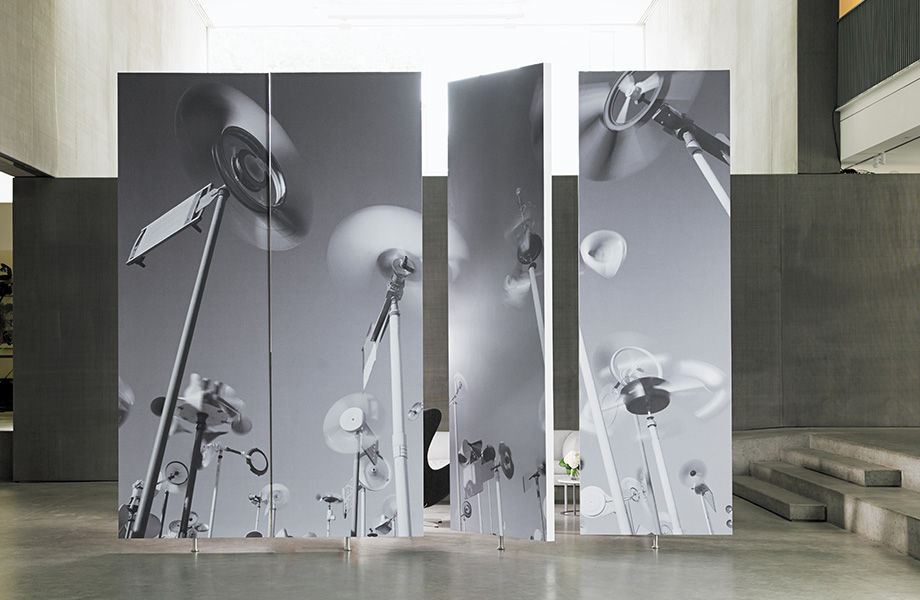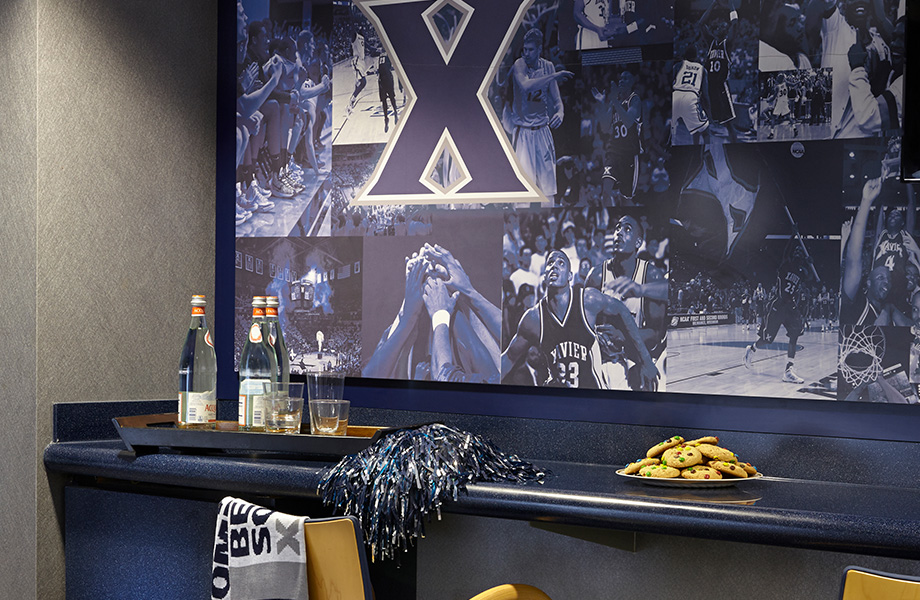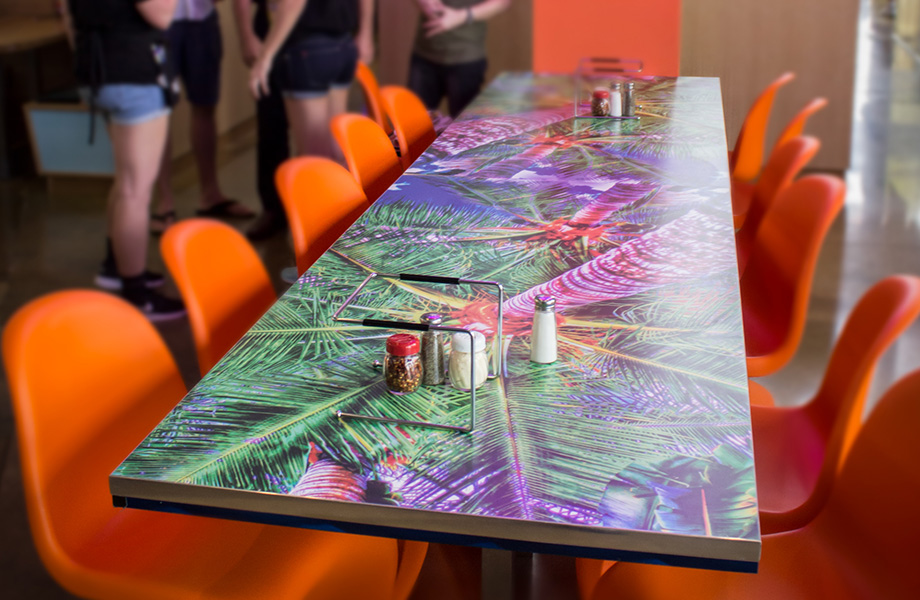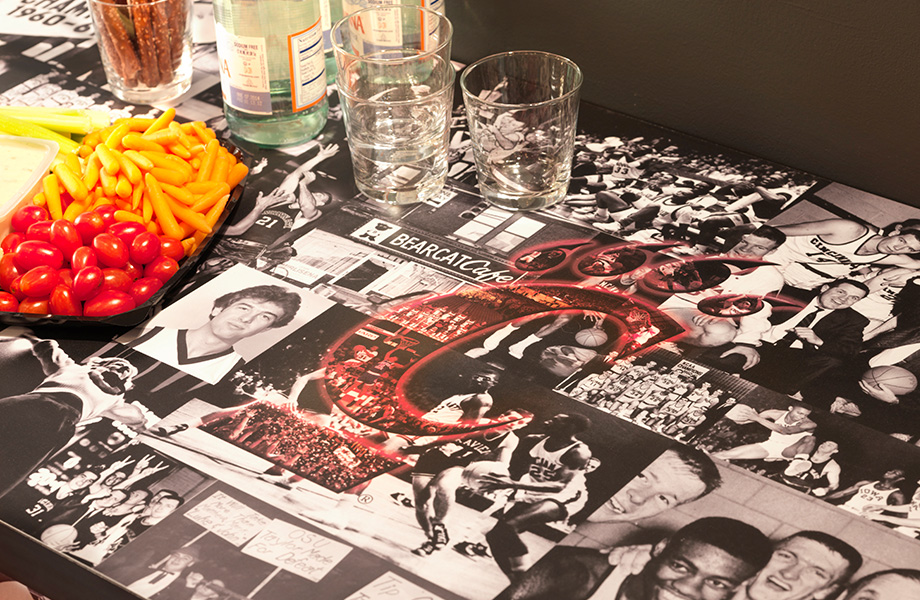 Resources