Creating interest using pattern and colour in the home
Creating interest using pattern and colour in the home
After a decade of grey muted tones and minimalist decors dominating our homes, we are now seeing a trend for more colour and pattern in residential design.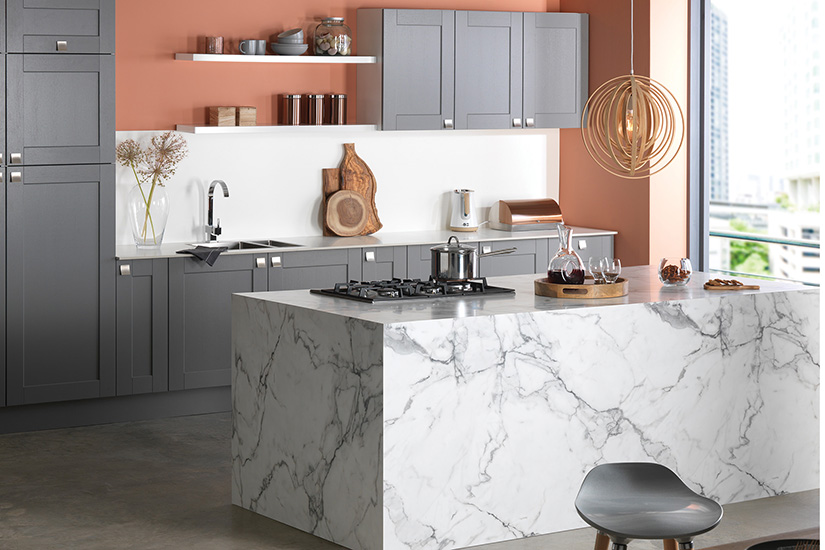 Whilst grey remains popular as a base colour, our homes are being transformed through the careful application of colour, pattern, and texture.

Mixing different palettes and surfaces to produce a cohesive and sophisticated space can be quite a tricky look to pull off without feeling like you've gone into overload. Over the last couple of years, many homeowners have dipped their toe in the water by experimenting with bolder colours and textures in the safety of the downstairs cloakroom.

For those that felt that their cloakroom transformations were relatively successful, it has given them the confidence to become more adventurous in higher traffic areas within the home.

We are seeing kitchen areas being transformed into more playful spaces, combining different colours and textures, blurring the invisible dividing line between the preparation, eating and social areas as the kitchen space becomes an integral part of our living area - without losing the all-important functionality and practicality that a kitchen needs to provide.

Applying carefully considered blocks of colour over large surface areas avoids producing an overly busy or incohesive look, instead resulting in a sleek, and sophisticated space with clearly defied purpose and flow.

Nina Bailey Formica Group UK Design Manager "We believe that homeowners want to add their own personality and style to their homes; making them different and unique. Using pattern and colour is a great way to achieve something a little different and more personal without having to be bold and extreme. The Formica® Worktop ranges offer patterns of soft, yet large scale looks, such as the Aria® Calacatta Marble. The organic yet manmade nature of the patterns creates a calming space with something abstract and different from the everyday surfaces. If a bolder look with some richer pigmented colour is what you are after, then our feature splashback ranges give you the option to add brighter hues as well as dusty tonal shades."

With a choice of three curated collections, Formica® Worktops offer a wide choice of styles and finishes, including realistic stones, marble or woods, abstracts, concretes and solid colours enabling you to freshen up your kitchen to create the bold, stylish look and feel you desire.

To find the perfect worktop for your kitchen makeover you can view the full collection here.