A functional and stylish upgrade for plywood interiors
A functional and stylish upgrade for plywood interiors
The innovative use of plywood has taken scandi minimalism to the extreme in recent years with this humble material being used to create a big impact.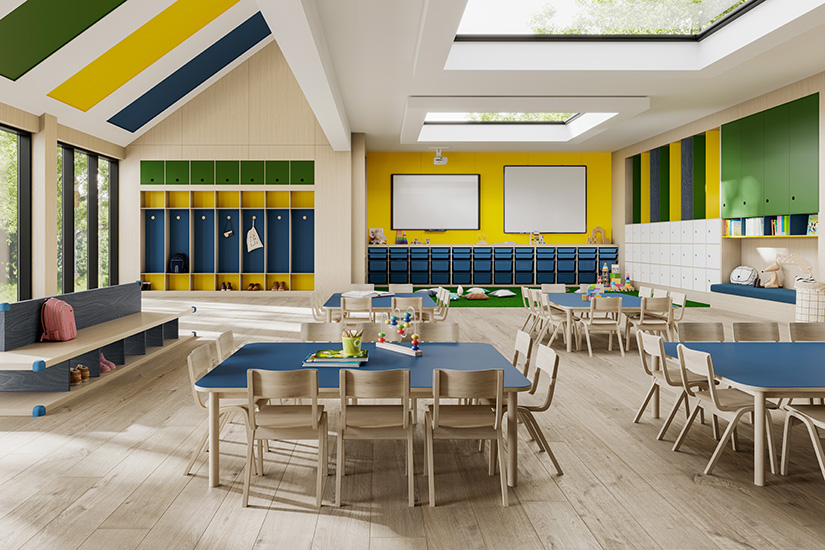 Using the material on scale has seen designers using it as wall panelling, furniture and more specifically for hidden storage solutions. Being known for marking easily, plywood has its limitations when being used in high traffic areas. The outcry for a material that offers the look of plywood but with durability traits fit for commercial use has been huge and in response Formica Group have engineered a 'Birchply' design that reflects wood trends and textures seen in birch plywood.

Taking inspiration from the manmade construction material, 'Birchply' is a large-scale architectural decor that's perfect for a range of different interiors. Referencing wooden Scandinavian design, architects are more often using exposed woodgrains in projects, combining nature and colour.

Formica Group's extraordinary new range of Birchply decors features a rotary cut veneer layout, with five different colourways making the pattern unique and special among high-pressure laminates (HPL).

"This is a brand-new woodgrain for us," says Nina Bailey, European Design Lead for Formica Group. "We've never done anything on this scale or Birchply effect, and we're thrilled with the final designs.

"The Birchply collection responds to the light-and-dark trend that we're seeing so often across all elements of commercial design. I'd expect it to be particularly popular in retail and office spaces."

The five new Birchply decors are:
Nina adds: "Because this is a new woodgrain for Formica Group, we wanted to do something especially exciting. By running pigmented colours through the wood, we've got two striking decors, in Dark Sky Birchply and Green Slate Birchply, which will catch the eye in any environment.

"The other advantage, of course, is the performance of HPL. Birch plywood is a material we keep seeing being used and while the natural material is quite affordable, it's not going to be as durable and hygienic as laminate. We wanted to respond to the Birch plywood trend but offer it in a more hardwearing material. This will be a compelling proposition to lots of designers and architects as they assemble their next projects."

View the updated Formica® Woods Collection today.