Laminate countertops love undermount sinks
Given that our expertise is decorative surfaces we reached out to an expert in undermount sinks Mark Webster of Karran USA to address the most pressing questions about installing undermount sinks in laminate countertops.
Why would a homeowner or designer choose an undermount sink over a top mount sink?

Undermount sinks are preferred from aesthetic, hygienic and practical points of view.

Aesthetics

Undermounts appear sleeker and more streamlined when installed underneath instead of on top. Most top mount sinks have a fairly thick rim (more than ½") that is obtrusive. Undermounts look like a more premium offering.

Hygiene

Top mount sinks are sealed to the countertop with silicone, creating a bead that's tough to keep clean. With all the moisture around the sink area, this bead can promote bacteria growth and the eventual degradation of the actual silicone.

Practical

Isn't it nice to mop all that water on your kitchen countertop directly into the sink? You can only do this with an undermount. Also, it's easier to wipe food prep remains directly into the sink when unhindered by a thick, top-mount sink rim.

"Isn't it nice to mop all that water on your kitchen countertop directly into the sink? You can only do this with an undermount."
What undermount sink materials can be paired with laminate countertops? What sink models are available?

To be undermounted to high pressure laminate, a sink must have an approximately 1" wide rim that is made from a resin, has been machined completely flat and meets the bowl wall at a sharp 90-degree angle. Our Karran acrylic sinks meet these specs, but so do a few other acrylic solid surface sinks on the market.

Most stainless steel sinks don't meet this rim spec because they have steel rolled rims – except for Karran's Edge sinks. Our patented sinks are made of stainless steel, but feature a modified resin rim that fits the specs outlined above and allows them to be seamlessly undermounted in high pressure laminate.

As for model designs, the sky is the limit, apart from one caveat: double bowl sinks must have a lowered bowl divider. This allows for router bit movement between bowls during installation.


How does Karran ensure no moisture issues arise when pairing laminate countertops with undermount sinks?

We use a solid surface seam adhesive to bond the 1.25" wide rim directly to the back of the high pressure laminate. This methylmethacrylate, two-part, permanent set epoxy has been used for 10 years, and we have never had a seam failure. It is impossible for water to get through the seam in any way.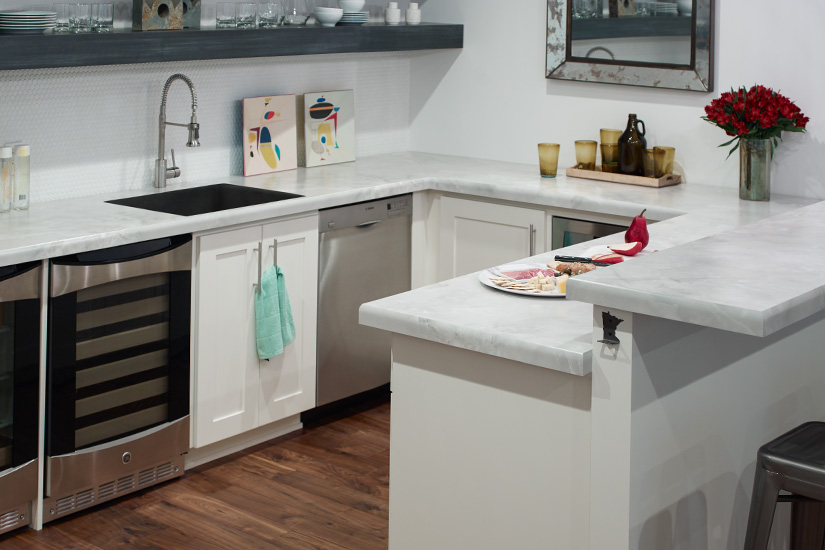 How do you care for a laminate countertop with an undermount sink?

There are no special care requirements for undermount sinks in laminate countertops. Clean the laminate as specified by the laminate manufacturer; the same goes for the sink. Just because it is undermounted, it doesn't mean that either component requires more careful maintenance.

Can a DIYer install your sinks with a laminate countertop or is it a professional job?

This is most definitely a professional job. Not that it is difficult, but because it requires specialized tooling that a DIYer does not have, but a countertop shop would.

How does a homeowner or designer purchase a Karran sink?

To purchase, VISIT KARRAN'S SITE, click on Where to Buy, then enter your ZIP code, and you'll be provided with a list of local dealers and fabricators. Or visit The Home Depot; they sell our sinks.

Karran's site provides more information about their products, plus a photo gallery of their work. They've also posted an informative video that demonstrates just how they install their undermount sinks in laminate countertops.