Adaptable Design and Design for the unknown
Adaptable Design and Design for the unknown
Across the commercial landscape every sector has successfully risen to the evolving challenges that the current situation has presented. Making temporary changes to allow the economy to reopen and create safe environments for colleagues and customers alike. As we look towards the future and anticipate the shifting needs within commercial environments, we delve into what adaptable design means for the changing world.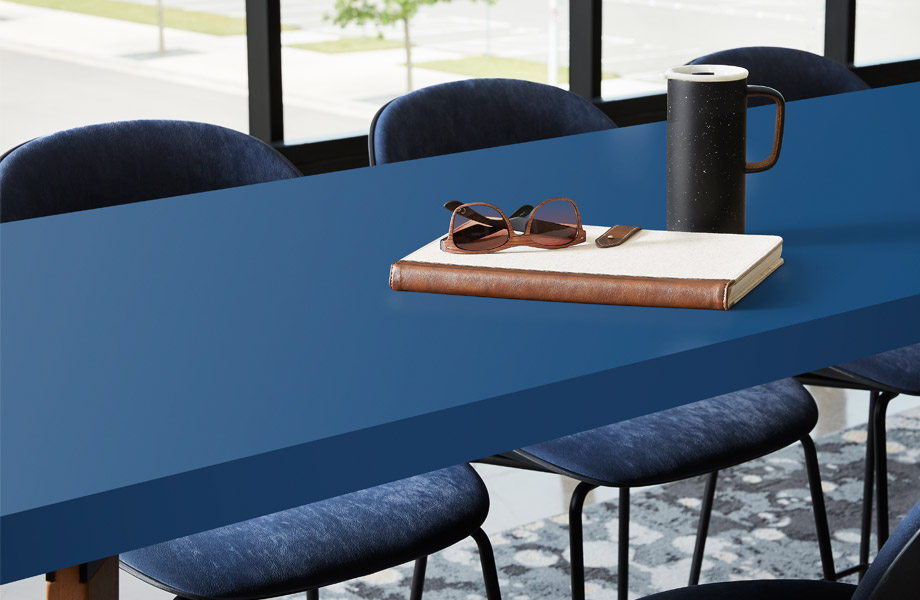 Earlier in the year our design team discussed Pantone's colour of the year and dubbed their choice of 'Classic Blue' as being timeless rather than an 'on-trend' colour. Looking back Nina Bailey, our Design Manager comments "The colour has been extremely accurate for the unusual year we've had, it links us back to the classic and encourages us to think about what really matters in life." As a society we've found a new passion for a more down to earth and humble lifestyle, which here at Formica Group has lead us to think about the relevance of design trends as we know them.
When examining the idea of 'trends' they are usually positioned in a way that implies being inspired or motivated by something. This year has seen designers being forced to live and move in a very different way, rather than looking for specific trends, a movement towards enhancing a space and working with what we have has been prevalent. In the absence of typical design trends, we've been inspired by themes within commercial spaces…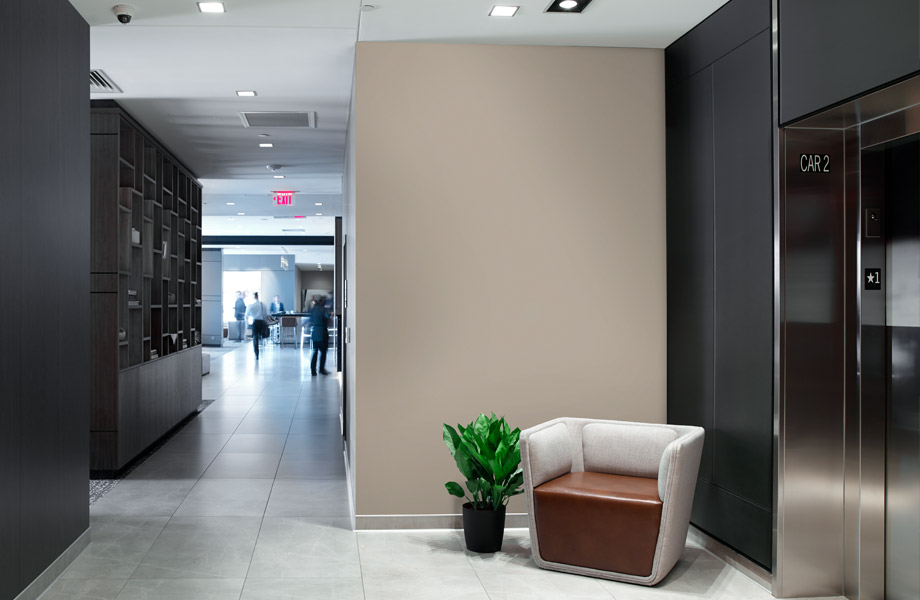 We've looked to commercial environments such as offices, retail, hospitality and leisure in order to future proof for the unknown. Businesses are looking at how short term design ideas can be adapted for long term use. Design solutions initially had to be easy, quick, and low-cost in order to reopen the economy, now with the benefit of time, businesses are looking for aesthetically pleasing, hygienic solutions for the future.
Flexible design strategies can take advantage of modular furniture and fixings to make active changes. In a phased approach to navigating through these times, flexibility requires addressing safety alongside functionality.
Modular seating makes for a great sustainable investment whilst short term allowing for social distancing. Designers, Ciszak Dalmas created a circular module seating arrangement for an art gallery using ColorCore Compact, together the stools create a solid circle fit for group gatherings of the future but easily break away as individual seating for the now.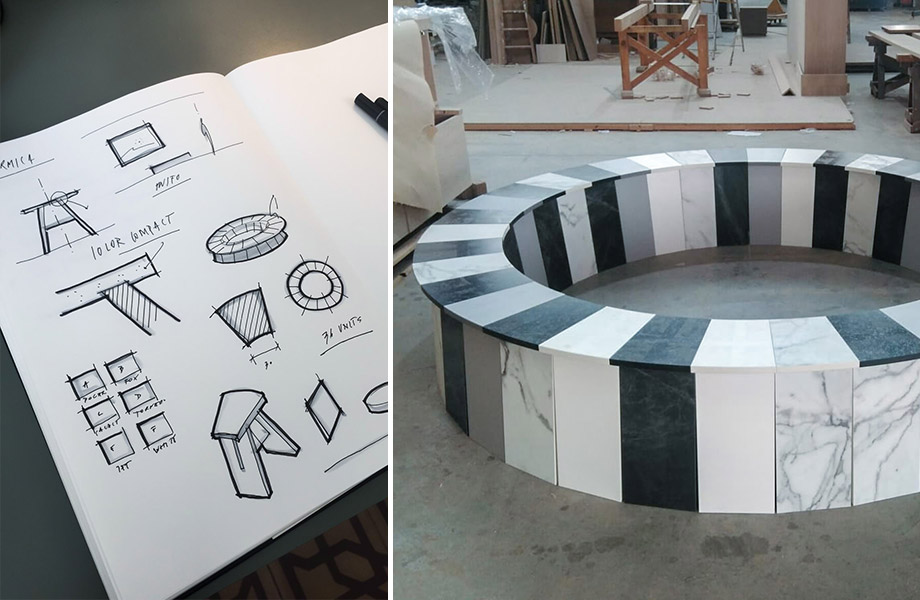 In the office sector we're seeing limited use with many still working from home where possible. Future proofing this area for a full return to work includes the adaptation of well-designed screens between desks and adjustable walls in order to transform open-plan offices into dedicated spaces. The consideration of material is vastly important for safety. Designer, James Burleigh creates commercial furniture that puts surfacing at the forefront. With multiple table designs James has chosen Formica® Laminate as his choice of material utilising the hygienic properties that come with it.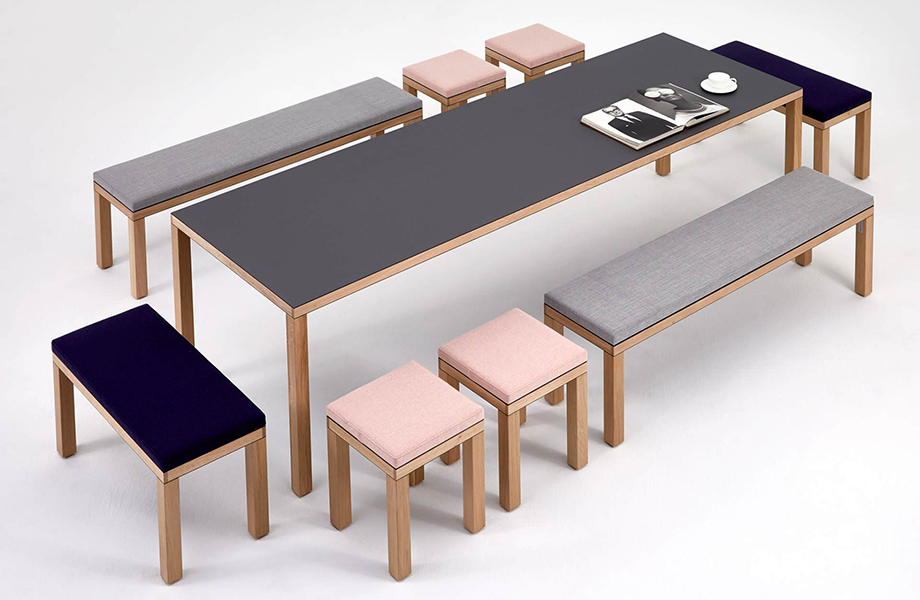 Designing adaptable spaces is an exercise that considers the present and the future. Much like nature, spatial design doesn't have to be perfect, it just needs to be able to change based on new information, i.e. what's going on in the world and how that affects the people using the space. Staying attuned to these internal and external factors is what adaptability is all about.
As a society our understanding of wellness is deepening and becoming more collective. Shared spaces, are to undergo a critical assessment of how it best supports those who use it, not just for productivity and the economy, but for safety and wellbeing.
Designers already know how to create beautiful environments, and in a post-COVID world, they'll be able to design healthy, adaptable and versatile spaces too. Hygienic surfacing, such as Formica Laminate, can enable such projects to deliver the correct balance. Discover the collection.