Ciszak Dalmas explore the latest in surface materials
Ciszak Dalmas explore the latest in surface materials
To explore the use of our new ColorCore® Compact range we teamed up with designers, Ciszak Dalmas. The design duo made up of Alberto Gobbino Ciszak and Andrea Caruso Dalmas were tasked with exploring how they could use the material in a different way and here's what they had to say about the project…
When did you set up the studio?
Alberto and I founded the studio in 2009. Without any experience, in a foreign country, while living in an economic crisis. It was the worst business idea anyone could have had at the time. At first we started as industrial /product designers. However over the last 10 years we have become designers open to any discipline and work on a range of projects.
What's your background and how did you get into design?
Before founding our own studio, Alberto and I worked as interns in between Paris, Milan and Tornio, at the Inga Sempé, Artemide and Pininfarina studios. There, we participated in the development of new industrial products such as lamps, chairs, telephones, and suitcases. These products are still in production and the most sold one is a spa-shower made with stone and wood, which we designed for a jacuzzi! Being curious was a useful attribute for new challenges: our portfolio goes from designing the Muro.exe sneakers to designing a trolley for Loewe.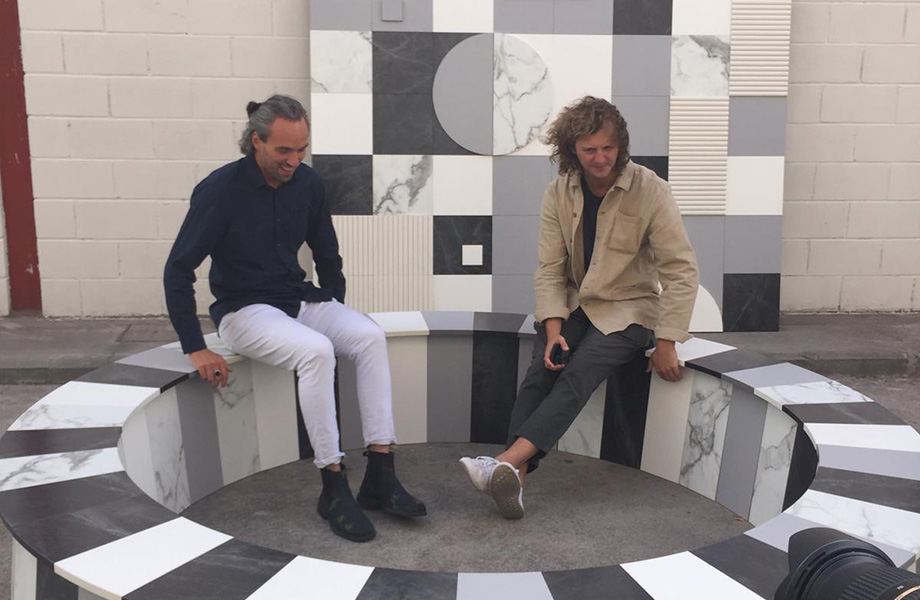 Can you tell us a little bit about your business and what it is that you offer?
Architecture + Product: our design goes all the way in a broad sense. We design brands, products, and spaces, like a key in hand, from the conceptualization to the final realization. During recent years, we have specialised in retail design, designing for several brands such as Malababa, Max&Co and Zara.
What you have designed using our latest product innovation, ColorCore® Compact?
Even though industrial materials may seem cold sometimes, we think that each of them has its own "noble soul". It's the designer's job to find new ways to "feel" each material, and to suggest new applications and treatments to make them warmer. Therefore, we have used ColorCore Compact in a totally different context, not at all functional, by experimenting with different milling processes and combining different decors into a unique piece. The final results look more like a piece of art rather than an industrial design, like a 3D painting hanging from a wall, which you can look at and invites you to explore it's materials. Next to this piece, there is a series of benches, like in a museum, where people can sit comfortably for a while. Inspired by the experimentation of the forms, colours and materials, this piece reminds us of Gunta Stölzl's textile design. Her pieces, hand knitted, were a sample of a revolutionary movement and the importance that design was starting to have at that moment.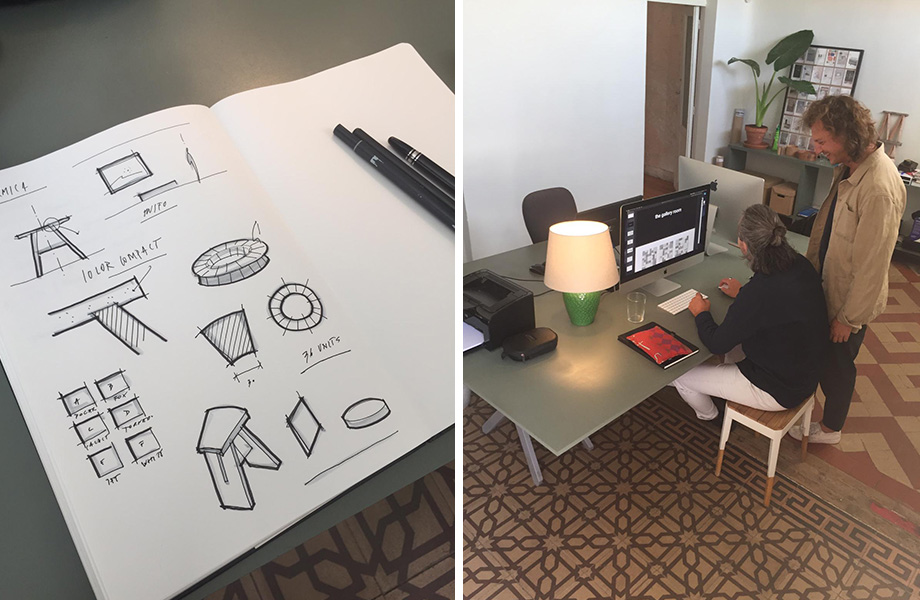 Gunta, Professor at Bauhaus school in Germany which recently celebrated it's 100 year anniversary, worked on textile design in an interesting and experimental way. Famous for creating huge change within the weaving department of the school, Gunta transformed individual pictorial works into modern industrial designs.
Materials used in Gunta's work are vulnerable and modifiable, we found it interesting to work with materials and explore the possibilities and techniques they can offer. We've used them in a totally different way by using a resistant and hard material like Formica laminate and by experimenting with its colours, textures and form possibilities.
What did you like about working with ColorCore Compact?
The thing we like the most about ColorCore Compact is that it doesn't pretend to be something it's not. It's an honest material that maintains its integrity in every cutting and milling process. In some sort of way, it's a trustful material, a little introvert at first, but very nice in the end.
Are there any other types of projects you think you would use ColorCore Compact for?
We would love to build an experimental room, where time stops and a person can feel reality in a different way. Some sort of crossing between light and dark, that would help people realise that things are not always what they seem and in order to find out what they really are you have to be curious until the end.
ColorCore Compact
A versatile, practical and beautiful surface material. It's self-supporting and combines on-trend surface designs with a structural, colour matched core, providing a homogenous colour all the way through. Order your free samples online.