Rachel Clay and her 'Blobs'
Full of innovative and new perspectives on design, New Designers 2019 showcases the work of 3,000 graduates from across the country. Among these talented students is Rachel Clay, a graduate 3D designer-maker from Staffordshire University.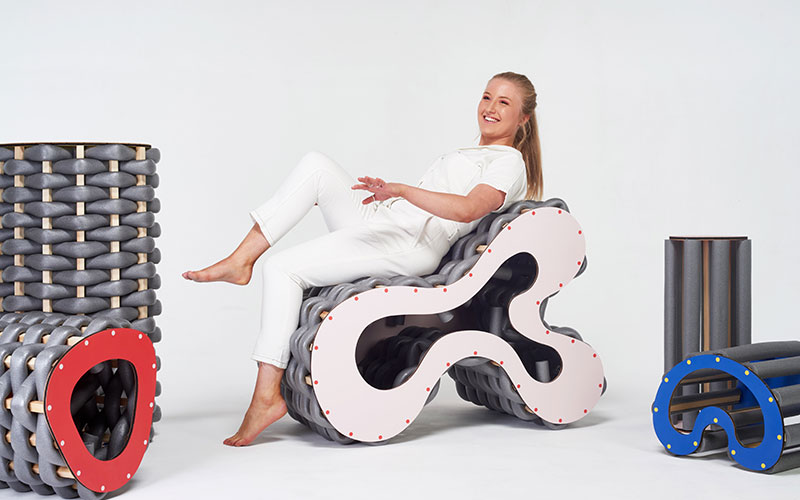 Rachel investigated the idea of furniture with a formless flux, exploring the boundaries of design as manifested in her unusual 'Blobs'.

She describes the pieces as "a family of structures that the user can perch on, rest on, congregate around or invent their own way of sitting", leaving traditional ideas of furniture behind. The shapes present themselves as fun and playful regardless of whether they are being used for seating or not. This is evident in the woven cushioning which means you can stack them in any combination.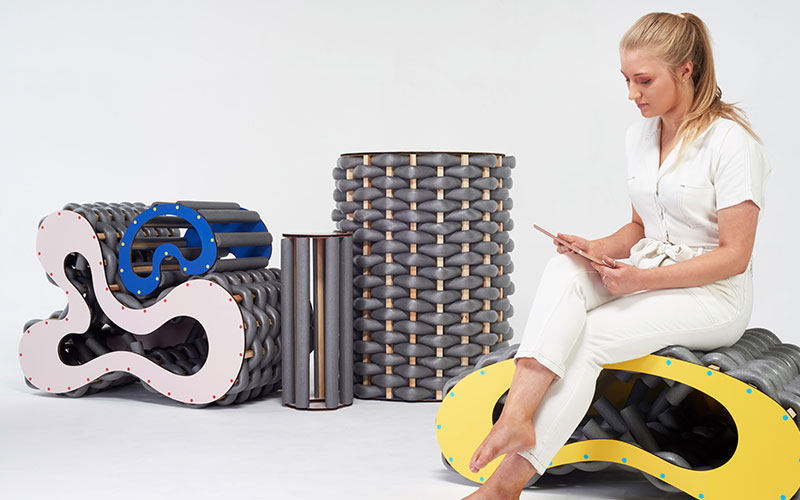 The bright colour choices add to the intended light-hearted nature, owing themselves to laminate by Formica Group who sponsored Rachel throughout the design and production processes. Rachel expressed her gratitude on her Instagram page dedicated to her work by thanking the company: "A massive thank you @formicagroupeu. Having the support of companies as a lone student designer-maker makes it all the more possible to create what we want."

The block colours of blues, reds, and yellows feel like they belong in a playground but by bringing this playfulness into contemporary design, the piece allows a release for the childish mind in a monochrome world.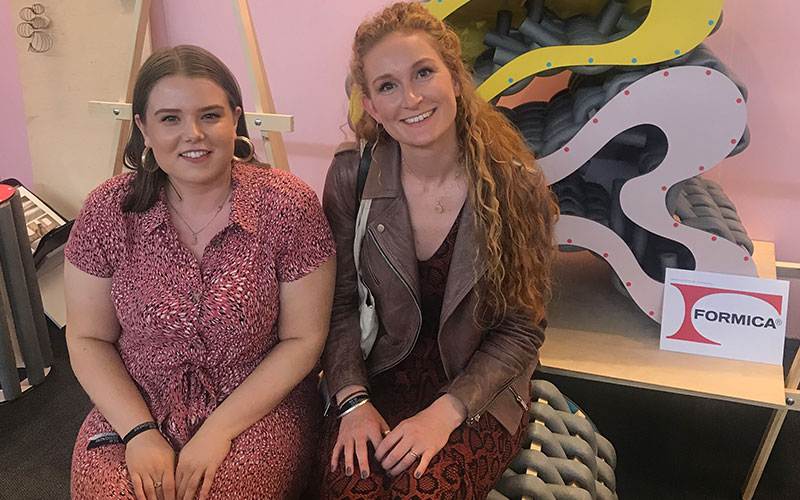 Nina Bailey, the UK design manager at Formica Group comments: "Rachel's work shows a new and versatile way of using Formica® Laminate. It's great to see the material being used by young designers and how our solid colours combine to create a fun bold palette."
Nina continues: "Having met Rachel at New Designers, I got some great insight into her work and I particularly loved the way that the various elements of the seating and side tables stacked and interlocked to create an abstract interior installation when not in use… practical and beautiful."
Rachel explains the idea as coming from "organic shapes", finding that focusing on labels and the constraints of furniture felt static to her. Instead, she looked at shape and form and considered how these could then be turned into pieces of furniture, rather than the other way around.
A key aspect for Rachel is the versatility of the shapes, allowing the user to interact with the pieces in a way that is individual to them. While she remains unconvinced that her approach will result in the furniture of the future for the mass market, Rachel is certainly optimistic that others may be inspired to think outside the box.