Five Trend Takeaways From KBIS 2022
Five Trend Takeaways From KBIS 2022
From the return of color to inspired warm stones and woodgrain looks, here's our recap of the residential trends on display from this year's kitchen and bath design expo.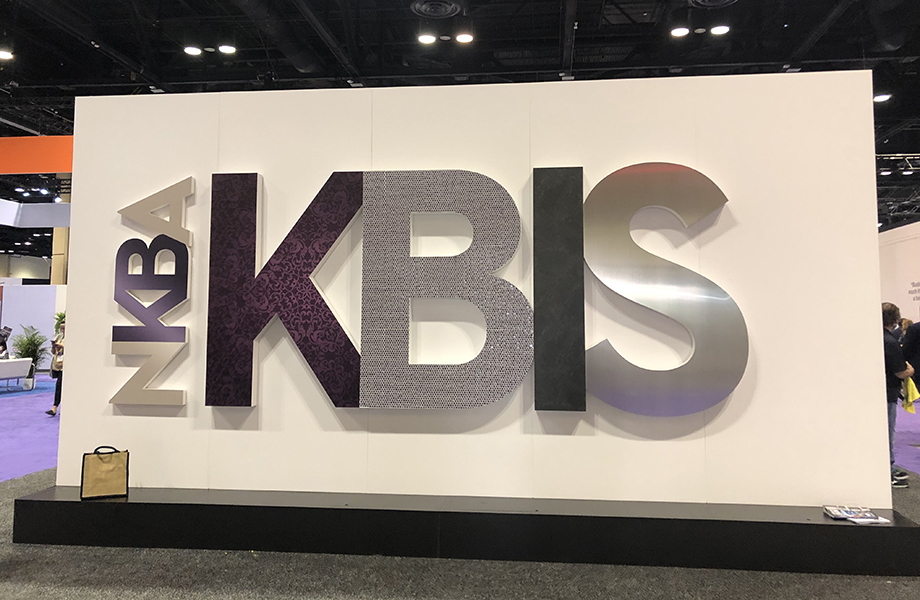 Back in KBISness!
After an odd time during the pandemic, the Kitchen & Bath Industry Show (KBIS) was back this year with several distinctive trends. This event showcases the latest products and technologies ready to inform kitchen and bathroom design, and there were many head-turning displays.

The Formica Group design team explored and photographed exhibits from scores of vendors to capture the industry mood and get you thinking about your next project. Here are our five trend takeaways.
1.
Warm Stones and Luxury Beige

As the price point of traditional white marbles gets further out of reach, homeowners are shifting their focus to warmer, earthier palettes and luxury beige. We saw a slew of natural stones with beige, greige (gray + beige), rust and brown veining that represent a departure from the blue-gray undertones of white stones.

The new beige tones feel fresh and upscale, and they bring the focus to the space, materials and textures in use. We also saw warmer tones in wood cabinetry, with semi-opaque stains showing just a touch of woodgrain.

Formica® Brand Selections: New 180fx® Laminate patterns in Mediterranean Marble and Woodland Marble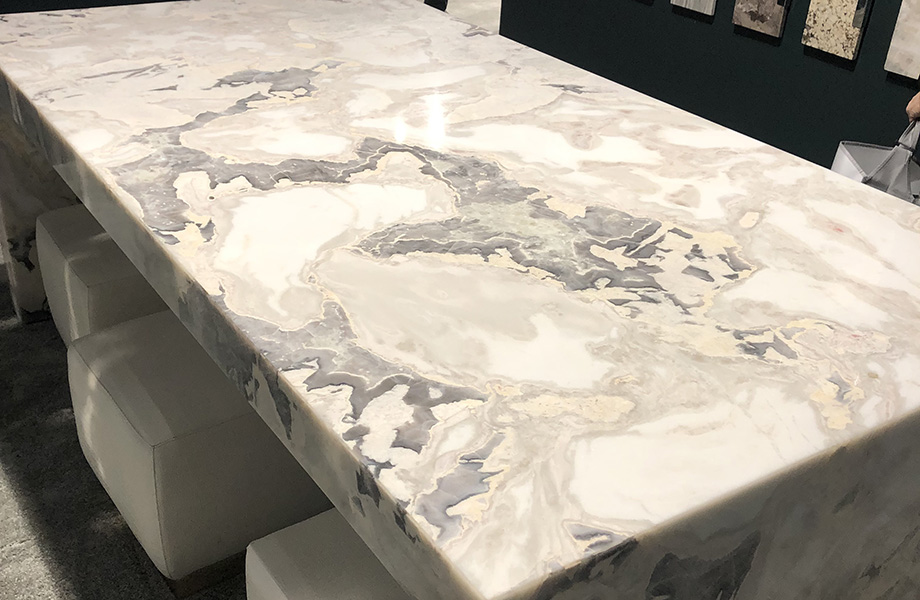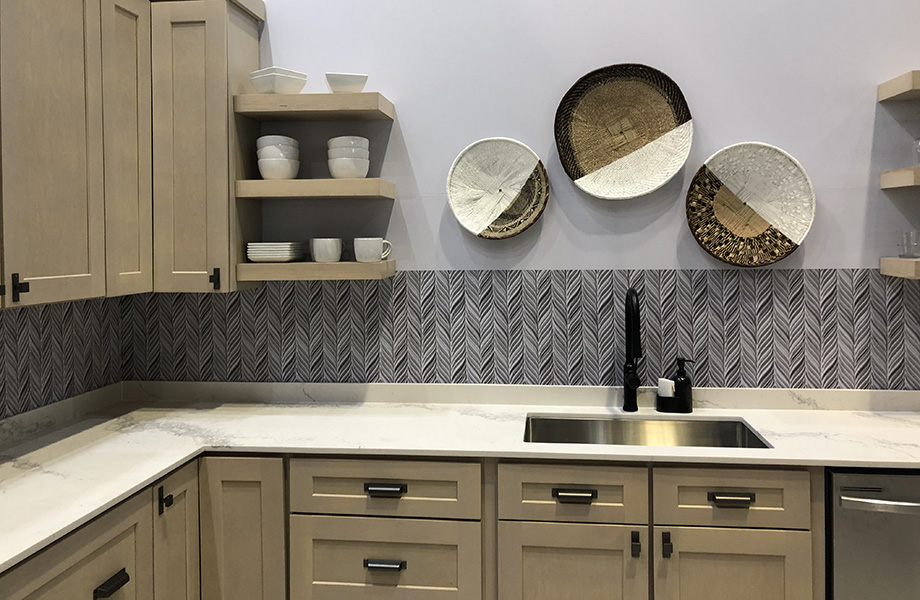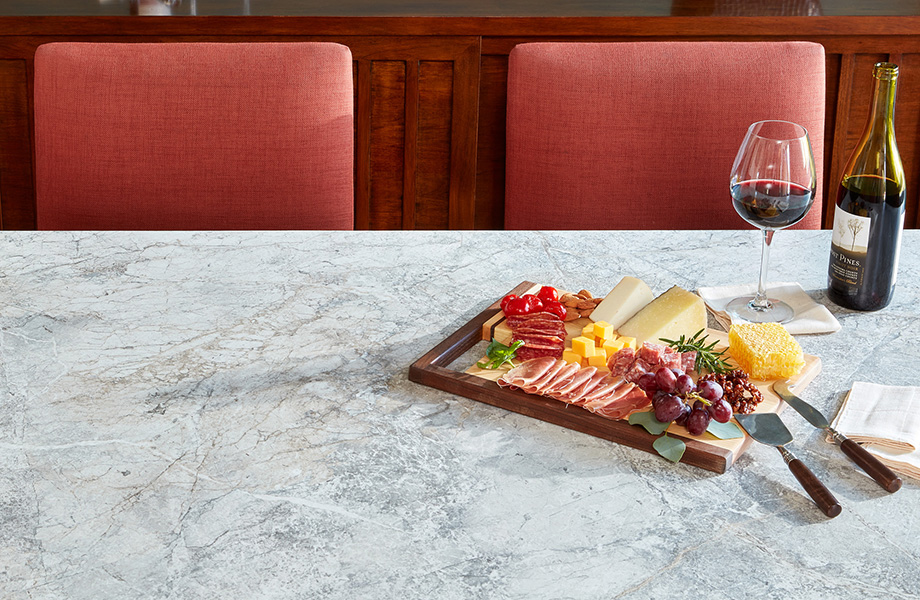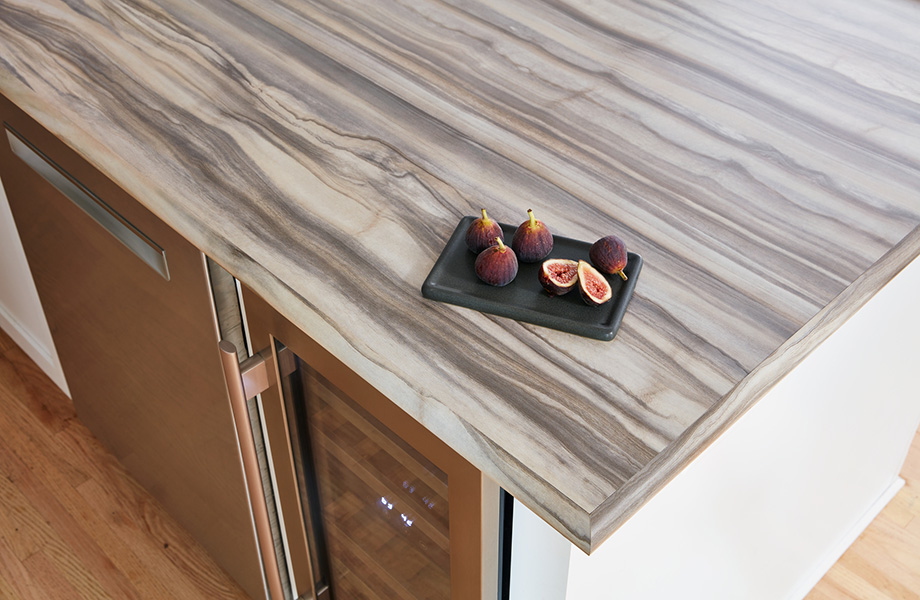 2.
The Return of Color

Creating holistic home spaces infused with color has become increasingly important over the last few years. Colors exude strength, confidence, comfort and hope. Deep blue and sage green were both notable at the show, as were desert palettes with rich terracotta and gray. These colors satisfy our need for calm and relaxation and provide a spa-like atmosphere.

FENIX® Innovative Surfaces: Blu Fes, Verde Comodoro
Formica® Brand Selections: Solid Color Laminate, Burnished Coin and Patine Bronze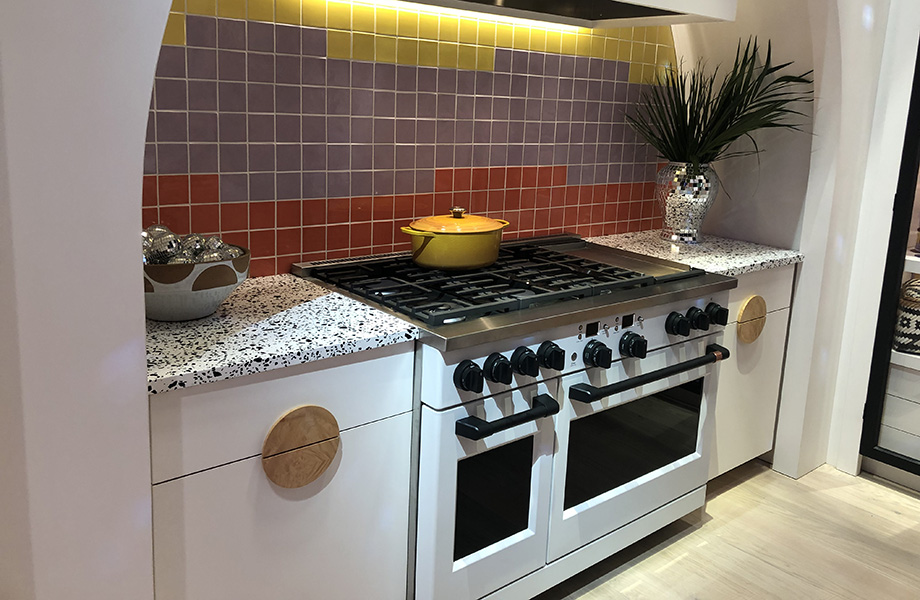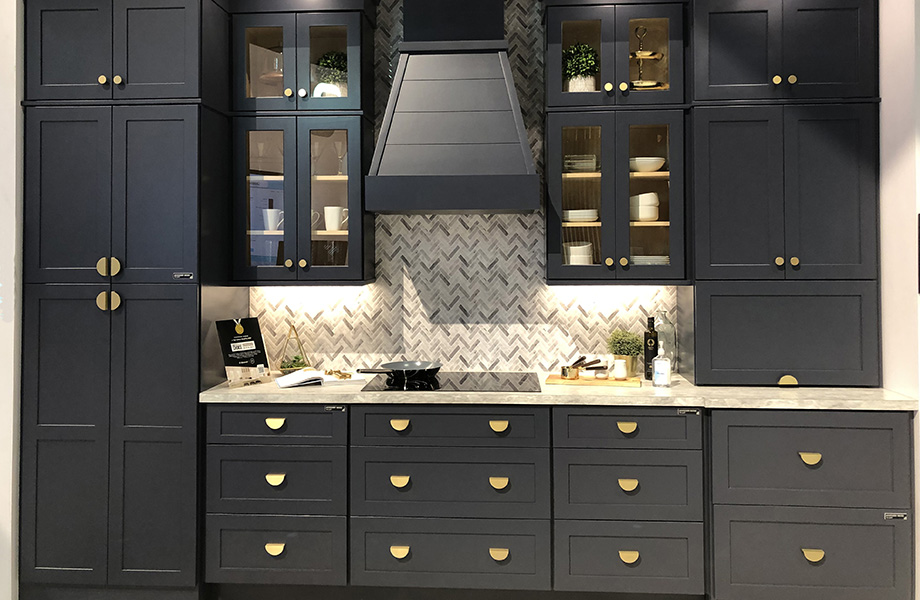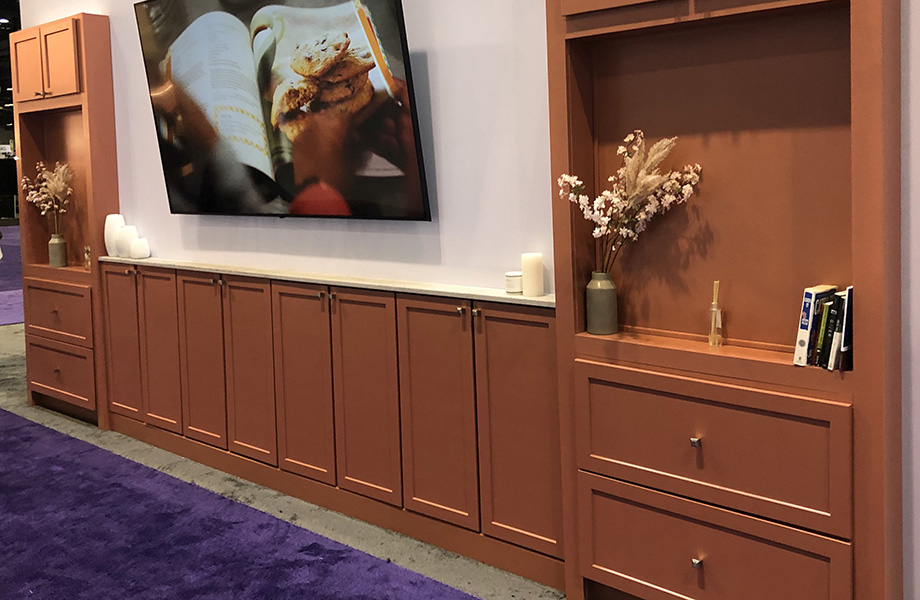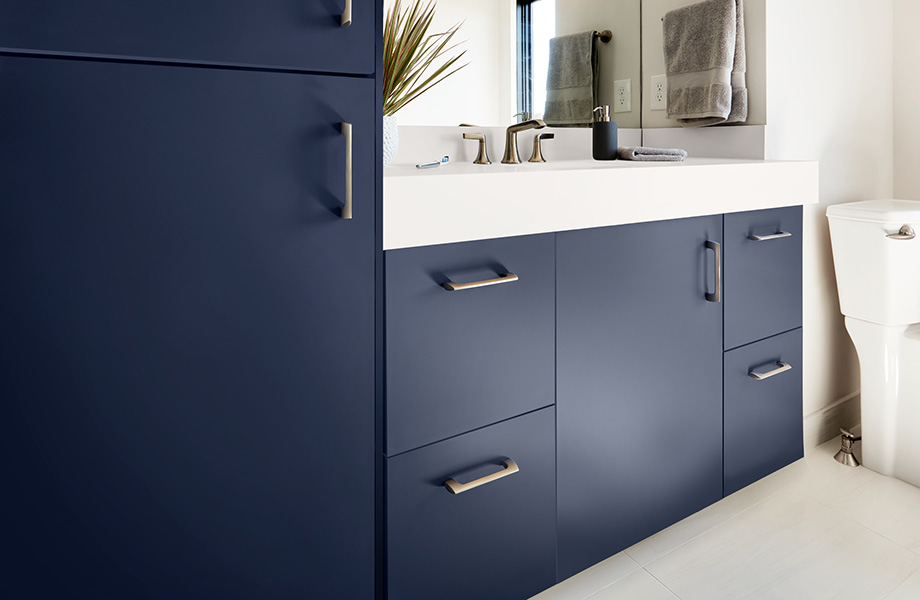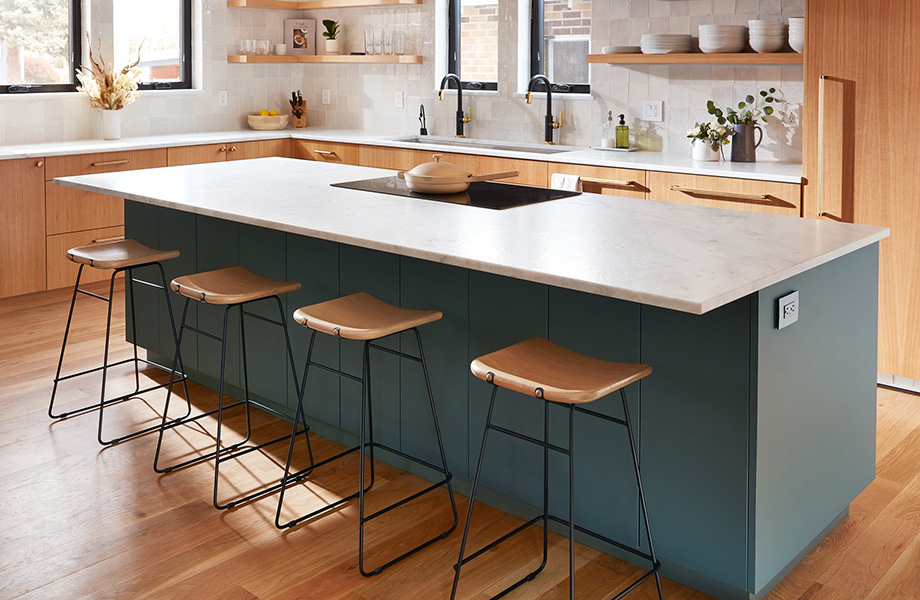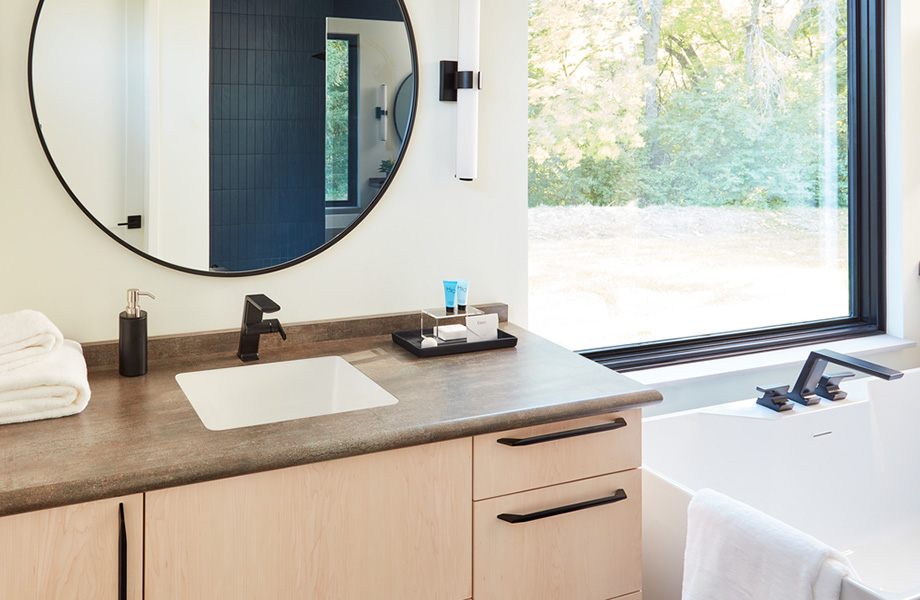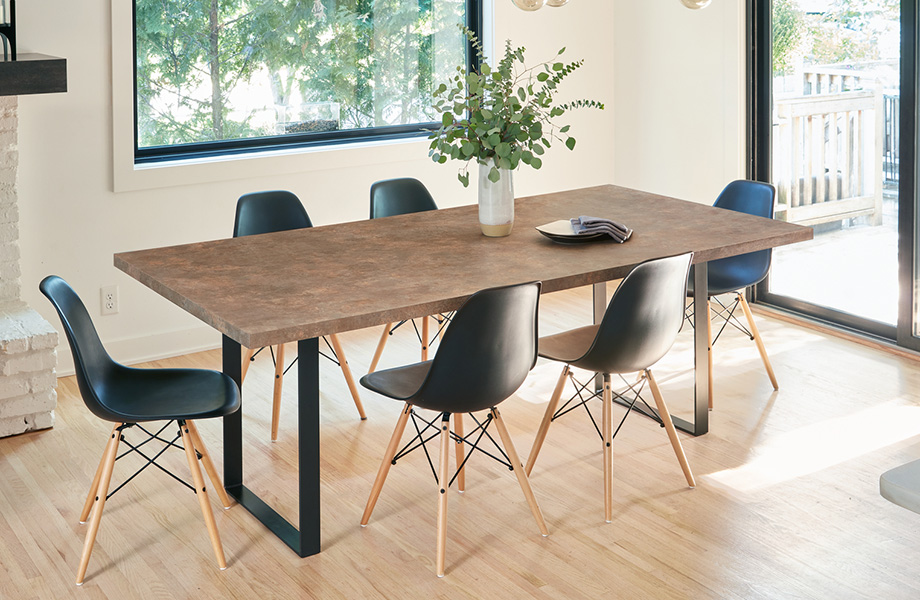 3.
Butcherblock

As evidence of the cozy and grounded Rustic Luxury trend, numerous KBIS designs featured walnut butcherblock tables and countertops. This rich wood tone adds sophistication without losing the feel of a welcoming home space.

Formica® Brand Selection: Walnut Butcherblock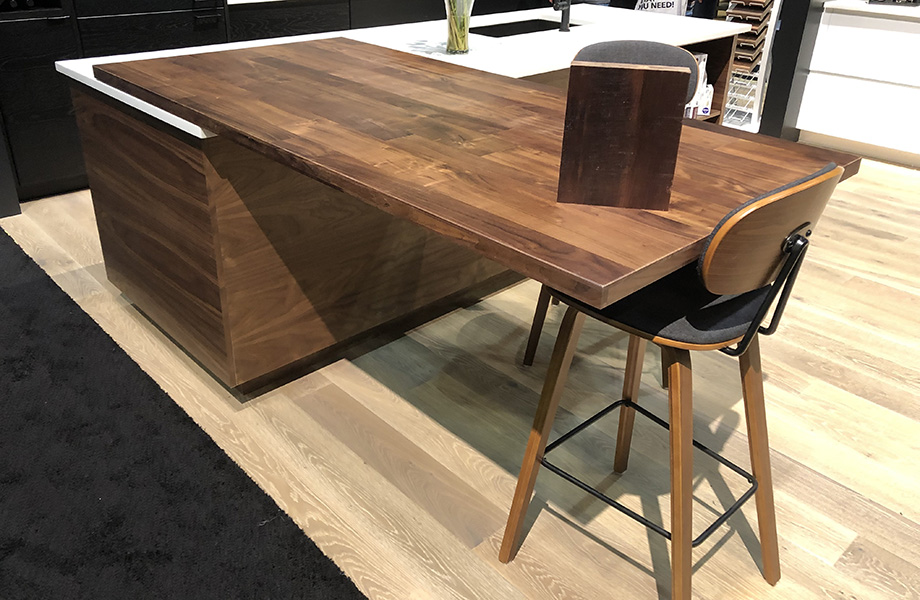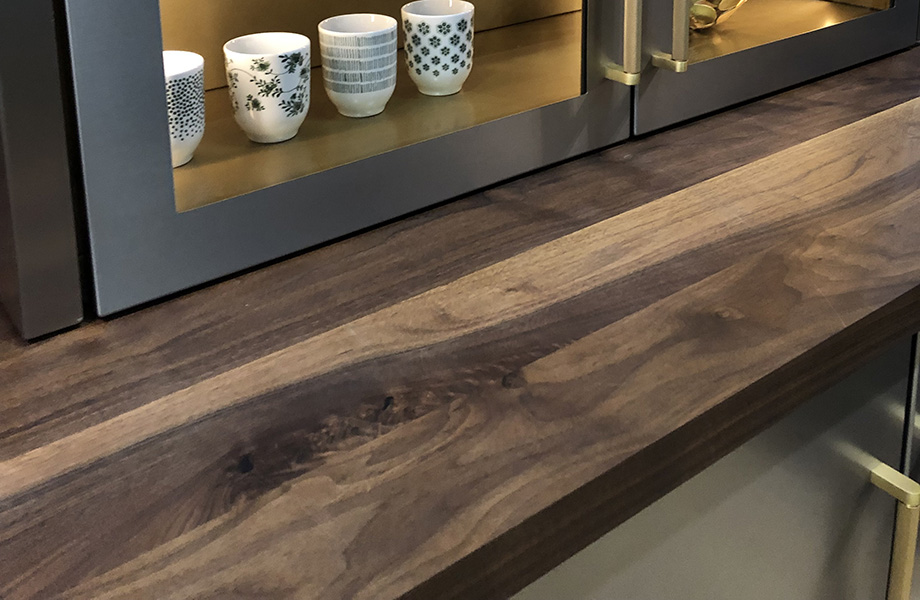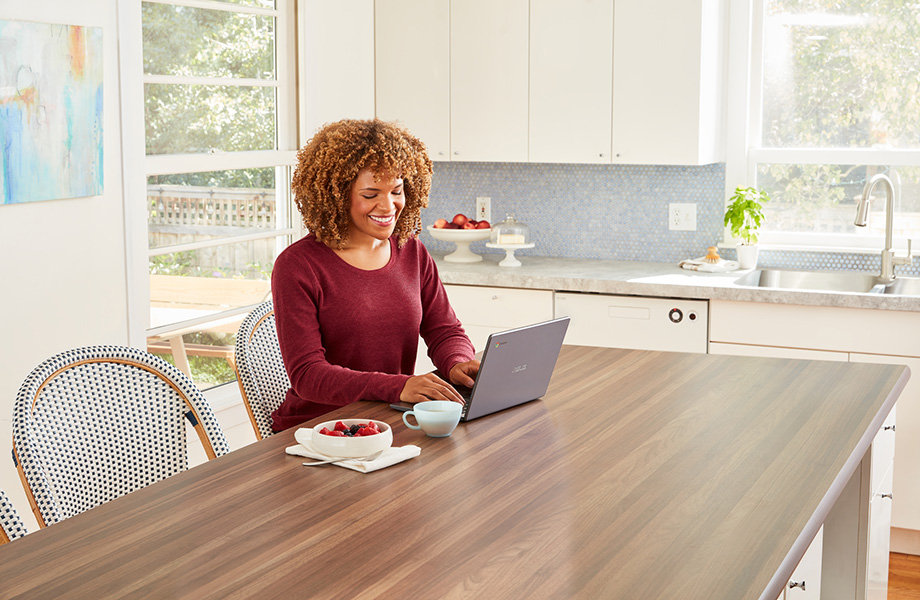 4.
Light and White

Even as we see movement toward more color in design, there will always be a place for the all-white kitchen. Overall, many homeowners seek neutral and calming hues with bolder pops of color saved for smaller elements. Although interest in white luxury stones for light and white kitchens remains, the prohibitive cost and maintenance means alternatives such as laminate have grown in popularity. We also saw several black and white design stories throughout the show as well as black and white matte appliances.

Formica® Brand Selections: 180fx® Laminate in Manhattan Marble, White Alabaster, Calacatta Cava, and laminate in Carrara Bianco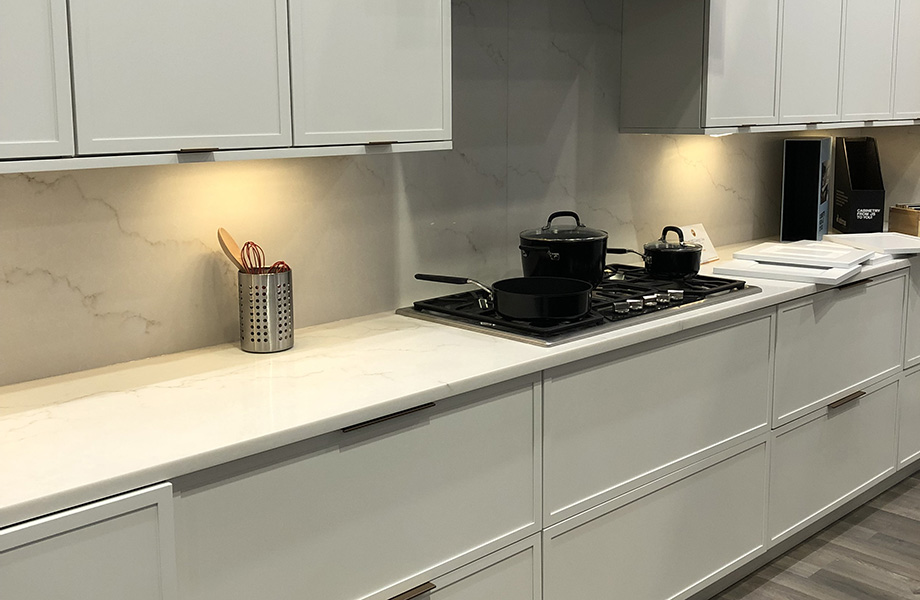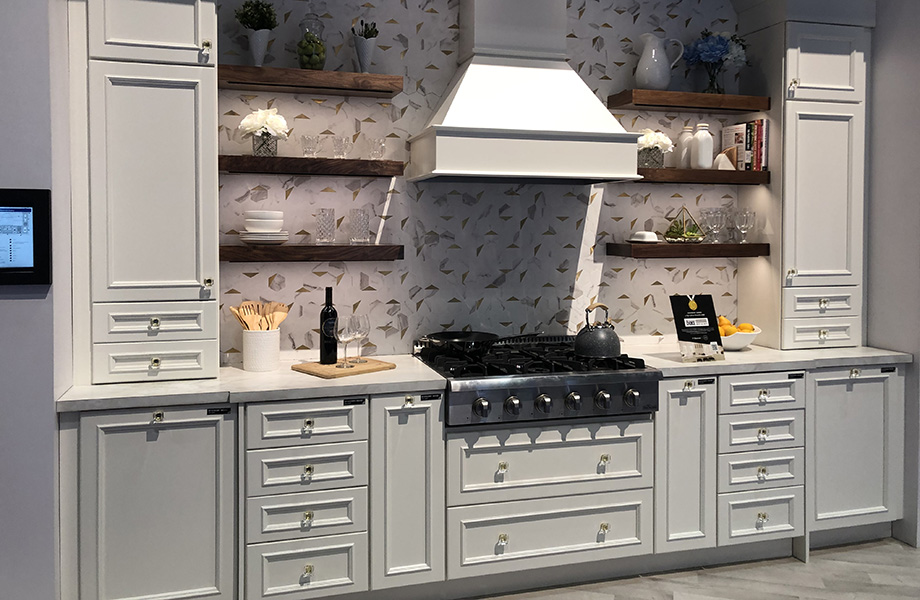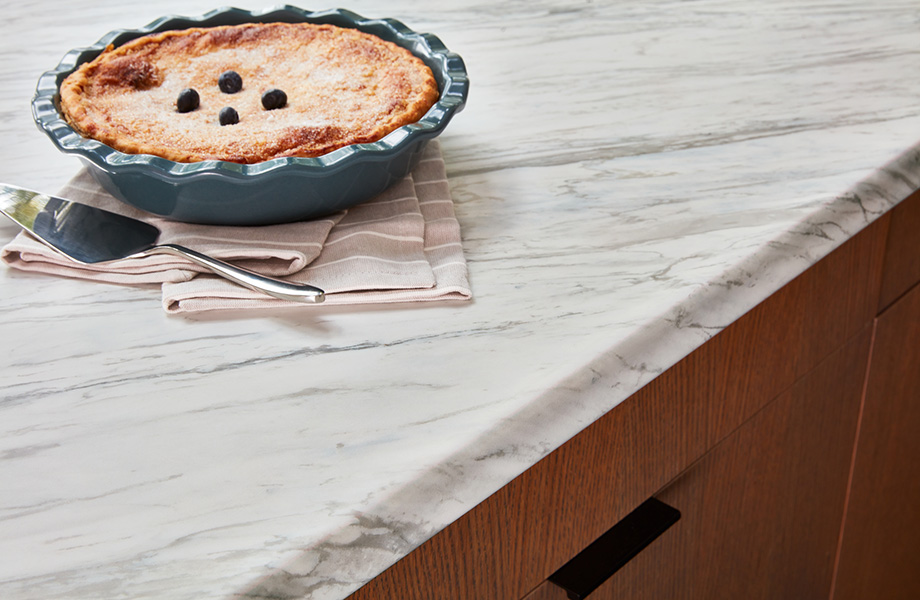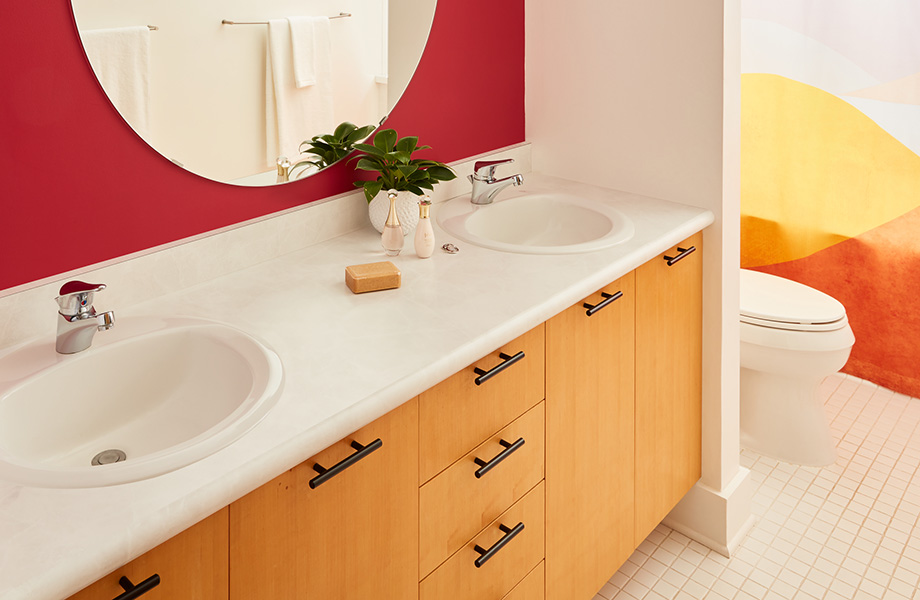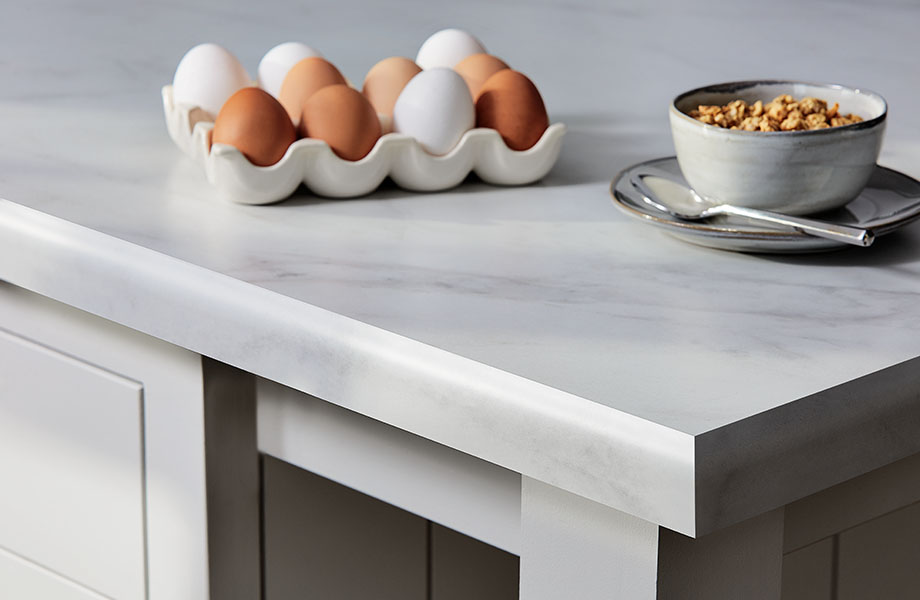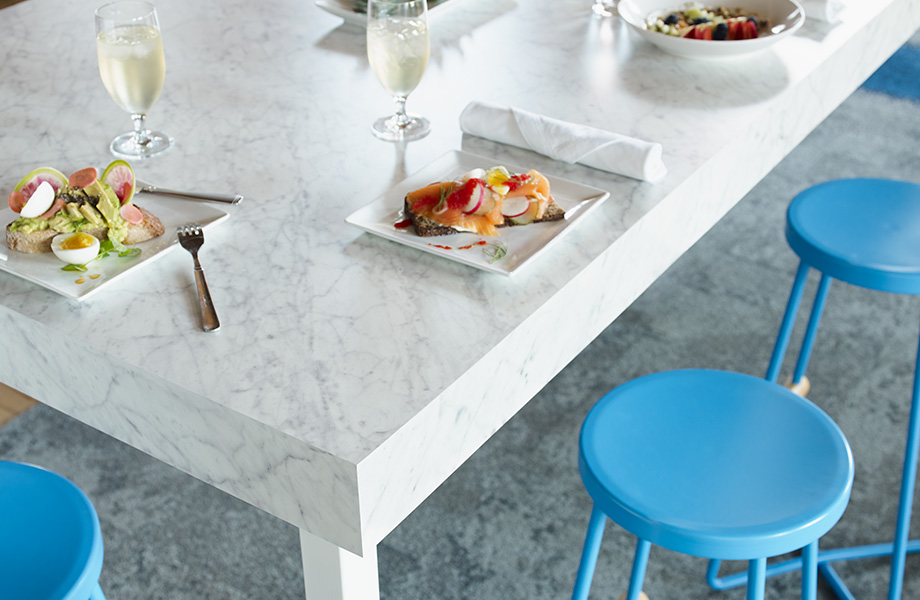 5.
Stones in Shades of Black

KBIS exhibitors showcased a variety of black, soft black and dark gray marbles. Because real white stone is so expensive, most of the real stones we saw were black or charcoal gray. With strong veining, these surfacing choices really make a statement, a key element of the New Classic design trend.

Formica® Brand Selections: Smoke Onyx, Nero Marquina 180fx® Laminate