Oregon Kids Dentistry
Calming Nerves at Oregon Kids Pediatric Dentistry with Formica Envision™ Laminate
While many kids might fear the dentist, parents may argue that the waiting room is actually the most difficult part of the experience. Full of nervous energy, many kids won't sit still or read a magazine, and handing them a phone for a quick distraction often results in a battle to get it back when they get called to see the dentist.
But Dr. Jordan Lentfer, D.M.D., at Oregon Kids Pediatric Dentistry and Renee Snyder, interior designer at Emmett Phair Construction, may have found the perfect solution.
"Dr. Lentfer wanted to have a marine life theme throughout the whole office, and we wanted to design a space that was fun for both the kids and the parents," Snyder said. "We came up with the idea of using the Formica Envision™ as a custom dry erase board with this marine life motif so the kids can color and play with that in their section of the waiting room."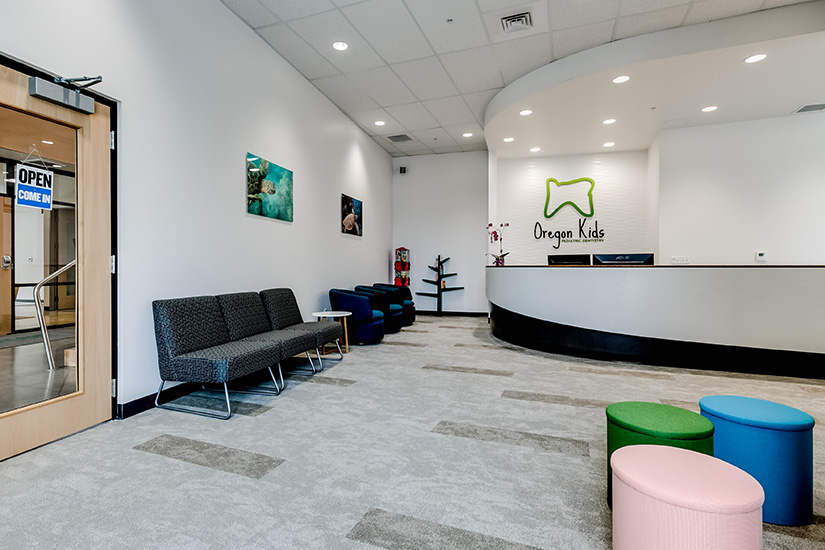 The team at Emmett Phair sourced the imagery, pieced it together in a design program, and sent it to Formica Group for evaluation, testing and printing. The laminate was installed in the kids' corner and quickly became the focal point of the office.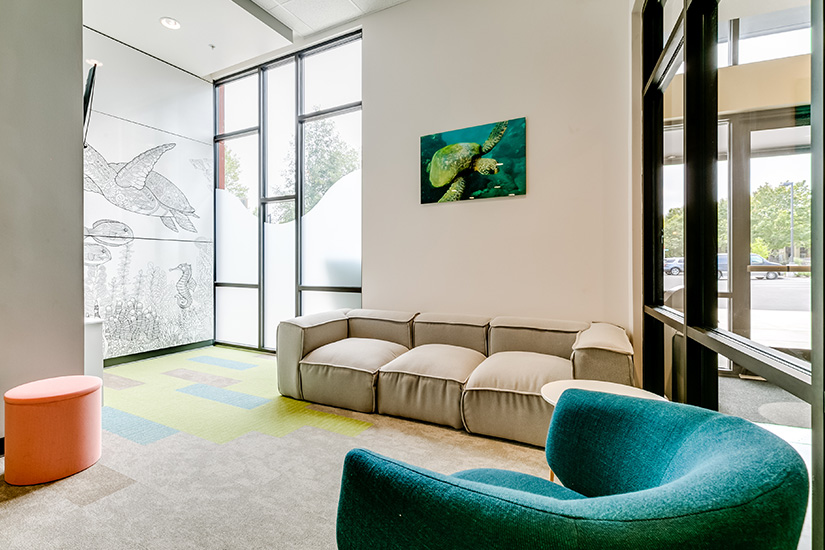 "The kids and parents are drawn to it," Dr. Lentfer said. "I've had parents choose to stay and draw while their kids come back for their dental visit."
But more than that, Dr. Lentfer has noticed that the Formica Envision™ laminate provides more benefits than just a waiting room distraction.
"I would say there is definitely a therapeutic benefit to it," Dr. Lentfer said. "It has been a great addition to our office. It's colorful, calming, fun and just a beautiful piece of artwork."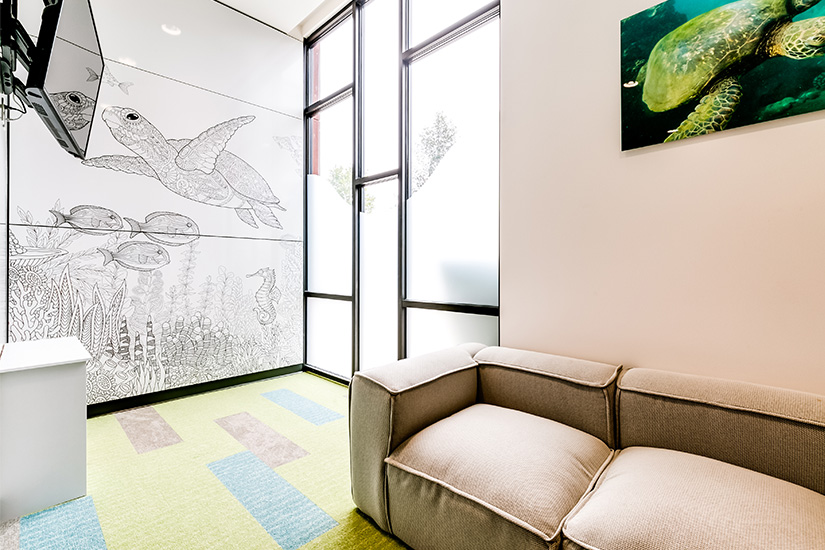 Emmett Phair had used Formica® Writable Surfaces on a previous project, but this was the first time they paired a writable surface with Formica Envision™. It was a perfect combination.
"The artwork is viewable from outside the office, and people who weren't even coming for an appointment stop in to look at it and comment on how great it looks," Snyder said.
Find Your Perfect™ with Formica Envision Custom Laminate.