Boise State University Vista Services & Fitness Center
Overview of Project:
Vista Services at Boise State University was designed with beautiful windows throughout the building, but left very limited wall space for art. SouthPark Interiors, a full service commercial design firm specializing in student housing, multi-family and hospitality, wanted to bring art into this space using creative, out-of-the-box thinking, without breaking the budget. The SouthPark team decided that Formica Envision™ custom laminate was the perfect solution to this dilemma.

After sourcing and purchasing a piece of art, the SouthPark team worked closely with Formica Corporation to turn the artwork into Formica Envision™ custom laminate. Together with the Formica team, SouthPark decided how big the design should be, and worked with a fabricator to install the custom laminate on top of the dining table.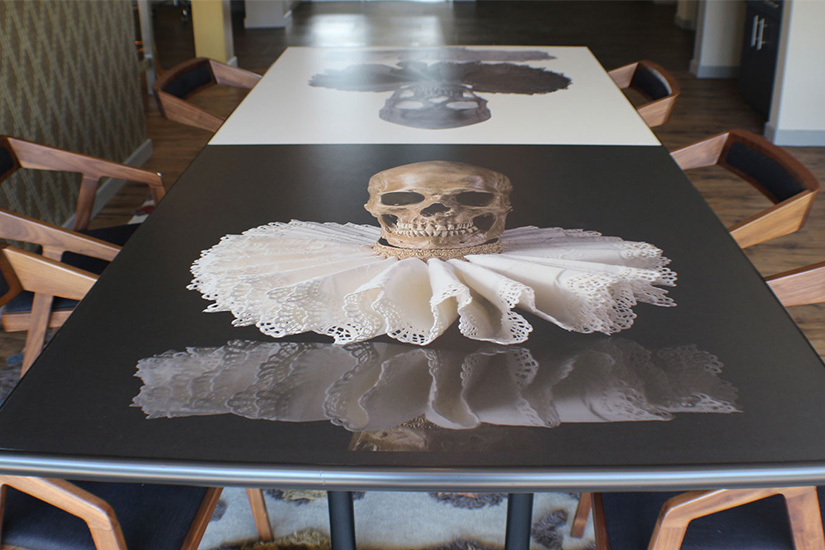 A second Formica Envision™ custom laminate was used as art on a wall space in a fitness center at Boise State University. Initially, the Southpark team planned to purchase art to bring it into the space, but this plan was cost-prohibitive. Instead, the SouthPark team again turned to Formica Envision™, creating custom laminate that was inspired by the hobbies of the students for the fitness center's clubhouse space. Once designed, the Formica Envision™ laminate was attached to a substrate, which was then hung on the wall as a piece of art.

"Formica Envision™ custom laminate really brings design flexibility and encourages out-of-the-box thinking. With custom laminate, there are no limits – you can create a design that can really become a wow factor for the space," said Brooks Johnson, Principal with SouthPark Interiors and Lead Designer.