A Calm Nightfall Landscape
We're living in a time where architects and interiors designers alike are tasked with creating environments that encourage wellbeing. A stable foundation and a sense of calmness are key factors to instil confidence as we enter a new era.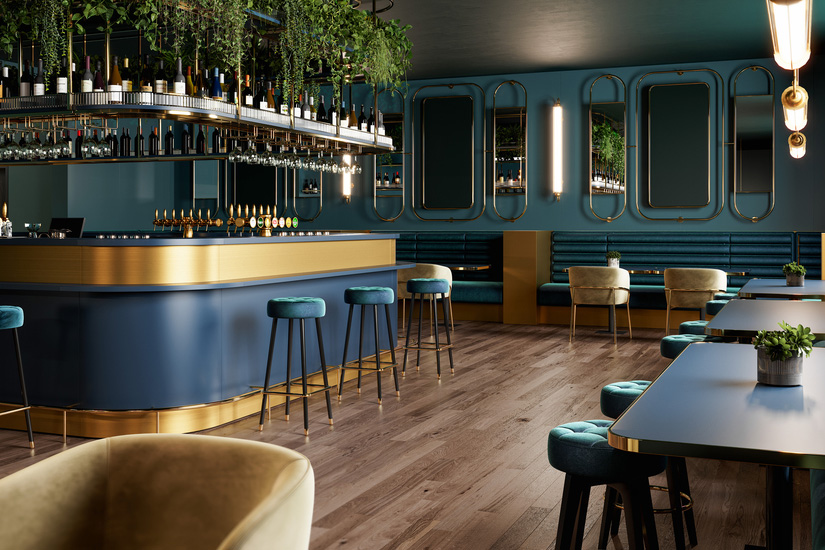 Blue is widely considered a colour that can be relied upon, it enables people to feel secure whilst challenging us to make connections with our surroundings and to think more deeply.

Night Series is a selection of colours from the new Formica® Laminate Collection, that offers an opportunity to re-centre our thoughts, bringing clarity and peace to a space. This colour palette is among the 15 new additions to the Formica Laminate Collection and is made up of three colours all alluring to a calm nightfall landscape.

F8244 Night Forest, F8242 Night Sea, and F8243 Night Shade are all now available as a toolbox to create a timeless, sophisticated palette in commercial settings.
NIGHT SHADE is a reddish near-black and the perfect accompaniment for on-trend gold or brass accents and velvet fabrics – instantly evoking an elegant, nostalgic look and a luxury feel.

NIGHT FOREST is a dramatic new green that helps to mark a new era of refined and opulent darks.

NIGHT SEA is a deep, near-black blue that builds on trends for dark blues that are relatable, peaceful and genderless and liked for their honesty and versatility.

Nina Bailey, European Design Lead for Formica Group, says: "The concept behind the new Night Series colours was to create a range of solid colours that are almost black, and could be used instead of a black, while still adding a hint of colour.

"We have many variations of white in our solid colour range across warm, cool and neutral tones. This prompted us to think about how we could develop a selection of colours based around the idea of nearly black tones of extremely dark colours.

"The dark and moody hues of the Night Series colours lend themselves to a multitude of applications and sectors."