New Formica® Doors Collection | Where style meets durability
The Formica® Door Collection encapsulates a refined selection of eye-catching colours and wood decors and tactile surface finishes into high pressure laminate (HPL). HPL is the perfect material to meet the demanding design and surface performance requirements for architectural doors, in today's modern commercial and residential environments.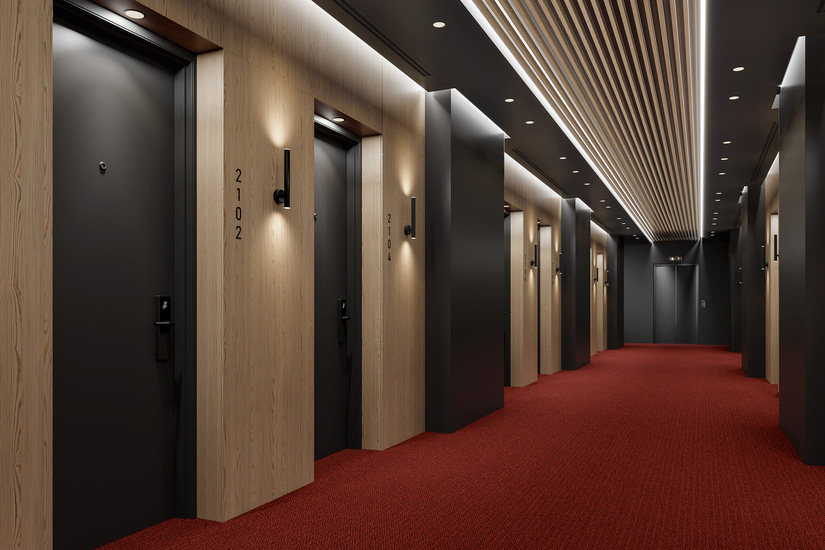 Formica Group has carefully considered the most suitable and useable designs and decors for door design; introducing 15 new 'colors', all available in Matte58 texture and 4 selected 'colors' now available in Naturelle and Linewood textures to present wood detailing on colour. The Formica Door Collection has truly been inspired by nature and introduces 20 new wood decors in a variety of textures, matched to best suit each wood design.

Nina Bailey, European Design Lead at Formica Group comments "The updated Formica Door collection has been refined and designed to contain the most suitable and useable designs and decors for door application. The collection contains the full Formica 'colors' offering as well as a range of woodgrains and a small selection of patterns. When selecting the products for the Doors range we really considered the aesthetical qualities that a door brings to a space. Doors are not only functional fixtures to close off spaces and to provide an entrance and exit, they are a key part of the overall interior design and can often be the finishing touch to creating a crisp and refined look."
Colors
New plain colour introductions; Greens, Reds and the Night Series, have a raw and earthed approach.

The new green palette continues to answer the trend for biophillic design and the 'outdoors in' theme and includes natural earthy tones of green in sophisticated and calming hues.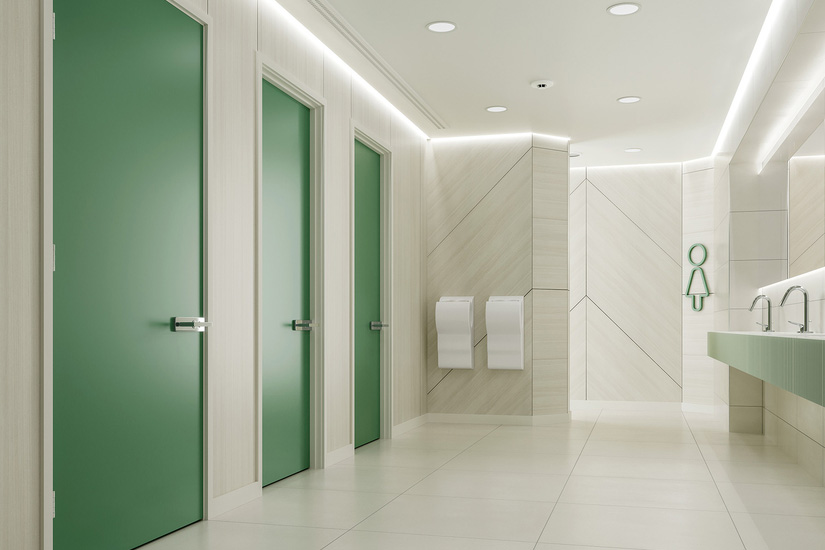 Terracotta and earthy hues of red have been introduced, fitting the trend for more natural looking materials connecting back to manmade and authentic looks.

The newly developed palettes of reds consists of a selection of terracotta tones including Earthenware, Adobe and Brick, alongside Blush, a pink which has taken centre stage as the new neutral and Henna, a deep, natural red.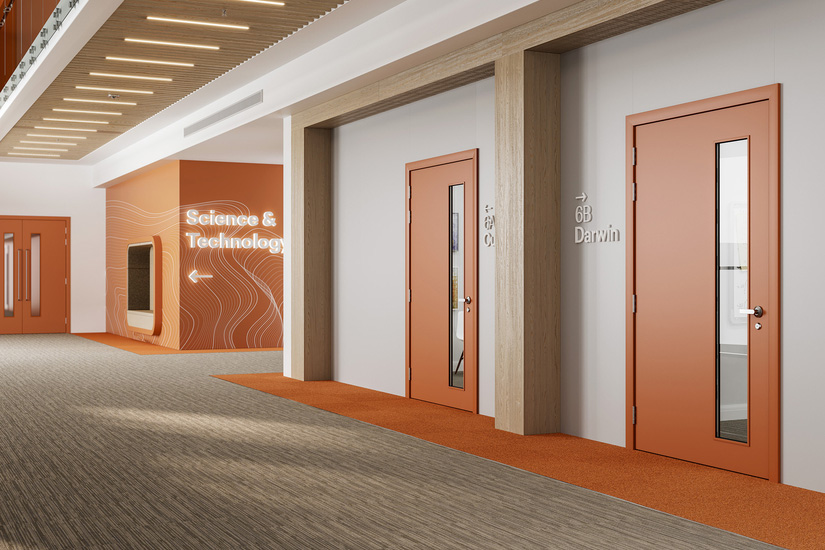 The Night Series is an introduction of three new rich and luxe 'almost black' colours. Night Shade is reddish near black, Night Forest is the same level of dark but green and Night Sea is a deep blue.

Brite White, a cool white, completes the new plain colour introductions.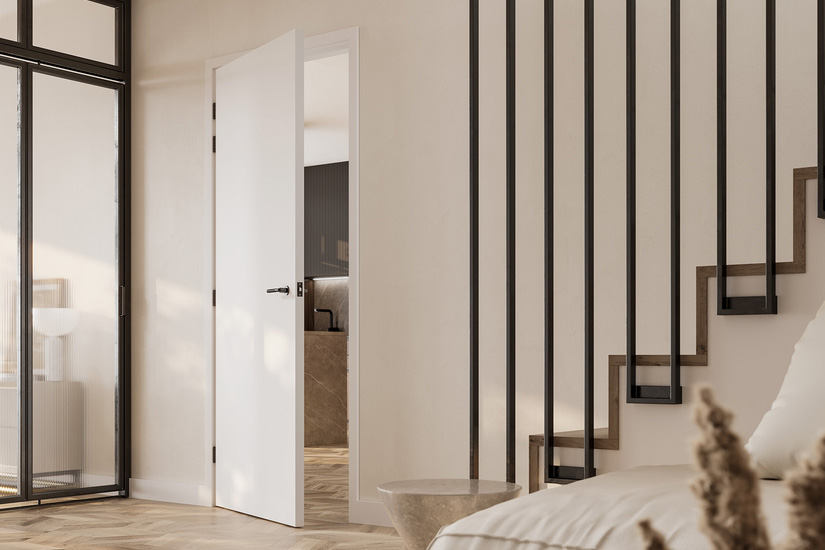 Not underestimating the importance of colour choice in door design, Nina says "Using colour on doors can have a huge impact on the overall interior space. Using bright and pigmented tones on doors can make them stand out as a feature in the spacial design and can even correlate to a form of wayfinding to help identify different areas and spaces. The new additions of the more desaturated and dusky grounding hues can too provide a statement but perhaps in a less obvious way, whilst tying in with the colours on other applications such as the furniture. Solid colours on a door application creates a clean and tidy environment as well as being able to generate less stress and lift the mood."
Woods
Nina says that "Using woods in door design not only looks elegant and makes a beautiful yet subtle link to the outside natural world, but it also gives a welcoming feel to the space; evoking a sense of positivity and calmness as you enter the room."

The highlight of the woods introductions is Ventura Oak, a stylish, relaxed woodgrain in a cool, neutral mid-tone grey, almost blueish in colour.

The Cedar series is a cool, calming and contemporary version of a softwood look, coming in a series of three; a blond, milky mocha and near black noir colour.

Tromso Maple is a Scandinavian inspired, naturally light species, low in contrast keeping the typical knots in balance. Three Ash decors, Pale Ash, Aged Ash and Dark Ash create a Scandinavian elegance instantly with a timeless structure.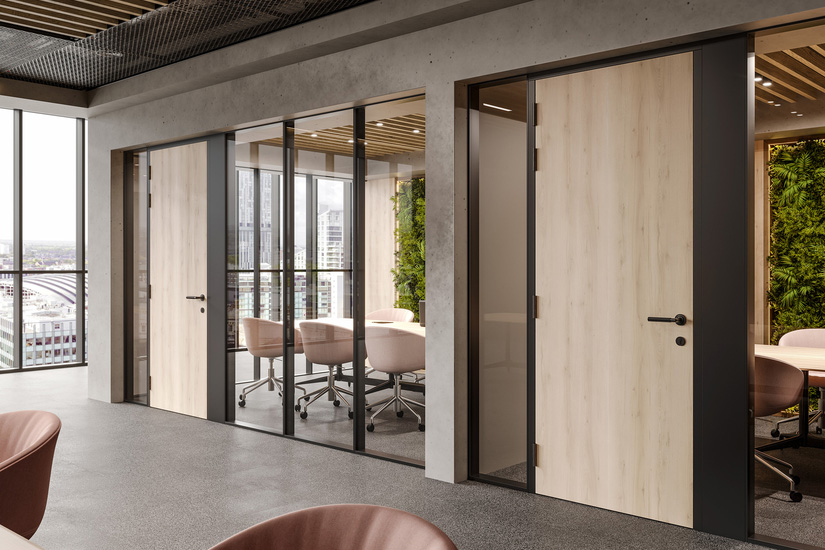 Trendy beige, greige and grey-brown extends the greyed muted palette with the introduction of Belvedere Beech and Nevada Oak.

Four elegant walnuts; Formal Walnut, Refined Walnut, Peruca Walnut and Cetina Walnut add warmth to the collection from bleached to fully saturated dark brown.

Oak remains a popular and classic wood choice, the new additions range from straight grain, with the likes of Evergreen Oak to the slightly rustic Tula Oak as well as the Carpentry Oak which has sawcut effects and knots.

Birchply answers the trend for woodgrains on an extreme and architectural scale. A common building material throughout the world, Raw Birchply and Black Birchply are a familiar look and the rotary cut veneer a unique and striking pattern in High Pressure Laminate.
Style meets durability
The inherent properties of Formica® High Pressure Laminate means the Formica Door Collection is highly resistant to stains, impact, scratches and moisture, is hygienic and easy to maintain. The result is a Collection offering surfaces with the strength and durability to ensure the beauty of the door remains intact over time, providing an alternative solution to a painted door, wood or veneer, composite or PVC.
Sheet sizes
The variety of sheet sizes available provides architects and designers with the freedom and flexibility to incorporate a mix of standard and bespoke door sizes specific to the needs of the project. The Formica Door Collection is just as suitable for specification in hospital or educational environments, where often wider and taller doors are required, as the Collection is to hospitality, office, retail settings and in the home. Sheet to sheet consistency will ensure doors match, throughout an interior.

Available in 4 sheet sizes as standard, sheets are available in the following dimensions: 2150x950mm, 2350x950mm, 2350x1300mm, and 3050x1300mm. Sheet size variety and the versatility of laminate, also allows additional elements such as furniture and wall cladding to be produced and matched to the doors in order to carry a theme throughout an interior scheme.