Unlock interiors with doors as design features
Unlock interiors with doors as design features
Breathe life into your next project through the clever use of internal doors in design.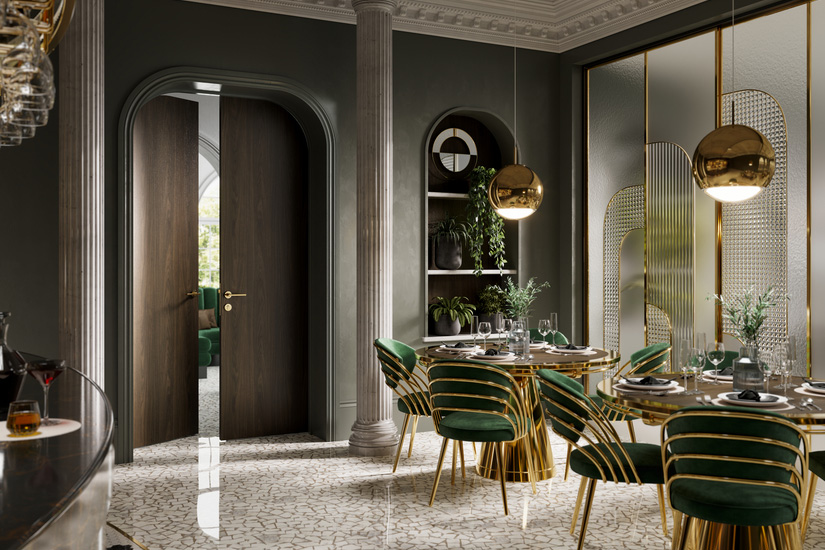 Doors are essential to any space, whether you're working on a big or small project the potential for doors to play a key role in shaping how your space feels is huge. Doors can often be overlooked as an opportunity to design something truly inspirational. The new Formica® Doors Collection was created to provide designers with a toolbox of surfacing solutions ideal for those with big imaginations! The collection boasts 188 laminates, available in four specific door sizes and Formica Group's European Design Lead, Nina Bailey takes you through what's new.

Woods to remember

Nineteen new woods are featured in the collection, with a deliberate emphasis placed on adding different types of woodgrains that can be used complimentary with each other or as a striking design feature.

The cedars (F8576 Blond Cedar, F1548 Mocha Cedar, and F1547 Noir Cedar) offer contrasting woodgrains, with each grain visible from relatively long distances. Ash grains, meanwhile, are smaller in scale and more subtle. This refined look is available in F1004 Pale Ash, F8843 Natural Ash, F8841 White Ash, and F8844 Aged Ash.

Four new walnuts also present new opportunities. Nina comments "Oak has always been the most popular wood, but walnut is really surging across Europe. So the addition of soft-grain walnuts, which are modern looking, sit nicely with the more classic walnut styles we offer in original walnut colours."

Nina also recommends F5873 Ventura Oak, with its cool grey tone being particularly on-trend for doors in office environments across the UK and northern parts of Europe.

F8910 Raw Birchply adds a previously unseen look to doors, offering a natural colour on a large, architectural scale. And because it is a laminate, it has the added advantage of not getting marked or scuffed in the same way the natural material would.

Clear and successful wayfinding

The huge range of colours available in the Formica® Doors Collection is also ideal for eye-catching wayfinding systems in hospitals, schools, train stations, or airports.

"Wayfinding through the use of coloured doors is always going to be incredibly effective," says Nina. "You might introduce a certain colour to highlight doors into classrooms for each year's students, for example, or within a hospital a particular colour might indicate a specific ward.

"Especially since the pandemic, eliminating people needlessly wandering around buildings and public spaces is going to be key."

She adds: "We've got some great, on-trend colours that can help with the design aesthetic. When people think of wayfinding, they often think of it being brash and stark – but with our new collection, wayfinding can be more of an appealing design feature."

Memorable shapes

Finally, the versatility of Formica® laminates means imaginative designers can play with the limits of what's possible. There is simply no requirement to stick to traditional door shapes or dimensions, because each laminate can be custom cut into different shapes or sizes.

Rounded shapes are proving particularly popular, with many choosing to soften door corners for a final flourish.

Order your free samples today.