Designing a new tomorrow | Formica Group
Designing a new tomorrow
In 2020, we have witnessed a major social change. Homeworking has moved from something done by the minority of the population, often only on a part-time basis, to something most office-based roles have had to embrace on a full-time schedule. While homeworking was already growing, a global pandemic has accelerated its advance beyond all previous expectations. Unsurprisingly, this has brought plenty of turbulence.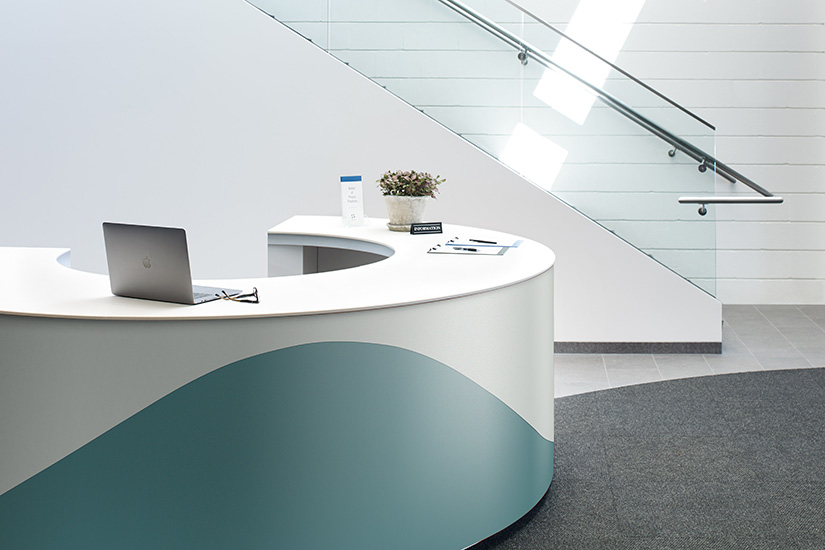 Some workers got the lives they'd always dreamed of. No more commute. No more office stress. Quieter working environments. What's not to like?
It turns out, lots.

Widespread homeworking is a technological, management and perhaps most significantly a psychological challenge. As our findings have shown, it keeps teams apart, isolates employees and chips away at company morale. Without the day-to-day interaction and understanding of how the company is operating, workers can start to feel less secure in their roles. Perhaps that's why face-to-face and collaborative work is now more valued than ever.

Rebuilding office confidence and restoring these broken links will be the greatest challenge facing architects and designers over the next few years.

Adaptable furniture will be crucial in providing the spaces necessary for individual and collaborative work. But above all, the focus will be hygiene. Even if Covid-19 is eventually defeated, partitions and some element of social distancing will likely become part of standard office design. Improved ventilation will be expected. And antimicrobial, easy-to-clean surfaces are set to surge in popularity.

Bringing these elements together in cohesive and enjoyable designs will be key to revitalising the office sector, restoring lost confidence in shared workspaces and delivering the productive environments companies need to survive and thrive.