Popping the Cork on a Victorian Extension
Formica® laminate was recently specified in an extraordinary extension project in a South London Victorian terrace house.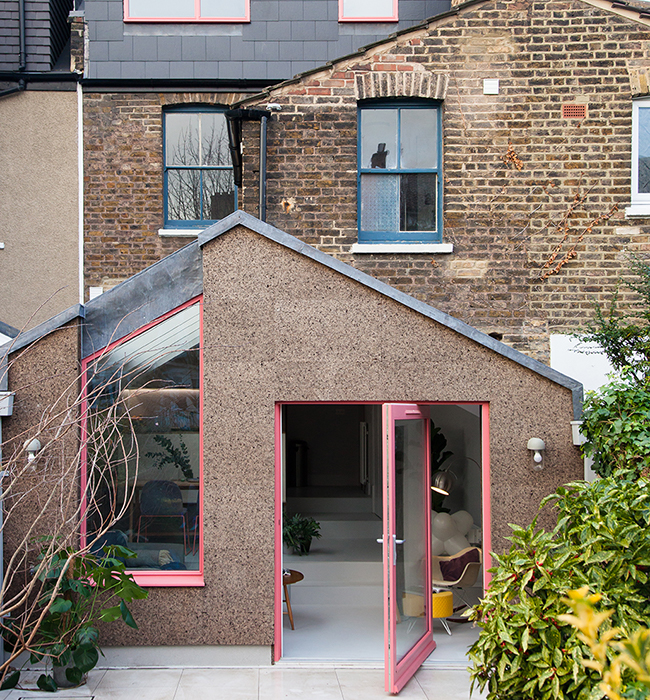 Matching the existing brickwork, the rear extension is fully clad in naturally stained cork and is expected to slowly weather to a silver-grey colour over time. Pink timber window frames have been installed to provide a pop of colour against the dark cork, echoing the existing pink hues used throughout the house.

Photography by Megan Taylor
Formica® laminate was specified in an extension project in South London
The extension, designed by nimtim architects, uses cork to internally and externally clad the build
A warm pastel pink and lilac colour scheme is used throughout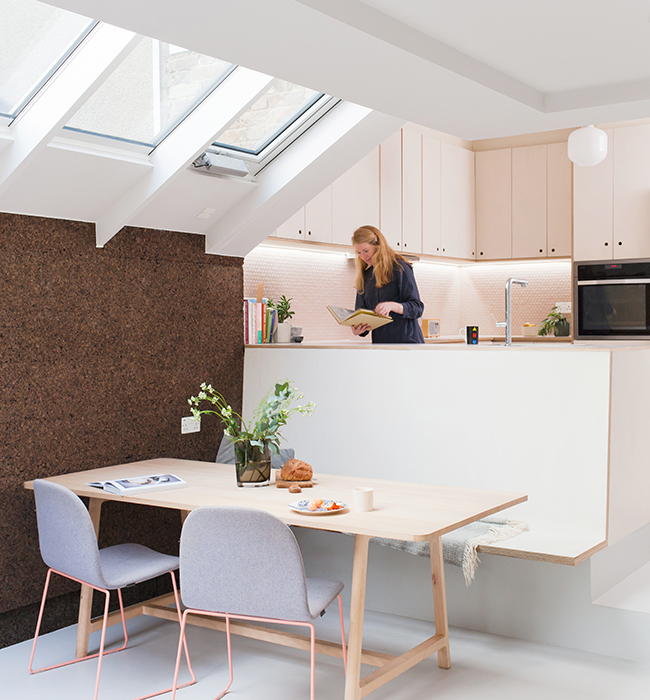 Inside, the extension features a large pivot door allowing an uninterrupted view of the garden. Set on different levels, the plywood kitchen and open plan family area are flooded with natural light thanks to the slanted roof lights.
Photography by Megan Taylor
It was essential that the materials specified for the project were practical, cost-effective and durable to meet the needs of a young family with two small children. nimtim architects were the perfect fit for the brief as they often work with tight budgets without compromising on ambition or design concept. The architectural team and clients took care to thoroughly discuss the colour palette before deciding on Formica laminate for the worktops and countertops in the kitchen and bathroom.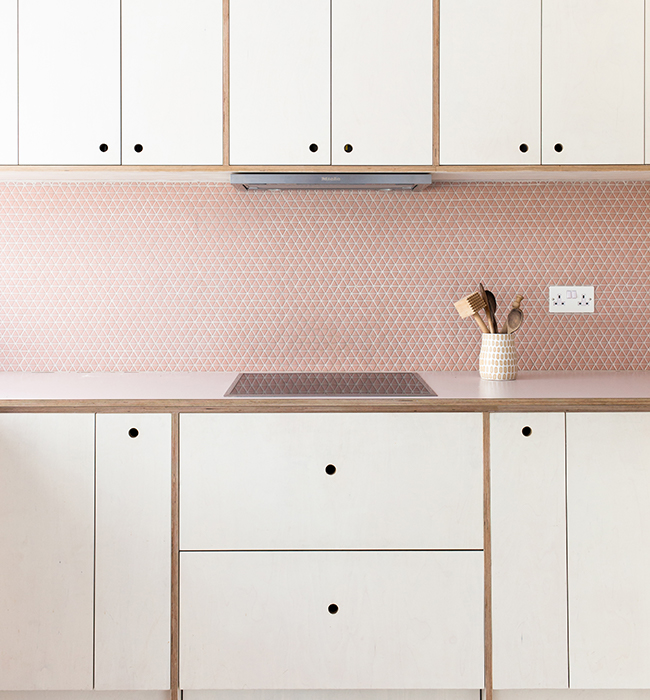 In the kitchen, the 'Just Rose' textured pink laminate worktops were chosen after considering which colours would complement the other materials specified for the project. The 'Just Rose' shade corresponds with the pastel grey resin floor and lilac bathroom features to create a consistent colour scheme in every room. Likewise, the plywood edge of the worktops mirrors the stained plywood used on the joinery throughout the project.
Photography by Megan Taylor
nimtim architects state: "As a practice, we try to create architecture that is a celebration of the personality and character of our clients. We create an environment of positivity and openness where people can be empowered to make unusual choices. For example, our clients at Cork House suggested the pink Formica laminate in the kitchen and lilac in the bathroom."
They continue: "Our process helps us to develop a brief, a vision, and ultimately build architecture everyone feels they have contributed to. In our practice we try to have fun and bring a sense of playfulness and adventure to everything we do". This has certainly been achieved at Cork House.
Nina Bailey, UK Design Manager Formica Group notes that pastels in 2020 are predicted to become more saturated and pigmented than ever before. Pale pink is an exception to the rule as it is now "closer to neutral than a pastel tone, acting as a new cream or grey to become a genderless tone of pink".