Create a perfect smile with Formica<sup>&reg;</sup> laminate
Create a perfect smile with Formica® laminate  
Bringing a modern and sophisticated look, ColorCore® was used in the transformation of former office space into a stylish dental care clinic, Be Clinique.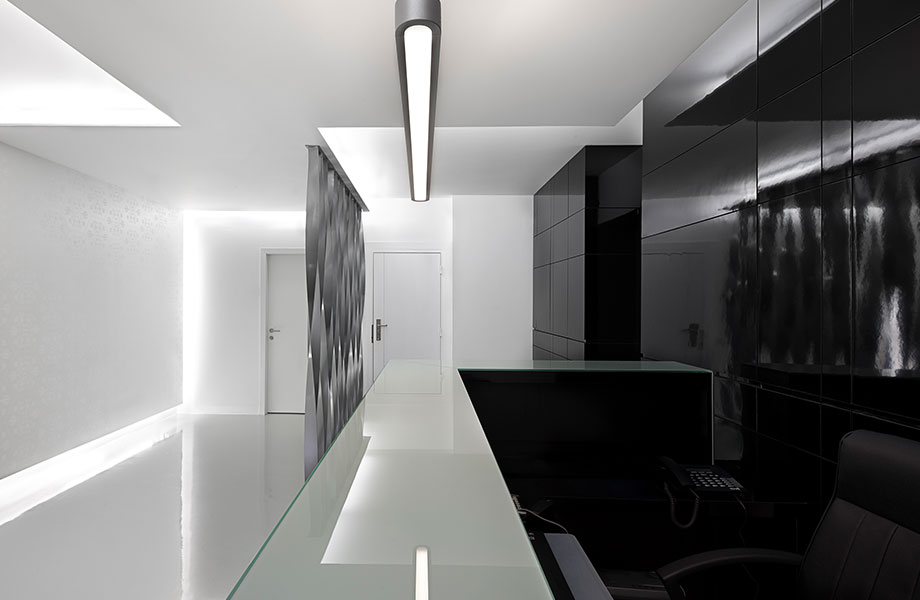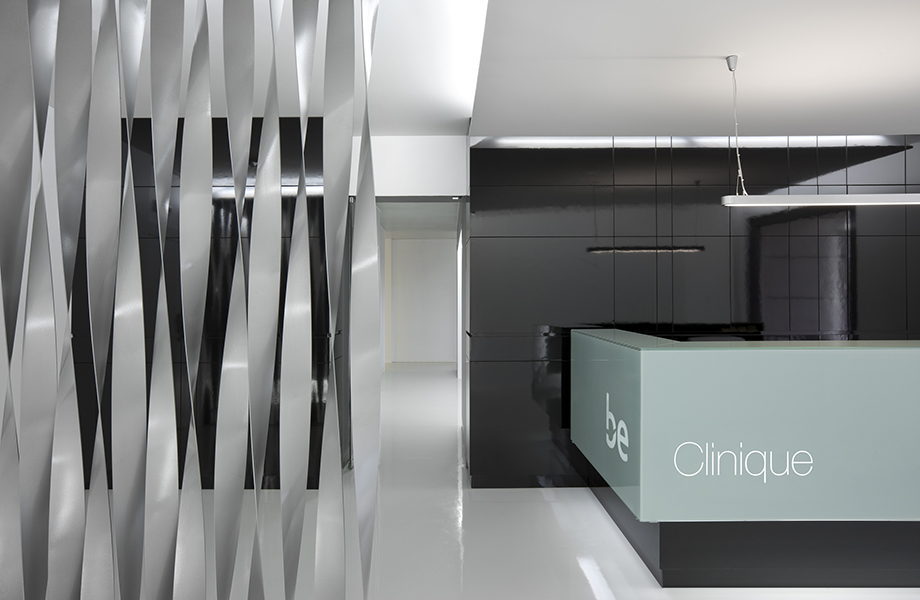 Located on Castilho Street, one of the most emblematic neighbourhoods of Lisbon, Portugal; the clinic was designed by OPENLAB Architects, an award winning multidisciplinary practice also based in Lisbon.
In keeping with Be Clinique's distinct colour palette of black, silver and grey/green, ColorCore® in black gloss and matte was used in the reception and bathroom area. The ideal choice for an array of interior solutions, ColorCore's hard-wearing characteristics make it suitable for high traffic environments where there is a high risk of scratching and impact damage.
"The reception area and the waiting room deserved special attention since these are the areas customers see as soon as they come in," says architect Gonçalo Guerreiro.
Following the client's brief for a modern, luxurious and chic image, ColorCore® was also used to clad a bespoke reception desk and also on a wall of sleek black cabinets that serve as a stunning backdrop to the reception.
ColorCore® is a dramatic and exciting surfacing material that features the high performance characteristcs of Formica® decorative laminates, with the added dimension of solid through colour.
The high gloss finish not only looks chic, stylish and contemporary, but was also a very practical choice. It provides a reflective surface, bouncing light into and around the rooms. Using an unusual design feature, a screen made of twisted metal blades, the designers divided the area into two distinct spaces.
"The first one is more private, for those who like to concentrate on reading, and the second is a more open space near the reception desk, with a window that opens on to the city. The concept of a clean image associated with the indirect light composition added character to the space. "
Jennifer Gomes, architect at OPENLAB Architects

Formica® laminate provides a surface that not only looks clean and fresh but also stays clean and fresh, as it can be steam cleaned or disinfected with no adverse effects. The nature of laminate makes it an ideal surfacing product in environments where hygiene is an important issue; providing easy to clean, durable and inert surfaces. The clinical need, on one hand, demands easily maintained surfaces whilst staff and patients appreciate a warm and welcoming atmosphere.
ColorCore® is a popular choice as it offers an ideal solution for the designer in terms of colours, finishes, textures and patterns. Inherently durable, the solid core of colour lends itself well to edging, allowing the creation of monolithic effects or contrasting features to add depth. The surface can be routered, engraved and even sand blasted to produce subtle or bold graphic and three-dimensional effects.