Sink Options for Laminate Countertops
You may have heard that you can't have an undermount sink with a laminate countertop, but that's old news. Yes, you CAN have an undermount sink!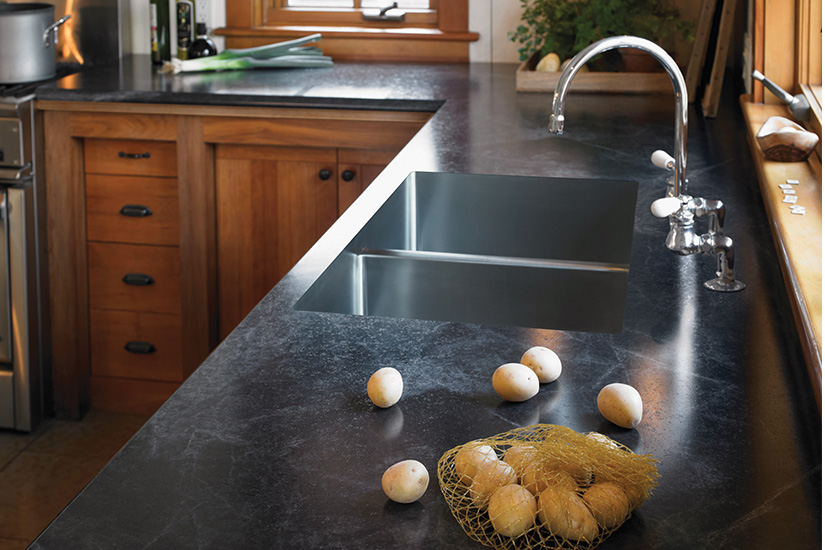 What's An Undermount Sink?
First of all, what do we mean when we say "undermount sink"?

An undermount sink is one that's installed underneath the countertop instead of on top like the more traditional "drop-in" style sink. It's held in place by a strong adhesive.

Drop-in sinks, on the other hand, are literally dropped in to a pre-cut hole in the countertop and feature a thick rim around the edges. The weight of the sink is supported by the countertop.
Advantages of Undermount Sinks
Once upon a time, all sinks were drop-in style, but these days the undermount sink has grown increasingly desirable – especially with the popularity of granite countertops.

Reasons homeowners like undermount sinks include:

Appearance. Undermount sinks give a sleek and more streamlined look to your counter.
Hygiene. Because there's no rim, there's no silicone bead seal around the sink to promote bacteria or mold growth.
Easy clean-up. You can sweep water and food prep remains directly into the sink, unhindered by a lip.
More counter space. Undermount sinks take up less room on the countertop than drop-in sinks, which is particularly nice in a small bathroom when you need space for toiletries.
Faucet placement options. With an undermount sink, the faucet doesn't have to sit directly on the sink basin – it can be behind the bowl, to the side, on the wall or wherever you want it.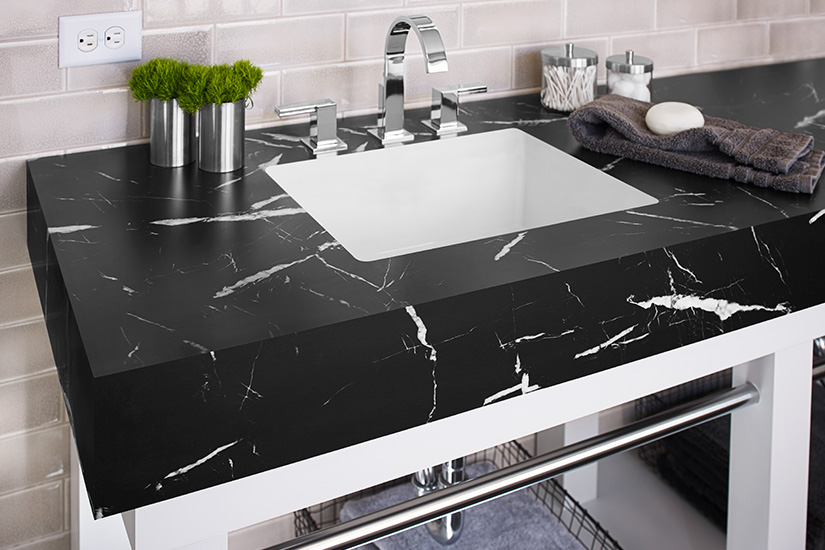 Out With the Old, In With the New
In the past, laminate counters were not a good match for undermount sinks because there was a risk of water exposure to the particle board, which could cause the counter to warp or even collapse.

But time changes everything, and new processes have been developed to overcome these hurdles. However, it's important to choose the right sink for the job.
Choosing Your Undermount Sink
Look for a sink that's approved for use as a laminate undermount. Don't try to choose any old sink and "make it work."

For success, the sink must have a 1-inch rim made from resin, machined completely flat and that meets the bowl wall at a sharp 90-degree angle. Also, a double-bowl sink must have a lowered bowl divider to allow for drilling between bowls during installation.

Karran USA is the pioneer of undermount sinks with laminate countertops, offering many choices of undermount sink styles that are approved for laminate installation. We only recommend Karran to our customers.
Other Things to Know
The secret to moisture resistance is the adhesive. Karran uses methyl methacrylate, two-part, permanent set acrylic injected between the sides of the sink and the counter. The glue forms a virtually unbreakable bond that holds the sink in place and makes it impossible for water to penetrate to the particle board.

Stainless steel and solid surfacing make the best material for undermount sink bowls when used with laminate countertops because the adhesives are made specifically to bond to these materials.

Finally, it's best to leave this particular project to the pros. Installation requires special tools that the average DIY'er doesn't have in the garage.
What Now?
Now that you know you can have the best of both worlds – affordable, beautiful laminate countertops AND an undermount sink – it's time to get inspired. View our gallery.