Winners Announced in the 2022 FORM Student Innovation Competition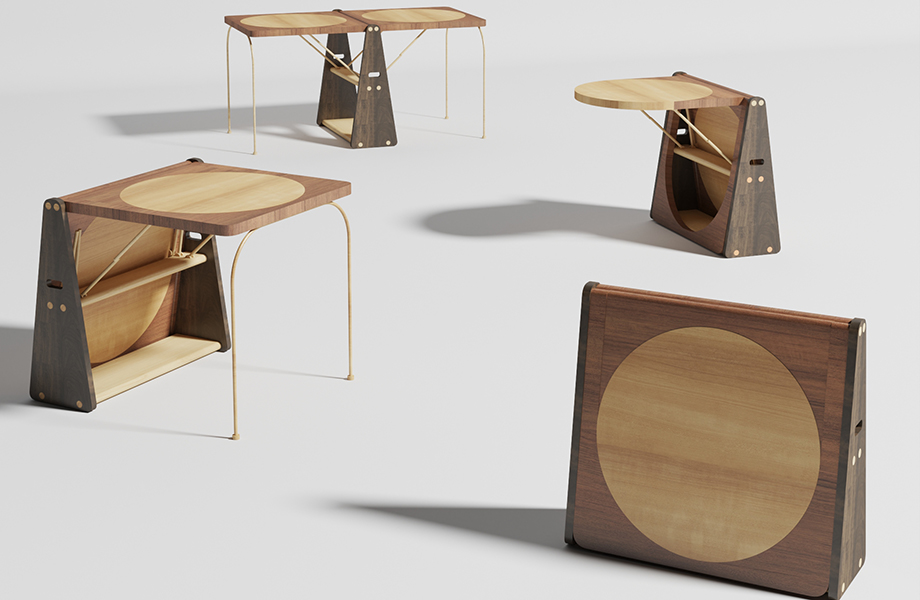 Architecture and design students submitted furniture designs for the chance to win cash prizes and showcase their work at NeoCon 2022.
As part of its ongoing commitment to celebrate up-and-coming design professionals, Formica Corporation announced the winners of the 2022 FORM Student Innovation Competition. Now in its fifth year, the competition invites interior design, architecture and furniture design students across the U.S. and Canada to create furniture pieces using Formica® Brand products.

More than 100 entries from 26 universities across the U.S. and Canada were evaluated by a jury of influential industry professionals for their interpretation of the competition's fifth-anniversary theme, which called for students to express the future of design through a furniture piece using Formica® Laminate woodgrain products, a nod to the traditional fifth-anniversary gift of wood.

The top three winning students will receive cash prizes and the grand prizewinner will see their design come to life at NeoCon 2022.
Grand Prize: Sarah Dezember and Wenhan Zhang | School of the Art Institute of Chicago | "Twins Table"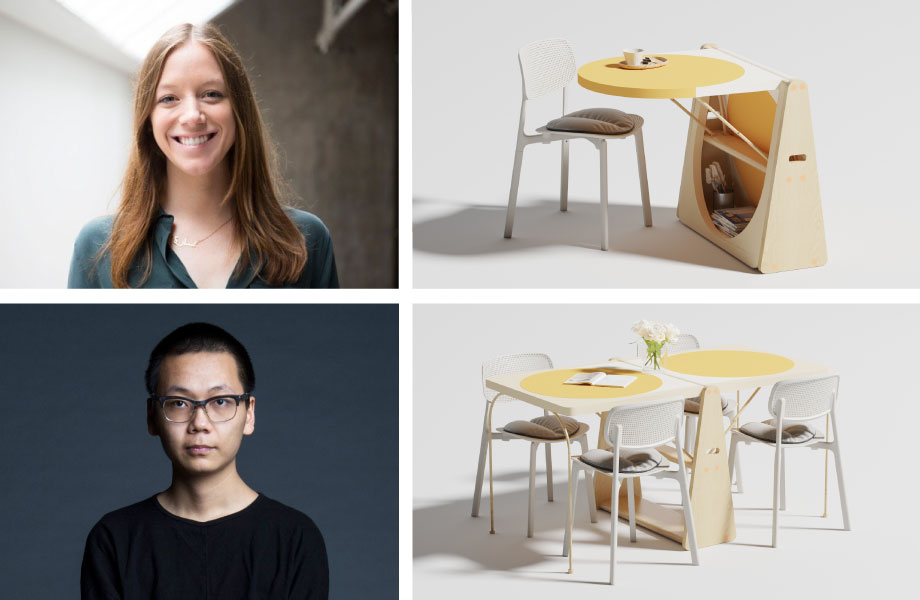 Those living in big cities often have smaller spaces that still must serve an ever-changing and ever-growing number of needs. The Twins Table was created to provide flexible, multipurpose furniture that can seamlessly transition between functions. It can be used in four different ways and in its standard configuration, one side of the round table seats two people comfortably. When completely closed, it can be stored away or used as decoration. Twins Table also comes in a variety of Formica® Laminate woodgrains, colors and patterns, offering a broad range of design options. The winning design will be fabricated and showcased at NeoCon, June 13-15, 2022, at the Mart in Chicago.
Second Place: Christina Vogiatzis | University of Waterloo | "Pawd"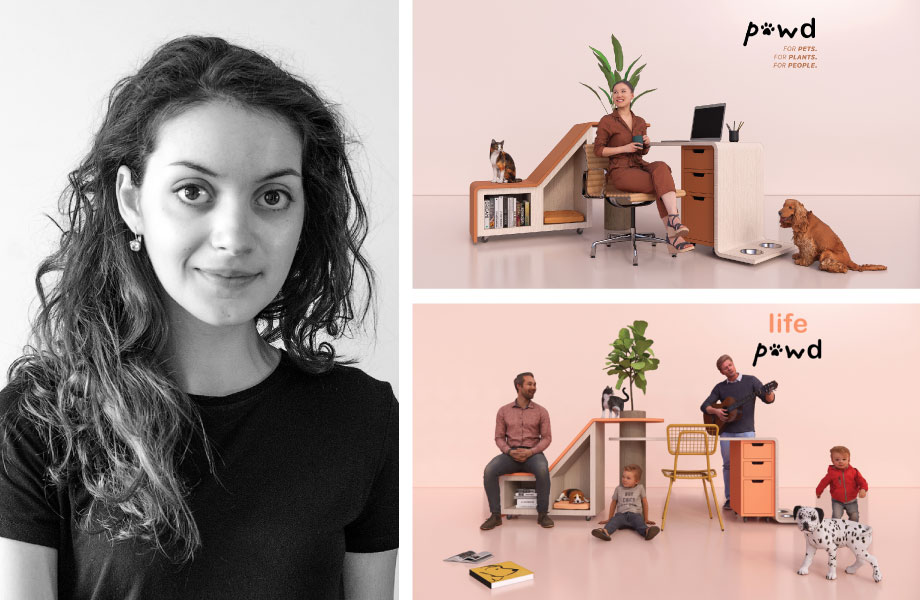 Pawd is a unique, multifunctional and stylish furniture piece designed to serve and connect all forms of life, from humans to animals and plants. The sleek design of Pawd features three main components to support a diverse range of activities, from work to play and more.
Third Place: Julienne Bernier | Georgian College | "Annual Ring"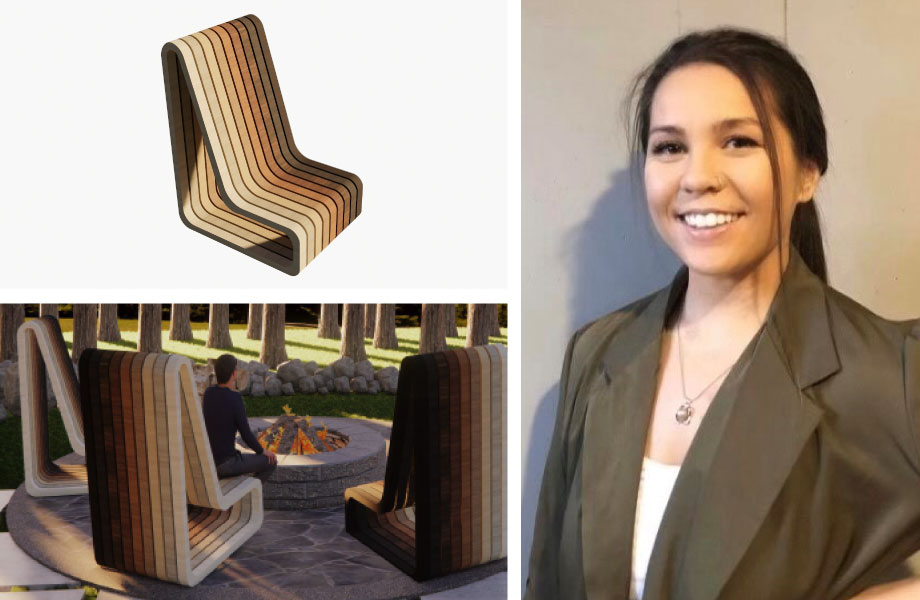 Inspired from the annual rings that show the age of trees, the Annual Ring chair reflects the lifetime journey of humans and trees alike. With nine stages of human development, this piece uses nine woodgrain laminates to represent each stage arranged in a gradient from light to dark, symbolizing the beginning and end of life. The chair structure has no beginning and no end, just like the circle of life.
Honorable mentions: Other top ten finishers, in no particular order, include:
Amber Scott from Ball State University
Bethany Mumford from Savannah College of Art and Design
Blaine Zweifel from Ringling College of Art and Design
Jenna Muller from College for Creative Studies
Mary Li and Golnazsadat Jakakzadeh Azar from Yorkville University
Molly Taylor from Mississippi State University
Pasang Lhamo Sherpa from Georgian College
The winning designs were chosen by a jury of influential industry professionals:
Cindy Allen, editor-in-chief of Interior Design Media
Renee Hytry Derrington, managing principal of design at Formica Corporation
Sarah Kuchar, owner and creative director of Kuchar Studio
Dan Mazzarini, principal, BHDM
Felice Silverman, principal, Silverman Trykowski Associates
About the Competition: The FORM Student Innovation Competition is a modern take on the original "FORM: Contemporary Architects at Play" challenge, held by Formica Corporation in 2008. Ten world-renowned architects, including Zaha Hadid, Michael Graves, Bernard Tschumi and Massimo Vignelli, constructed new works of art from Formica® Brand products.
Details about the 2023 FORM Student Innovation Competition will be posted in September.

Below is a gallery of the winning entries from previous years of the FORM Student Innovation Competition: