Embracing Nostalgic Architectural Forms and New-Age Sustainable Design
When Noz Nozawa approaches nostalgic design, she knows one of the most important elements to get right is the way the space should make you feel. When she set out to design a diner of the future, she didn't have many diners nearby that still truly captured the essence of what people love about the 1950s, so she also studied steak houses and club houses to help inform the sensory experience of how a diner should smell or feel, how the colors should look and how people should interact with the space.

Learn more about her approach to this iconic yet futuristic design below.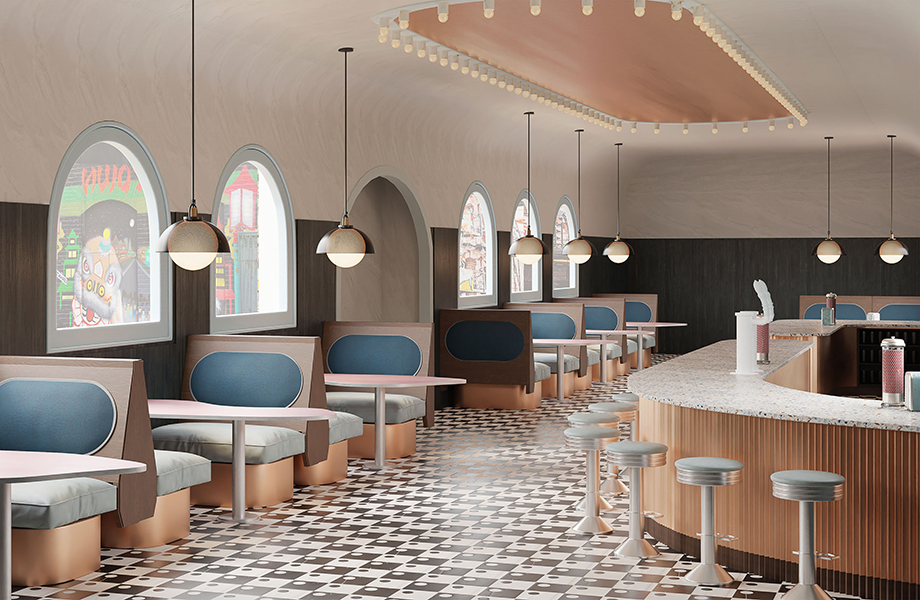 Can you speak to your approach to capturing the essence of nostalgic or heritage looks?
My favorite thing about nostalgia is that it is based in both the factual references of spaces from that time, and the feeling and moods that are conjured up from our memories of those spaces. We began with reference images and researching restaurants of this era to imagine what it felt like to dine there. In San Francisco, we don't have many of these restaurants still around, but there's no substitute for being able to experience a reference space in person! I also try to review similar-but-different spaces too, to understand the parameters of nostalgia – for example, in the case of this diner, we researched steak houses and club houses, too. Materials are also such an important part of capturing nostalgia. I often think the memories we have of specific senses – the way light moves through a space or hits a color, the way the seats feel and how the edges of a table feel, the smells and tastes we experience in a space – are vital to capturing a feeling of nostalgia.

What about the '50s diner look has made it so iconic?
I think the combination of adventurous curvilinear geometries and vibrant colors made the '50s diner aesthetic so iconic. To me, the 1950s era of design was so thorough and interconnected across consumer experiences: muscle cars and convertibles felt like they belonged to the same forward-thinking era as the diners they pulled up to, and it was all so revolutionary and accessible to experience by American consumers.

Please explain your vision for the diner of the future. How does this build upon or deviate from the designs of past iconic diners?
To me, a "diner of the future" draws on one's nostalgia and on the nostalgic emotions conjured by depictions of an era, but it is designed with sustainability and accessibility in mind. I think as designers, we must be stewards of humanity and our planet, so forward-thinking commercial design should incorporate thoughtfulness toward the origin of its materials and how those materials break down if a restaurant changes hands and is remodeled.

Why did you select the products, colors/patterns that you did for your diner of the future vision?
One of the nostalgic diner materials I've always been drawn to are all the silver metals and aluminums and the reflectivity they add to a space. Incorporating metallics and reflective surfaces, from our fluted copper finish bar fascia to the recessed ceiling, lends a sparkle that feels referential of iconic diners, but in a very "today" warm copper.

Similarly, I love the idea that a future-thinking diner would have accessibly priced, delicious food, served in a space that utilizes luxe materials. I feel very strongly that a small way that we designers can contribute positively to our communities is by creating spaces that affirm for people across the socioeconomic spectrum that we all deserve access to wonderful experiences and beautiful spaces. Inspired by that idea, we chose a twist on classic checkerboard diner floors via marble tiles by Kelly Wearstler, and comfy banquettes in lush performance fabrics.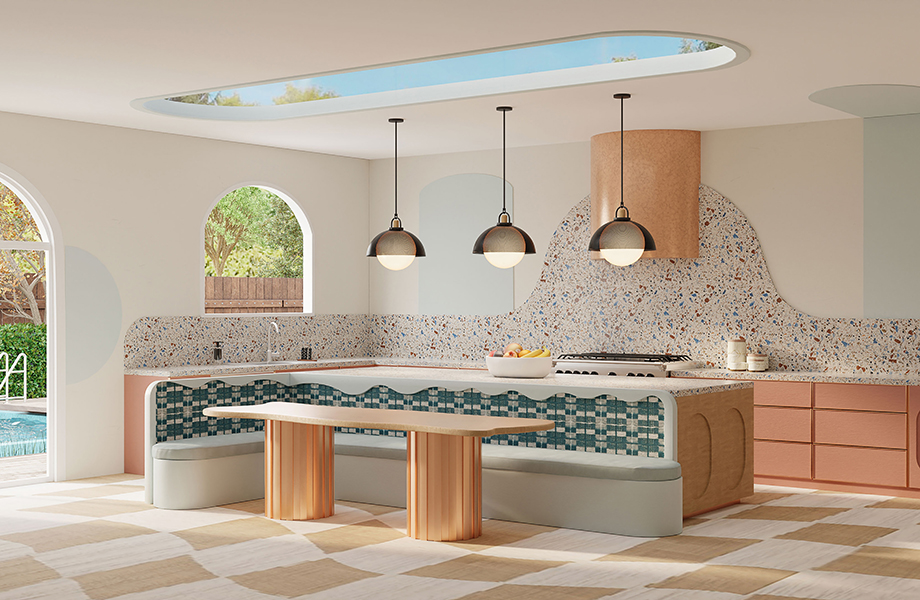 What inspiration can homeowners take from diners past and future for their own kitchens?
My favorite thing about diners is how welcoming they feel, and how intuitive the layouts are. It's so clear when you walk in what seats at the bar are available and what booths or tables are open, versus my experience of some steak houses and fine dining restaurants where the tables are hidden behind the host stand, and sometimes there are multiple rooms you might be seated in. That intuitive, welcoming nature of diner design is, to me, a great inspiration for designing one's own kitchen! I am very lucky that I have friends who love to cook – and when they come over to cook in the kitchen I designed in my home, they know where to find the cast iron, where to look for the mixing bowls, and where to set up ingredients and prep them (and they feel totally comfortable helping themselves without asking permission!). I think, more than any specific material or color, although I do love playing with both in a kitchen design, the mood and welcoming spirit of diners is the biggest inspiration to incorporate.
Order free samples from Nozawa's designs: