Create a Home Office That Really Works
With many of us working from home these days, the time is right to update your office or establish a brand-new workspace that helps you get inspired.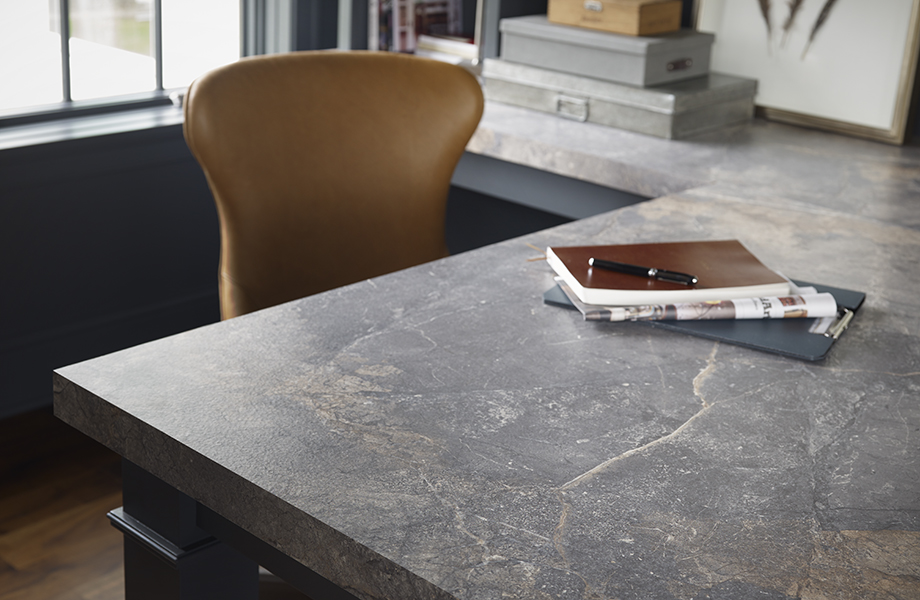 Working from home has become the new norm for a lot of people. So why not make the most of it and rethink or touch up your home office? Spending some time to make your workspace an inviting, well-functioning spot is well worth the trouble so you can be comfortable and productive while working remotely.

Whether you use a preformed Formica® Laminate countertop from your local home center store, refinish an existing table, or reimagine a space from the ground up, here's a rundown of ideas to help you get started.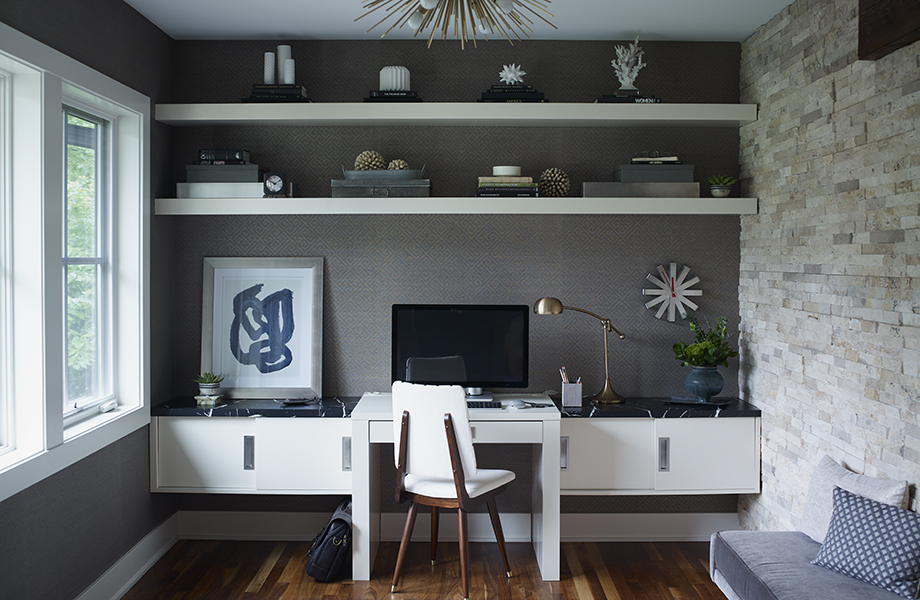 Encourage Wall-to-Wall Productivity
You can take over a wall in your living room, den or bedroom with a wall-to-wall office concept that makes a statement. Here's a great example of combining a Formica® Laminate top in 7403-11 Nero Marquina with 949C-58 White shelving for ample storage and display.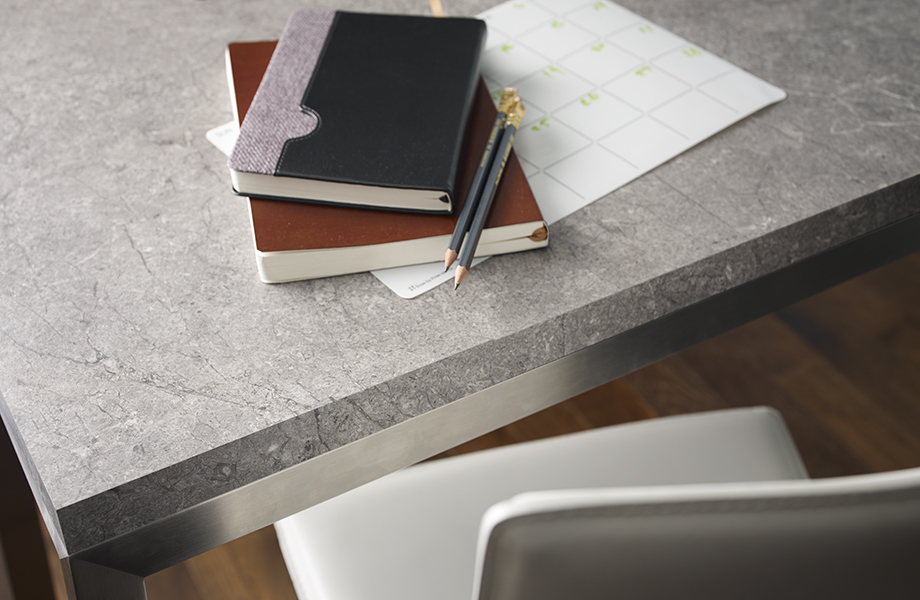 Give Old Furniture a New Role
If you've got an old table or desk gathering dust, refurbish it with a new hard-working laminate top to give it new life. This desk in 7407-34 Marmara Gray makes a classy statement and can tuck nicely into a corner.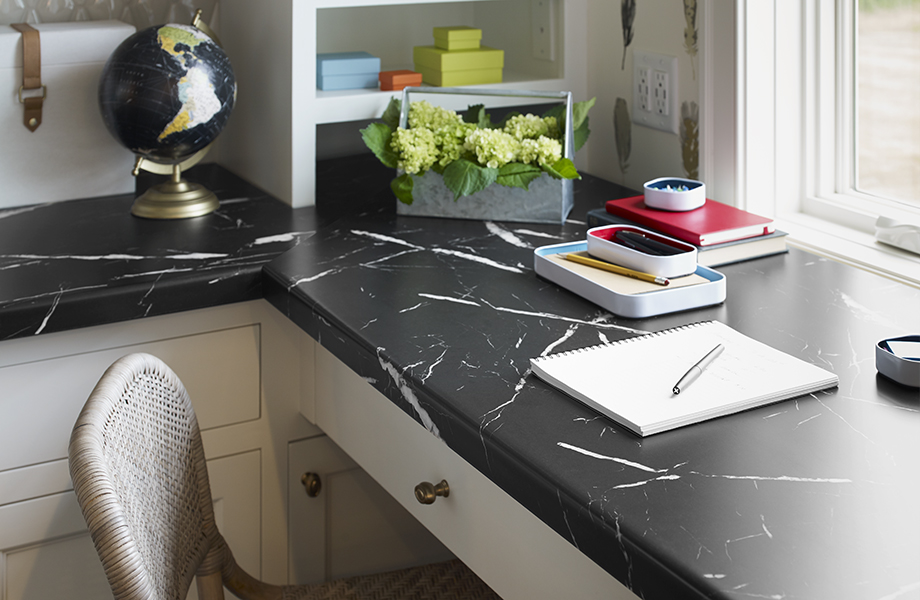 Establish the New Corner Office
Built-in counter and drawer space could be just the thing for your at-home workdays. This could be created as a dedicated office or as an extension of a kitchen countertop as shown here in 7403-11 Nero Marquina.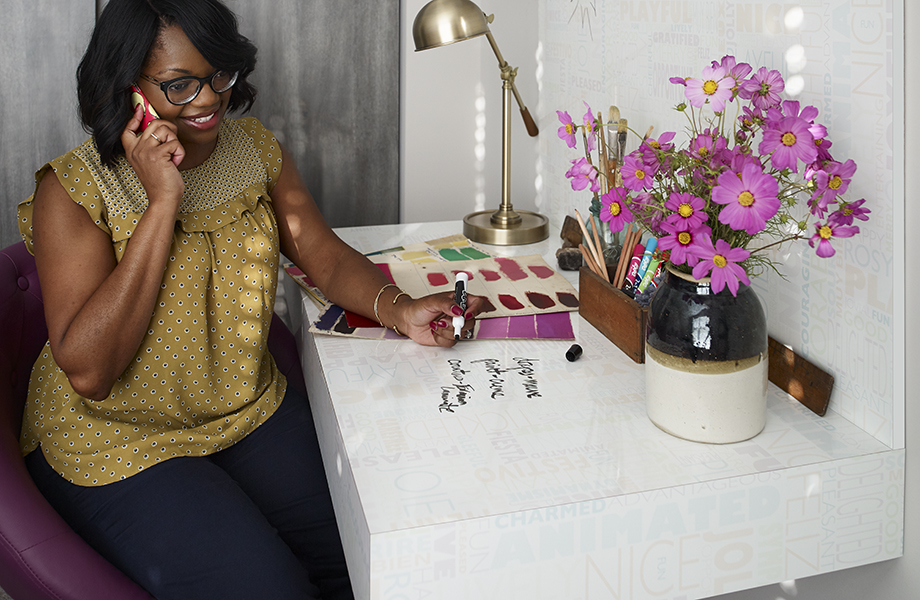 Explore Writable Surfaces
Whether you're brainstorming before a big meeting or jotting down your to-do list, Formica® Writable Surfaces, shown here in 9541-90 Happy Words, are perfect for capturing your thoughts.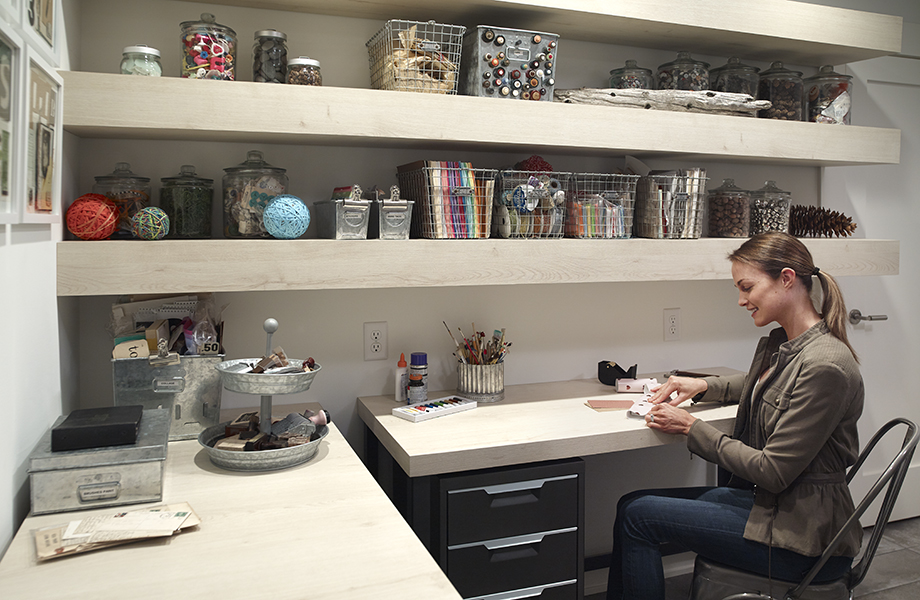 Get Crafty
If you have an existing craft room, it can definitely double as a home office for multiple members of your family. 7412-PG Planked Raw Oak incorporates the lightness of Scandinavian design concepts and makes a statement on desktops and shelving.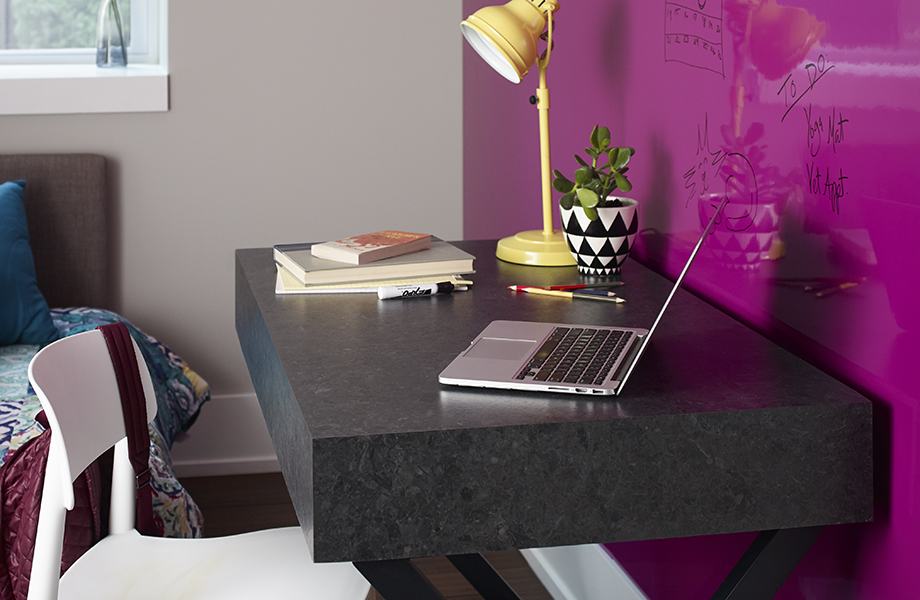 Welcome Office Drama
Forget boring office beige and explore the full color spectrum! This Formica® Writable Surfaces wall in 6907-90 Amarena lets you move away from your computer screen to explore your creativity. Think storyboards, outlines, notes and more on a vibrant markerboard surface set against a desk in 9527-34 Black Shalestone.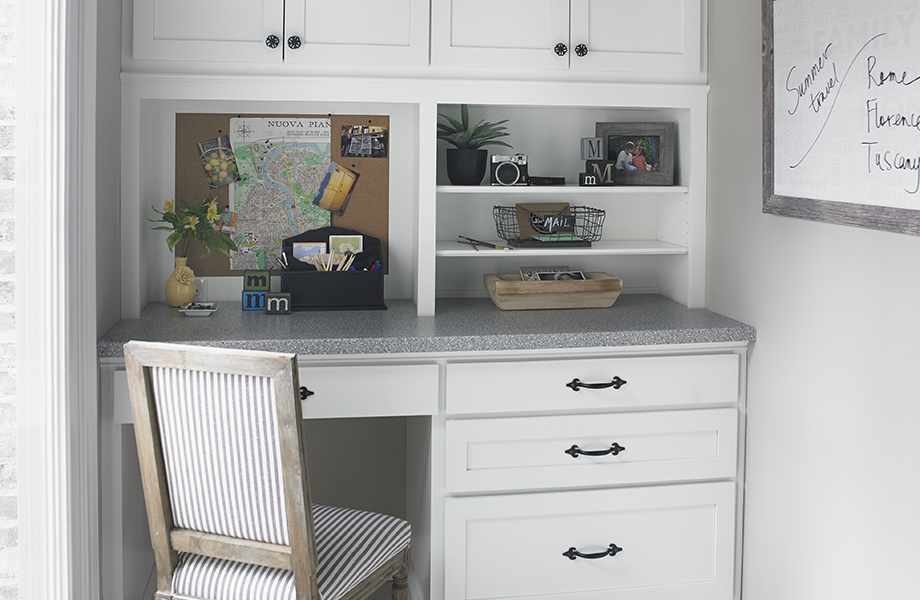 Employ a Space-Saving Desk
Find some stock cabinets or shelving and create a beautiful 3518-58 Flint Crystall desk surface in a bedroom, kitchen or mudroom. You could even fit this gem in the entryway of an apartment if you're short on space.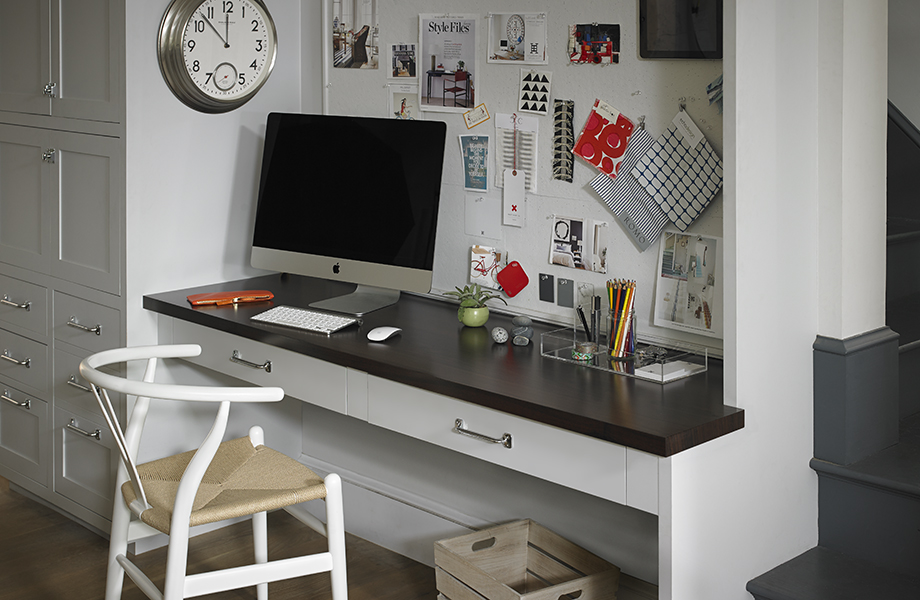 Cook Up a Kitchen Desk
As kitchens are often today's default command centers, spiff up your office nook with a sleek top, shown here in 6209 Prestige Walnut.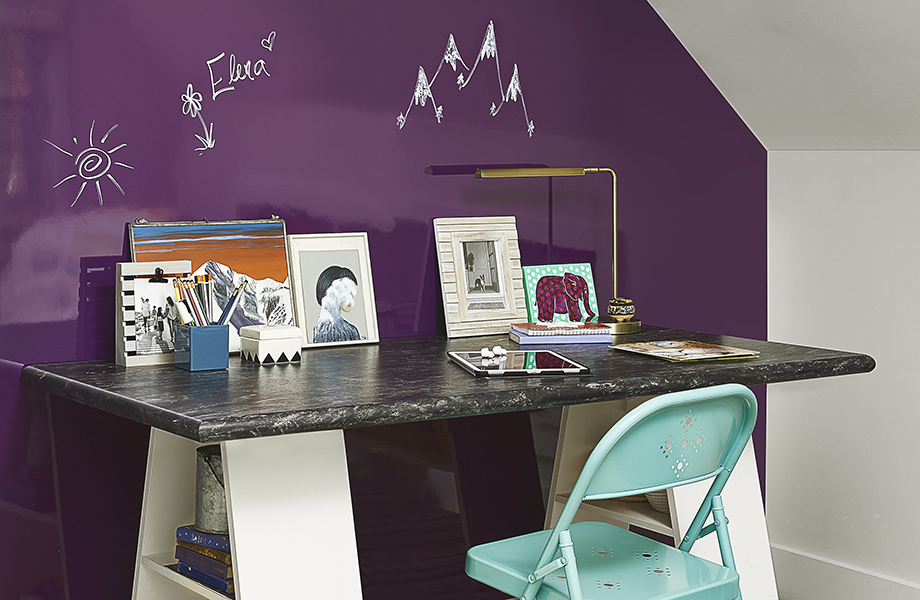 Maximize Odd Angles
If you have a bonus room, attic or even space under your stairs with an angled ceiling that makes layouts tricky, get creative! This 5019-34 Black Bardiglio desktop rests on trestle legs for storage (a great furniture hack!) and sits against a 6903-90 Cassis markerboard wall ready to capture ideas.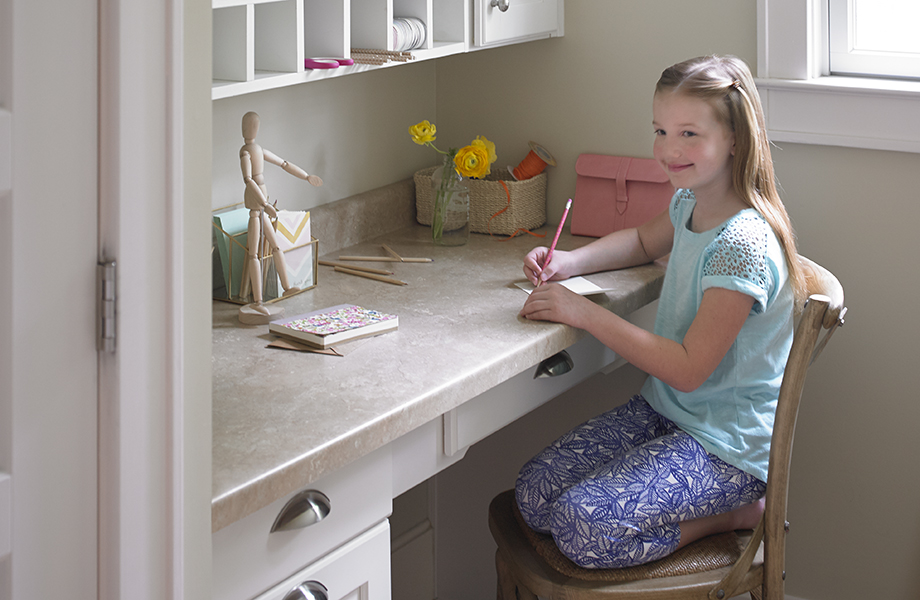 Embrace a Small Space
If you have extra space in your butler's pantry or laundry room, it could be ideal for a new workstation, like this one shown in 3526 Travertine. With a warm, welcoming space, your kids may apply to become your coworkers during their home learning days!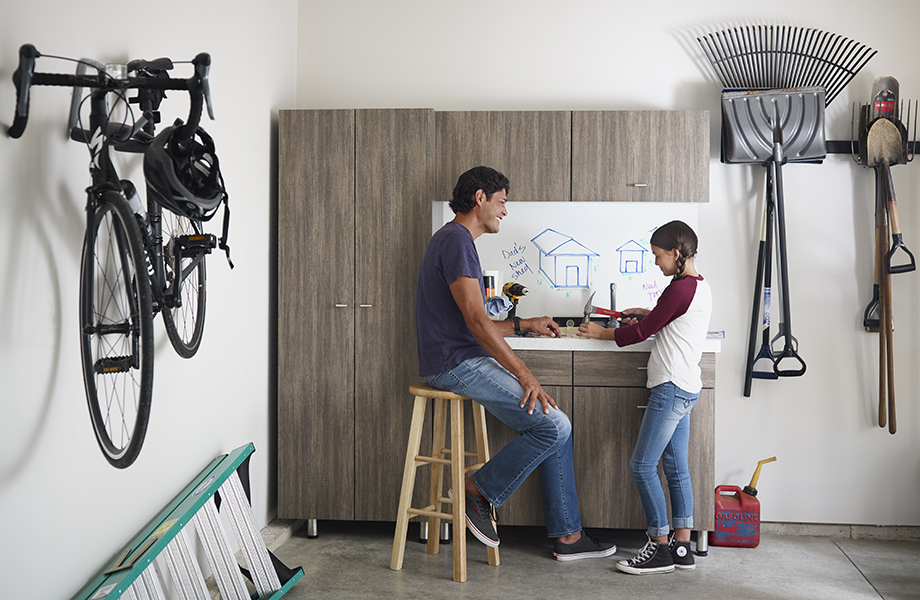 Think Outside the House
When all else fails, you can set up shop in the garage or even an outdoor shed! Pairing 8915-NG Walnut Fiberwood cabinets with Formica® Writable Surfaces in 9313-90 ImagiGrid yields storage space with an interactive element.
Don't Forget the Finishing Touches
Once you've got the desk component of your new workspace down, find a comfortable chair and evaluate the overall ergonomics. Pay attention to lighting and storage, and add some personal touches and plants to make it welcoming. Your home office should be somewhere you'd really like to be!