Groupe Stena head office refurbishment: a reflection of the brand's modernity and evolution
Groupe Stena head office refurbishment: a reflection of the brand's modernity and evolution
A project featuring Formica® brand products
Photo credit: Eleni Vardaxoglou
Drawing on the adage that 'if you want something done right, you better do it yourself,' Groupe Stena recently set out to refurbish its head office in Saint-Léonard. For this project, the family-owned business specialized in cabinetry, fixture installation, construction and design relied on Formica® brand products to modernize its space and reflect its new brand image.
Given that the company's activities have expanded over the past 20 years, it was necessary to reorganize the space to keep pace with this growth and meet the needs of employees and clients alike. To this end, Groupe Stena developed a new office space, a larger dining room to accommodate the staff and a welcoming lobby.
"I've always known that Formica offers a wide range of colours, patterns and textures in its products that guarantees that I'll always find just what I'm looking for," says project designer Eleni Vardaxoglou. "Their products are an obvious choice when selecting materials for a project. Working with Formica, I can be sure that the products will be of high quality and durable, available quickly and at a reasonable price."
The project's design team ensured balance and functionality throughout the spaces by focusing on the colours and textures used in each area, for a harmonious, crisp and clean result that honours the materials used.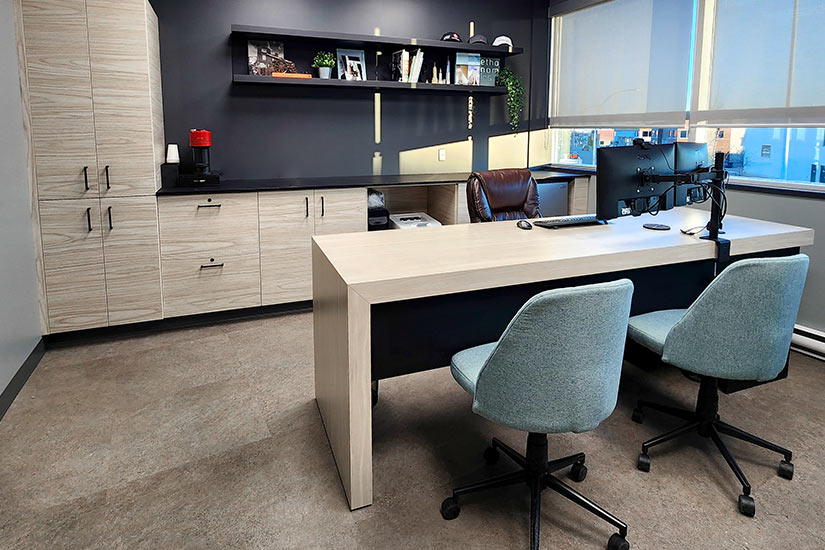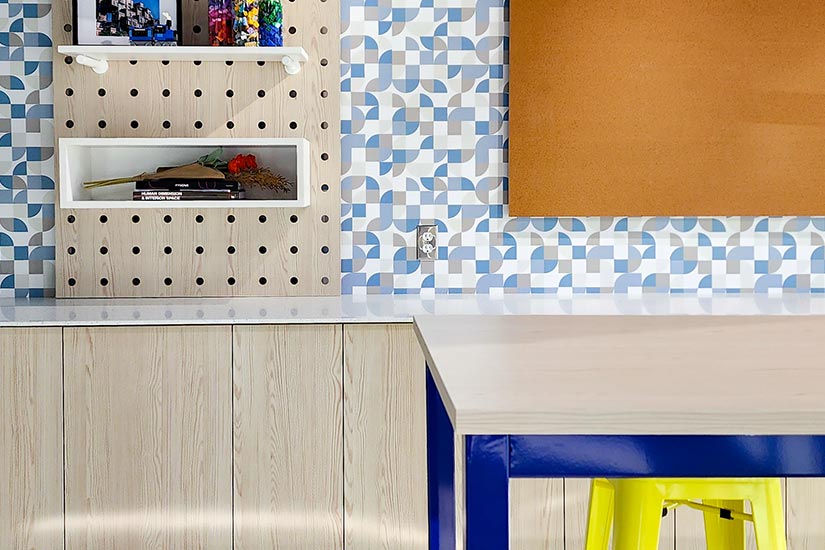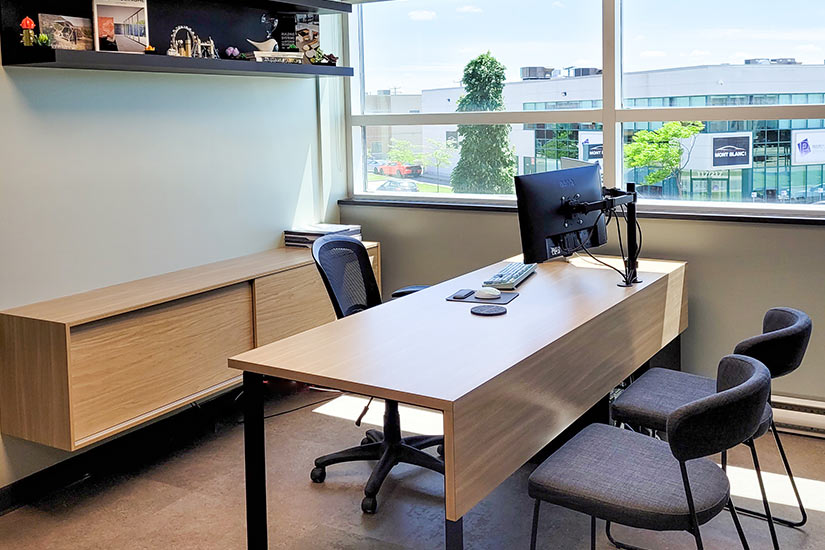 Buff Elm (#5793) laminate was the perfect choice to update and brighten the President's office, and for the employees' desks, the designer turned to a slightly different shade, Beige Elm (#5794), to add a modern touch to these work environments.
In the company lobby, Blond Cedar Formica® brand laminate in two finishes (Blond Cedar 8576-PG and Blond Cedar 8576-58) adds a lot of texture. "The cabinets and the peg board were built with Pure Grain (PG), a woodgrain texture that adds dimension, while the matte finish (#58) used for the table provides the perfect texture for a work surface," says the designer.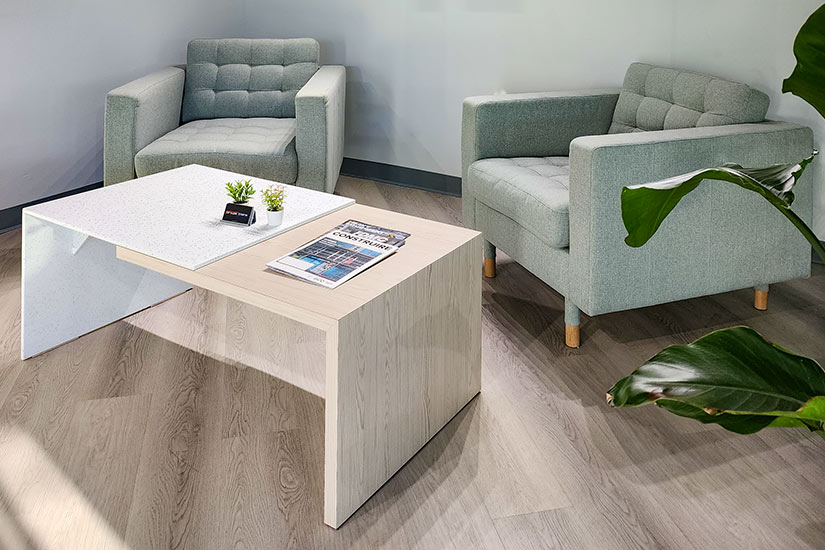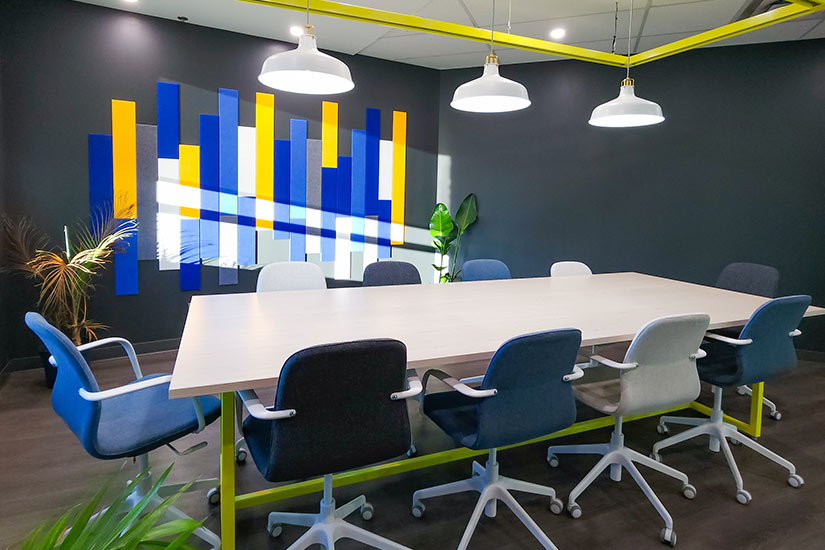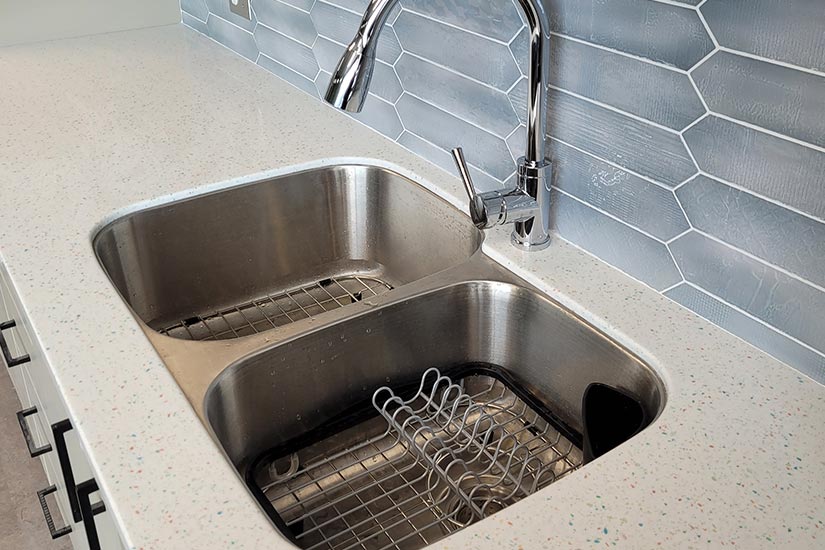 Because of its durability and ease of maintenance, Formica® Everform Solid Surface was used for the countertops in the lobby, staff dining room and kitchenette, as well as for the coffee table. "We chose the Sea Glass design because we wanted to add subtle, yet vibrant, touches of colour to our common areas," says Eleni Vardaxoglou.
The versatility and variety of Formica® brand products make them proven assets in successful renovation projects.