The beauty of flora and fauna has inspired many Formica® Brand patterns since 1951.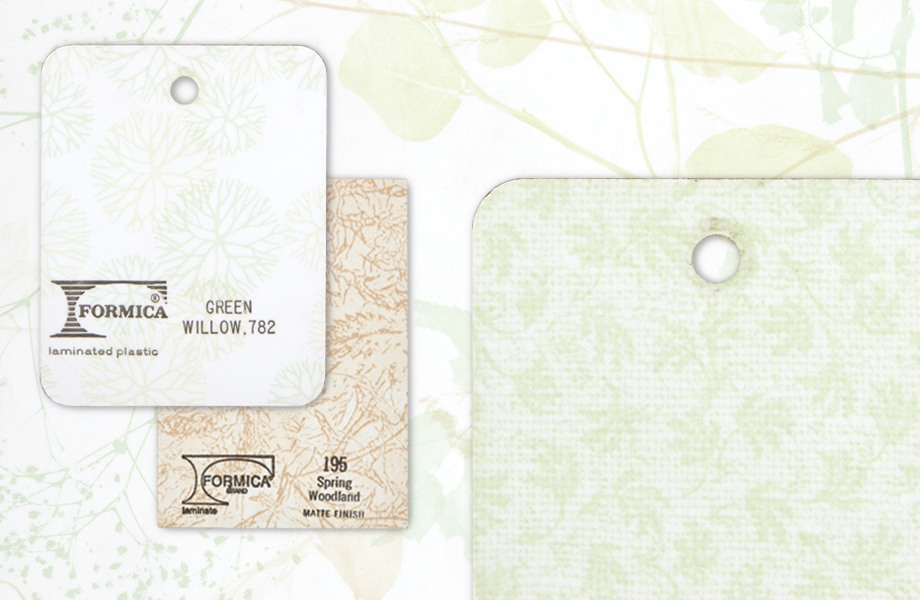 Humans have always looked to the natural world for design inspiration in their living environments. What we now call biophilic design represents a longstanding reverence for nature's ability to bring serenity and calm to interior spaces.
Here's a look at the botanical patterns Formica Group has introduced over the years.
1951: Fernglo (1st version) – Brooks Stevens designed the first plant-themed décor.
1965: Willow – In-house Formica® laminate designer Bob Ford based this concept on hand-drawn trees in architectural plans.
1965: Fernglo (2nd version) – Ford used a fern botanical woven in a twill or linen fabric for a small-scale design.
1967: Fleurette – The spring flower Tweedia inspired this two-stage design of an abstracted five-petal image. Pastorale was introduced the same year in Spring and Autumn colorations that used a cyanotype process.
1980: Woodland – Ford combined several graphics to create this altered, reduced botanical art of dandelions and flowers with hand-draw accents designed to look like the forest floor.
1982: Grey Daisy was a hand-drawn pattern created in the U.K. It was launched in a variety of colors, including Pink, Green, Grey, Golden, Yellow and Autumn.
1987: The Flora series was introduced, including Almond and Rose Ash. Print designs and vintage French botanical art inspired these patterns showcasing simple, abstracted floral elements. The drawings were combined with a graphic texture to produce a two-color print which was intentionally off register to produce a dimensional effect.
1996: Fallen/Frosted/New Leaves – These large, layered leaf patterns ranged from an orange Fallen Leaves version to the softer Frosted and bright New Leaves colorations.
Learn more about the Botanicals series in this video: