Commandez un échantillon gratuit
Remarque
Nous sommes actuellement en transition de dimensions d'échantillon en vrac de 5x7 à 3x5 et de 10x10 à 8x10. Les échantillons commandés et reçus pendant cette période sont offerts sous réserve de disponibilité.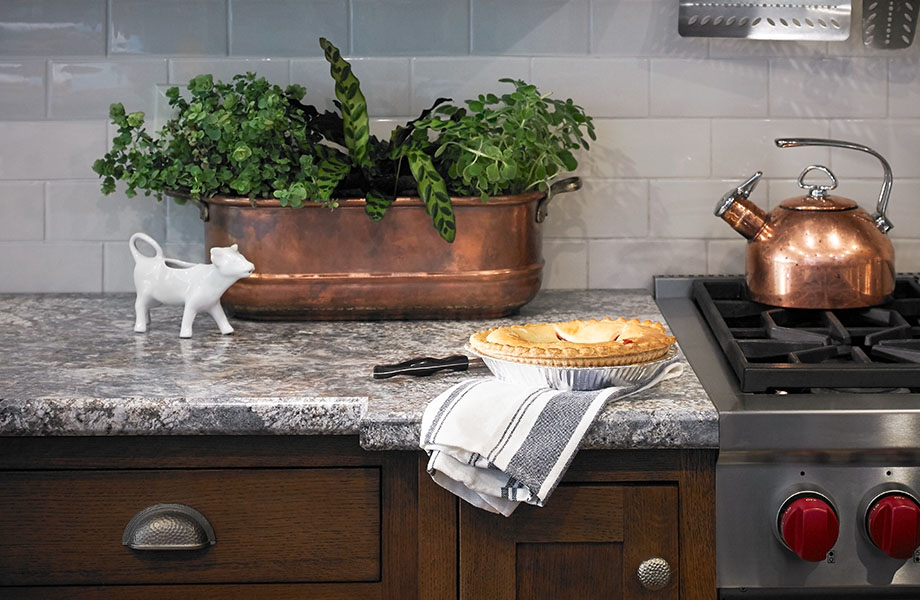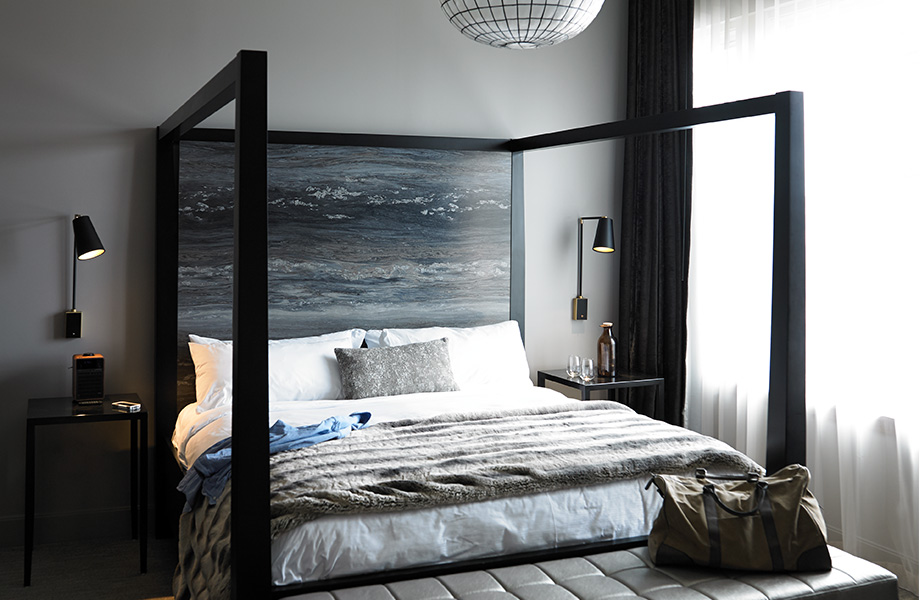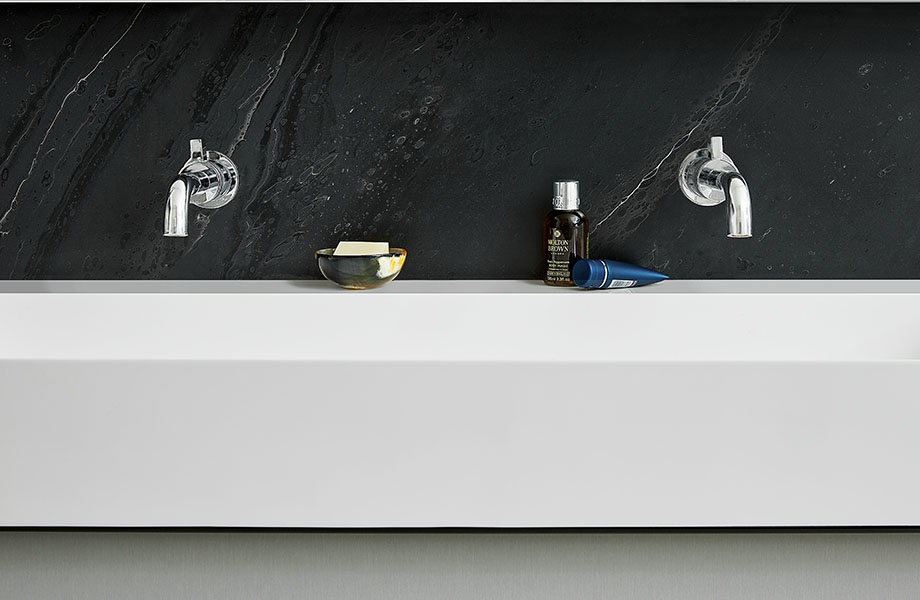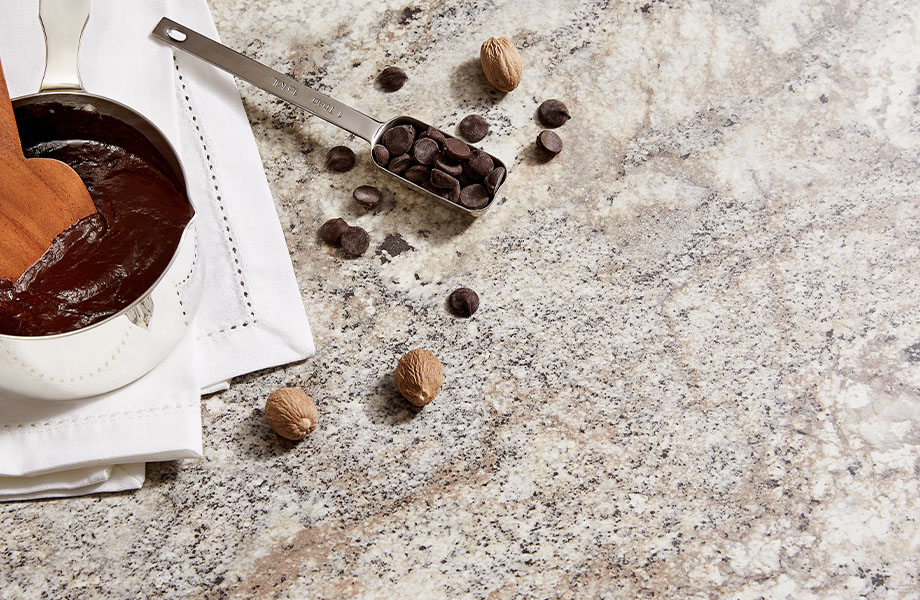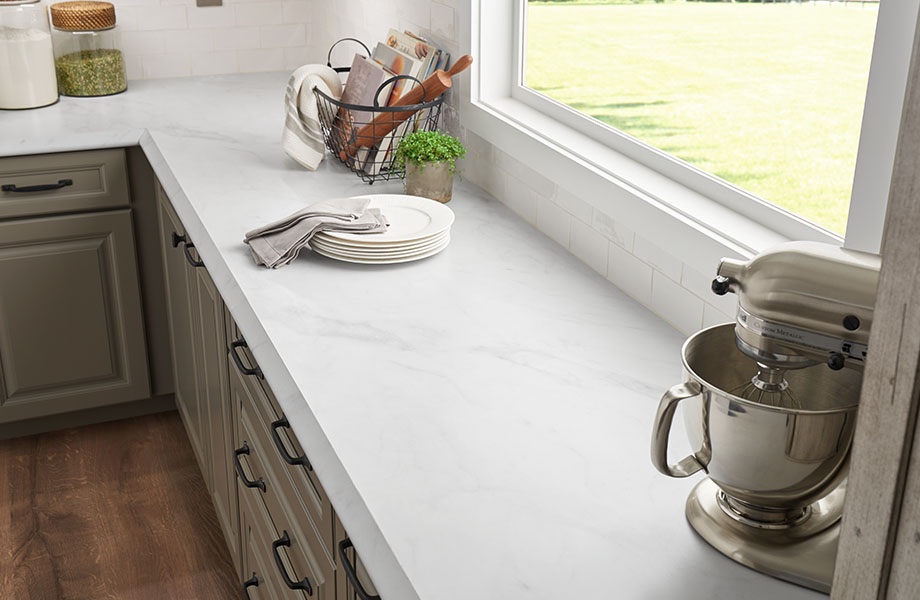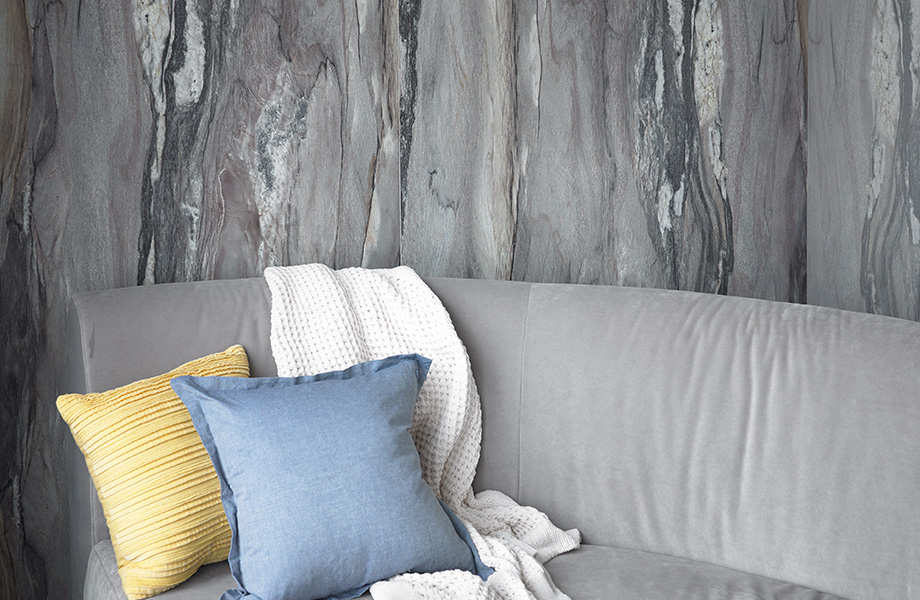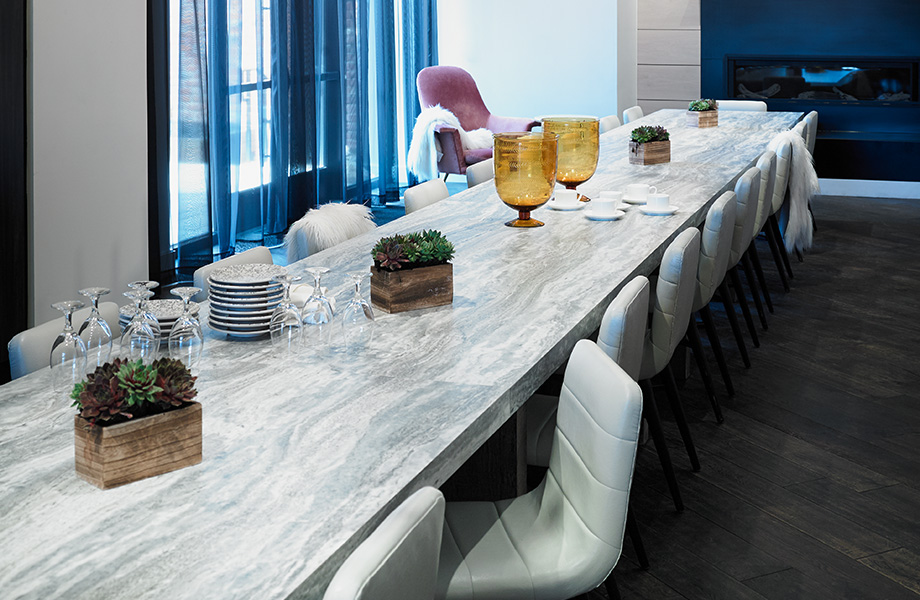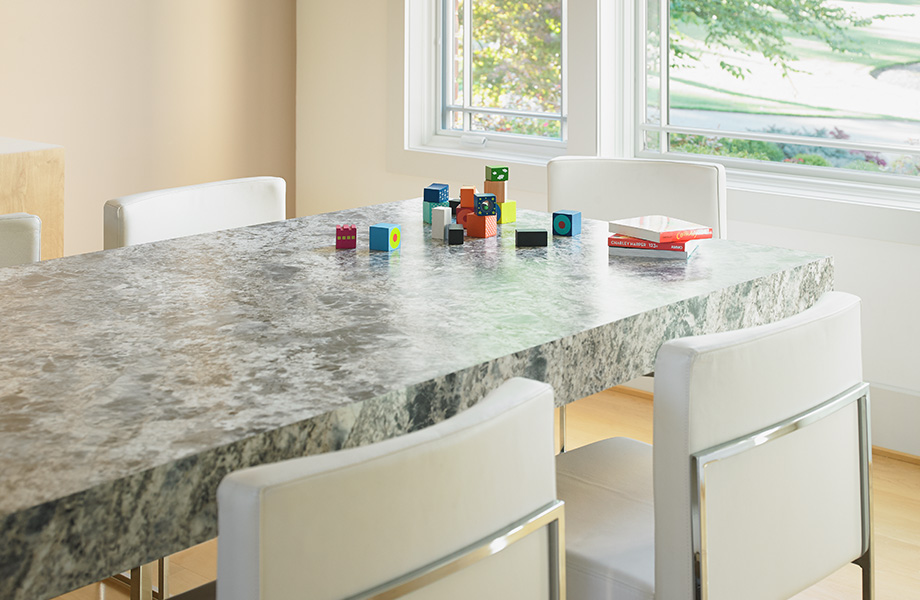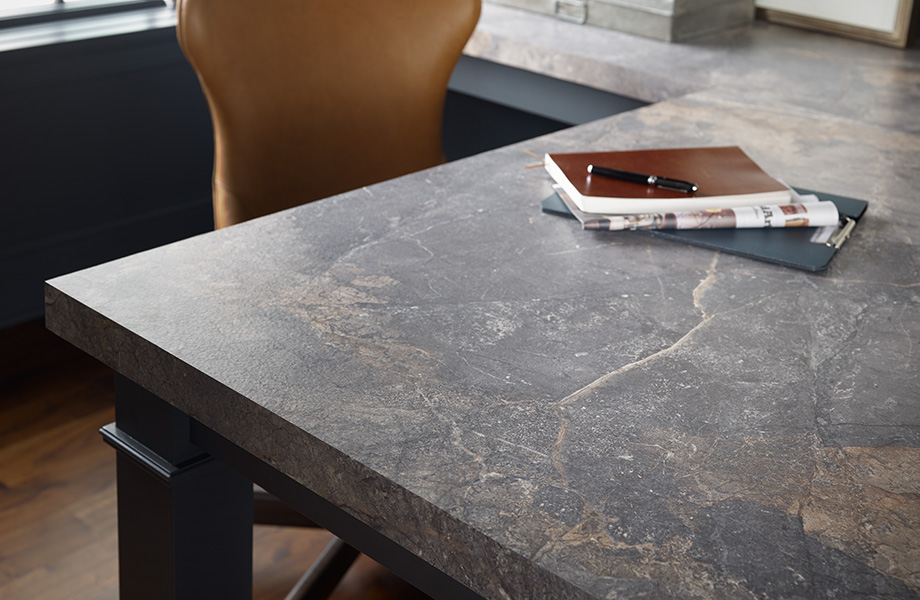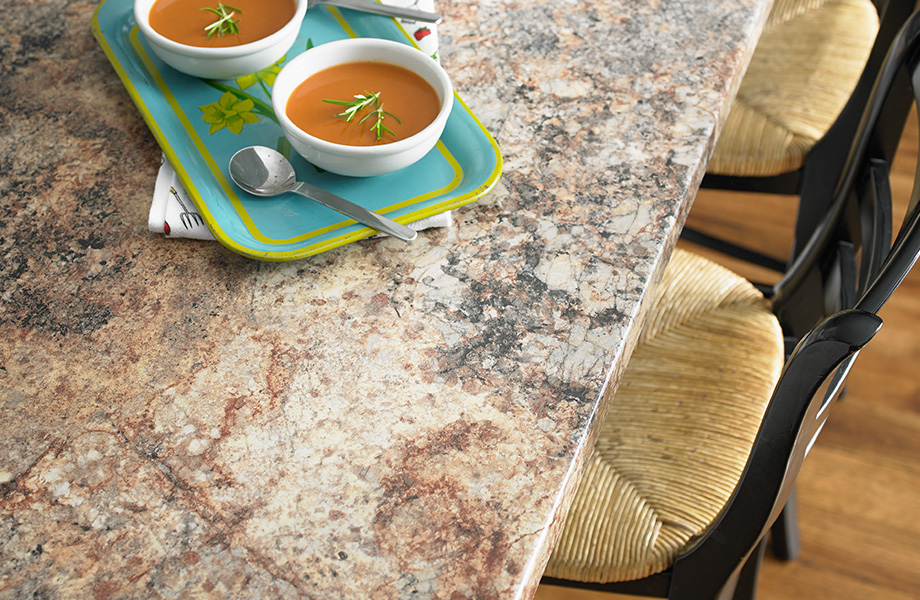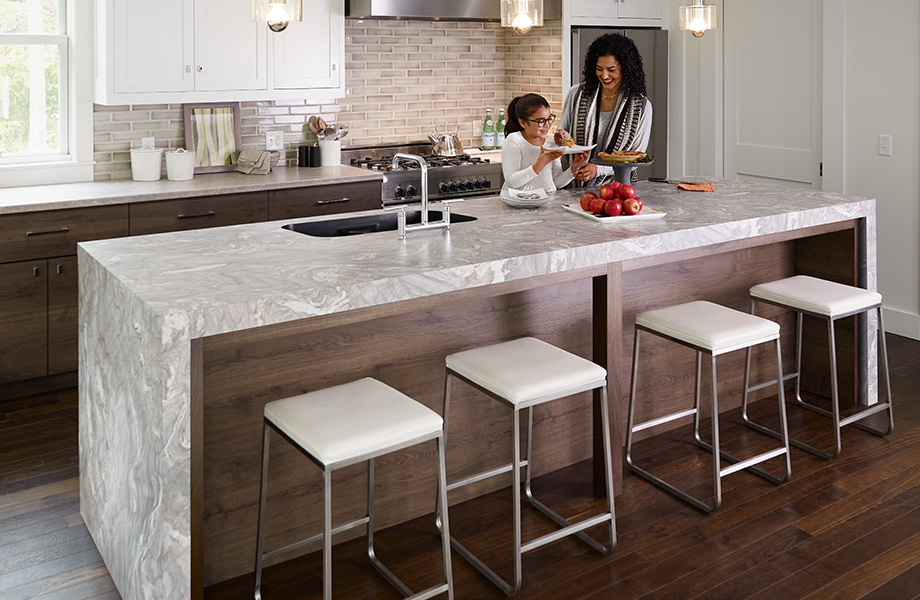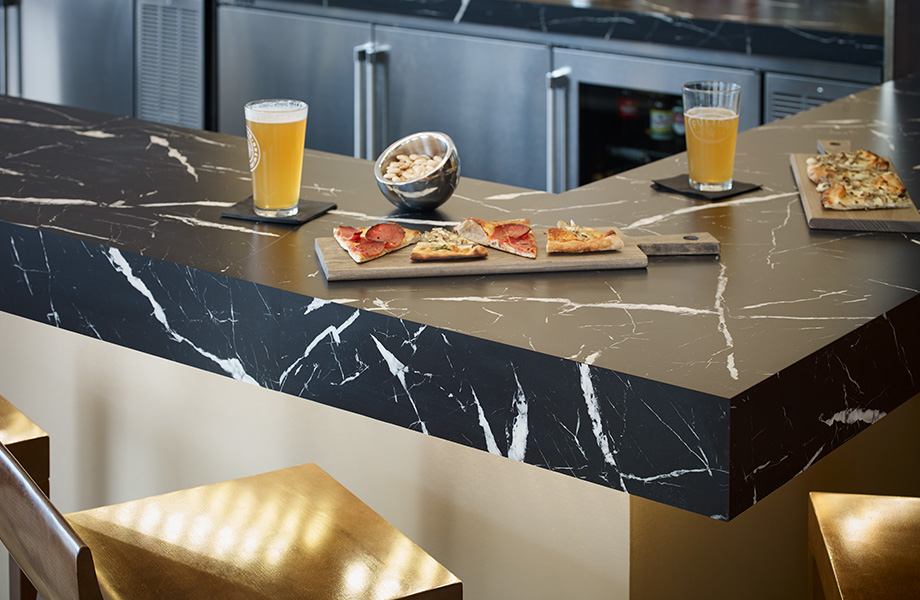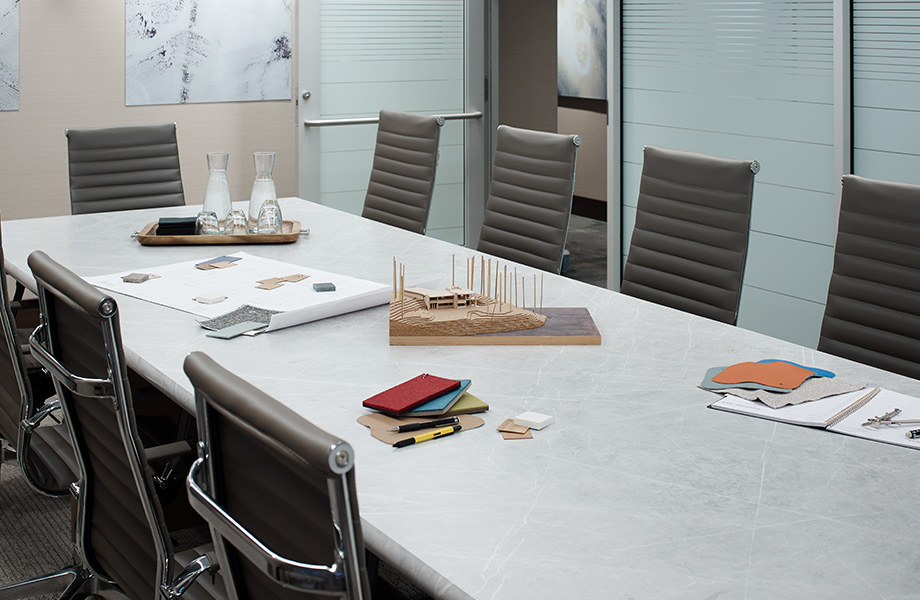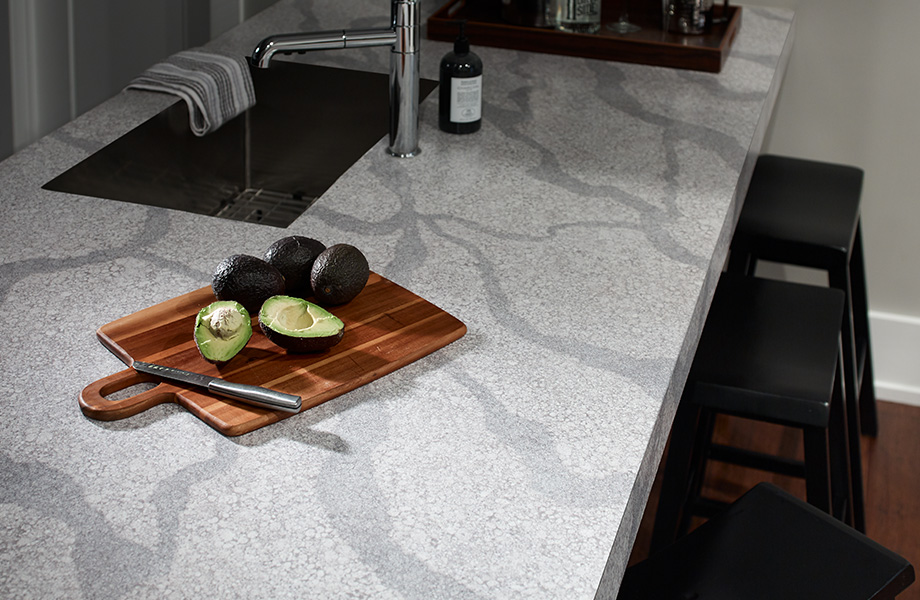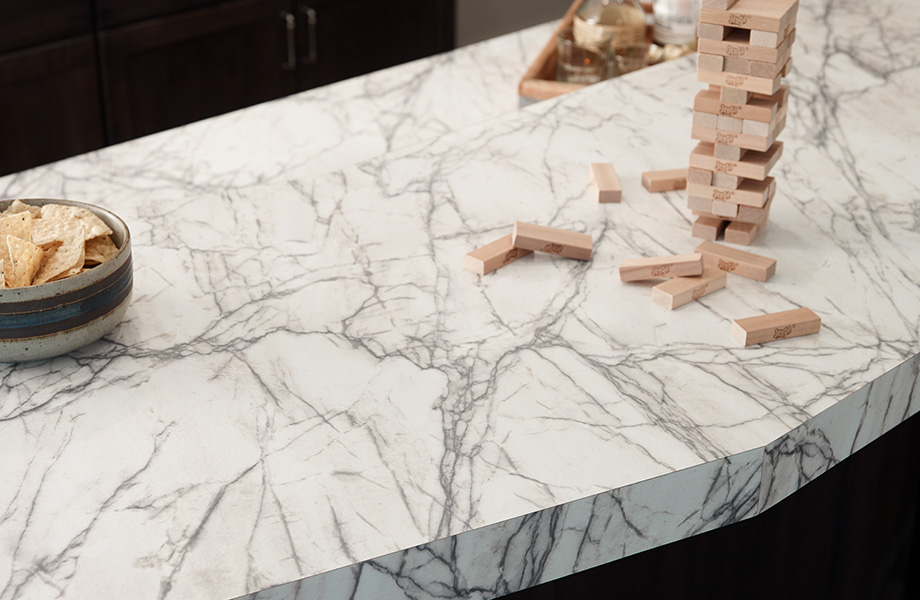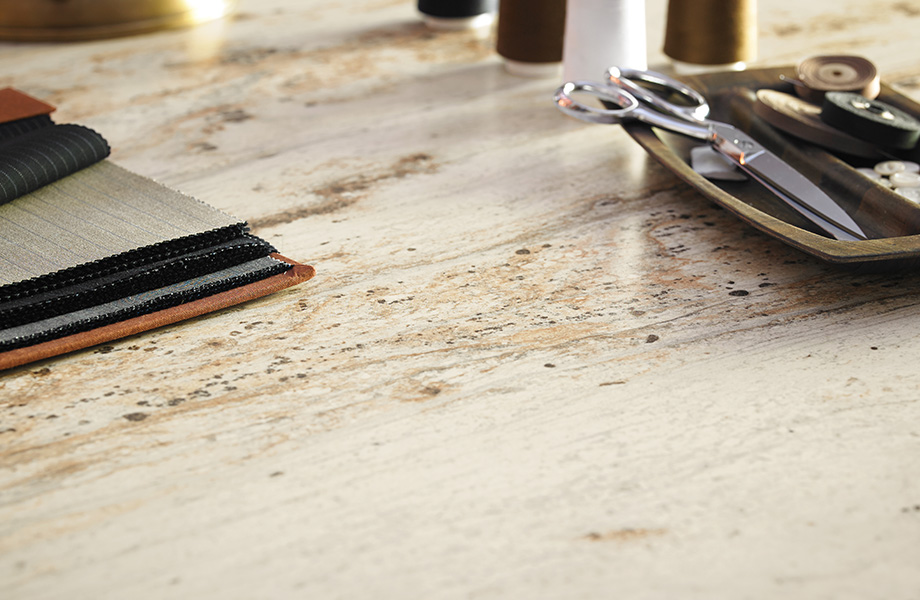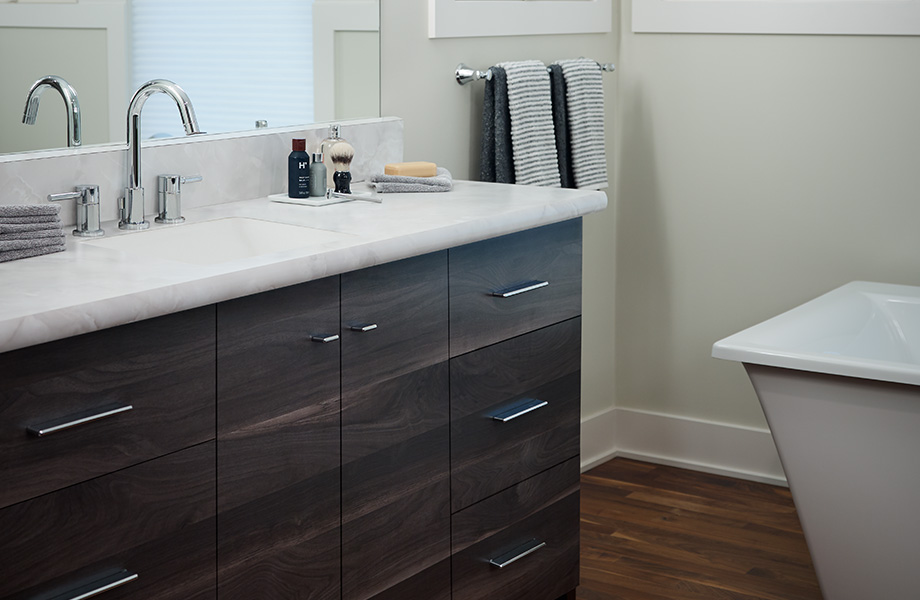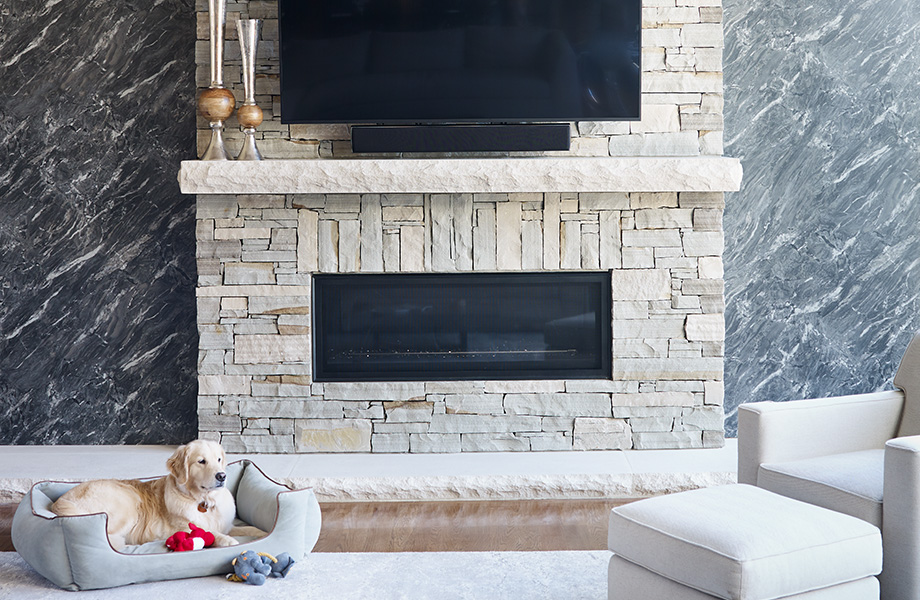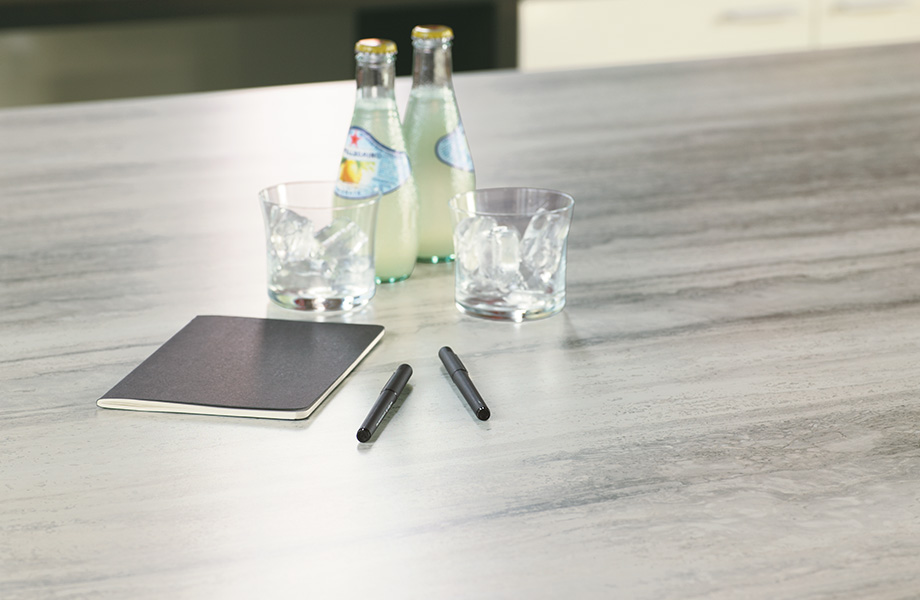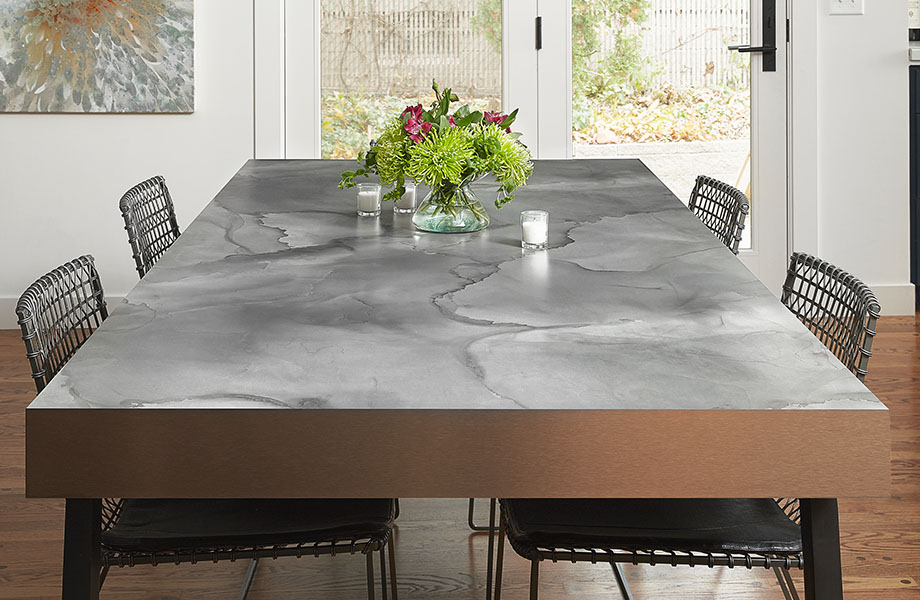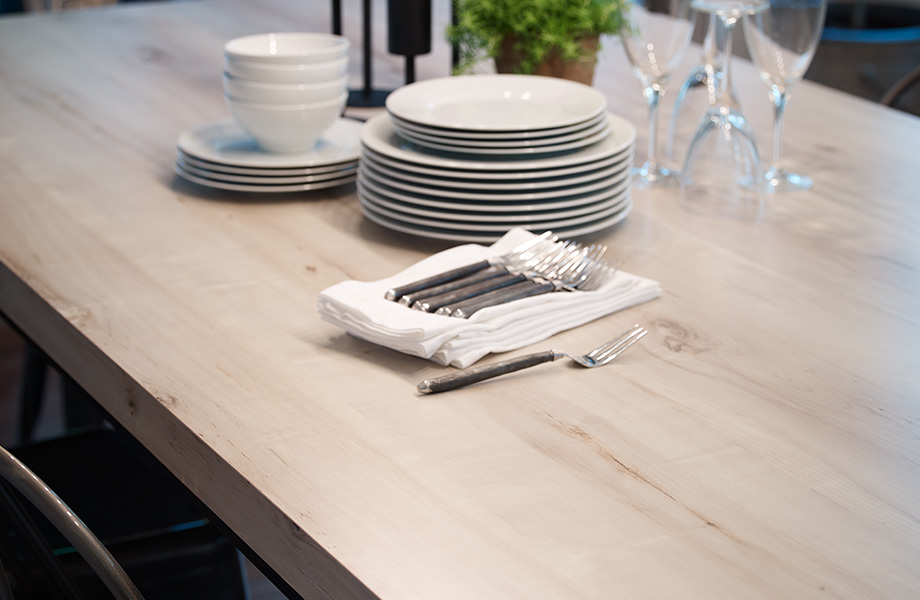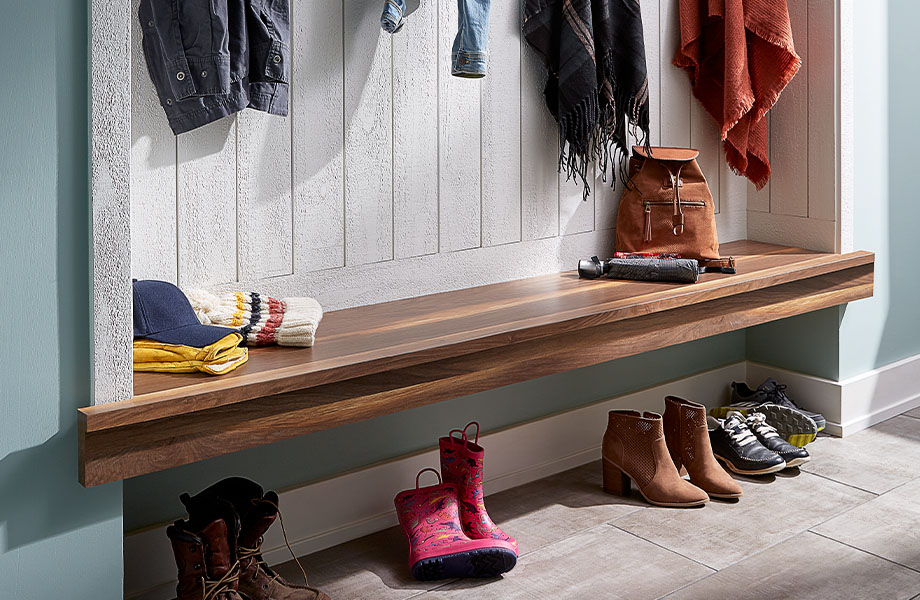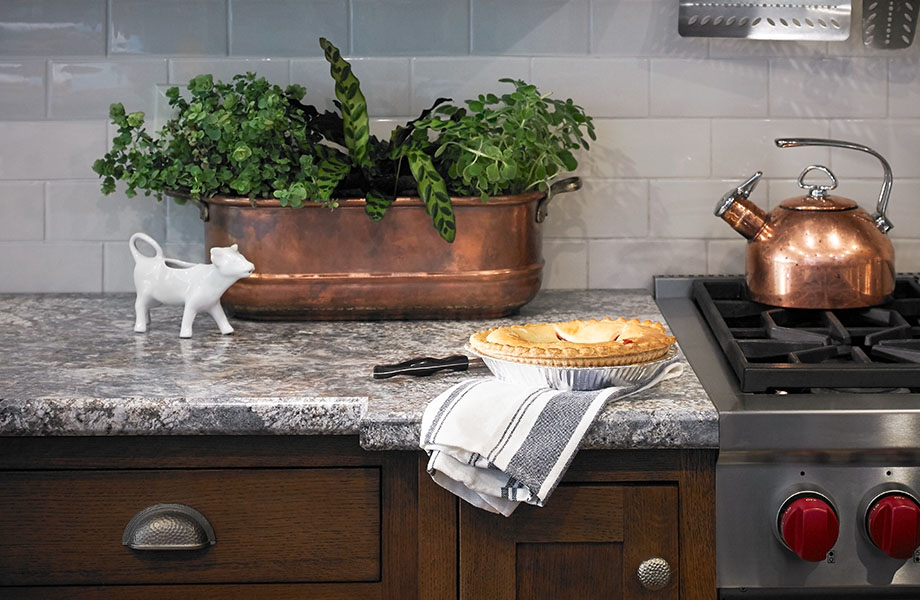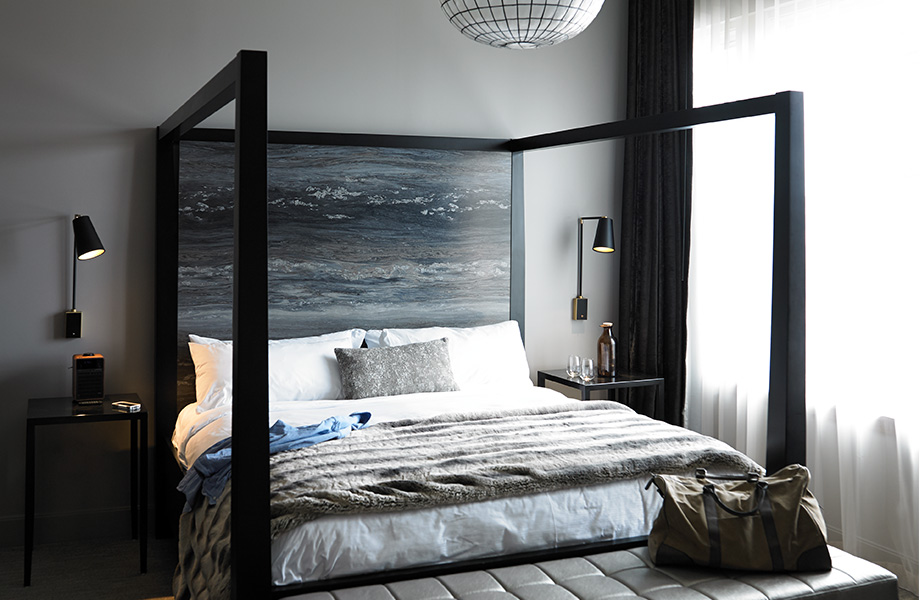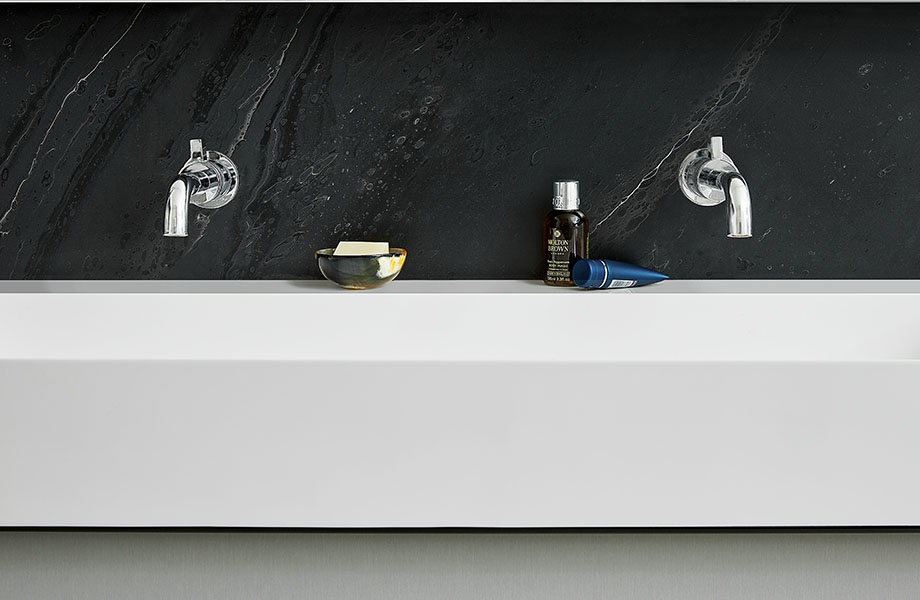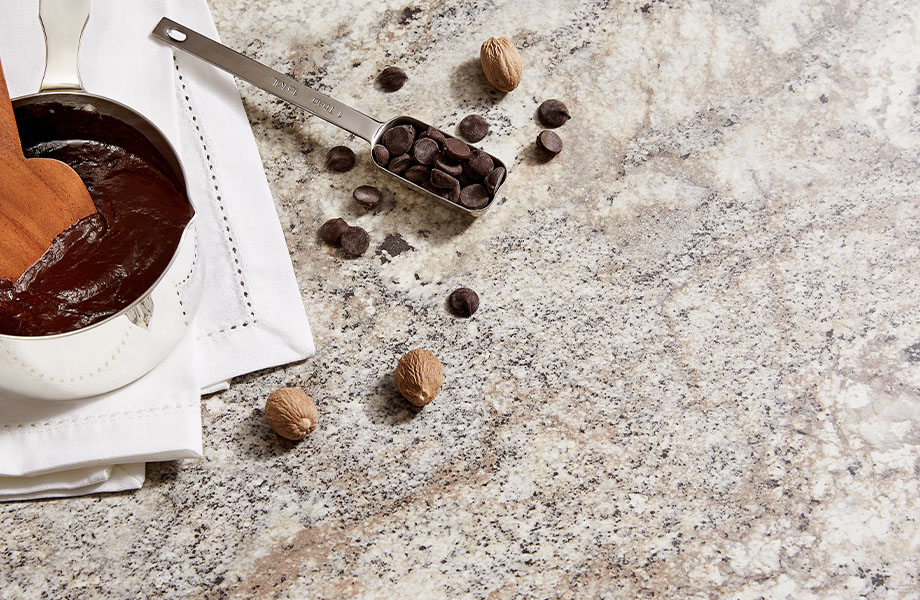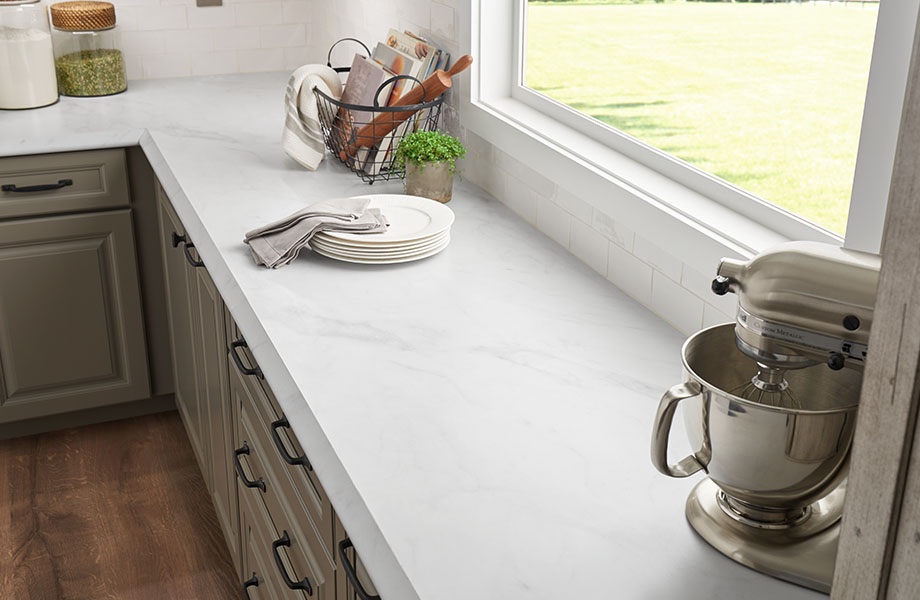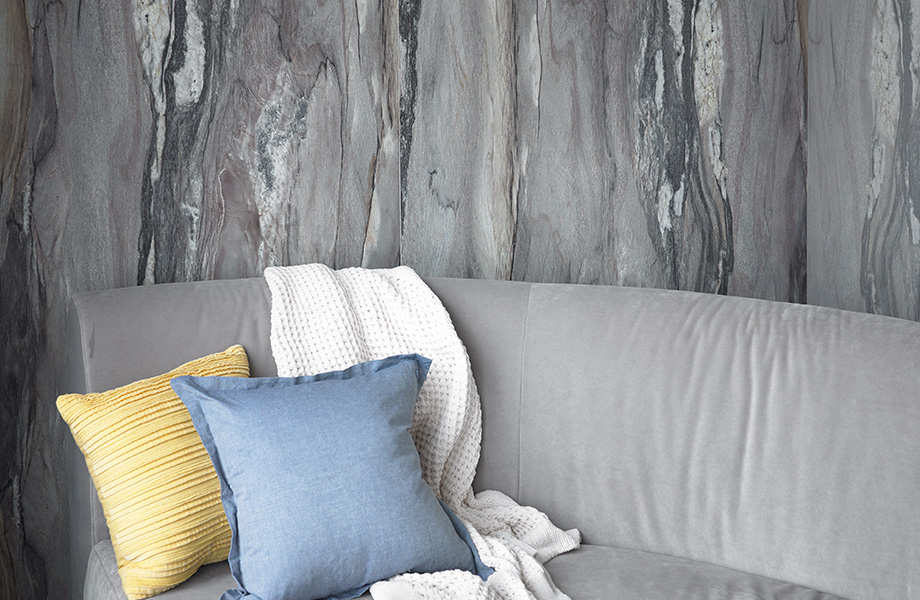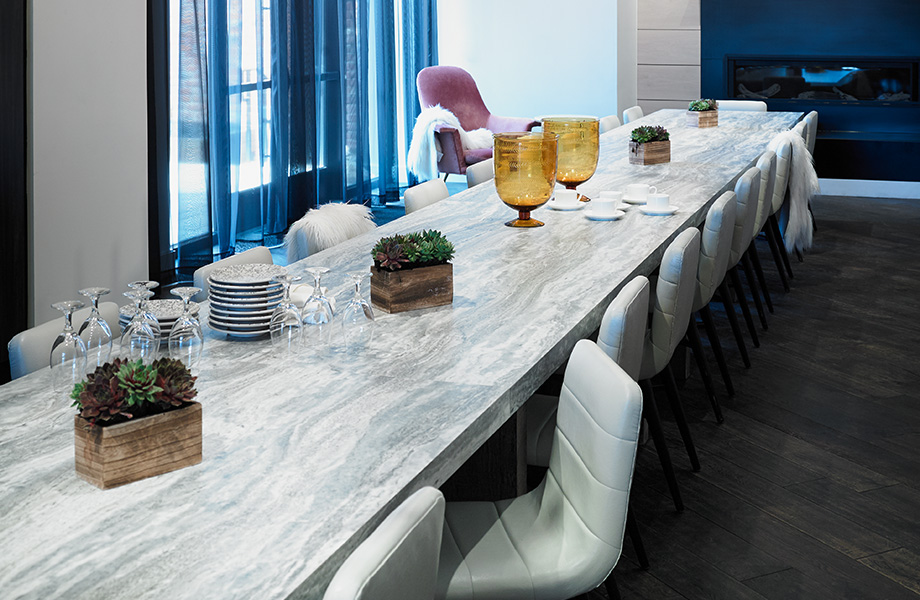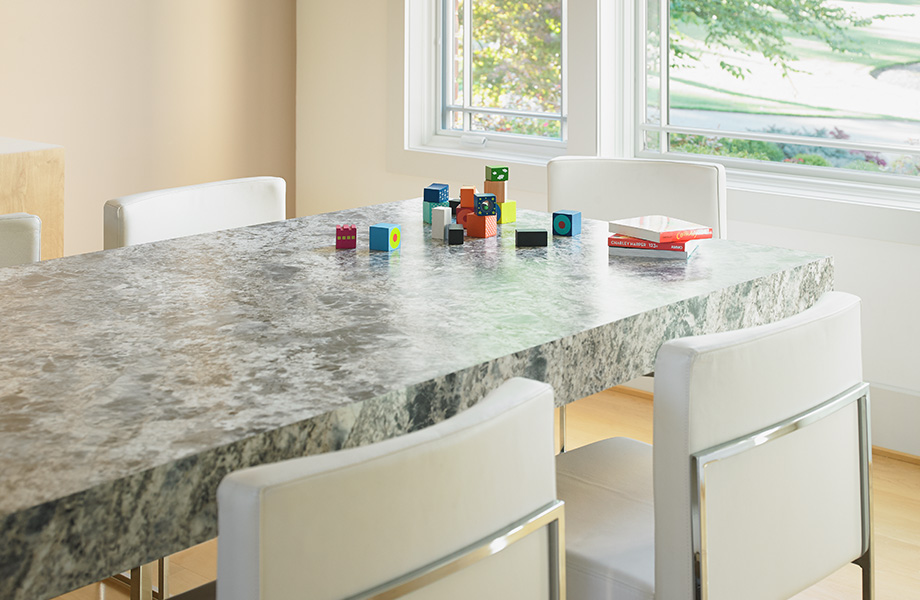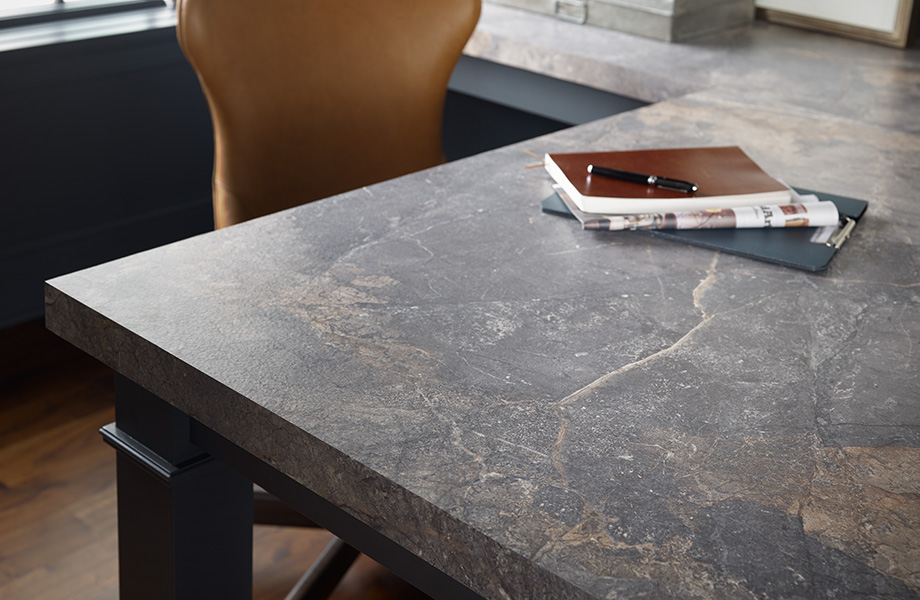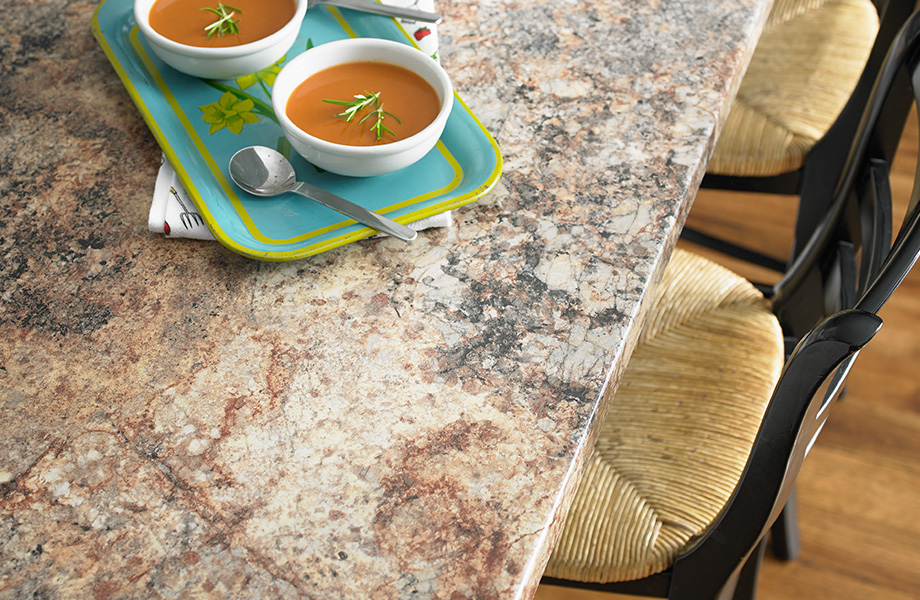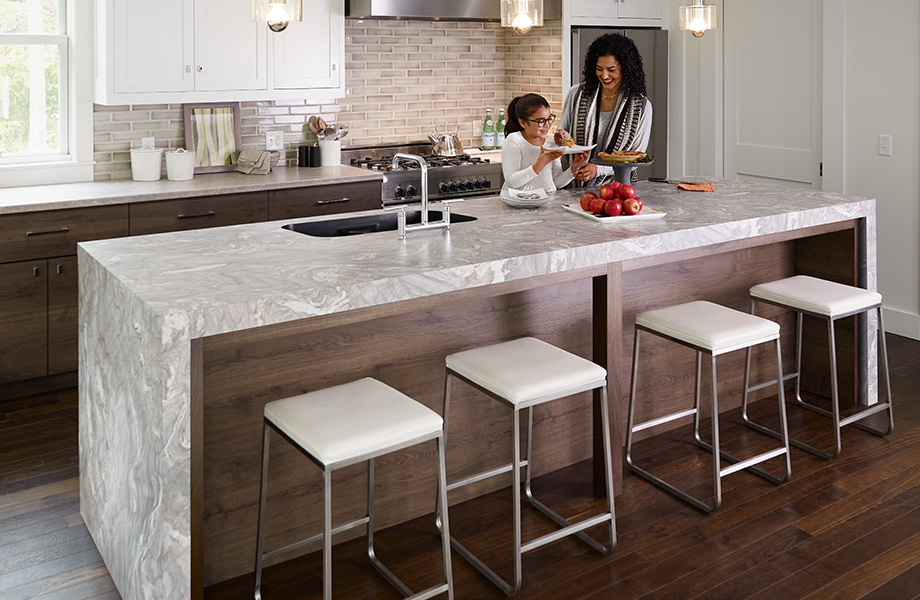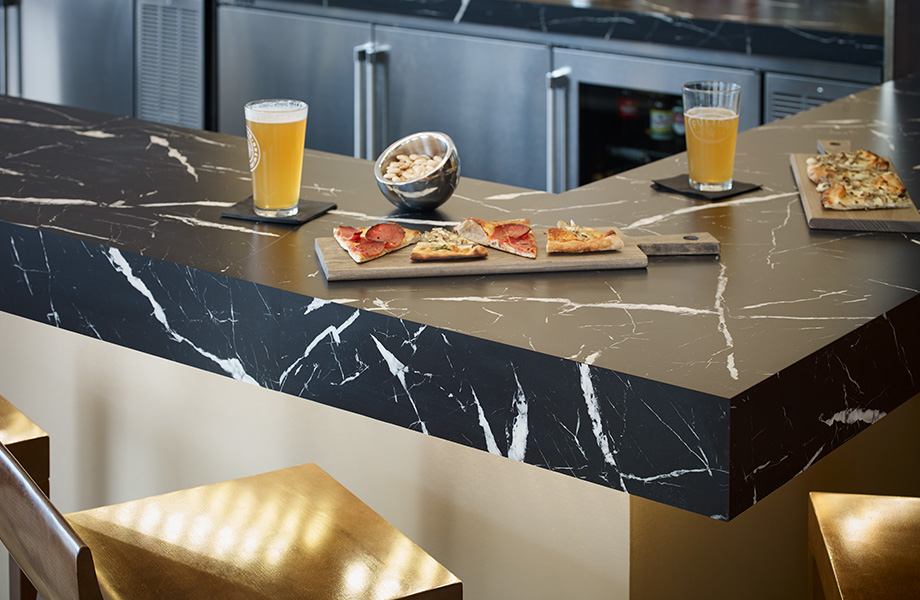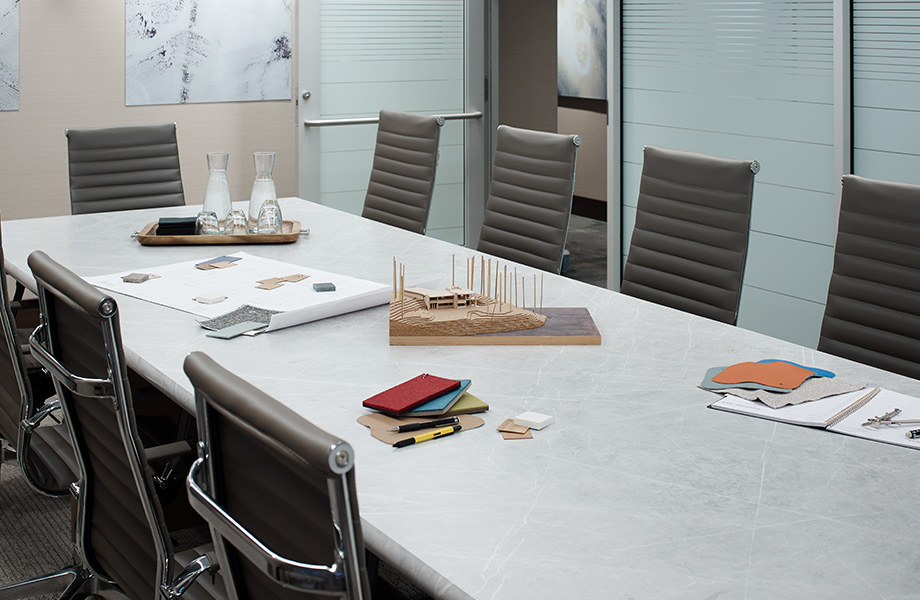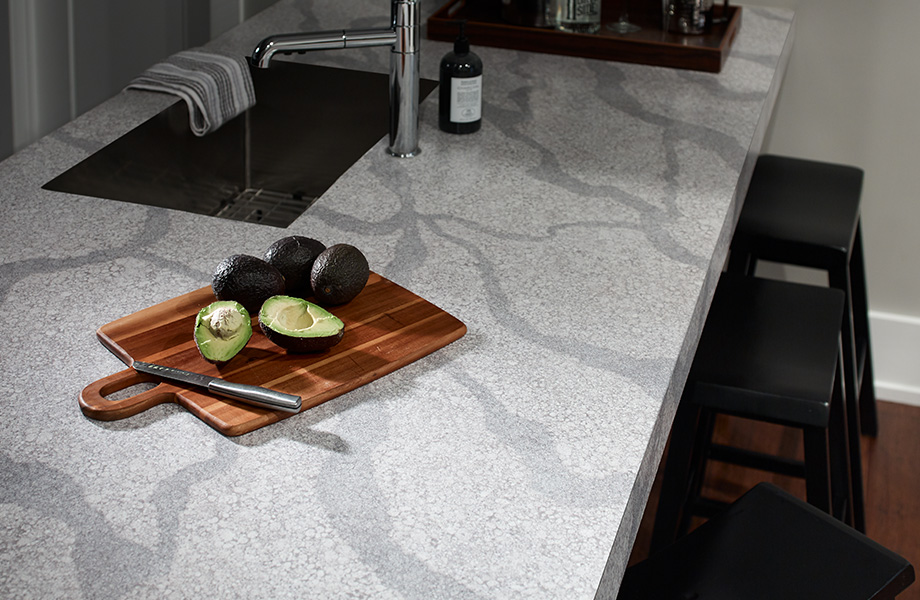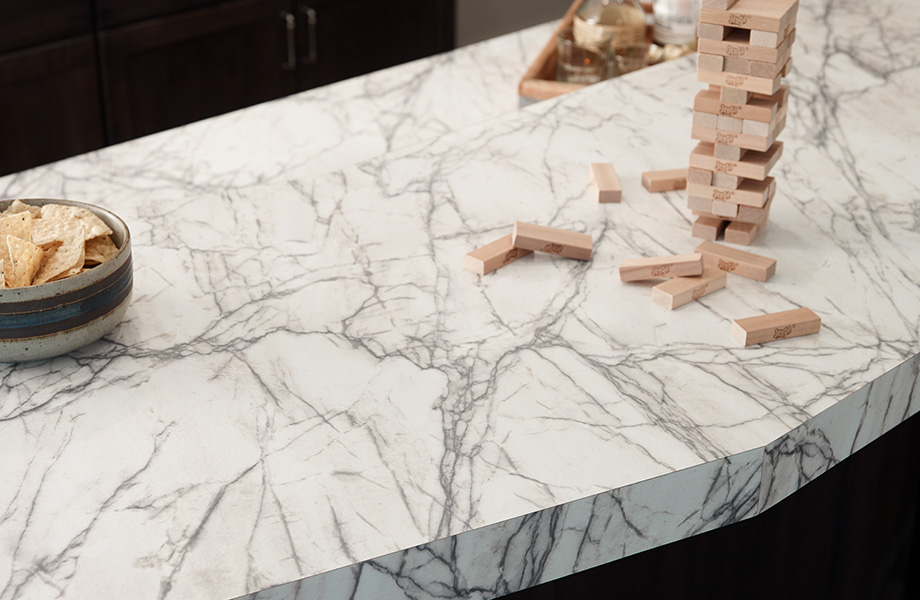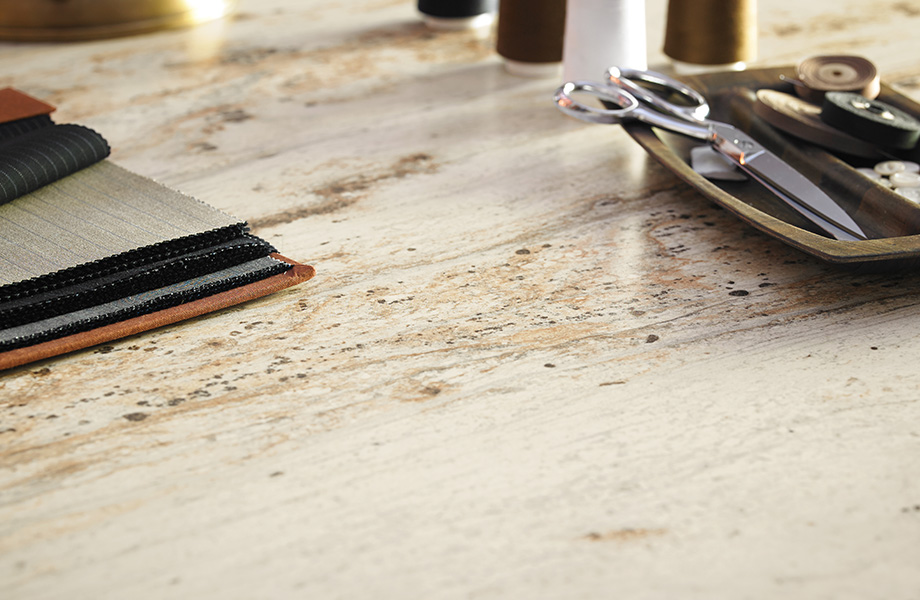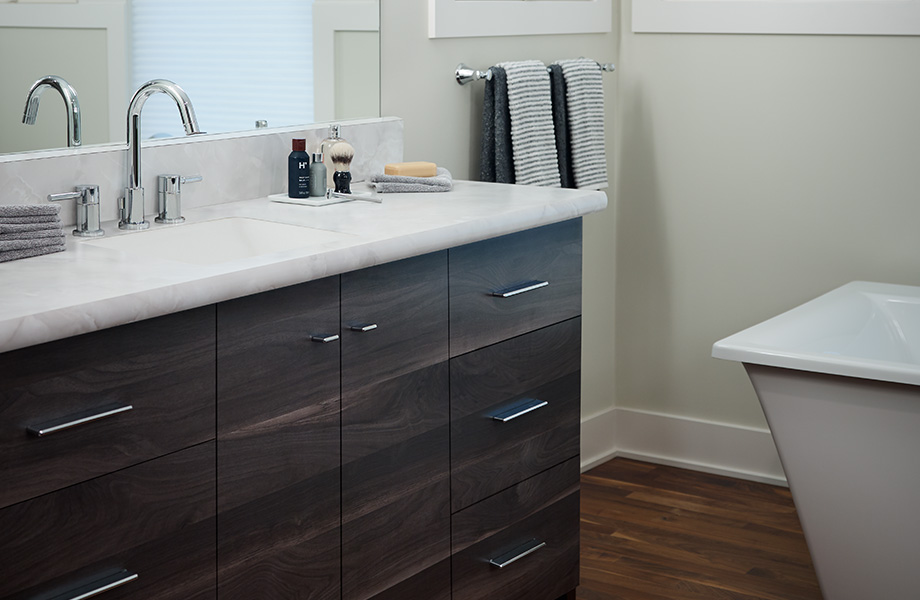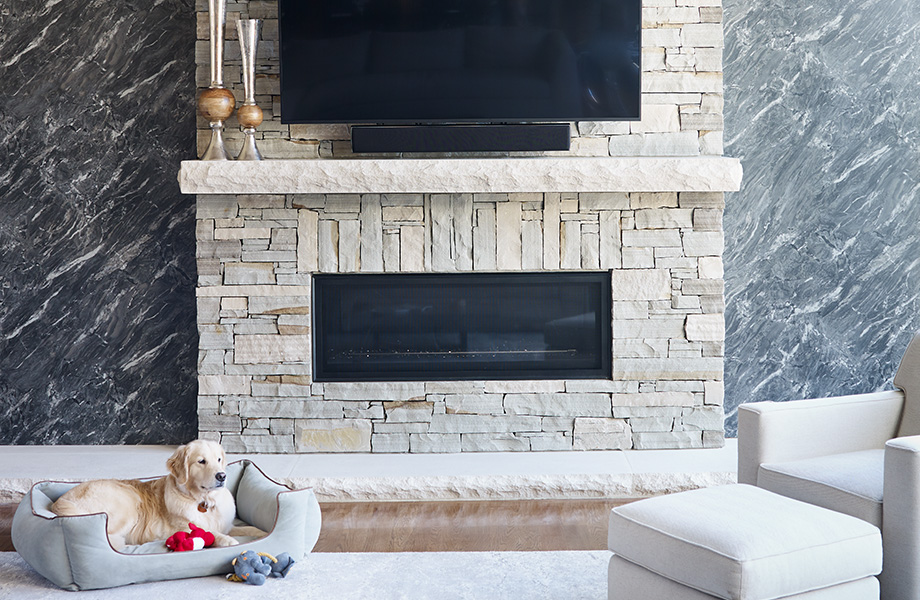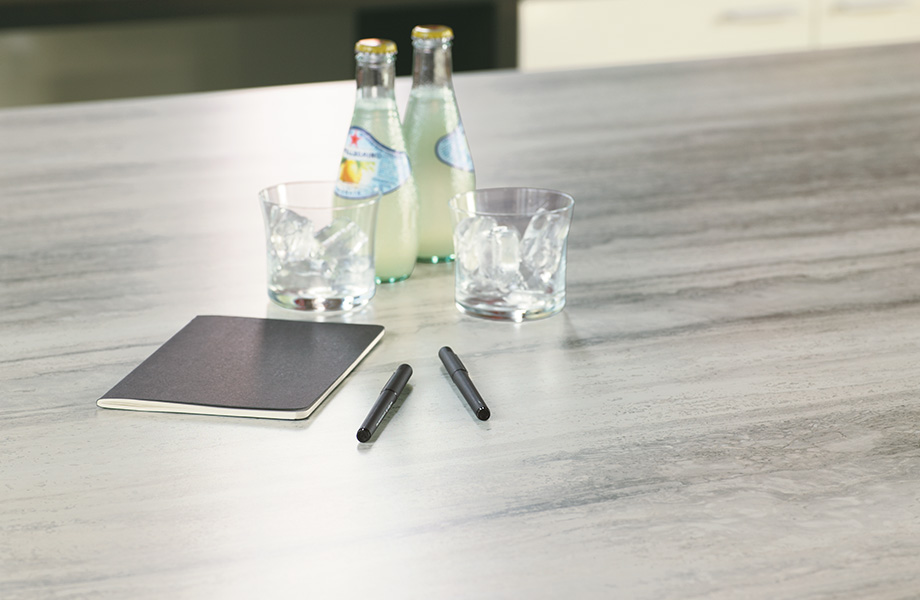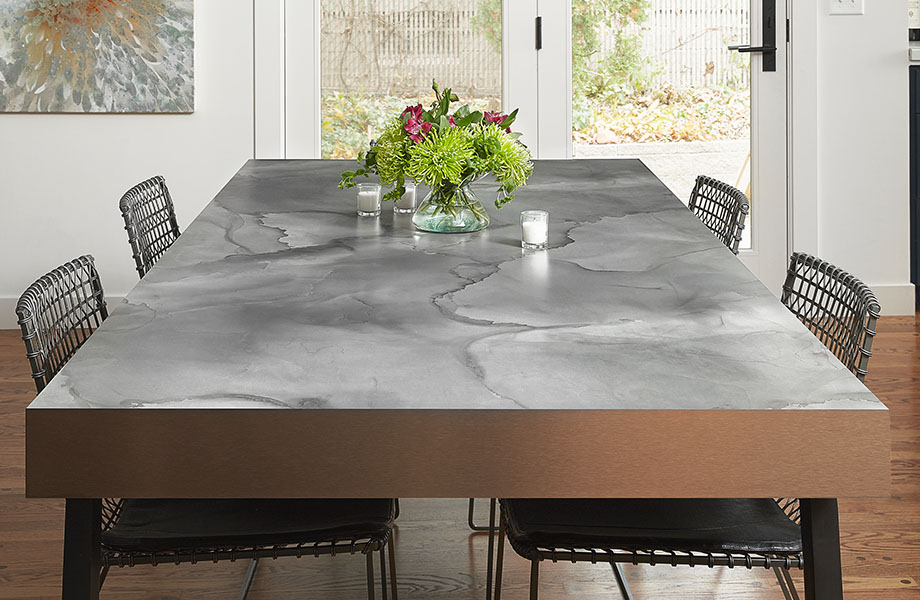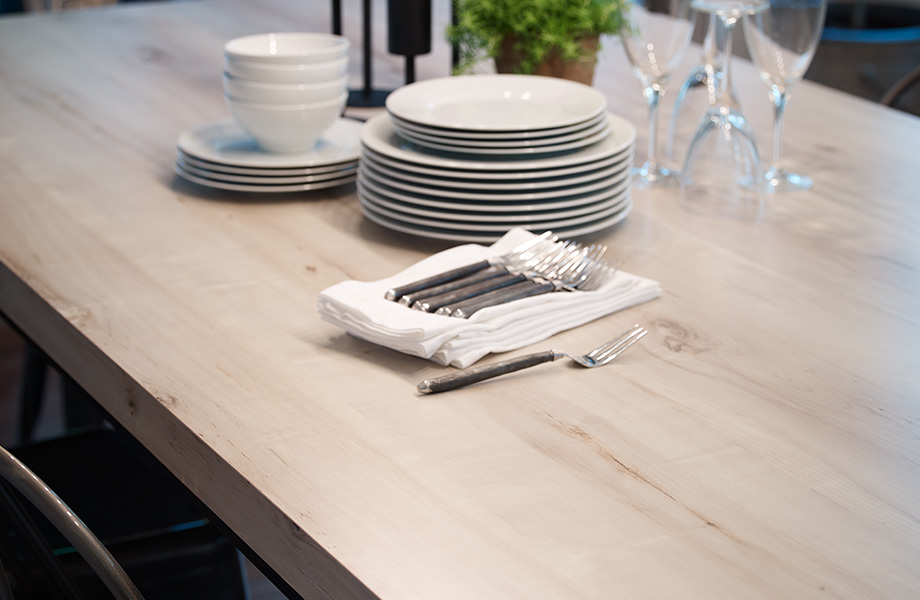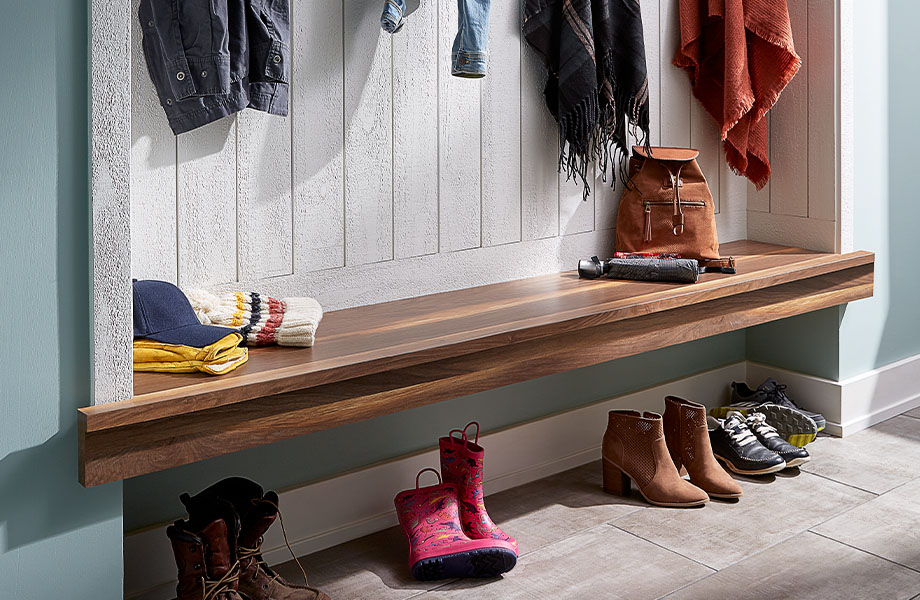 Inspired by the geological history of Spain, the blue-gray feldspar of the Spanish Azul Aran granite gives the stone a structure which is unique to the world. This unusual pattern features soft blues and browns alongside warm greys. It takes its name from the Val d'Aran valley and the nearby steep terrain from which it's quarried with great care.
A unique and elegant granite, Black Fusion could be considered a work of art. Its contemporary style features a dark black background with gray, white and golden-brown veining in an intriguing linear pattern. Originating in Brazil, the granite that inspired this pattern is sleek and embodies the bright nightlife of the country's cultured cities.
Inspired by planetary movements across the mysterious darkness of space, Black Painted Marble is a force of nature in and of itself. The pattern uses the push and pull of water-based paints and oil to infuse celestial waves of charcoal, gray and white into a rich black foundation. A top choice of both designers and homeowners, Black Painted Marble sets a sophisticated mood.
The Lapidus Granite family of Lapidus Brown, Classic Crystal Granite and Café Azul are versatile and timeless stones created by millions of years of rainwater seeping into stone fissures and oxidizing in granite mountains. This oxidization creates the vibrant golds, brown and rusts of Lapidus Brown. The beauty of this 180fx® pattern is that you don't have to wait millions of years to get it!
Calacatta Cava is inspired by Calacatta Caldia, a stone quarried in northern Italy's Apuan Alps. It introduces barely there translucent gray and taupe veins to a crisp white canvas. This new entrant to the white marble collection brings the centuries-old distinction of one of the world's most luxurious stones to a modern palette of highly nuanced patterning and clean elegance. The Italian sculptors of old would surely approve of its relaxed beauty.
Named after the Oscar-winning 1960 film "La Dolce Vita" about the "sweet life" of Rome, the Dolce Vita pattern also features dramatic twists and turns. Beautiful lyrical movement is apparent in its veining and fine white crystalline structures. This quartzite from Italy has tones of off-white, grey and charcoal, with just a hint of dusky violet and rose gray to sweeten the story.
Fantasy Marble is a premium, earthy quartzite with a dreamlike quality. Its flowing grey veins emulate the movement of swirling waves as they retreat from the shore. This sentiment of a quiet beach setting is brought to life through the interplay of soft tan, gold and grey tones.
Ferro Grafite is inspired by the marbles of Iran, one of the world's richest sources of sought-after stones. It is an elegant marble of intense color brightened by strong white veins that give it light and movement. Ferro Grafite is a beautifully veined and brecciated marble is created when fissures in the stone caused by movement and shifting of the Earth are filled with calcite.
Flower granite is quarried in Espirito Santo region where many famous granite colors are from. The Formica design team has traveled the world to bring the journey of the Aimores Mountains and sandy beaches to you. The colors were inspired by the peaks of these mountains to the valleys of the sandy beaches on the coastal regions. We offer Flower Granite in two colors, Blue, shown here, and Silver.
Istanbul Marble is a beautiful, large-scale pattern that hails from Turkey. This stone features a mix of light and dark grey with neutral beige, highlighted by flashes of rusty gold. The sweeping movement that results is sharp and clean and pairs well with a multitude of colors.
Mascarello is a stunning and dramatic stone found in limited supply in Espirito Santo, Brazil. This collection of three distinct patterns presents the story of the mountains as told through chapters of the indigenous minerals. Golden Mascarello and Antique Mascarello contain the rich, vibrant gold tones of the original granite, while Crema Mascarello was designed as a subtle complement with grey, brown and off-white hues.
Based on Fusion Granite, Neapolitan Stone is a complex pattern comprised of layers of white, cream, beige, blue and warm grey. The composition that results has an organic flow and timeless quality. The multifaceted pattern of the real granite makes Neapolitan Stone highly desirable for an ultra-premium appearance.
A classic rich black marble from Spain, Nero Marquina features prominent white veins that emulate a painter's brushstroke. This premium stone has gained recognition worldwide due to its beauty and dramatic tension. Its luxurious appearance sets the stage perfectly for both modern and traditional settings.
This composite was inspired by quartz but made by human ingenuity using concrete, recycled glass and a bit of design magic. Exquisitely detailed particulates fill in the background while a sweeping blue gray vein fractures the slab. This artistic composition makes odds and ends beautiful and modern with the resourcefulness of its creation.
Quartzite Bianco is an extremely rare stone with dramatic veining, subtle translucency and soft gray shading. Quarried in Brazil, this quartzite draws its appearance from the hues of nearby sands, making it white or light in color with groundwater flowing over the rocks imparting additional pigments of gray, gold and soft rust.
Just like the granite of the same name, River Gold takes its cues from the rivers of India crossing the country and reaching toward the Bay of Bengal and Arabian Sea. The complexity of the design gives it an exotic, river-like appearance with long mineral veins and intricate deposits. With its notable golden sunlight tones and the landscape of the pattern, this is truly a premium and exotic-looking stone.
Sea Pearl hails from the northeastern region of Brazil, taking its name from the water and pearls of the nearby sea. This quartzite and the natural pearls for which it's named both begin as grains of sand that evolve into something beautiful. This pattern lives up to its marine-inspired name with wave-like elements that create a tranquil effect.
This stone from Japan's Tokushima Prefecture symbolizes one of Japan's most closely held secrets—the valley. In the valley there are green stones polished by the river revealing their blackened green color and striped patterns set off by a beautiful transparency. This stone is prized for its beauty and was used for the 16th century Ishigaki of Tokushima Castle.
Travertine Silver is as rich with history as it is arresting for its warm, delicate veining. Centuries ago the Romans mined deposits of travertine to build temples, aqueducts, monuments and bath complexes. Today the Colosseum in Rome is the largest building in the world constructed mostly of travertine adding color and beauty to the local environment.
At first blush, watercolors and tempered steel seem to have nothing in common, but the pairing ignites a surprising element of artistry and chic, industrial design. This stormy blend of warm and cool grays with a touch of blue and charcoal black is just the right coloration for the moody and inky tones of many modern interiors. Watercolor Steel shows what can happen when we allow ourselves to explore new media and push design boundaries.
White Knotty Maple celebrates imperfection with a natural, unfinished look inspired by one of North America's most popular trees. The nearly white sapwood appearance contains soft shades of brown heartwood, which adds to the minimalist, modern look. Many love the unconventional, uneven texture of this rustic maple.
Wide Planked Walnut design imparts the feeling of length to evoke the size and grandeur of American Walnut forest giants. With strong color banding and the implied strength of natural hardwoods, this pattern stands completely on its own, just like the treasured walnut trees it emulates.