How do you translate a digital brand presence into a physical space? In many ways, this is a question that Stephanie Metzger, Director of Concept and Experience at BHDM Design in New York, has been preparing to answer her whole life.
A lifelong design enthusiast, Metzger studied Interior Design at Miami (OH) University with internships in the design-rich cities of San Francisco and New York. She fell in love with NYC, and soon after graduating accepted a position with BHDM Design, where she began designing bars, restaurants, retail and other commercial environments.
"I always found the idea of designing commercial and hospitality spaces very rewarding because these are places that my friends, my family, and the public can go and experience," Metzger said. "There's also a layer of empathy. As the designer on commercial projects, you have to put yourself in the shoes of the user. I love the character study of identifying who is going to inhabit and use a space, and the challenge of designing from their perspective."
So yes, while Metzger is fully immersed in commercial design, she may not have foreseen a rebranding project at Flywheel Sports that would have her literally wearing the customer's shoes. Or that a Formica® woodgrain laminate – that had yet to exist in the company's brand palette – would soon take on a starring role in the new design of their studios.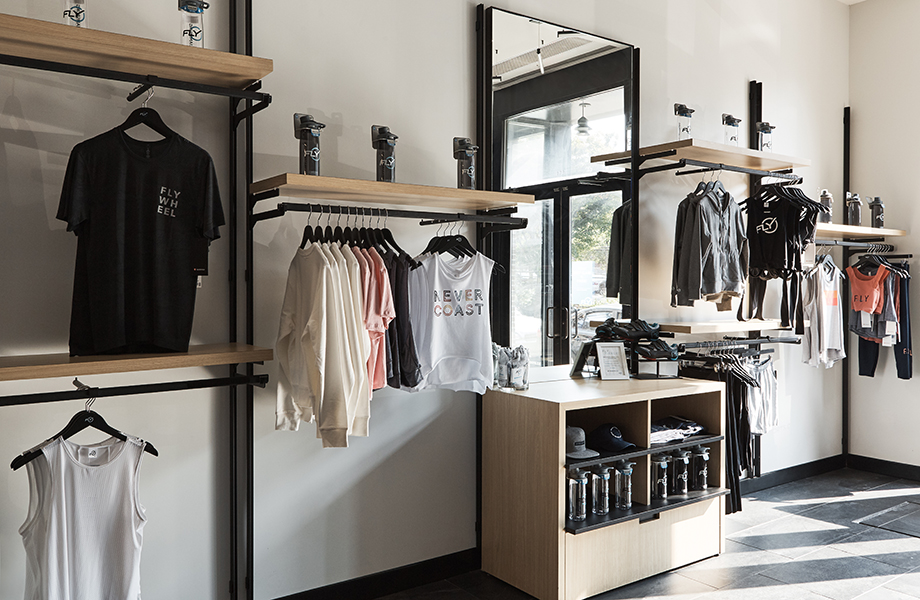 Flywheel came to BHDM design with a new digital brand identity that was starting to resonate through their marketing materials, but had yet to be implemented into their physical locations. With the Williamsburg location next on the docket, Metzger laced up some cycling shoes to immerse herself in the full brand experience.
"I went to each of Flywheel's Manhattan locations as an undercover customer," Metzger explains. "I took some classes, talked to the employees and even chatted with some other riders. I wanted to understand the entire user experience from the front of house impression and flow to the back of house operations and distill the commonalities as well as the inconsistencies across each location."
What Metzger discovered was that there wasn't a singular approach. Starting with the Williamsburg location, she set out to create a kit of parts that would reinforce the ethos of the brand and become the framework for user touch points to streamline the user experience and leave no doubt about the Flywheel brand.
The entry and welcome experience represent a rethink and clean-up on all parts of the process from self check-in kiosks and stadium style seating, to a consolidated retail offering.
"Flywheel wanted authentic and organic materials throughout, and while we were particularly fond of solid white oak, it wasn't feasible with the needs of a gym where surfaces need to be regularly cleaned and sanitized," Metzger said. "Formica laminate became an essential part of the finish palette. You couldn't tell the difference between the millwork in Formica Aged Ash and furniture in solid white oak."
And so, the Aged Ash laminate became the standard for any surface that would be regularly sanitized – from the water station and tops of benches to the lockers and retail shelves.
"From a durability and cleanability perspective, the Formica laminate really hit the nail on the head," Metzger said. "The Aged Ash allowed us to meet the client ask for an organic palette and the operational requirements for cleanable surfaces."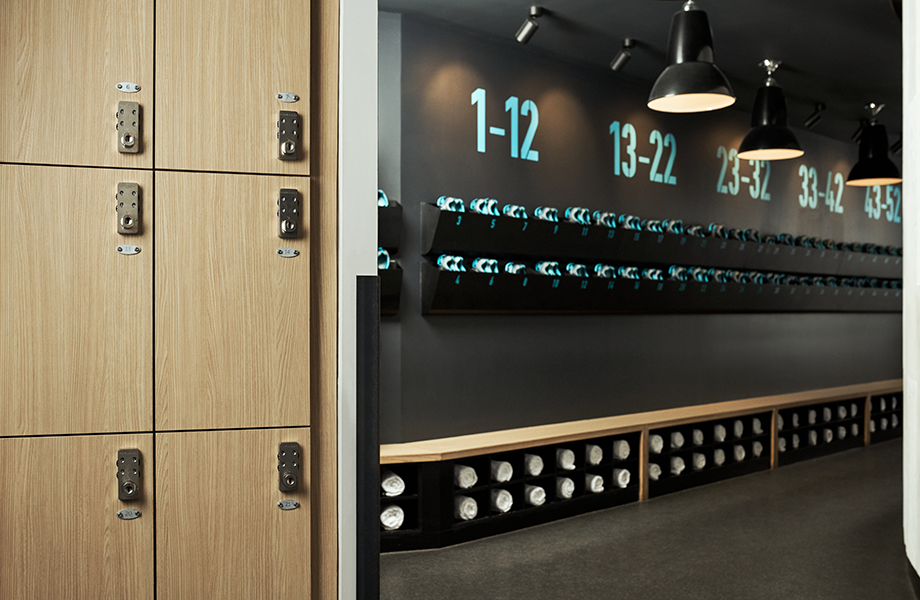 But it wasn't just the entry way that was subject to the rebranding. Metzger and her team thought through the whole experience – including the key step of cycling shoe pick up.
"The way Flywheel works is that users register for a class online, enter their shoe size and are assigned a bike number, and then they pick up their shoes from pre-populated cubbies with the corresponding number," Metzger said. "Previously, the shoe cubbies were located in the entry way, often causing a bottleneck between the check in desk, retail and entry/exit point. To improve the user journey, riders are led through a 'tunnel' to the 'bench' outside of the stadium, where we re-located the shoe cubbies so they can check in and socialize in the entryway with ease and then pick up their shoes on their way in to ride."
In fact, despite being smaller in footprint than other Flywheel locations, many customers reported that Williamsburg was larger than the others because the flow delivered a better user experience. And with less congestion and improved operational efficiencies, Flywheel was able to optimize their resources and reduce time between classes.
"People have bike shoes and backpacks that get tossed around, so the durability in these areas is key," Metzger said. "As a designer, you need a product you can trust to perform. Formica is one of those products."
Unfortunately, due to the covid-19 pandemic, Flywheel Sports locations have closed in New York City. But the impact of the design was a measurable success while its doors were open.
"You want your spaces to be beautiful always – not just on day one, or day fifty," Metzger said. "You want the space to look brand new as long as possible, and by choosing the durable Formica Aged Ash laminate, we were able to achieve this goal."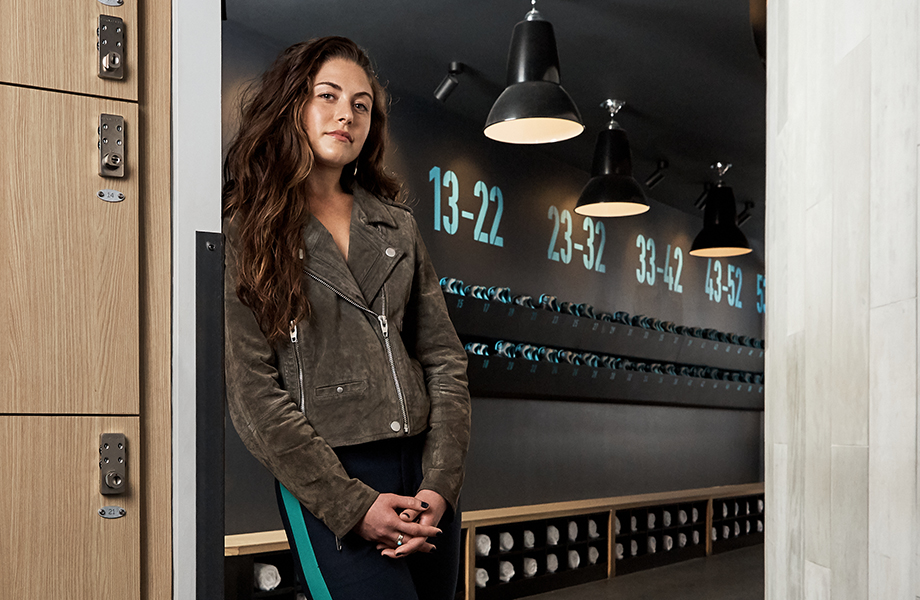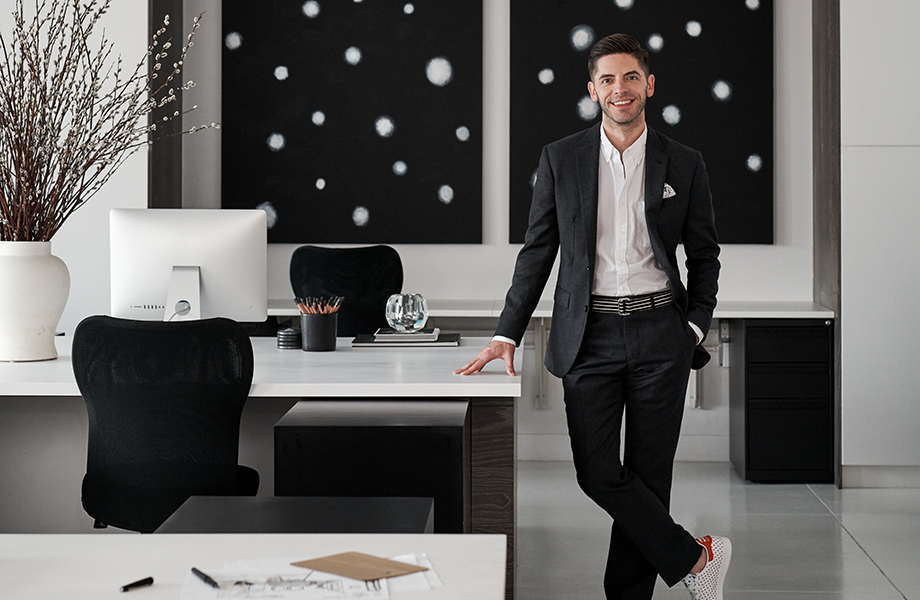 BHDM – Walking the Walk in Commercial Design
Finding a perfect surface for both employees and clients.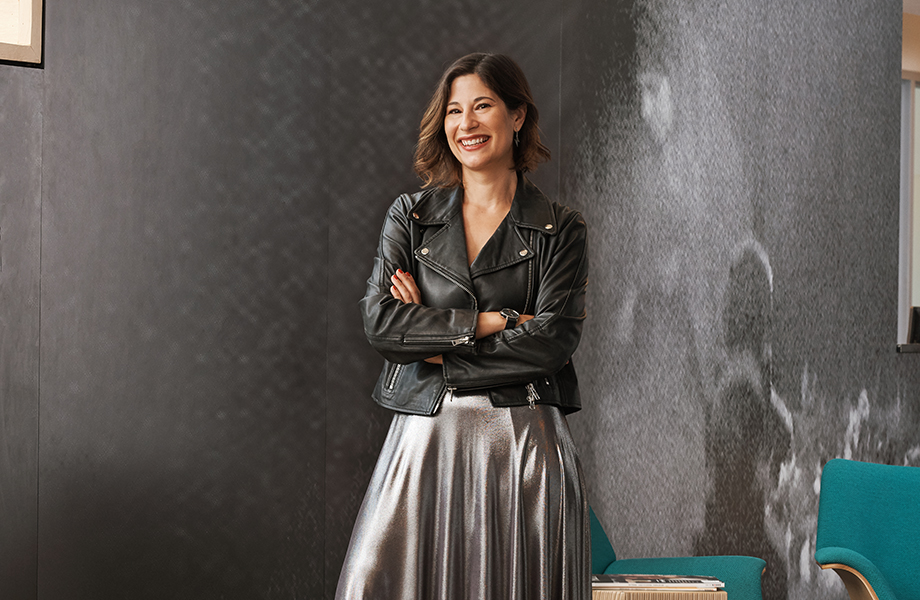 A Custom Surface for a One-of-a-Kind School
A school this unique needed a special touch. The designer delivered with Formica Envision™ Custom Laminate.