Choosing the Perfect Wood Laminate | Formica
Choosing the Perfect Wood Laminate
Woodgrain laminates are the unsung hero of décor. Playing second fiddle to the more dramatic granite and marble looks found on countertops, woodgrains tend to be used more frequently on cabinets, doors, tables and shelves. It's time to give woodgrain laminates the credit they deserve; they look great on countertops, too!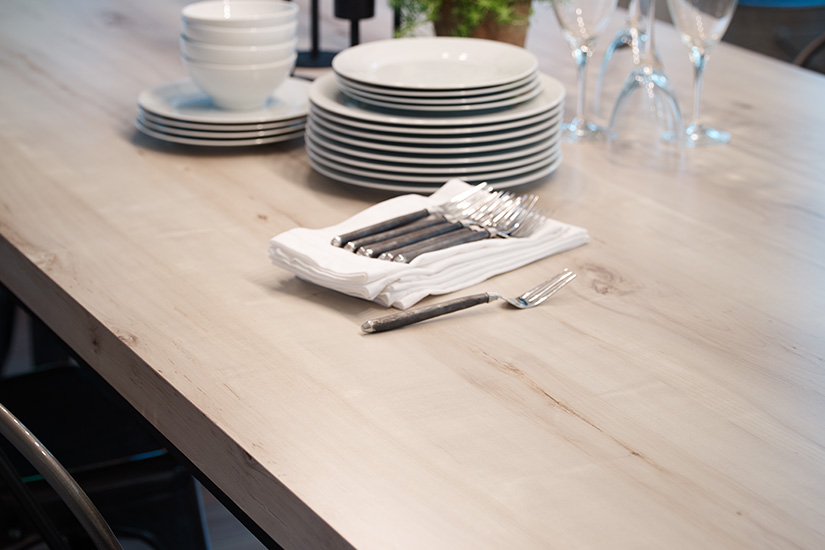 With more than two dozen woodgrain laminates in our residential collection and nearly 100 available commercially, where do you start?
Let us help:
When deciding on which woodgrain laminate is right for you, there's a series of three choices you need to make: Style, Color and Texture. Let's examine each one individually.
Style of Wood Laminate
Like fingerprints, no two pieces of wood found in nature are exactly alike. However, when scanning or recreating a wood look for laminate purposes, consistency in the design process will ensure colors and patterns remain true from one sheet to the next. Formica Group offers a number of styles for you to choose from:
• Planked –Wood boards, or "planks," laid out side by side
• Rotary/Natural – A more natural "all-over" wood look, this layout can be straight grained or cathedral
• Butcherblock – Strips of wood, often in different colors, bonded together form a striped or ribbon-like pattern
• Herringbone – Equal rectangular pieces of wood arranged in a staggered zig-zag pattern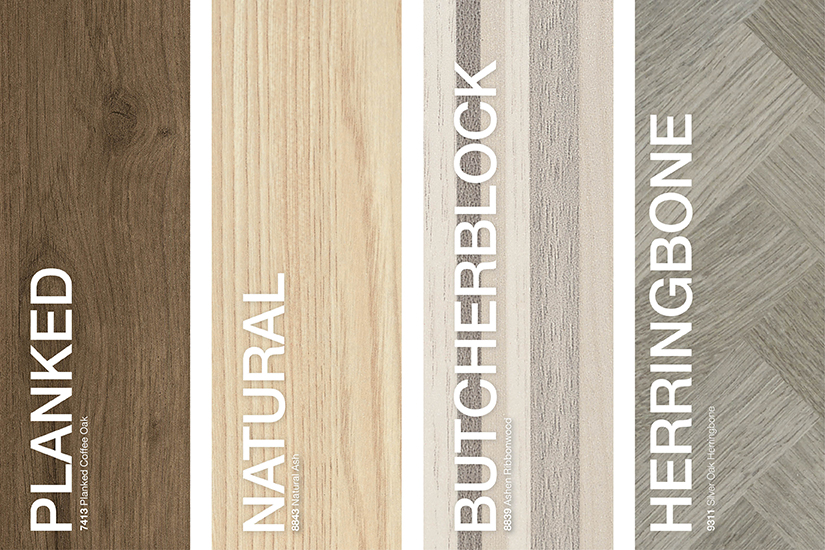 Wood Laminate Color
After finding your woodgrain style, the next step is to find a matching color. Light woodgrains like Planked Raw Oak or White Knotty Maple tend to be more soft and natural with a Scandinavian feel. On the other side of the spectrum, darker woods like Planked Coffee Oak can feel more moody and dramatic.
A new addition to our woodgrain family is Smoky Planked Walnut, which emulates the process of blackening and wire-brushing a charred wood surface to reveal the clean, distinct lines of the grain. The rich, brownish-black color melds the ancient practice of Japanese Shou sugi ban with a contemporary worldly appeal.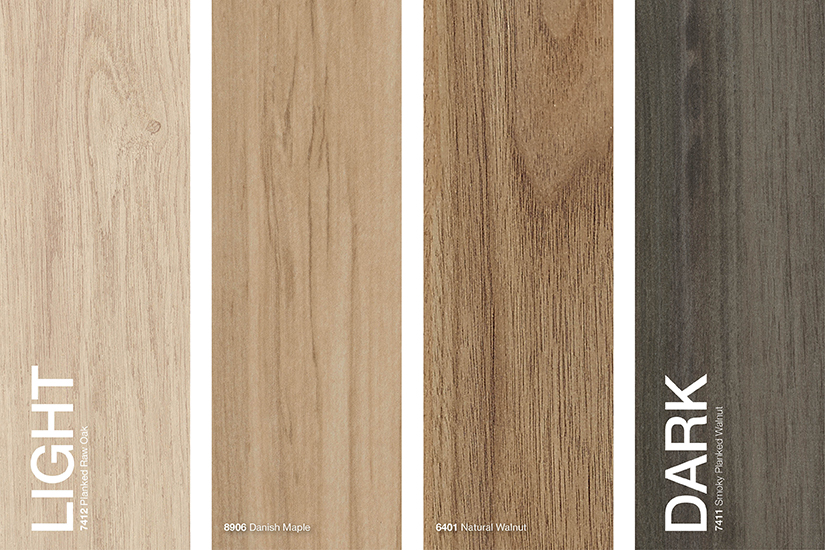 Wood Laminate Texture
Finally, no woodgrain laminate would be complete without the right texture.
• Our new Pure Grain finish offers a raw, deep texture and a matte feel.
• Woodbrush is a linear or rift cut grain with dense ticking that is a perfect complement to modern straight grain ash and oak
• For more refined woods, Natural Grain has a smooth low luster finish featuring a veneer-like medium pore design.
You can view a complete list of all our available textures here.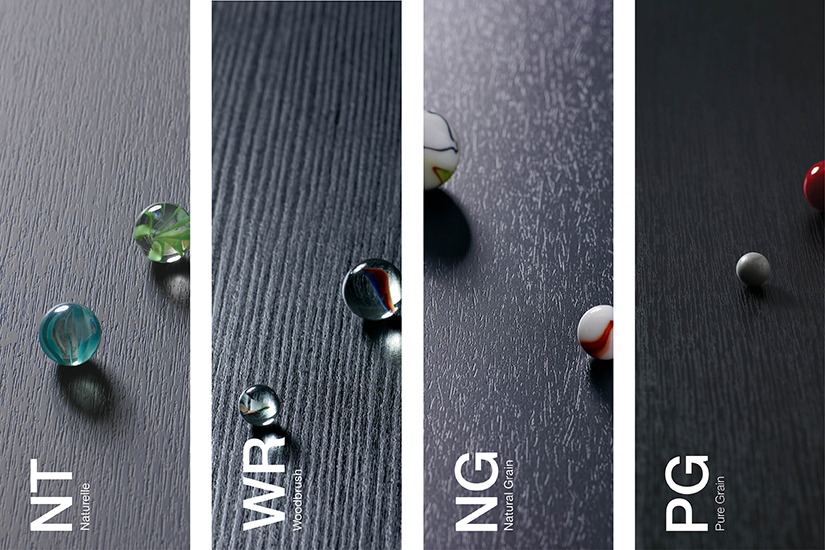 By narrowing your focus on style, color and texture, you're sure to find the perfect woodgrain laminate for your next project.