SurfaceSet® 2020 Brings Fresh Healthcare Designs to Life
Welcome to the SurfaceSet® 2020 collection. The collection features three palettes that uncovers the overlap between natural, human and digital aspects.
Note: This article was published prior to the Covid-19 pandemic, which has greatly impacted design best practices.
Creating a Calm Environment Amid the Stress of Healthcare
Consider the essential role of design in healthcare. Hospitals are continually striving to take the anxiety and stress out of their environments so patients, families, and staff can focus on care and healing. For architects and designers this means it's essential to create a tone of serenity with attention to safety, hygiene, efficiency, and quality. Patient rooms, nurses' workstations, lobbies, waiting areas, cafeterias, restrooms, and more can be designed to reduce stress through the use of calming colors, anti-microbial surfaces, and soft patterns that support both the patient's and family's environment and the hospital's brand and reputation. With Formica® Brand laminates, your design can achieve the perfect balance between utility and beauty.
Healthcare Trends From Experts in the Field
According to Rebecca Donner, Principal at Inner Design Studio in Brentwood, Tenn., neutral palettes continue to drive design with brighter colors used in accent elements such as walls. "Things have really lightened up, and neutrals are popular as they are incredibly timeless," she said, citing color schemes that include cream, beige, and a range of greys, as well as lighter woodgrains. "Environmental-inspired design continually shows how natural light supports healing, and today's lighter designs work with this."

Amy Higgins, Director of Interior Design and Associate at HMN Architects, Inc. in Overland Park, Kan., is also using a wide range of warm earth tone palettes for healthcare clients that seek to avoid overly trendy looks and want to remind patients and family members of home. "Children's hospitals tend to be very colorful, while adult hospitals are increasingly moving toward a hospitality or spa-like feel," she said. "When it comes to woodgrains, warmer grays are making their way into more spaces as an alternate to brown and yellow hues."

Regarding material selection, project leaders at hospitals, clinics, and medical office buildings ask about durability, sustainability, and infection control. "Controlling infection is always at the top of the list for hospitals," Donner said. "Environmental services teams need to be able to maintain clean surfaces easily. The surfaces we use have to undergo stringent cleaning, often with bleach." Selecting durable, non-porous surfaces for countertops and casework is key to this. Donner noted that in addition to cleanliness, many of her clients are focused on sustainable materials because they know it's important for the environment and simply "the right thing to do."
Durability across all elements rings true for Higgins as well. She said that her healthcare clients leverage a lot of solid surfaces with anti-microbial properties for high-traffic countertops such as nurses' stations, reception desks, and patient rooms. With round-the-clock usage, these typically require frequent cleaning and may be exposed to water. "Our goal is to take a product and make it as durable as we can," she said, adding that this includes custom casework packages where the firm uses laminates for cabinetry in a variety of spaces, such as waiting areas, public spaces, and patient rooms. "We often work within a value engineering framework that requires balancing cost with longevity. It's important we (designers) and hospital staff make the right material selection decisions during the project so down the road their surfaces stand the test of time."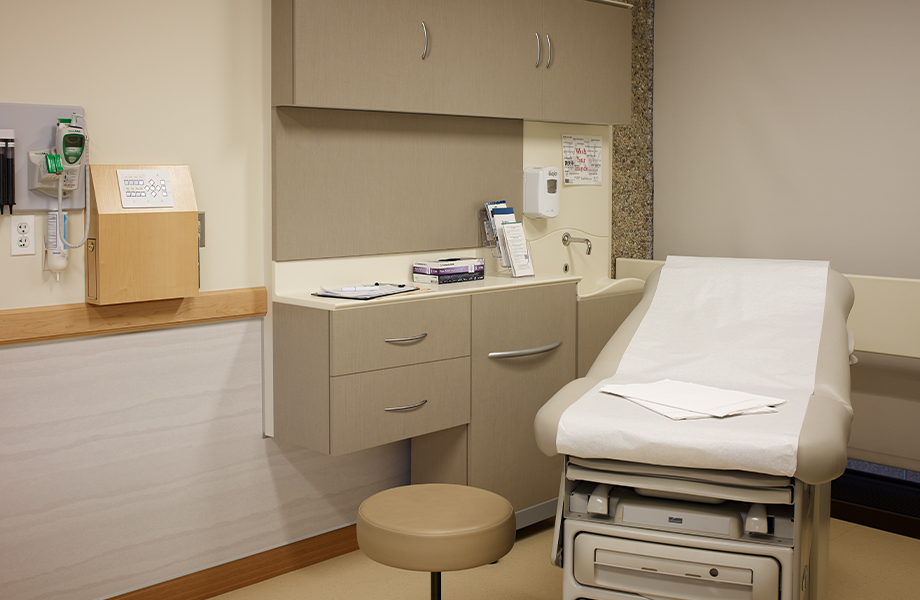 Formica® Laminates Deliver the Functionality Healthcare Clients Need With Lasting Beauty
The need for clean, long-lasting surfaces in healthcare dictates several important requirements as designers select and install surfaces.

Durability: Healthcare interiors featuring neutral palettes will span the test of time as these facilities may only renovate every 15-20 years—and surfaces need to last.

Hygienic: Anti-microbial, chemical resistant, and non-porous surfaces add to the utmost in durability to stand up to the stringent cleaning required to control the spread of disease.

Color: Neutral palettes that incorporate a calming blend of warm and cool colors are pleasing to the eye. Adding an occasional pop of color brings interest to cafeterias, gift shops, waiting areas, and pediatrics floors where subtle brights help establish a creative, welcoming environment.

Texture: Patterns that mimic natural elements like linen, stone, wood, plants, and even leather bring thoughts of home or hospitality settings. Textures reminiscent of the area, including mountains, deserts, water, and grasses can be subtly mimicked in furniture and accent surfaces.

Visual Diversity: Distraction from the events of the day is important in healthcare. Color and texture both play a role in this when it comes to visual diversity. This concept uses points of intrigue to give waiting family members or patients receiving treatments such as chemotherapy something interesting to observe. This can be achieved by blending woods, incorporating textured vertical surfaces for walls and doors, bringing in interesting colors, and highlighting local artwork.

Cost Control: Healthcare budgets are under tremendous pressure today with changing regulations, reduced reimbursements, and a host of other challenges. When it comes to design for new or existing spaces, leadership and clinical teams need to feel they are achieving something appealing, functional, and cost effective. This applies to both the surfaces selected and the ability to accommodate future changes flexibly as required.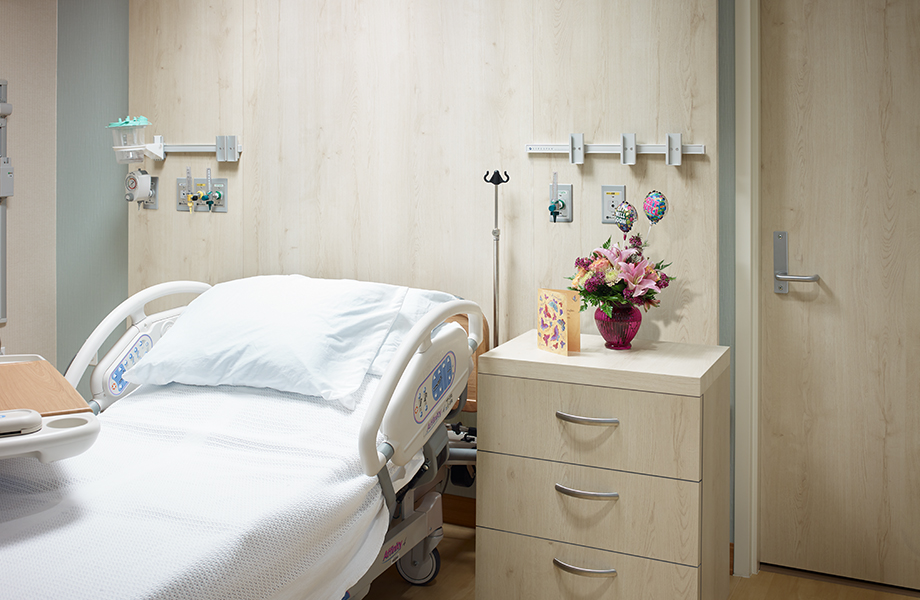 Innovative Uses for Formica® Brand Laminates in Healthcare
Whether you're designing for new construction or renovating an existing space with years of history, the inspiring colors and textures of Formica® Brand products will help you bring a breath of fresh air to your creation. They are ideal for healthcare applications such as countertops, casework, wall panels, cabinets, furniture, privacy partitions, handrails, and much more.

The SurfaceSet® 2020 laminate collection offers ease of maintenance with 30 new Formica® Laminate colors, patterns, and woodgrain designs that will energize your next project. These complement our wide range of existing products, giving you and your customers a wide array of options.

Everform™ Solid Surface: Achieve highly durable, seamless surfaces across a wide and thoughtful color palette. These beautiful surfaces can be shaped into virtually any seamless design concept. They are extremely hygienic due to their water-resistant, non-porous structure, and can be used for counters, shower units, furniture, and more.

Formica® Markerboard: Consider the possibilities for quick reminders, messages, and even doodles with a high-gloss dry-erase surface available in a wide spectrum of colors. This innovation creates the opportunity for connection and fun in patient rooms, offices, and pediatric areas.

Formica Envision™ Custom Laminate: Turn any horizontal or vertical surface into a work of art with a 100% customizable image. This high-performance laminate option can help reinforce your client's brand, highlight a local artist's work, or display any other type of photo, logo, or illustration.