Formica Corporation Renovates Cincinnati Ronald McDonald House Family Space
Formica Corporation partnered with Ronald McDonald House Charities of Greater Cincinnati to renovate an existing community room into a dining area for patients and their families in the West Wing of the House.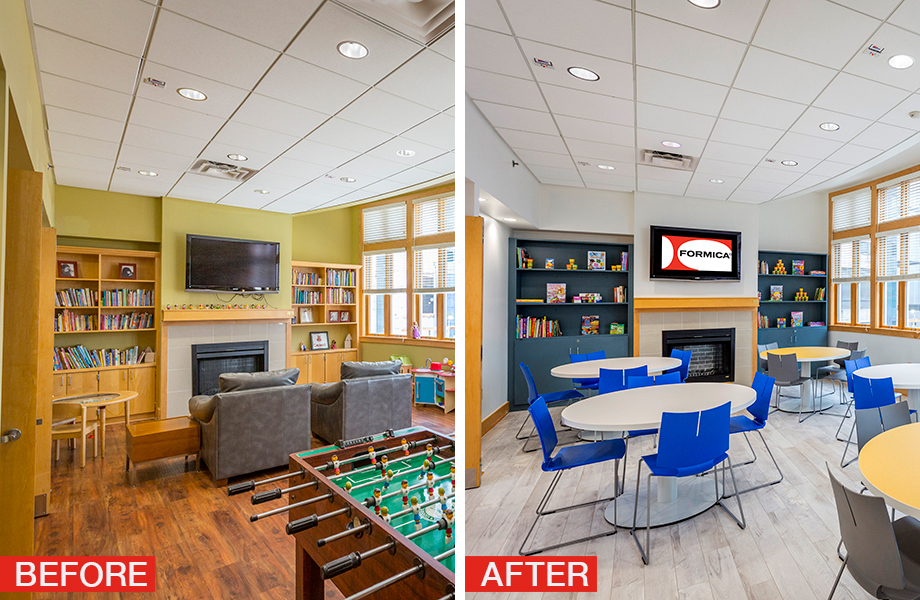 Beginning in 2019, two factors led to an amazing partnership between Formica Corporation and Cincinnati's Ronald McDonald House.

First, Cincinnati's Ronald McDonald House was in the midst of a massive expansion, adding 99 guest rooms. In the summer of 2020, it will open with 177 bedrooms, making it the largest Ronald McDonald House in the world.

Coincidentally, Formica Corporation has long supported the house in various ways, with team members from the corporate headquarters often volunteering to cook and serve meals in the Taste of Hope program. It seemed like a perfect opportunity to partner on a much larger project.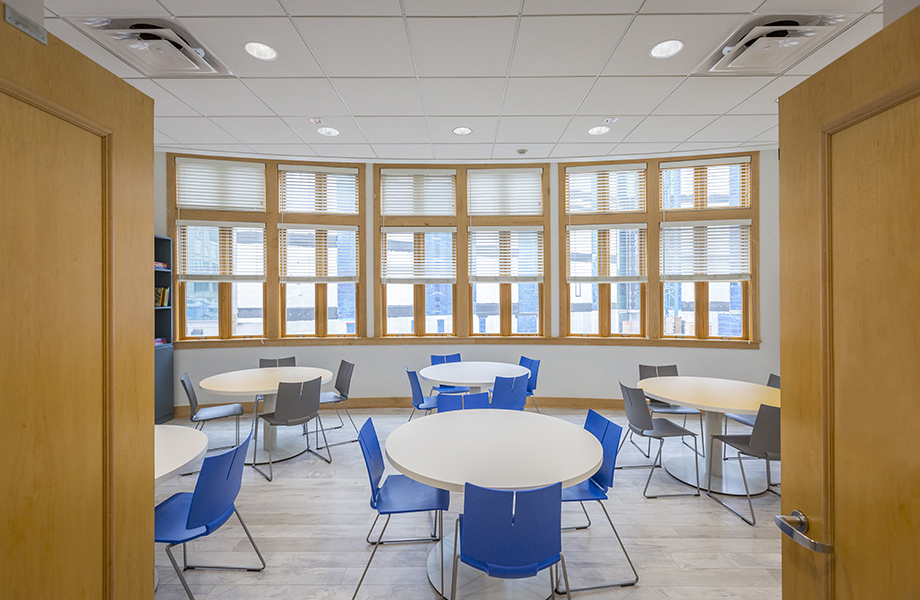 As part of the renovation, Cincinnati's Ronald McDonald House team surveyed parents about needs ahead of the design process and found:
Families, particularly in the West Wing that supported immune compromised patients, wanted additional dining space in this part of the House so they could more easily connect with other families.
The close proximity of the new dining space to their guest rooms was important for families to be able to easily manage medications, treatments or other needs while dining.
Cleanability was very important.
The current space, while beautiful, was under-utilized by the families in the West Wing.
And so, a room renovation project kicked off with Formica Corporation and partner Leanne Ford designing a clean, functional and welcoming space in which kids and families can eat and spend time together outside of their rooms.
"This project is a special one for me and I'm thrilled to have worked on it with Formica," Ford said. "It's been a joy to see the ideas and design process come to life throughout the past few months. I hope this new space is exactly what these kids and their families need it to be: comfortable, inviting and a place to enjoy each other's company."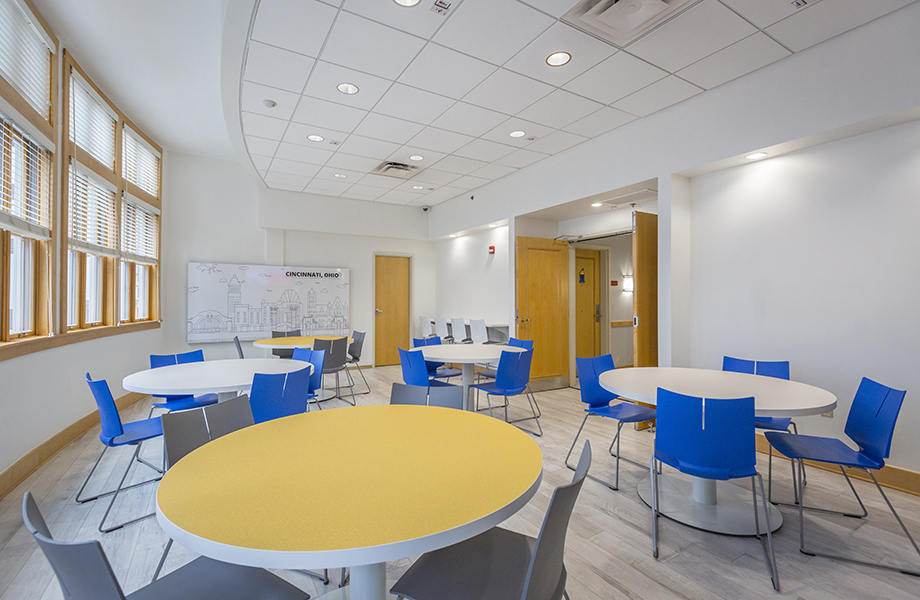 "The Cincinnati Ronald McDonald House provides a home away from home for families during challenging times, and we were honored to help renovate the west wing to better serve their needs," said Amy Gath, vice president of North America marketing, Formica Corporation. "Our design focused on creating fun and functional spaces where families can safely gather outside of their rooms for meals, games or crafts. We chose colorful and durable materials to ensure this bright space will last for years to come. As a Cincinnati-based company, we understand what an incredibly special place our Ronald McDonald House is, and we are proud to give back with a new space families can enjoy together."

View the gallery below to see how Formica Corporation put its various surfaces to work for the Cincinnati Ronald McDonald House.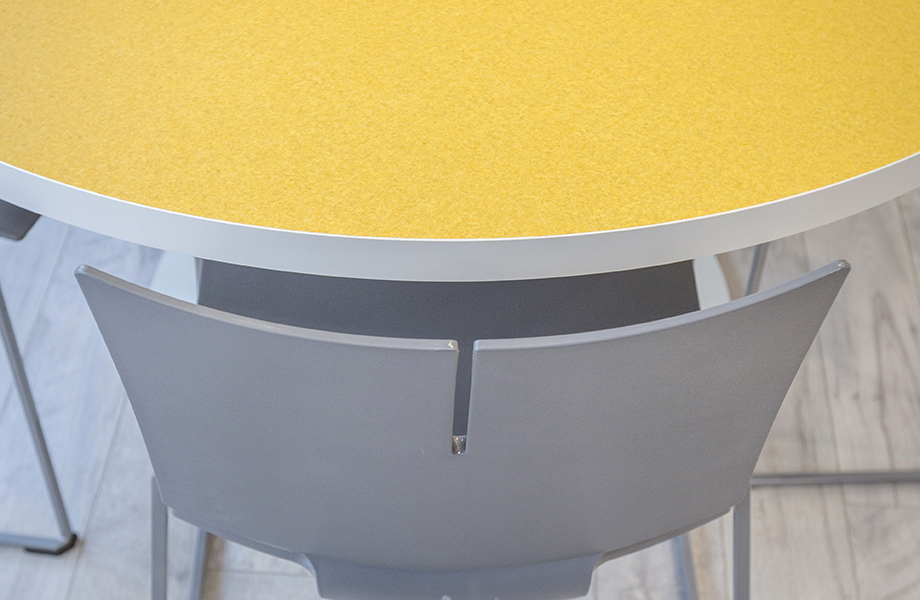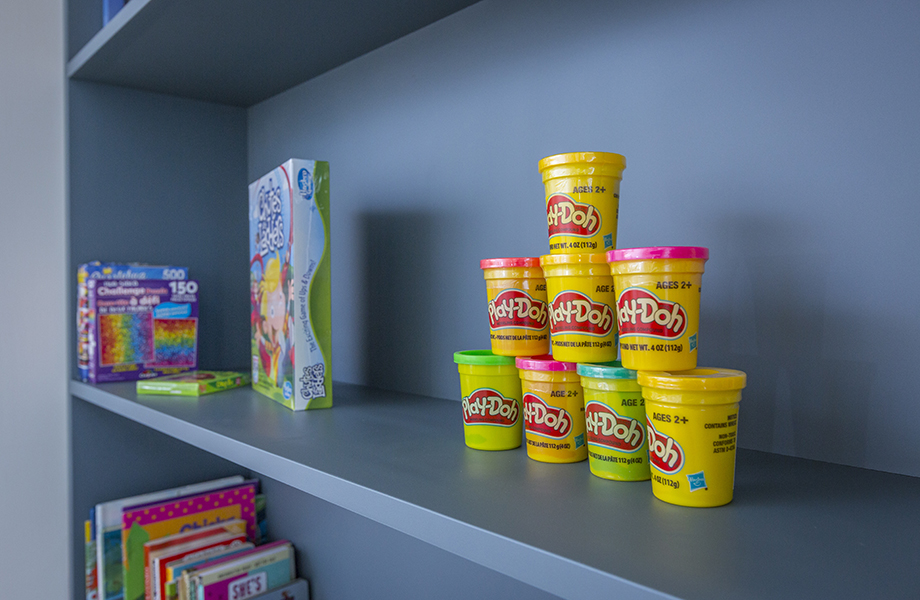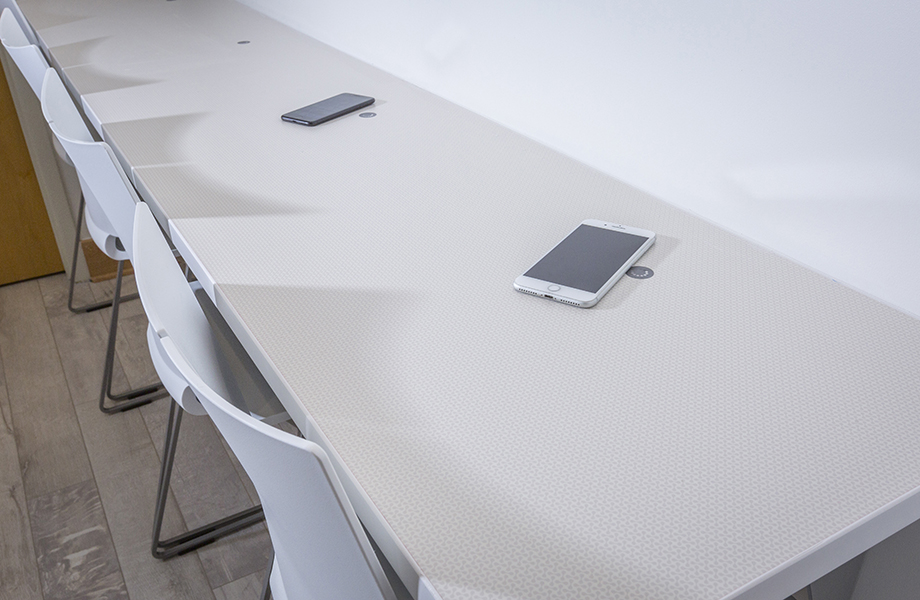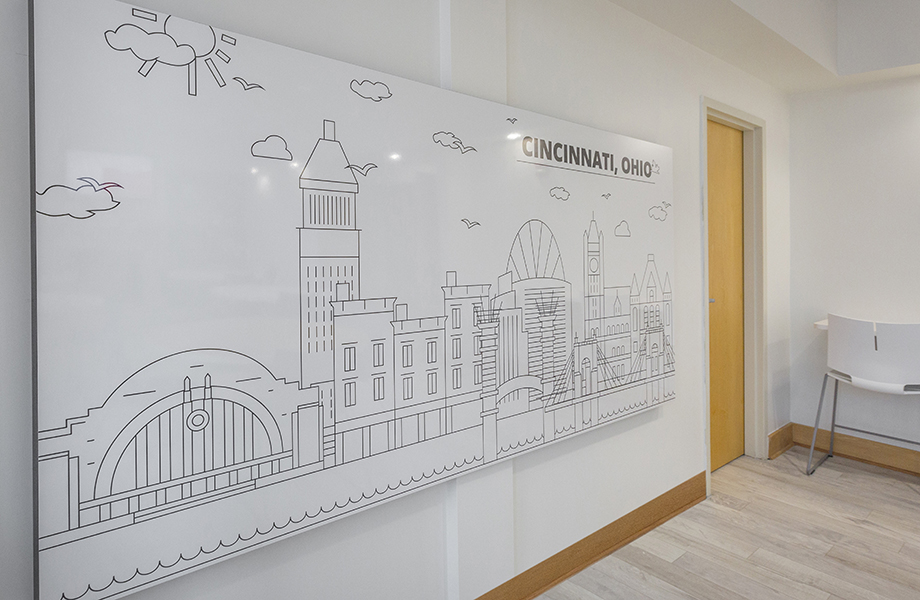 "We are so grateful that Formica and Leanne Ford have transformed a room in our Ronald McDonald House into an incredible new dining room," said Jennifer Loeb, executive director of the Cincinnati Ronald McDonald House. "We are excited to offer this room to guest families so they can enjoy a meal together and connect over their shared experiences of caring for critically-ill children. This new space will be a key part of fulfilling our mission of surrounding families with comfort and support."

Formica Corporation would like to thank the following companies who assisted with the room renovation in various ways.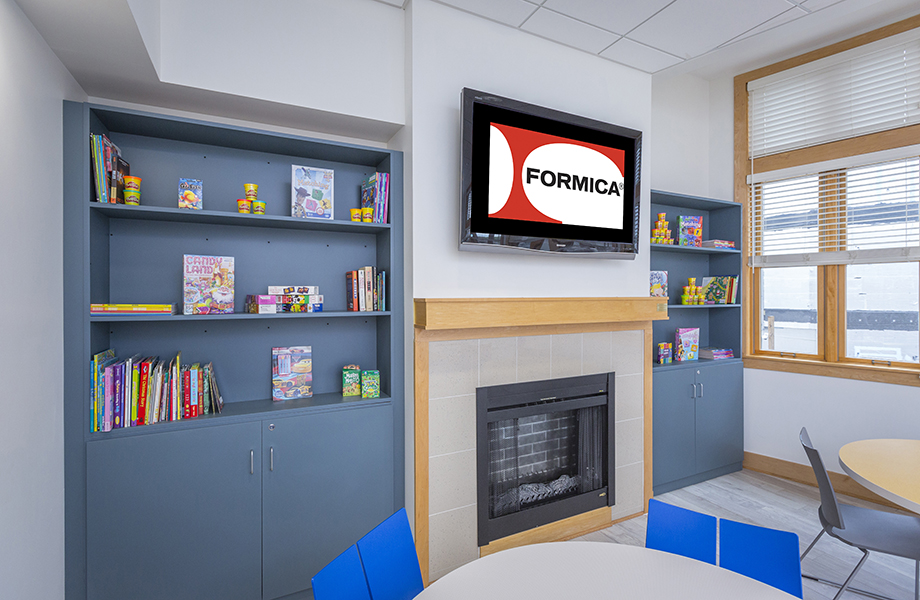 About Cincinnati's Ronald McDonald House

• Families from throughout Ohio, across the United States and from around the world come to Cincinnati seeking life-saving treatment for their critically ill children. Often times, they are exhausted, scared and financially drained as they struggle to pay overwhelming medical bills. Cincinnati's Ronald McDonald House cares for 78 guest families every night, offering a community of compassion, support and the comforts of home to these families, steps away from the care they need.

• The House also provides home-cooked meals, activities, play areas, laundry facilities and much more so that guest families can concentrate on what is most important: their critically ill children.

• In 2019, the House cared for a total of 2,236 families, providing 25,892 nights of care. The top five departments visited by guest patients in 2019 were:
GI: Colorectal/Gastroenterology/GI/Eosinophilic Disorders/Liver Transplant/Small Bowel/Liver/Pancreas TPL
CBDI: BMT/Hematology/Oncology/Sickle cell
Heart Institute: Cardiology/CCU/Heart Transplant
Neurology/Neurosurgery
ENT: Ear Nose and Throat/Otolaryngology Head and Neck Surgery