Kapsel Design Future Proofs School with Formica® Laminate
Kapsel placed different materials and colours in different areas which also helps underline the function of those areas and the easily recognisable colours and contrasts make navigating this large building easier.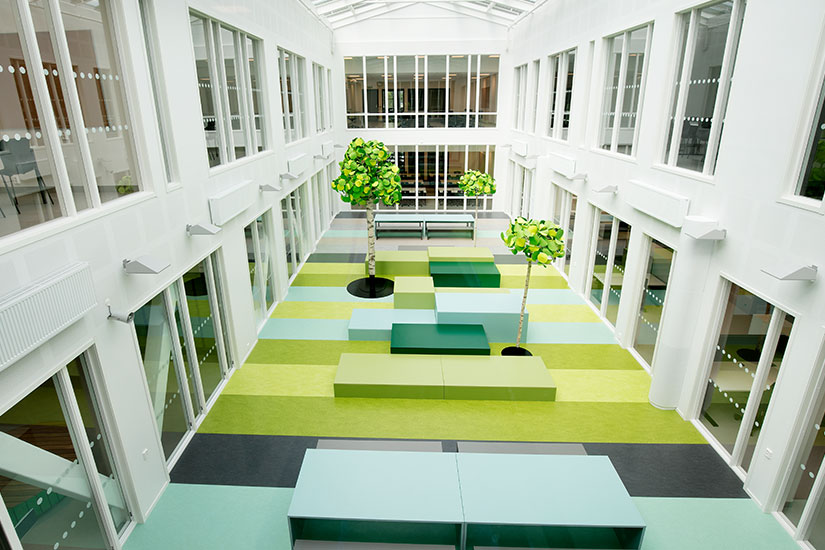 Jessheim high school in Akershus, Norway, was built as a partnership between private and public investors and houses a total of 1500 students and 240 employees. There are six education programmes: General Studies, Music, Dance and Drama, Technology and Industrial Production, Service and Transport, Health and Social Sciences, and Educational Training.

In addition, the school houses a large canteen with seating for over 600 students with an open amphitheatre in connection to it, as well as an enthralling two-storey library and an atrium with creative seating and excitingly designed trees. The corridor common areas include several social zones and spontaneous meeting spaces to encourage creativity and interaction between the students.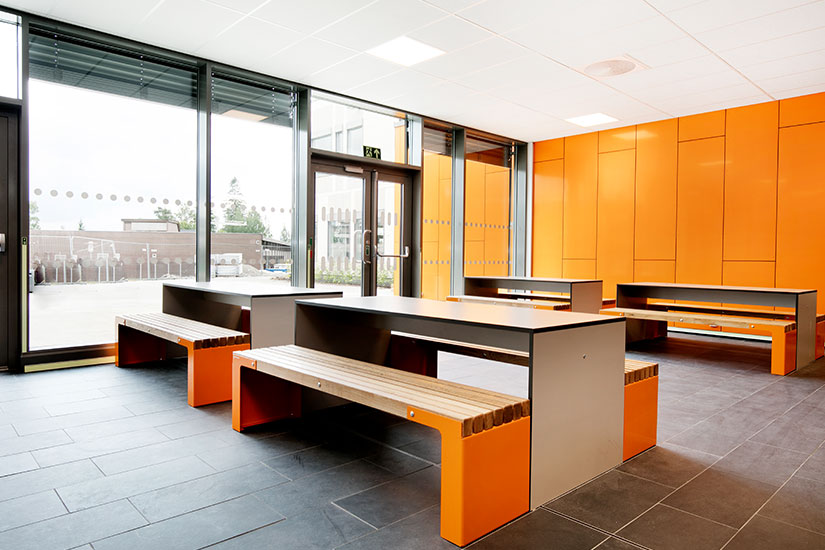 This is a school built for the future, with high sustainability goals when it comes to the choice of building material and energy saving aspects (Passive House Standard), and a strong emphasis has been placed throughout the project on creating a high quality interior environment and learning facility.

Kapsel Design were chosen to head up the interior design, the concept for materials and colours for all the furniture, and parts of the specially designed interior elements such as counters, student lockers and the elements inside the atrium and corridor common areas.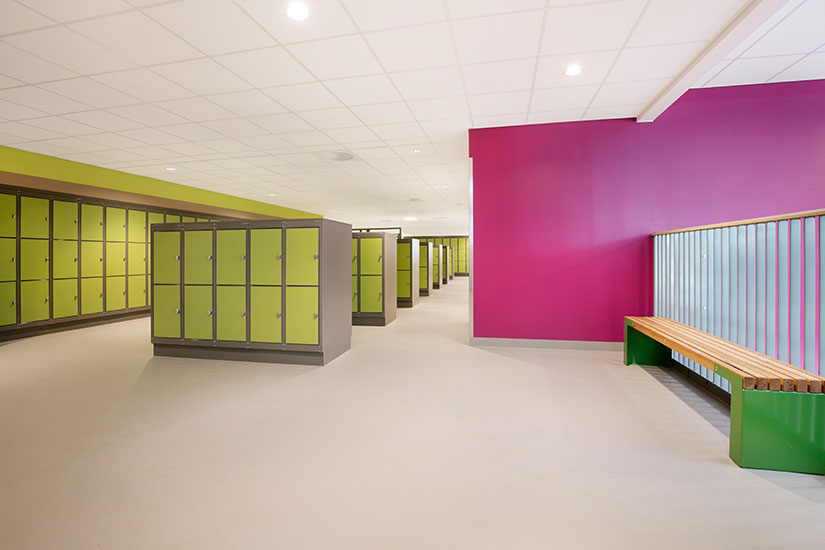 Interior architect Anette Sand comments: "The goal from the start was to create a good working environment for students and employees, as well as a friendly, welcoming building with easy navigation for visitors. We have chosen quality furniture and fittings with materials and design which can withstand high usage and maintenance for years to come. In consideration of the environment, peoples well-being and cost weight has been placed upon the fact that the materials need to last and retain its good looks for many years."

Another important factor when it comes to the choice of material for schools is indoor air quality. Formica Group has taken significant steps to ensure that its products promote a healthy air quality in homes, offices, schools and other indoor environments and Formica laminate is GREENGUARD Indoor Air Quality certified for low-emitting interior building materials.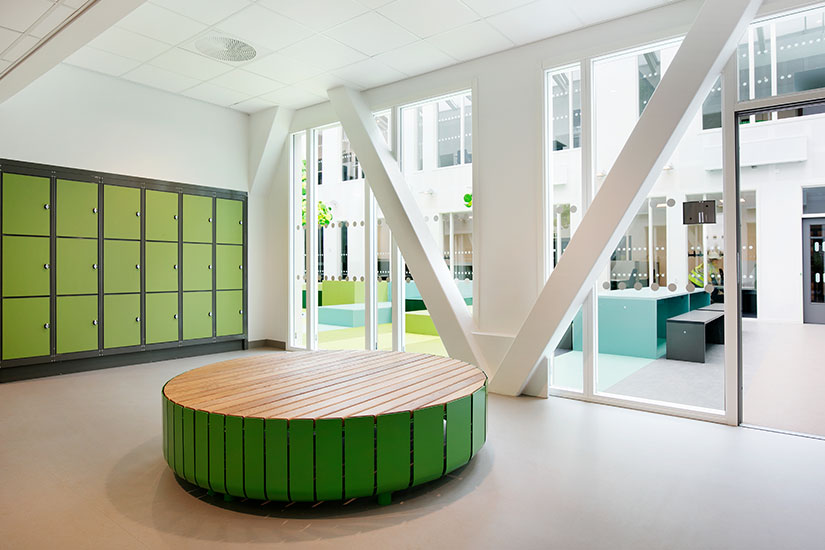 The use of colour is one of many factors that make the whole of a building and its inventory. The interplay between function, colour and material is especially important in such a large and complex build as Jessheim High School. Kapsel Design wanted the interior design to mirror the architecture of the building and have chosen colours that enhance and support the building concept. They have placed different materials and colours in different areas, which also helps underline the function of those areas, and the easily recognisable colours and contrasts make navigating this large building easier.

"As there is such a large array of colours available in the Formica® Collection it has not been a problem finding colours that fit in with the rest of the build. In some areas the building's colours have been enhanced in the interior and the laminate surfaces, where in other areas they have been toned down," Anette explains.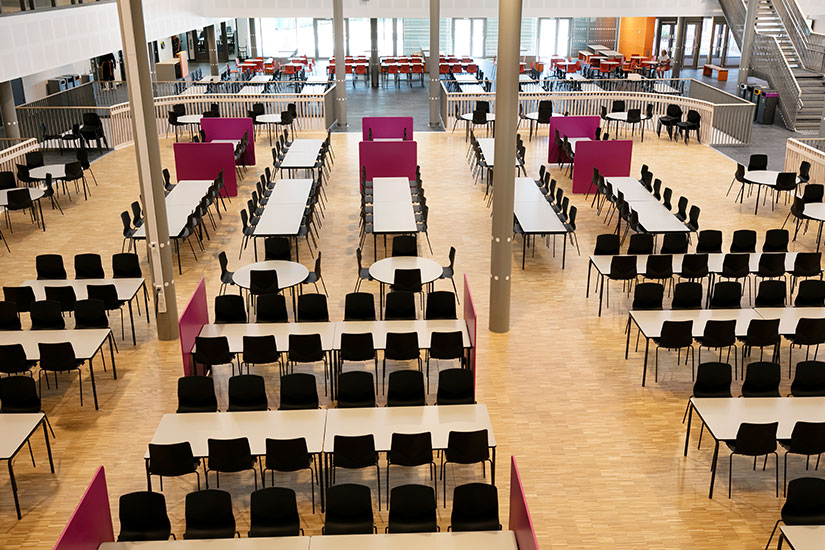 "We have chosen to exclusively use laminate from the Formica Collection Colors for all surfaces on student lockers, fronts and insides of cabinets, the library shelving units, table tops, the bespoke countertops, benches, the tables and seating in the atrium, and the dividing walls in the canteen. We also used Formica® Compact in some places, such as for the high tables in the canteen and staff room. We have worked with other suppliers and surface materials in the past but now we only specify Formica as it's the only product we know delivers the level of quality, durability and range that we require."

Formica® High Pressure Laminate is a robust, resilient and hygienic material which offers countless design and application opportunities for a wide variety of environments. It can be used on vertical and horizontal surfaces and can be heated to hold a curve, making it an ideal solution for furniture pieces, column casing, wall panelling, countertops, doors and more. Formica Compact is a high pressure structural laminate, built up from multiple layers of kraft paper to produce a laminate in thicknesses from 2mm to 20mm. It is an impressively strong material that is highly damage resistant and has remarkable structural stability, requiring no substrate support in thicknesses over 6mm.

The Formica Collection offers architects and designers a range of 120 plain colours, aligned with current trends. The range also offers authentic looking stone and wood patterns, TrueScale® designs, the DecoMetal® range of decors, premium surface finishes, and much more.