Alexandra Clément, first-place winner of the FORM 2020 Student Innovation Competition
Alexandra Clément, first-place winner of the FORM 2020 Student Innovation Competition
Learn more about Alexandra
As a creative go-getter, Alexandra always knew she wanted to study interior design. The three years she spent studying Interior Design at the Cégep de Saint-Jean-sur-Richelieu served as a fabulous educational and life experience. She had the good fortune to be part of a stellar cohort of students, led by passionate and dynamic professors, and to participate in a student exchange in Paris as part of the international program.

In her leisure time, Alexandra loves to paint and draw, as well as build and invent new things. When she creates, she finds inspiration in everything that surrounds her. However, whenever inspiration fails her, she actively brainstorms until an idea emerges to inspire her.

She plans to continue her studies at university in a program that will challenge her, either Art History or Interior Design, and then work as a designer.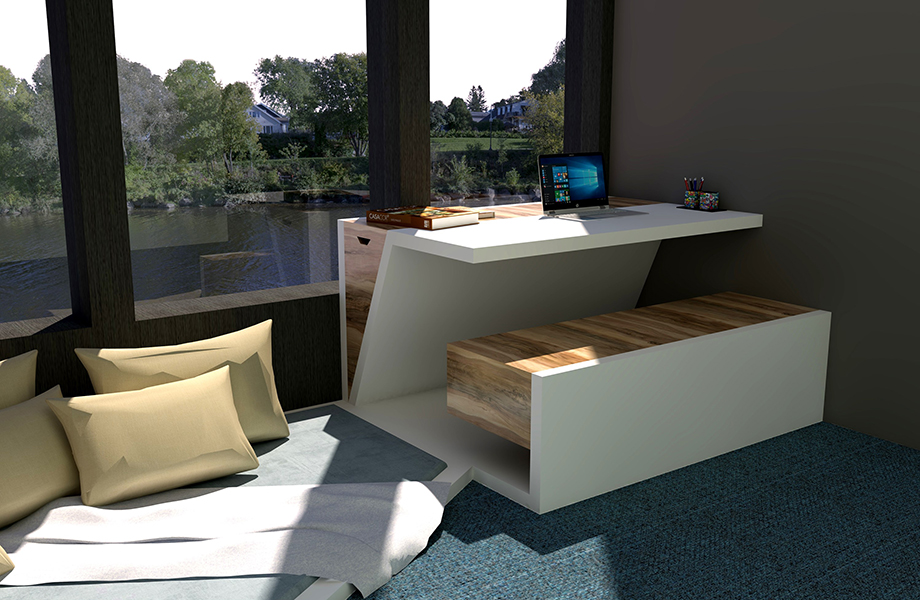 Creator of the Origami desk
Alexandra was immensely proud to learn that she was the winner of the FORM 2020 North American Student Innovation Competition. To be the first Quebecer and Canadian to win this competition is a great honour, especially since it was her first participation in this type of competition. Also, the prize doubles as an outstanding college graduation reward.

Alexandra finds the development of a concept both difficult and stimulating. The key is to work on a unique concept that, without being totally original, must be embodied by the design; a close and clear link between the concept and the design is essential.

The "Origami" idea came to her mid-conversation, and she tied it into the idea of building a desk, a practical, everyday piece of furniture she had never designed before. She did some research to integrate the origami theme with the creation of a desk, which enabled her to become familiar with the subject and develop her concept.

"I am delighted to have taken part in the competition and to come in first. It's a wonderful thank-you and will give me great visibility in the Quebec design community," says Alexandra Clément. "I'm especially looking forward to seeing my design created and exhibited at NeoCon 2021, because it will be the first time people will be able to see a project I created."

Learn more about Form 2020 here.