March Pattern – The Laurinda Spear Collection
We continue our look back at iconic Formica® Brand patterns with two introduced by Raymond Loewy Associates in the 1950s.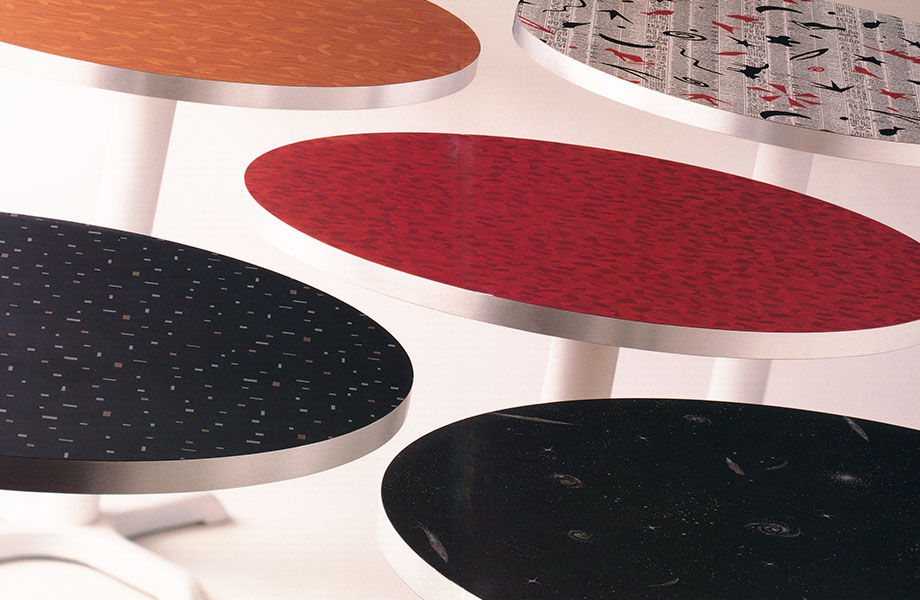 In the late 1990s, Formica Corporation embarked on a journey to create an innovative line of patterns with a respected voice in the design industry. The team connected with Laurinda H. Spear, Principal and co-founder of the Miami-based firm Arquitectonica.
A top international architect, Laurinda was also relatable to interior designers. She and Formica collaborated on an energetic collection of new laminate designs to complement, not dominate, interior spaces.
The Laurinda Spear Collection featured eclectic designs with intertwining patterns and themes across four distinct series. Formica used its in-house printing operations in France and the U.K. to bring these unique selections to life.
For the Rainforest Series, Laurinda worked with children to contribute simple art, which conveyed their fears about the destruction of these important biomes.
Rainforest Kraft presented bold red and black icons of animals, hearts and stars. Rainforest for Rent combined these shapes with the For Rent pattern's newsprint backdrop of classified ads in Mandarin, Spanish, French and English.
The Ellipse Eclipse Series included four variations based on a birch woodgrain. Cherry and Natural Ellipse Eclipse showcased rotating and sometimes overlapping ellipses, a common symbol in Spear's work.
Arial Fields, available in three colors, was inspired by the appearance of agricultural fields as seen from an airplane.
Finally, the Millennium Series included Cosmos, with constellations and planets in reflective gold and silver, and Millennium, with its small, random rectangles.
Learn more about the Laurinda Spear Collection in this video: