Designing for Healthcare Environments, Space by Space
Explore how various surfaces from Formica Group help designers with challenging healthcare environments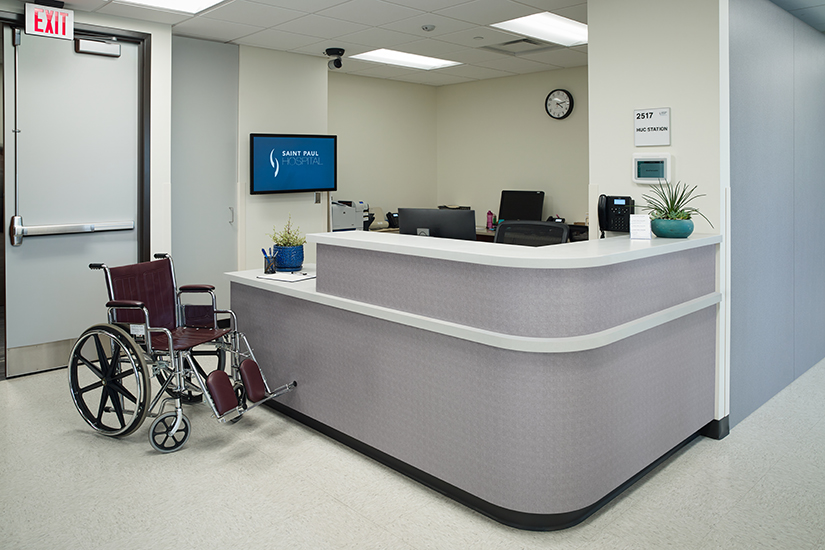 Healthcare environments are extremely challenging for designers who want to fulfill the need for maximum durability, cleanability, and safety without sacrificing the needs for a warm and inviting setting for patients to feel calm and heal quickly. Too often in the past sterility has won out. But today, a melding of the safest products and the highest aesthetic value can be achieved within a healthcare facility thanks to ever-more sophisticated surface products that perform to the highest standards.
Various spaces in a healthcare facility call for different kinds of surfacing materials. Let's take a look at how each area of a healthcare environment can be specified with a Formica Group product line.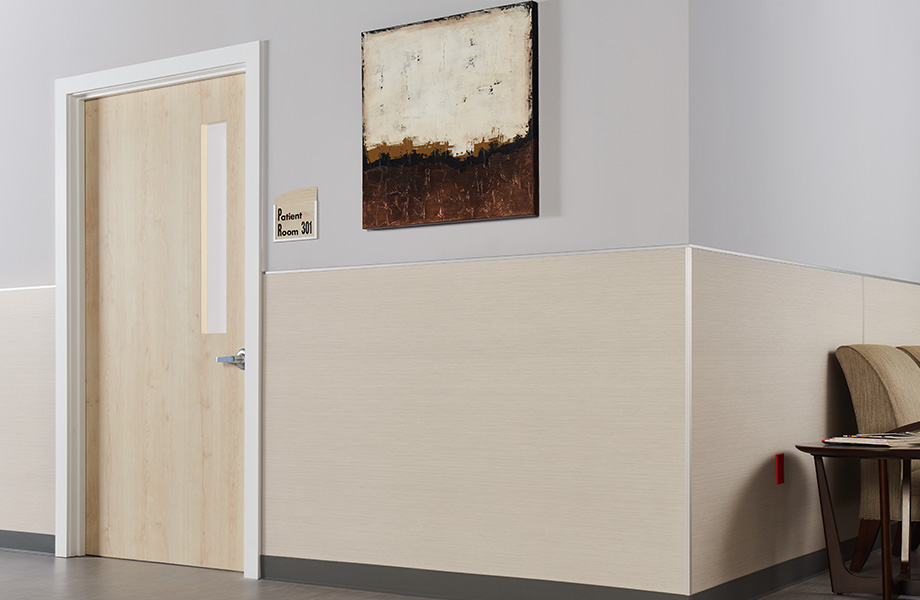 Area: Hallways, Elevator Cabs, Stairways
The challenge: In healthcare settings, walls, elevators, and stairways are subject to tremendous contact from people, beds, carts, and gurneys.
The specification: The ideal protection panels for walls and hallways should be extra durable with superior impact resistance. As such facilities are typically renovated every 10 or 20 years, the walls need to be durable enough to withstand years of impacts. Toward that trend, HardStop™ Decorative Protection Panels are fiberglass-reinforced and available in a full line of colors and patterns to seamlessly blend with other types of surfaces in the specification. HardStop panels are impact and water resistant, easy to clean, easy to install, dimensionally stable, have a Class A fire rating, and can be applied directly to drywall.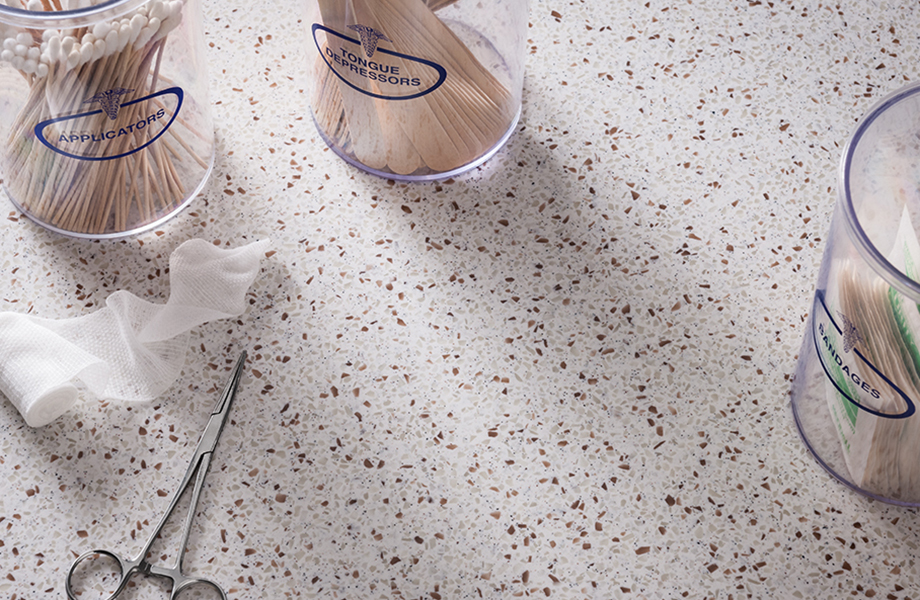 Area: Countertops in patient rooms, cafeterias, and break rooms
The challenge: These areas call for durable and extremely cleanable surfaces that can be coordinated with the rest of the design aesthetic.
The specification: For counters, food areas, and restrooms, Everform™ Solid Surface is a good choice. Solid surfacing is a solid homogeneous material suitable for many functional and decorative applications. It is a fully densified composite of modified resin and mineral filler. It shapes itself to virtually any design concept, and we offer a palette of modern colors in every mood. The durable, nonporous surface is also ideal for a worktable or custom bar top as well as sinks and shower surrounds.
Area: Registration Counters
The challenge: Long before any medical staff can diagnose or treat a disease or infection, the person carrying it will likely begin his or her healthcare journey at the registration counter. Patient after patient will be using and touching the counter hour after hour. To protect other patients, their families, and the staff, the registration counter will need to be kept clean and sterile. But being at the registration counter should also be a pleasing experience to get the healthcare process off to a calming and harmonious start.
The specification: As the first surface a patient interacts with, the ideal material for a registration counter should be both beautiful and durable. Our solution is the Formica® Laminate Antimicrobial Collection (not sold in Canada), which meets those demands with built-in antimicrobial surface protection.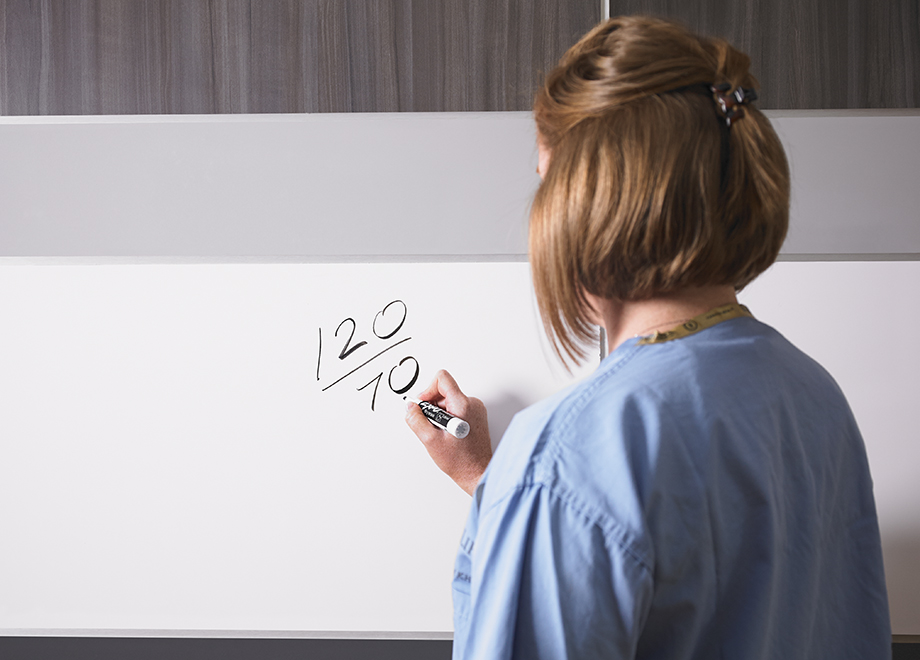 Area: Nurses Stations
The challenge: Communication is key for a smoothly operating healthcare facility. With nurses on different shifts moving in and out of patients' rooms, and with doctors coming and going on their rounds, a highly visible method of communication can go a long way to cut down on mistakes and miscommunications.
The specification: One way to facilitate communication and expression is specification of Formica® Writable Surfaces with a magnetic backer. Magnetic laminates in gloss finish are especially suitable for use as marker boards or writing surfaces not only for nurses' stations but also for quick updates in patient rooms as well.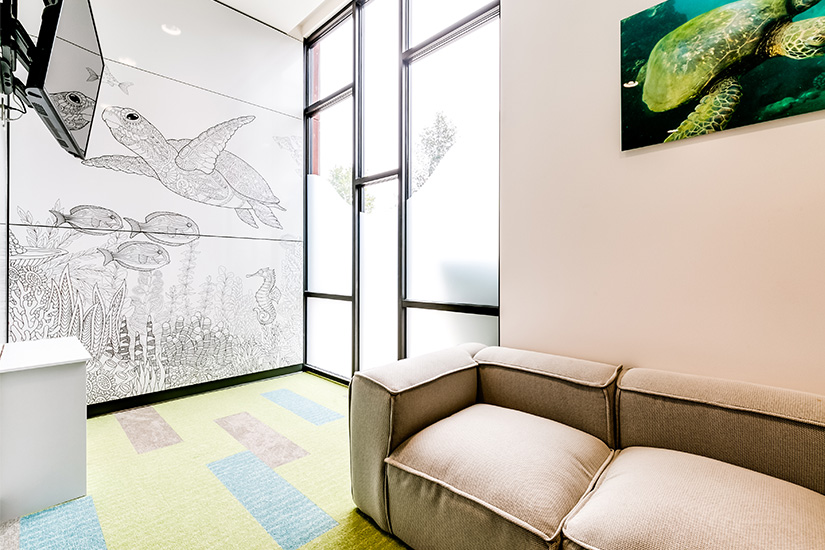 Area: Children's Hospitals/Pediatrician Offices
The challenge: Visiting a healthcare facility is disconcerting enough for adults to handle and even more frightening for children. All attempts are made to create not only a safe and durable environment but also a happy and high-spirited space. The designer may have a color combination in mind to match a branding goal or wish to design something completely different and distinctive.
The specification: For a pediatrician's office or children's hospital where a cheerful and colorful aesthetic is absolutely necessary, Formica Envision™ custom laminate might be the best specification. For a designer, the possibility of creating a surface that is a unique piece of art on high-performance laminate is an appealing idea.
No matter the healthcare setting, you can Find Your Perfect™ with Formica® Brand surfaces.