Benefits of Formica® Writable Surfaces
Benefits of Formica® Writable Surfaces
Formica® Writable Surfaces are a collection of durable, easy to clean, worry-free surfaces to personalize and stylize your home to fit you.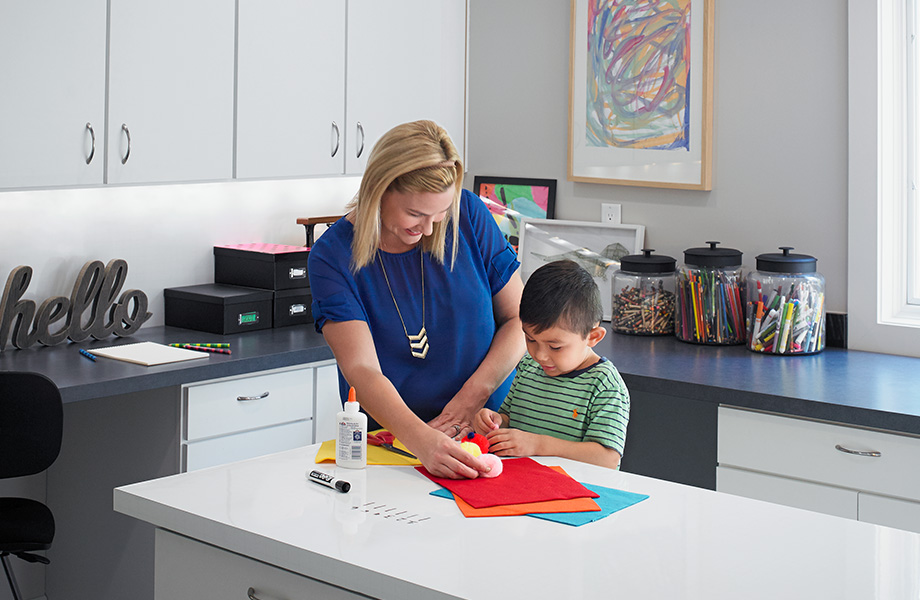 This collection is ideal for personalizing your home and offers an ever-changing surface for doodles notes and more with the added benefit of being simple sturdy and easier to maintain than other writable surfaces.
Smooth Writable Surface: Paint whether chalkboard or dry erase is typically applied to a drywall or wood surface. Drywall even at a premium finish will have small pits which become places for marker and chalk to become embedded over time. Older homes will have added issues of patching and wear creating a surface that will never be perfectly flat. Formica® Writable Surfaces offer a consistently smooth finish not easily achieved through other writable products.
Inherently Scratch & Impact Resistant: All Writable Surfaces from Formica Group are also inherently scratch resistant and impact resistant. This is a major plus when considering a writable surface for any high traffic areas of the home such as the kitchen or an entry. And let's be honest when did kids start caring about how precious our walls can be?
Easy to Clean: Formica® Writable Surfaces can be easily cleaned with a cloth or an eraser. Writable paint should be washed weekly to avoid permanent ghosting. The continuous washing also wears down the paint overtime and it will need repainted with constant use and cleaning.
Horizontal & Vertical Application: The versatility of Formica® Writable Surfaces collection is truly endless. Its unique ability to be installed on most vertical and horizontal surfaces cannot be achieved with paint. Adhere your writable surface across an entire wall any piece of furniture cabinet fronts desks counters and more. Personalize you're home and allow your entire family to do the same with one piece of chalk or a marker.
Start the conversation space in your home. A special note or sketch is the personal touch we all crave. More creativity more inspiration with Formica® Writable Surfaces anywhere in your home. Maybe you aren't sure where to begin? Check out inspiration from our professional design team in the slideshow.