How to Make Your Dinner Table the Center of Your Home Again
How to Make Your Dinner Table the Center of Your Home Again
Remember when you were a child and the dinner table was the center of your world?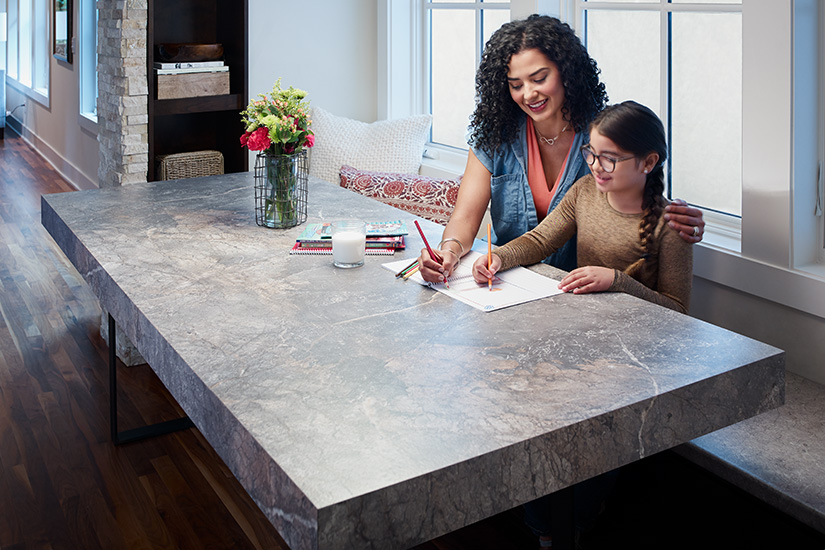 The dinner table wasn't just the place where you ate a meal before rushing off to Snap your friends—it was the anchor that kept you and your family grounded. It was the place where you talked about your day sprawled out with your homework and played board games on the weekends.
It was where everyone congregated and connected and we want to help you bring that back. And the first step in making dinner an engaging family event every day is having a table that's just as much of a conversation piece as the stories shared there.
We've found a product than can help make dinner more fun and interactive. Writable Surfaces®Formica a collection of durable and stylish markerboard and chalkboard surfaces are a great way to stay connected – without the electronic cords - in the kitchen.
You can have a dining table custom made with Formica® Writable Surfaces by a local fabricator or learn how to DIY one yourself.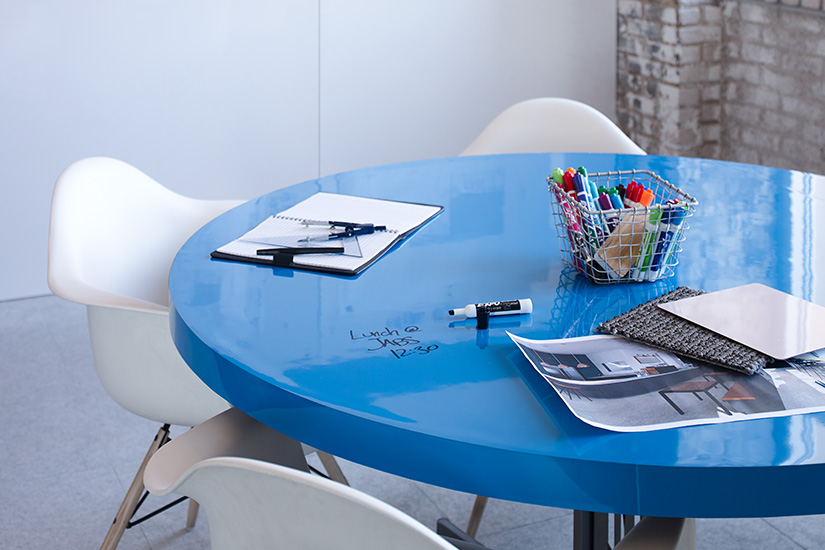 1. Make your dinner table a place for creative expression
It's a proven fact that activities like drawing are beneficial to your mental well-being, but getting your children to disengage from their phones is easier said than done. So make it easier for them by putting the tools at their fingertips.
With a table made from Formica® Writable Surfaces, the possibilities for creative expression are endless. For example, if your kid groans every time you ask them to set the table, encourage them to draw, decorate, and customize their own custom place settings.
They can also take it one step further by draws circles for serving bowls and labeling the condiments. Just make sure you keep the chalk handy during dinner for touch-ups or additions—you never know when the desire to doodle will strike.

2. Bring back family game nights
Is there anything more fun than game night? Here are a few fun ideas that don't include electronics of any kind so you can truly connect as a family.
Pictionary
After you clear the dishes, encourage your kids to stick around for some family time by suggesting an old-school game like Pictionary. Divide into teams, select a word at random, and use your Formica® Writable Surface table to create your visual while the other team tries to guess. Remember, you only get a minute! If you want to up the difficulty factor, make the person drawing do it with their eyes closed.
Card Games
Instead of using pen and paper, let your kids have some fun using Formica® Writable Surface table with chalk or dry erase marker to keep score. All you need to bring to the table is a deck of cards!
Checkers
If your kids are running for their iPhones after dinner, try introducing them to a game you played growing up, like checkers. You do remember how to play, right?
Let one of your kids take a stab at drawing the 8x8 board on the Formica® Writable Surface table and then give each player 12 pieces of different colors—you can use buttons or basically anything as long as you have 12 pieces in the same hue. Walk them through the rules and then try a few rounds while eating dessert. It might not be as addicting as Candy Crush, but it'll provide a few solid hours of entertainment sans technology.

3. Leave notes, reminders, and expressions of love
The kitchen should be the cornerstone of your daily life, where you can check in, look for reminders, or manage your grocery list. Make your notes stand out by leaving them on a Formica® Writable Surface table—which you can leave at each family member's spot at the table.
There's also something really special about leaving your family a handwritten note when you leave the house. As a family, encourage each other to write one sweet thing about another family member as they pass through the kitchen on the way to work or school each day. Small messages of love go a long way.
4. Make the dinner table homework central
Is your kid preparing for a big algebra test? Or perhaps they just want to practice the lost art of writing in cursive. This is where a Formica® Writable Surface table can really come in handy.
Instead of practicing on tiny sheets of notebook paper, push aside the placements and let them write all over the dinner table. And the best part? They don't have to worry about messing up. Any mistakes can immediately be erased so they can start over fresh. Isn't that what learning is all about?