Orange Coast Medical Center – Alexander + Hibbs AIA, Inc.
Bursting at the seams and outfitted with a mauve color scheme straight out of the 1980s, the Orange Coast Medical Center Emergency Pavilion was in desperate need of an upgrade. Calling upon noted healthcare architecture and design firm Alexander + Hibbs, AIA, Inc., the upgrade would consist of a 5,000 square-foot expansion and a remodel of the existing 9,000 square feet.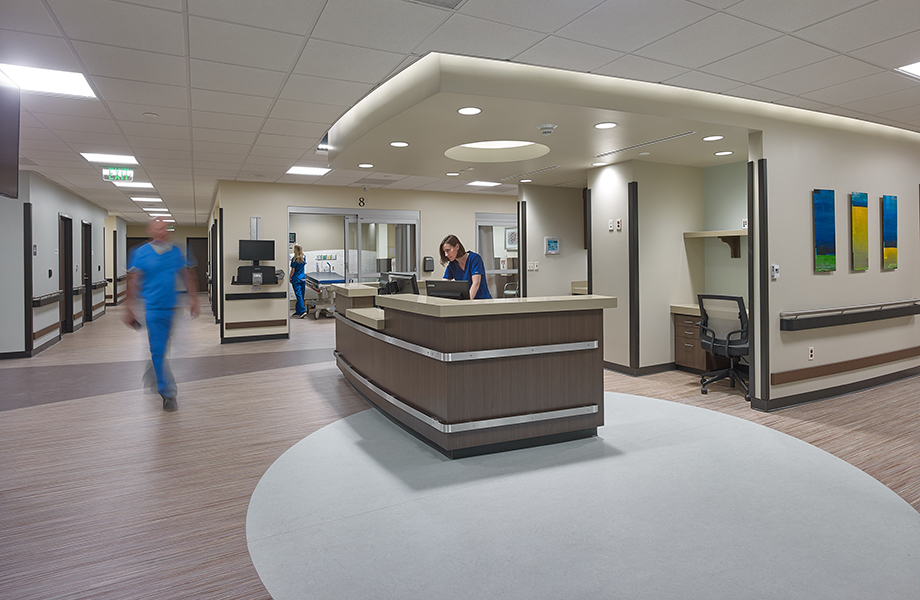 The multi-phase project called for a new patient drop-off and ambulatory entrance while expanding the waiting area and increasing the treatment rooms to 22 with two new triage rooms and a FastTrack area. But from a design perspective, one of the biggest goals was to give the emergency department a fresh, yet durable look and feel.
"The facility was built in the mid 80's and all the doors were covered with the mauve laminate," said Rollie Alexander, founding principal and architect at Alexander + Hibbs. "It was time for an upgrade, but we also had to find something that would provide adequate wall protection in a high impact environment."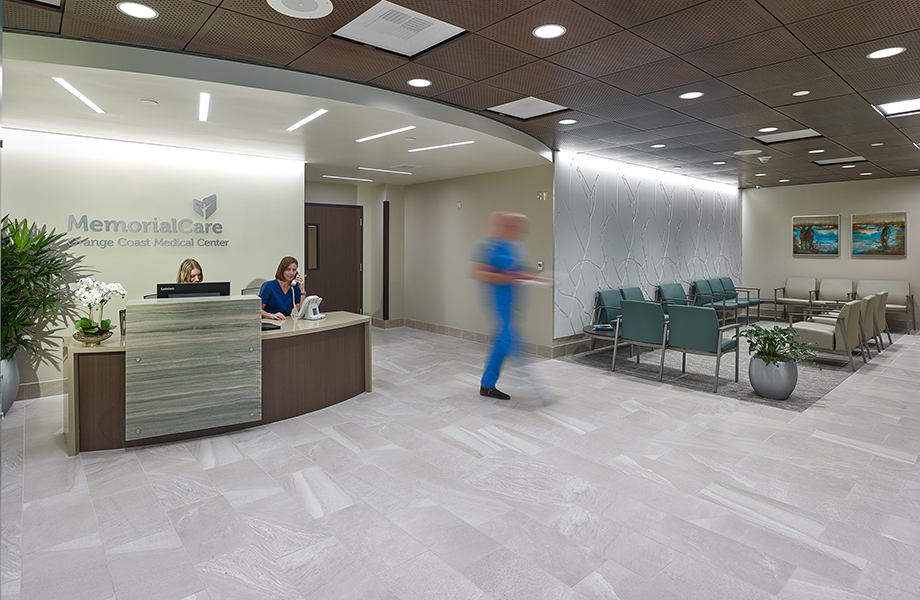 While the new HardStop® Decorative Protection Panels would have been a great option, the design was finalized before this product was introduced. Even still, Alexander found a similar solution with Formica® Compact in the Walnut Riftwood design.
"We found that the durability of the Formica® Compact was a perfect option for these high-impact areas including the patient bays and the facing of the nurses' stations," Alexander said. "The Walnut Riftwood is a beautiful wood grain design that has lasting power and has proven to be far more welcoming than the plain, institutional look of the FRP panels used previously."
Alexander and his colleague Todd Bentley report that the new look has served to energize both the patients and the staff.
"Since this project was done in phases, as soon as we walked in, the nurses in the incomplete areas were begging us to update their space," Bentley said. "The new laminate has really changed the whole feeling of the emergency department and allowed us to provide a long-lasting, beautiful design."