Q and A with DIYer Nichol Naranjo
Find out why Nichol Naranjo selected Formica® Laminate for her coffee table DIY project
In the fall of 2021, Instagrammer Nichol Naranjo had recently moved to a new home in Albuquerque, New Mexico, and reached out to Formica Group for some help.
"The drawing room is a space that has been evolving since we moved in," Nichol said at the time. "It's a great space (with a large picture window, built-in shelves, and a baby grand piano) that we've been trying to add a bit of a contemporary flair to."
Nichol's idea: add flair by creating a statement coffee table using Formica® Laminate. And did she ever.

We had a chance to catch up with Nichol after the project to learn how it went for her.
Tell us about the overall aesthetic in your living room.
Describing our style/aesthetic is always a tough one for me. Our drawing room, and home, has quite the mix! We aim for traditional with a modern and European twist with bits of nautical, throughout our home. Our drawing room certainly has all those elements. Once a follower referred to my style as "French Maritime" and I thought that was a great description. We have antiques mixed with abstract art and contemporary furnishings and lighting and you'll always see a few seashells from travels strewn about. It's certainly unique, but it's us. Our homes should be interesting and personal, and I feel ours tells our story.
What drew you to this type of coffee table? How does it fit in with the overall aesthetic?
I have been majorly crushing on marble plinth tables for several years now, but wasn't crushing on the steep price, so when I saw Formica's beautiful options, I knew we could DIY our own! I love the movement of the table and how it acts as a beautiful foundation for the things we love to display and use daily.
What made you consider Formica® Laminate when designing your coffee table?
Again, Formica has such beautiful options, and the quality is superb! When guests come over one of the first things they do is touch our coffee table and are always shocked when we tell them it's laminate. I didn't want something flimsy or fragile and Formica is neither of those things! It's thick, durable, and basically acts as a giant coaster, with its durability.
What inspired you to DIY the coffee table?
I had been toying with the idea for a while and then I saw designer Leanne Ford built a similar table and knew I had to try my hand at my own! Also, the cost savings was a major motivator.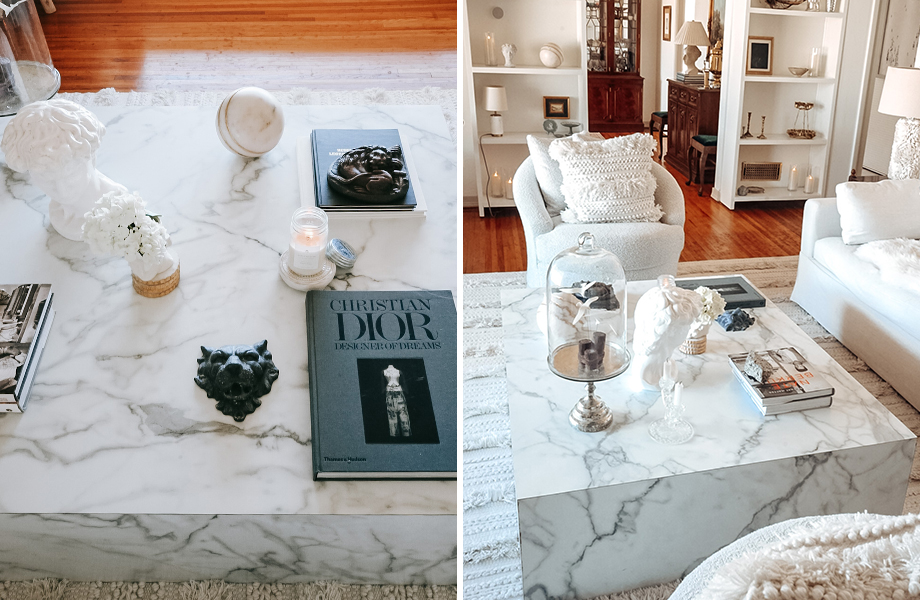 What made you select the Calacatta Marble pattern?
I honestly was really torn between Calacatta Marble and Nero Marquina! Both are so striking! In the end, I went with Calacatta Marble because I wanted an airiness in our drawing room, so the lighter hue made more sense for the look and ethereal feel I was trying to achieve. I absolutely LOVE the tone it sets for the space! I'll admit that I still dream of the Nero Marquina and hope to use it one day for another project!
What advice do you have for other homeowners who want a luxe look for less?
Don't shy away from DIY projects. Of course, know which you maybe should steer away from, but the sky really is the limit! Tackling this project saved us a significant amount and it was so easy and so fun! We were honestly surprised with how easy it was to execute. Be aware of the areas that you can save in - for instance with materials. We chose particle board because it was the most cost-effective material at that time, and since it was going to be covered anyway, it made most sense for the budget.
What would you say to homeowners who want to take on more DIY projects but feel unsure of their skills?
Again, the sky's the limit! With resources now like blogs, Pinterest, YouTube and social media, we're learning anyone can pretty much do anything in this particular area! Don't be afraid to fail - just start! Do your homework, get organized, but eventually you have to just go for it. Whenever there's a new-to-me tool involved in a project, I challenge myself to learn how to use it, and believe me, it's not always in my comfort zone, but it brings about a pride and confidence that I can take into just about every area of my life. Just go for it!
What benefits of using laminate for this project have you experienced?
Laminate is so durable and much less maintenance than stone, which definitely has its perks! We also found it easy to work with and cost effective as well. Not to mention we loved that we could customize the table to the exact size we wanted and that best fit our space! I have to say, I want to build many more tables and furniture pieces now that I've had a taste of Formica's ease, durability, and results!