Geneviève Jetté's family kitchen gets a makeover!
Blog founder and owner of La Récréation chooses Formica® products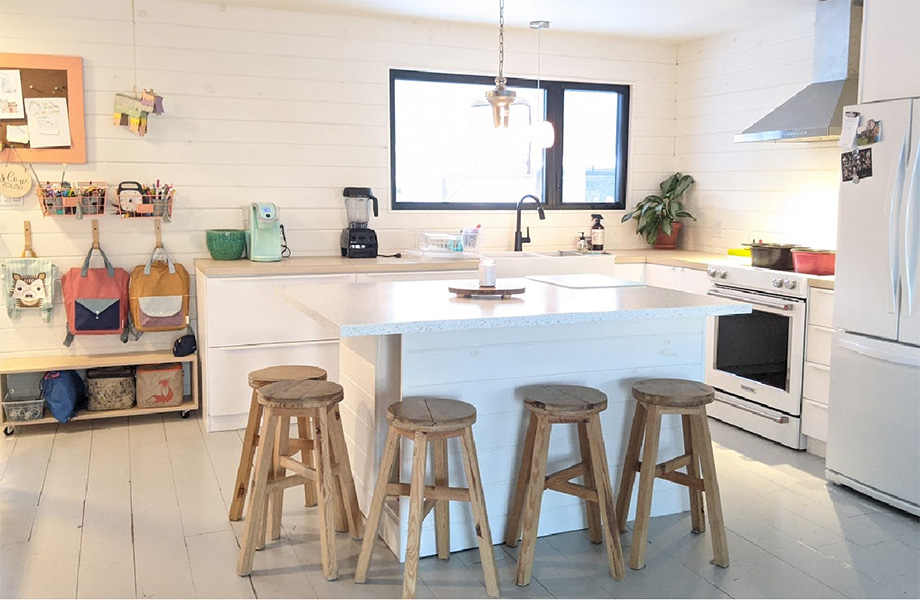 In 2021, Geneviève Jetté, founder of the La Récréation blog and owner of the boutique of the same name, completely refurbished the kitchen of her Joliette family home. From the walls to the counters, cabinets and island, no detail was overlooked in this major conversion.

She and her husband, Marc-André, worked for many months to create a functional space that would meet the needs of their family of five within their budget.

Design, durability, and ease of maintenance were Geneviève's main criteria for choosing her countertops and island. "I wanted everything to be perfect! For the island, I was looking for a light design that wasn't a solid colour. Textures offer the perfect camouflage, because with three children, anything is possible," says Geneviève.

She made a bold choice for her kitchen's central focal point, Everform Solid Surface in Sea Glass (#055), which is a unique design featuring bright colours, inspired by the terrazzo trend. After several months of use, she's still happy with her choice. "I was worried that it would stand out too much, but in the end, that's exactly what it took. It's really my favourite," says the blogger.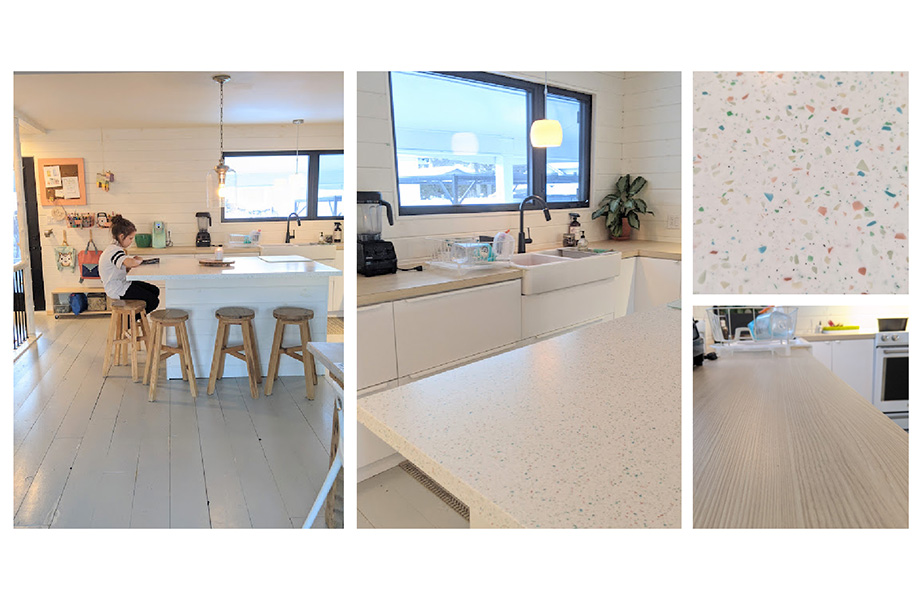 Geneviève has always had a soft spot for kitchen countertops made of wood. However, after experimenting with them, she felt she needed a more practical and durable surface at home, especially for the area around the sink. Given the wood-patterned laminate countertops she loves at her boutique, her decision was easy: "At Espace La Récréation, we have a wood-style laminate countertop, and everyone thinks it's real wood," she says.

She chose Natural Ash (# 8843), a pattern with a slightly grooved effect, making it look very realistic. After many months of use, Geneviève remains satisfied with her choices and loves how easy it is to maintain her countertops.

To match her kitchen perfectly and make it bright and inviting, she put the finishing touch on her project by painting all her kitchen and dining room walls a neutral white to fit in with the lighting.

To learn more about Geneviève Jetté's kitchen renovation, read the article she wrote about it (in French only).