LB Design Group Deploys First of Its Kind Design for Grant Thornton Charlotte
New coffee bar entrance features two Formica® Brand Surfaces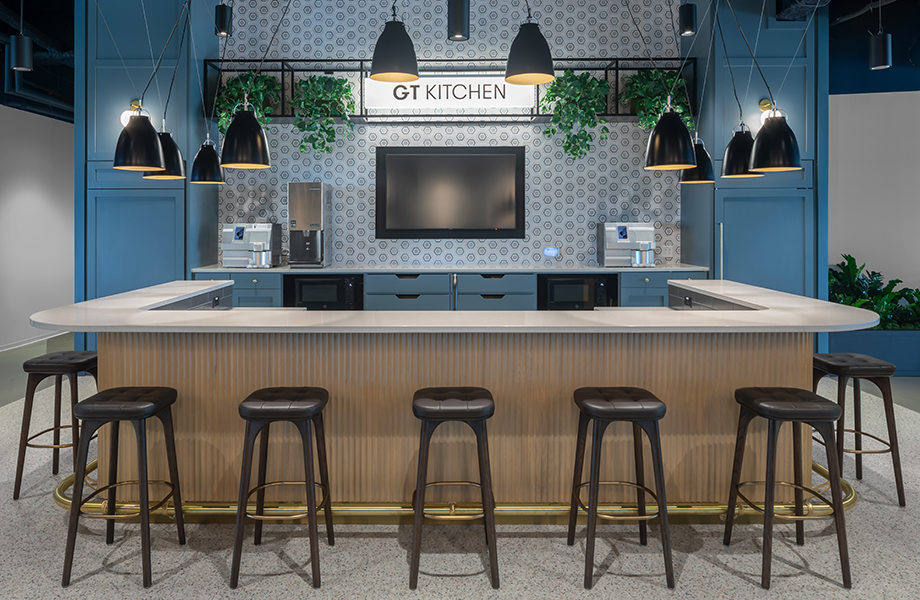 When Grant Thornton elected to move its Charlotte office to the up-and-coming Vantage South End neighborhood, they challenged designer Lauren Bass to deploy the next iteration of their workplace standard.
"I've been designing for Grant Thornton for years, but the Charlotte project represents a dramatic change in the way they envision the office," said Bass, owner of LB Design Group and lead designer on the project. "They sought to redefine the corporate office concept by replacing traditional elements with modern, functional spaces."
Key to the new design is the flexibility for employees to choose how and where they want to work.
"70 percent of the workspaces are non-traditional seating arrangements, whether that be the sound-insulated phone booths, the café, or even a sun-drenched lounge chair overlooking the Uptown skyline," Bass explains.
The new concept is felt immediately upon entering the offices, as a bright and open coffee bar with comfortable group seating and contemporary light fixtures have replaced the traditional reception desk and waiting room.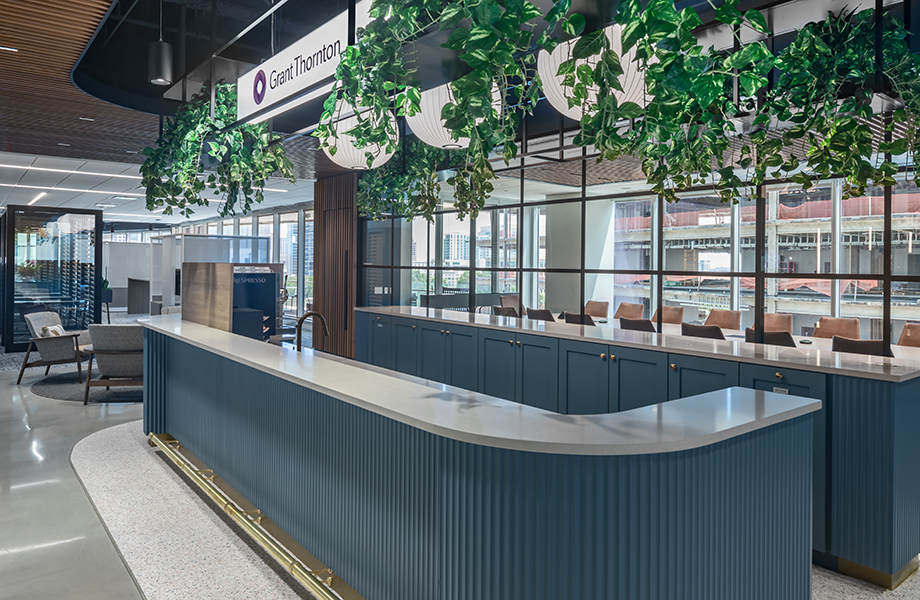 "My clients loved the paint color, so I was trying to quickly find a laminate that would match for the cabinets in the coffee bar and café areas," Bass said. "Honestly, the way the Formica binder is set up and how quickly I could get samples from my rep made the process so easy to get what we needed."
Bass selected Winter Sky laminate for the cabinets, while turning to a different Formica® Brand product line to complete the look.
"Because the cabinets are the more residential shaker style and Grant Thornton selected brass for the pulls, I needed a toekick that would jazz it up a little," Bass said. "The Brushed Brass DecoMetal® laminates were crucial to completing the look while also matching the other hardware selected."
Because of its redefined entry and flexible work options, the Grant Thornton Charlotte office has become the model for other potential tenants—and for future Grant Thornton projects.
"They've actually toured a lot of potential tenants of the new buildings through the space, and many have been impressed and want to duplicate some of the look – so that's always one of the best compliments," Bass said. "And Grant Thornton's Los Angeles office is up next, so we are going to take a lot of these same designs, with maybe a slightly lighter color scheme."