Cynthia Spray, AIA – Building a Brand in Design-Rich Community
See how Formica® Brand Laminates helped Cynthia Spray establish a self-storage brand in the notable design community of Wynwood, Florida
In the self-storage industry, where rental units across companies can often look very similar, branding is paramount. The colors and style of the facility can be a difference maker for families looking for a place to store their belongings.
For architectural designer Cynthia Spray, the design for Spare Space Storage took on added importance in Wynwood, Florida – a Miami neighborhood known for its rich design history and colorful murals known as the Wynwood Walls.
"I take projects based on the client, and this client had a very strong vision for the storage facility and how it could both fit in and stand out in this design community," Spray said. "He had done his research, knew what attracted customers, and allowed me to take his concept and run with it."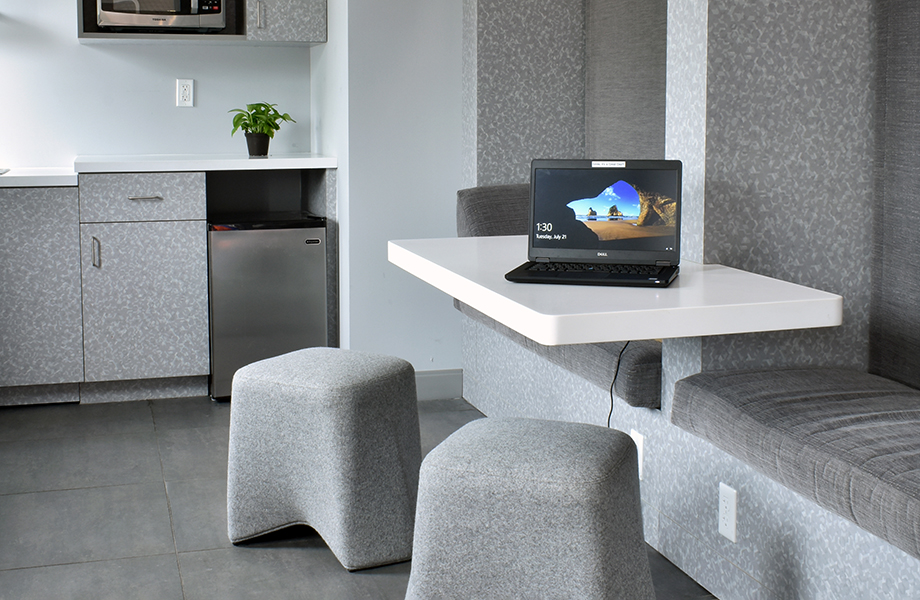 Building on the client's blue and orange color scheme, Spray set out on a design that married the bold brand colors with a mid-century Googie theme.
She found great matches for her design within the Formica® Brand laminate collection.
"Googie architecture is all about the futurist shapes – slivers of light, angles, and making it playful," Spray said. "When we settled on the hexagon concept, Folkstone Hex* became a must-have laminate for the doors, cabinets and desks."
But perhaps the most "fun" element of the design was a furniture piece Spray designed for kids in the seating area. The piece features a magnetic, Formica® Writable Surfaces pattern with alternating Clementine and Spectrum Blue laminate. With a few dry erase markers and magnet letters, the kids had a great place to play.
"It's tough for kids to just sit and wait while grown-ups are doing business, so I wanted to give them something to pass the time," Spray said. "Formica had all these great colors in their standard line so it was easy to match to the brand colors."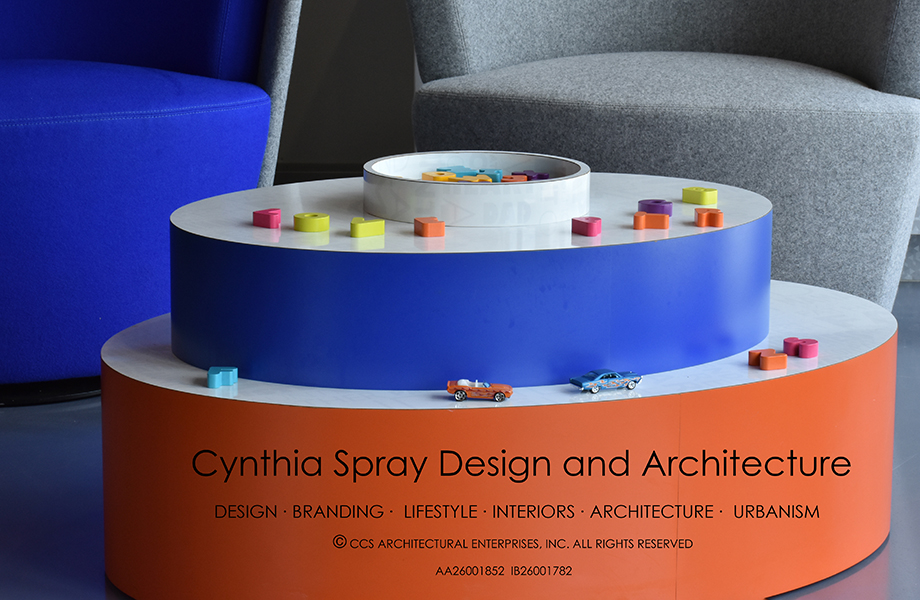 *This product has been discontinued and has limited availability. You can check for any remaining availability by contacting Formica Corporation at 1-800-FORMICA™ (367-6422).
PHOTOGRAPHER
Images courtesy of Cynthia Spray