bcDESIGNGROUP Reimagines the Cafeteria Experience at Research Medical Center
Formica® Laminate and Formica® Compact adds durability to high-use environment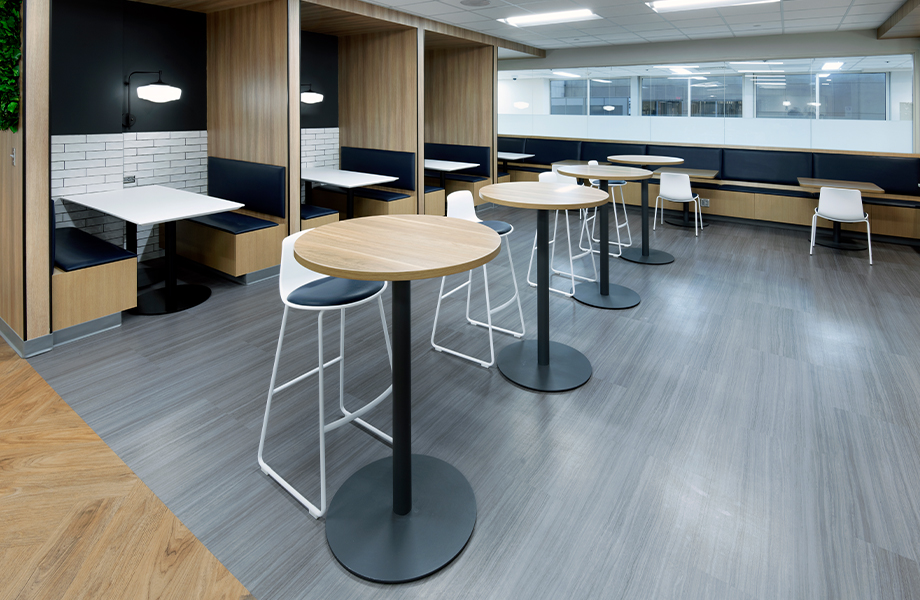 Like many cafeterias, the one at Research Medical Center in Kansas City, Missouri was one large, open room. But with outdated finishes and mismatched furniture, the hospital leadership saw an opportunity to renovate their current space to support multiple needs with an elevated aesthetic. They turned to bcDESIGNGROUP for guidance.
"Our main goal was to reimagine the cafeteria experience to offer a comfortable, elevated environment to enjoy meals," said Brooke Cinalli, Founder and Director of Design at bcDESIGNGROUP. "But we also wanted a place that provides areas of respite, space for large group trainings, opportunities for socialization and focus spaces for work and study."
In the end, Cinalli and her team created three types of zones within the existing cafeteria space:
Focused space for respite and work/study opportunities featuring booths and countertop seating with outlets at all seats
Social space for small gatherings with lounge furniture arranged for conversation and banquette seating
Large group space with larger tables and multiple chairs. The tables can be moved together for larger staff meetings and training.
While phasing was a key challenge since the cafeteria remained open during construction, Cinalli also sought a solution that would provide high impact resistance without sacrificing the visual appeal of the space. She found a solution with Formica® Compact.
"The Formica team was a valuable partner to us and gave us advice throughout the design process on what materials were best suited for each of the design elements," Cinalli said. "Being able to use the Compact product with the same visual as the high-pressure laminate kept the design seamless and allowed us to control what areas needed higher impact material."
Cinalli chose the Pecan Woodline laminate from Formica Group for all the casework, and opted for the higher durability Formica® Compact (also in Pecan Woodline) for the booths and banquettes.
"We are thrilled with the result and feel confident the materials will be successful and durable," Cinalli said. "This will allow the staff, guests and leadership of Research Medical Center to enjoy this space now and in the future."