Formica® High Pressure Laminates are available with full FSC® certification. Select products can be manufactured as FSC mix upon request (minimums may apply). ColorCore®2 laminate is standardly produced as FSC Mix. Contact your local sales representative for availability, lead times and minimums.
Forest Stewardship Council® (FSC®) defined
FSC® is an independent, non-government, not-for-profit organization established to promote responsible forest management practices worldwide. It was created out of concern for the loss of the world's forests and failure to address deforestation. FSC forest management certification is awarded to forest managers who adopt practices that provide environmental, social and economic benefits. FSC Principles and Criteria provide a foundation for all forest management standards globally.
Certified Wood defined
Certified wood is wood that has been issued a certificate from an independent organization with developed standards of good forest management. This certificate verifies that wood products come from responsibly managed forests. Responsible forest management encompasses practices that are environmentally friendly, protect biodiversity and wildlife habitat, socially beneficial and economically viable.
What is Chain of Custody?
FSC Chain of Custody certification is awarded to companies that can track and document FSC certified material through the production process, from the forest to the consumer, including all successive stages of procurement, processing, manufacturing, fabricating, distribution and sale of certified goods.
Formica Corporation and Chain of Custody
Formica Corporation holds FSC Chain of Custody certification in both the United States and Canada signifying our ability to meet strict tracking requirements that ensure materials used in the production of Formica® Brand high pressure decorative laminates come from well-managed forests. Formica Corporation attained Chain of Custody certification in 2010. Formica® Brand high pressure decorative laminates are available with full FSC certification. Our License Code is FSC-C092610 and applies to our manufacturing facilities in Cincinnati, Ohio and St. Jean, Quebec, Canada, as well as our distribution centers in the U.S., Canada and Puerto Rico. FSC® Chain of Custody certification is required for suppliers of FSC Wood to USGBC LEED projects.
Certificates:
LEED Rating System credit calculation
Formica® Brand products are applied as a decorative surface component in a finished assembly, such as furniture and furnishings, and may contribute to LEED 2009 Certified Wood credit, MR 7, or LEED v4 Building Product Disclosure and Optimization – Sourcing of Raw Materials.
LEED 2009, MR 7: 1 point can be achieved if a minimum of 50% (based on cost) of wood-based materials and products are certified in accordance with the Forest Stewardship Council's principles and criteria. This includes only materials permanently installed in the project. Furniture may be included if it is consistently accounted for in MR Credits 3, Materials Reuse: through MR Credit 7: Certified Wood.
LEED v4 Building Product Disclosure and Optimization – Sourcing of Raw Materials: 1 point can be achieved under Option 2: leadership extraction processes. This point encourages the use of products that meet at least one of the responsible extraction criteria for 25%, by cost, of the total value of permanently installed building products in the project. Wood products that are certified by FSC are valued at 100% of their cost for achieving the credit among other product criteria such as bio-based materials, materials reuse and recycled content.
FSC activities
We make mandatory the use of wood fibers from sustainable forests and works with paper suppliers to provide FSC certified materials. In our commitment to continually develop sustainable strategies, Formica Corporation completed a product life cycle assessment (LCA) in accordance with ISO Standard 14040 on key products and their full environmental impacts, from raw material manufacture to product end of life "cradle to grave". Periodically, we will conduct an LCA to monitor closely our progress in reducing impacts within our manufacturing process, including supply chain.
For more information on sustainable material attributes of Formica® Brand products, including recycled content, low emitting materials, LEED® credit contribution and product certifications, view our product certifications page or use our LEED® Specifications Sheet templates to see how Formica Corporation can contribute to your project.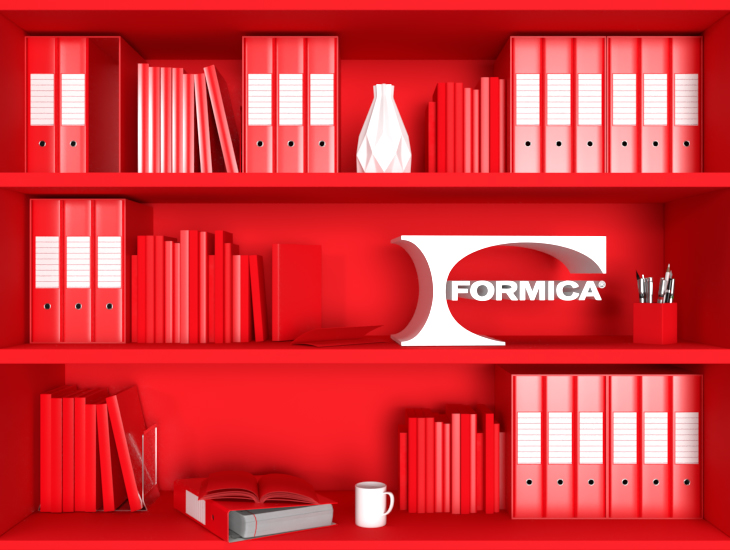 Formica® Documents
Access up-to-date technical documentation, certifications and guides for all Formica® Brand products on our new central hub. www.formicadocs.info
Go to formicadocs.info
More on Sustainability
At Formica Group, we continually strive to create innovative products that promote a healthier environment to support sustainable design.