Buyer's Guide: Laminate Countertops
Questions about how to make your dreams for new laminate countertops a reality? This is your comprehensive resource for learning about the process from start to finish.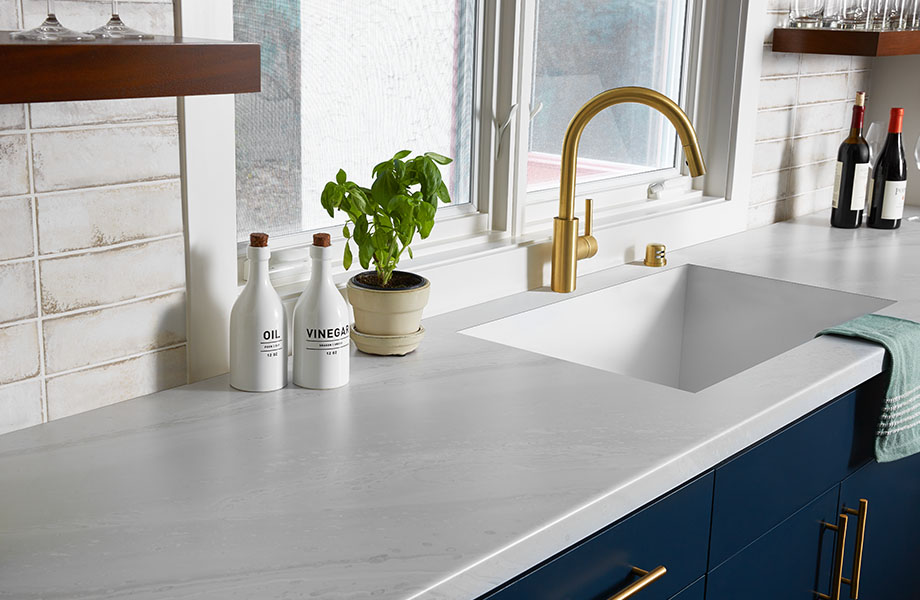 Your Step-by-Step Guide to New Laminate Countertops
If you're ready to update your space with custom laminate countertops, you've come to the right place! We'll walk you through common questions about laminate as well as the selection process so you understand the steps and decision points. We've also included helpful resources that can help you along the way.
Why Laminate?
As a starting point, it's important to understand the benefits of laminate at a high level. You may wonder how long laminate countertops last or what the advantages of laminate are when compared to other materials.

Laminate continues to be one of the top contenders for countertop choices due to its durability, affordability and versatility. Read on to learn how laminate's composition leads to some major benefits.
What Is Laminate?
Believe it or not, laminate is made from paper! First, sheets of kraft paper are saturated in melamine resin. Then, the resin-soaked papers are pressed tightly together under extremely high heat. Next, the decorative paper is placed on the very top and cured in an oven. Lastly, the sheets of laminate are glued to particle board to create a hard surface that is durable, flexible and beautiful.
The Benefits of Laminate Countertops
There are many reasons why you might choose this innovative material for your next home remodeling project.
Durability: Formica® Brand Laminate is known for long-lasting appeal with durable, high-performance surfaces that can stand up to impact and resist scratches caused by daily use. With the right care, laminate countertops can last for many years.

Versatility: Laminate can be used for any countertop or work surface in your home – from the kitchen, bathroom, laundry room, wet bar, craft room and beyond.

Design-Savvy: Laminate offers more colours, patterns and finishes than any other surfacing material, which means there truly is a laminate pattern for every design taste and personal style. Options include solid colours, graphic patterns and the look of natural stone or wood.

Easy to clean and maintain: Laminate does not require special cleaning products or annual resealing like natural stone and wood. Simply wipe off the mess with soap and water and you're good to go. Learn more in our cleaning guide.

Simple to install: You have the freedom to hire a pro or do it yourself.

Affordability: The typical cost per square foot of installed granite may be roughly $120, while Formica® Brand Laminate costs between $14 and $38 per square foot installed.

Sink options: Yes, you can have an undermount sink! Learn more about sink selection below.

Sustainability: Formica® Brand Laminate is GREENGUARD-certified and contains a minimum of 10% recycled content from Forest Stewardship Council or FSC-certified sources.

Now that you understand why laminate countertops are a great choice, it's time to start thinking about your project. These steps will help you focus your efforts.
1. Get Inspired
Hopefully this is the fun part! You can find plenty of inspiration on Pinterest and Instagram in addition to well-known websites focused on the latest home design trends such as Houzz, home improvement websites or popular design blogs. Browsing the web, perusing magazines and checking out your local home center stores will help you narrow down the look you want to create in your space.

With hundreds of selections ranging from bold colours and whimsical patterns to authentic stone looks and woodgrains, Formica® Laminate has you covered. You'll find inspiration galleries for laminate kitchen countertops and laminate bathroom countertops at the end of this article to get you started.
2. Get Samples
Samples are helpful in the decision-making process because they let you see how an actual colour or pattern works with key elements of your existing space. This is an important consideration because it helps you factor in lighting, cabinetry and other colour-related considerations that will complement the countertop. You can order free Formica® Brand laminate samples on our website, or you can secure samples from a home center store or remodeler's showroom.
How to Get Laminate Samples for Your Countertop on Formica.com
Explore the selections and add any samples you'd like to receive to your cart. You can also contact customer service at 1-800-FORMICA (367-6422).
3. Consider Your Edge Profile
Did you know you can achieve beautifully finished laminate countertop edges without brown seams? Discover the range of modern IdealEdge® Decorative Edging profiles, available in Double Radius, Waterfall, Bullnose and Ogee. Once you determine your selection, you can ask your retailer to order the edging along with your desired pattern. Other popular edge treatments include a traditional square edge or a postform edge.
4.
Choose Your Sink

Many countertop projects involve adding or replacing a sink. From classic stainless steel and acrylic to glazed fireclay, cast iron and composite options, your sink says a lot about your overall design aesthetic. There are also functional considerations such as the number of basins and the type of faucet you want, as well as whether an undermount or top-mount selection will be your best bet.
5.
Determine Your Installation Route

Evaluate your timeline, budget and overall interest in DIY projects as you decide whether to involve a professional installer or dig out your tool belt. If you go the professional route for custom laminate countertops, home center stores offer installation as do your local kitchen and bath remodelers. Our Where to Buy tool can help you navigate what's available in your area. (Note: Check with your local home center store or remodeler for colour selection.)

If you'd like to complete the project yourself, visit our DIY hub to access step-by-step videos and articles to get you started.
Where to Buy Laminate Countertops
As you do your research, you may determine a postform laminate countertop is your best route, especially if you're looking at a DIY approach. Home center stores offer these both in-stock and via special order in a variety of sizes and popular Formica® Brand patterns to help you tackle your project quickly. With this route, the laminate sheet has already been adhered to the particleboard substrate, saving you several steps. If you have some time and want a wider variety of colour options and more flexibility in your edge profile selection, a remodeler may be your best bet.
Inspiration for Your Laminate Kitchen Countertops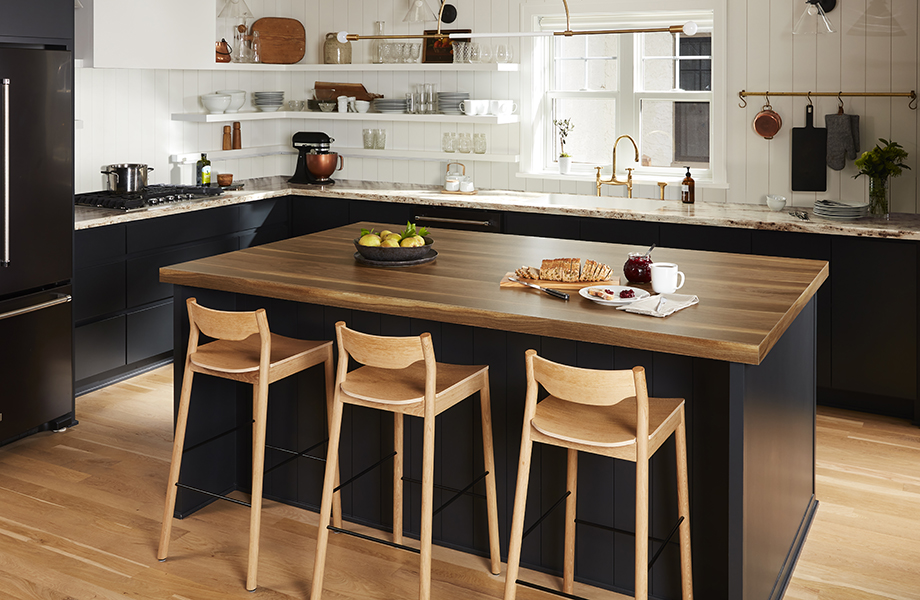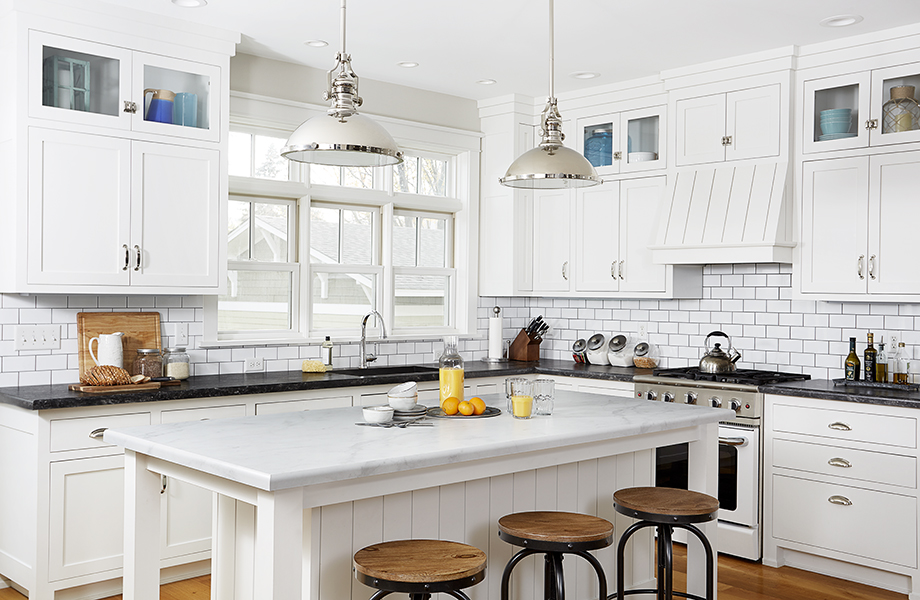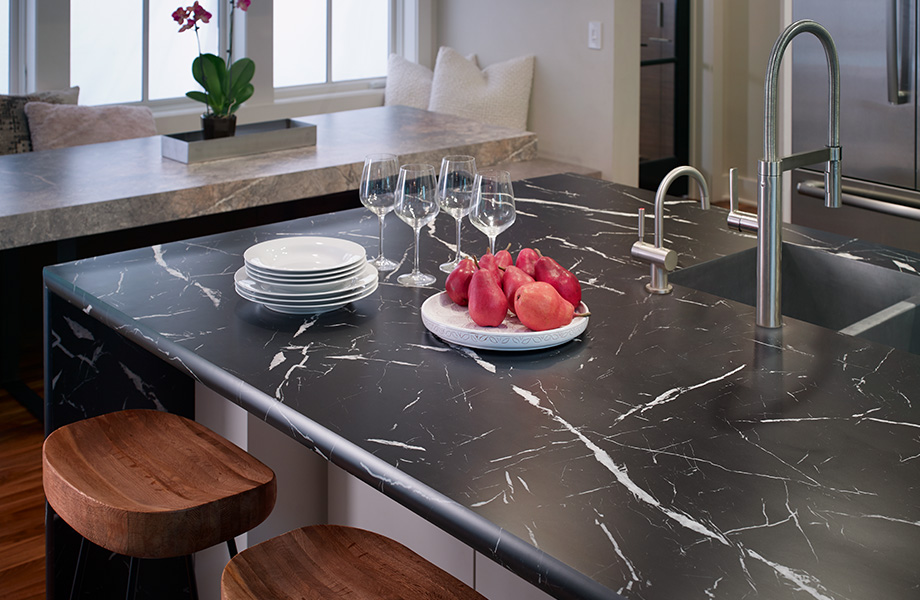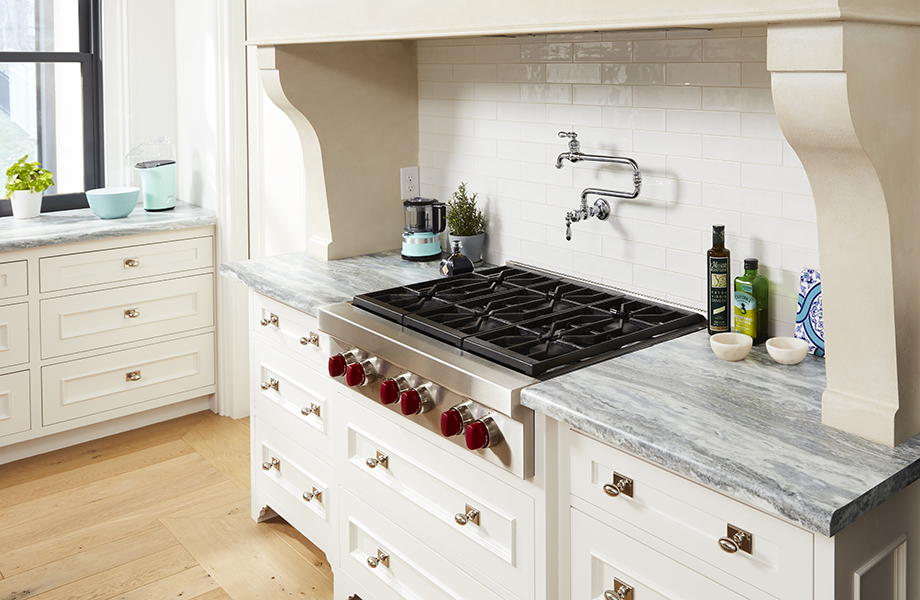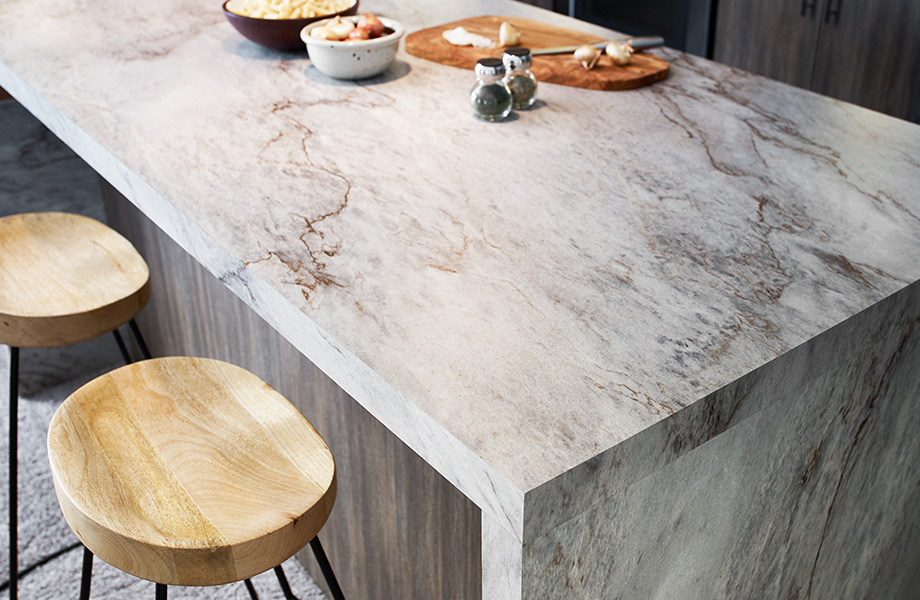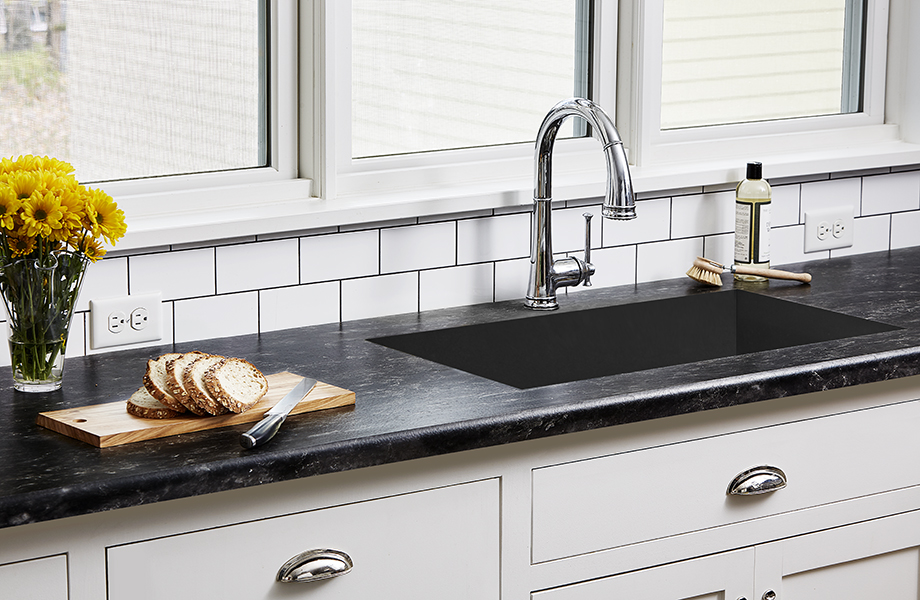 Inspiration for Your Laminate Bathroom Countertops