Adjustable Desks Made from Everform® Solid Surface by Fynes Design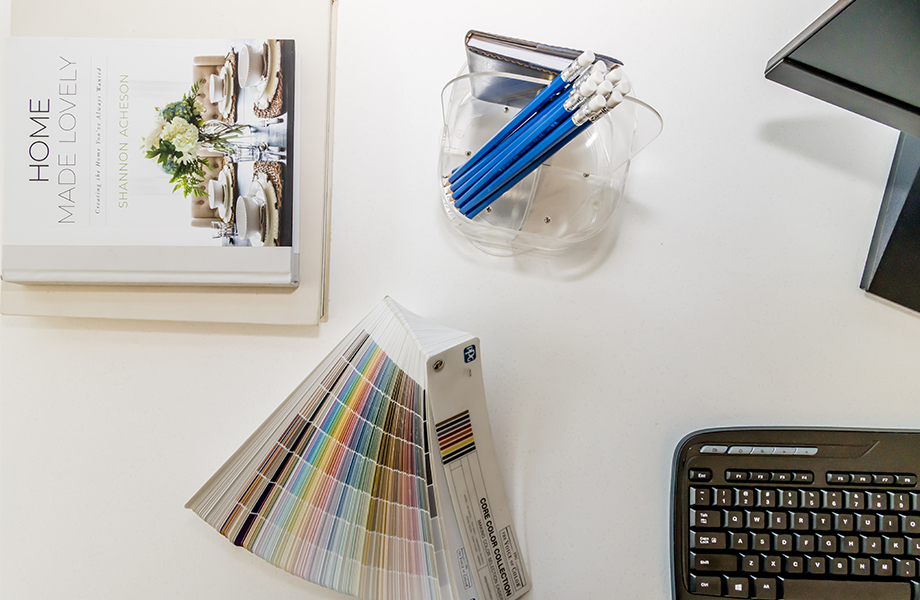 With teleworking now an integral part of many office workers' lives, many people are keen to create a practical, ergonomic, and inspiring workspace at home.

Such was the case for designer Virginia Fynes, who wanted a comfortable office space that would inspire her every day. Adding two adjustable desks was central to her project, as they would allow her to work comfortably sitting or standing, depending on her mood.

Virginia Fynes truly personalized her space by designing two adjustable desks using Everform® Solid Surface. She also tracked the entire process on her blog fynesdesigns.com to inspire her readers.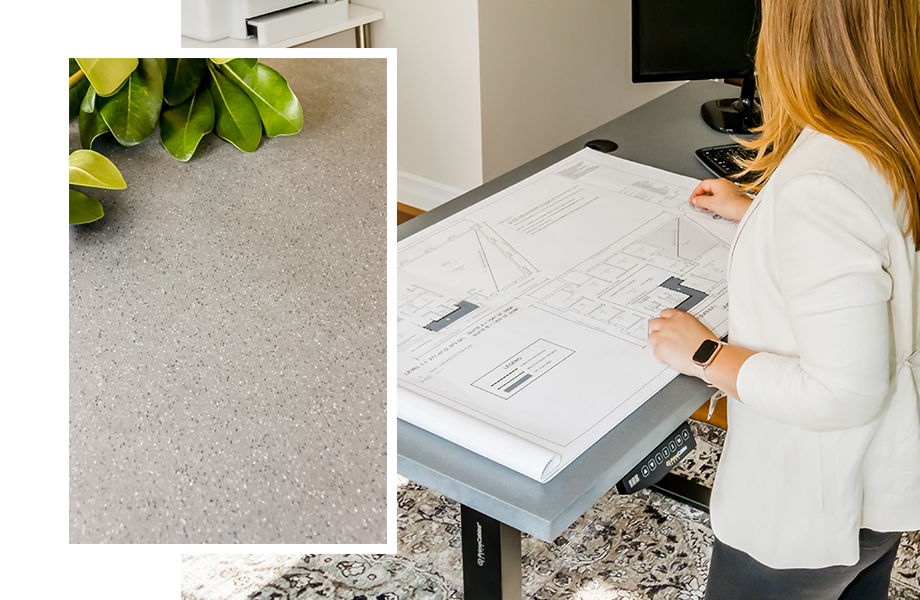 Create your own adjustable desk
Although most adjustable desks are purchased as a desk frame and a desktop, Virginia Fynes decided to buy a desk frame first to design a desktop to her taste since she found those available in stores unattractive.

The first step to creating your own adjustable desk involves choosing a desk frame. Adjustable desk frames can be manual or electric and offer multiple options, such as height presets for quicker transitions from one position to another.

Once you've purchased a desk frame, Fynes suggests choosing the ideal material for the desktop. Her choice was Everform® Solid Surface. "If you want a desktop that performs like a workhorse Solid Surface is your go-to material. A durable, non-porous surface that is appropriate for every setting, Solid Surface is sure to give your desk the high-end look you're after", she says. Available in a variety of patterns and colours, Solid Surface allows you to create a custom desk that will match the ambiance of your workspace. Virginia Fynes chose the Luna Storm and Bleached Concrete patterns for her two desks.

On her blog, she also suggests other materials for creating your own desktop, including Formica® brand laminate, which is available in a wide variety of colours, designs, and textures and is wear-resistant, impact-resistant, and affordable.

The third step is to determine the desired width of the desk to meet your needs best. Then, once the table has been designed, following the manufacturer's instructions according to the chosen surface, simply screw the base of the desktop to the desk frame to create your custom desk. The project's difficulty level will vary depending on the type of surface chosen for the table. Some materials need to be worked by professionals, as is the case with Everform® Solid Surface.