Important Notice: Formica® VR Showroom is Live!
Qingpu Showroom—China's first Formica® Design Application Center—was established in January 2020, attracting visits from renowned brands and new and old friends alike. Shortly after, Formica® online VR showroom went live in April 2020. With an immersive 360° panoramic display, intuitive finger-based movements allow users to immerse themselves into the space created to experience the many possibilities of design and material combinations and Formica® products in various applications and solutions.
Panoramic Display
The Design Application Center, synchronized both on and offline, covers an area of 460M² and is divided into three areas, namely: Asian Design Center, Application R&D Center and Product Experience Center. Panoramic VR dynamically displays HD panoramas in the aspects of design inspiration, product development and experience.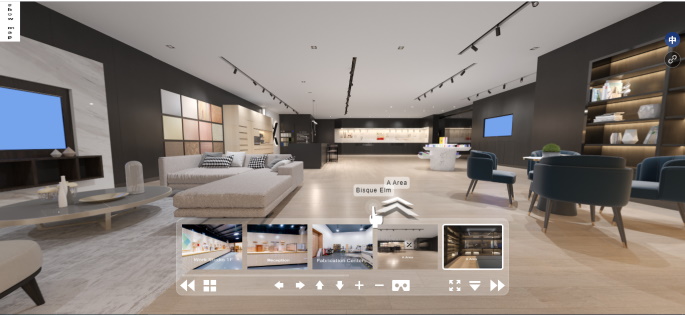 Instantaneous Access
Through VR, users can intuitively experience Formica® applications in different scenes and sections. Users can use finger or mouse movements to navigate the area, alongside using navigation bar, to control movement and scenes as they explore each area. At the same time, users can also interact with Formica® products by clicking to find specific décor code and information.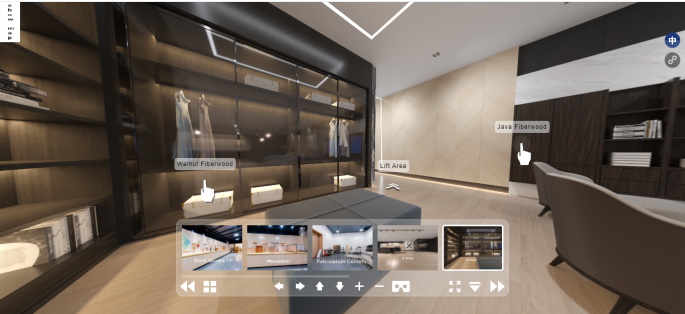 Application R&D Center: The Application R&D Center's workshop primarily facilitates new product application testing, material processing, and installation demonstrations. Formica® is committed to sustainability throughout, including in the securing and offering of raw materials, products and services.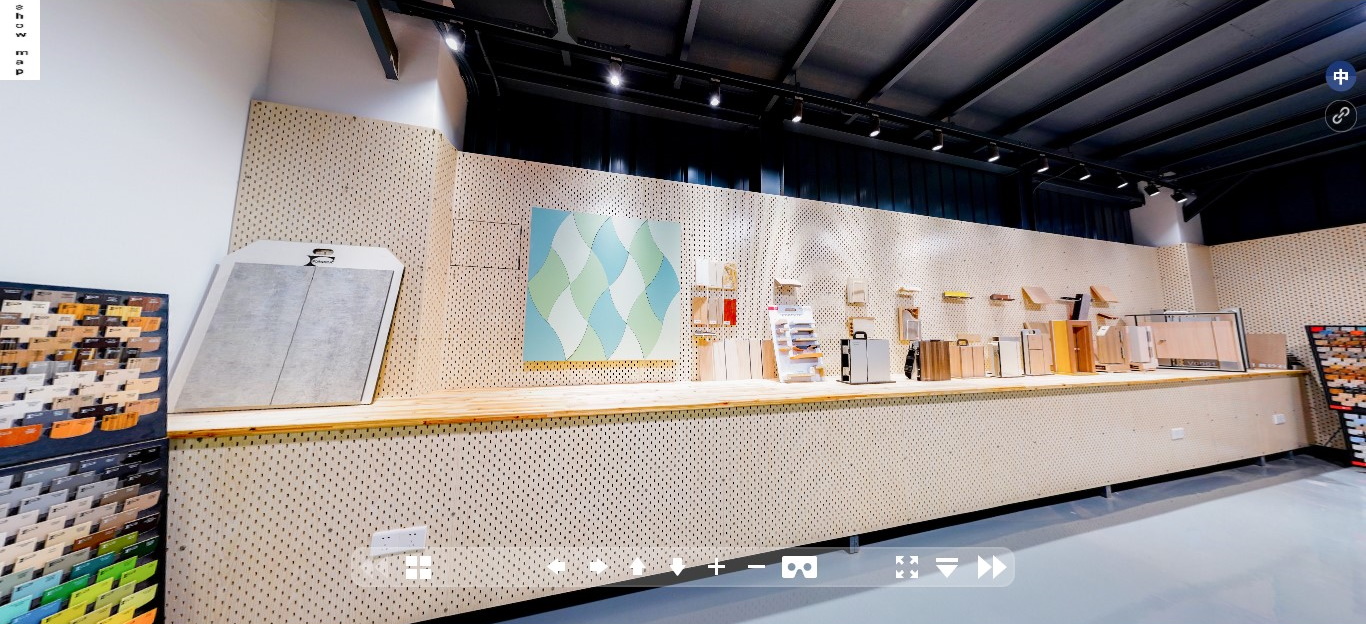 Product Experience Center: The Formica® Product Experience Center focuses on experiencing the products through displaying their applications. Formica® has a wide range of application, with a variety of laminate, including colors, patterns, natural stone, wood grains and various other textures, to create dynamic and unique visual applications.
Classic and Intuitive Interpretation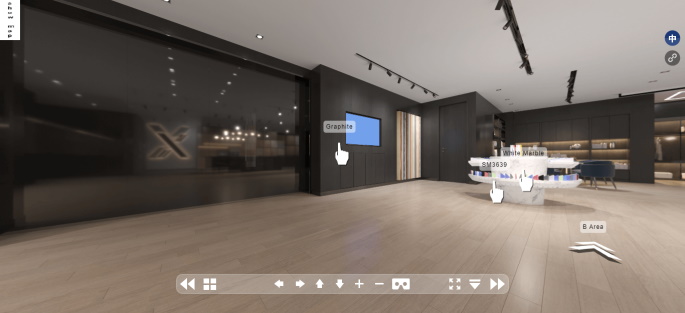 The panoramic VR showroom has a wonderful display with Formica® ranges:
Formica® HPL: Including Formica® Solid Color, Formica® Wood Grains, Formica® 180fx®, DecoMetal® and Protec+®;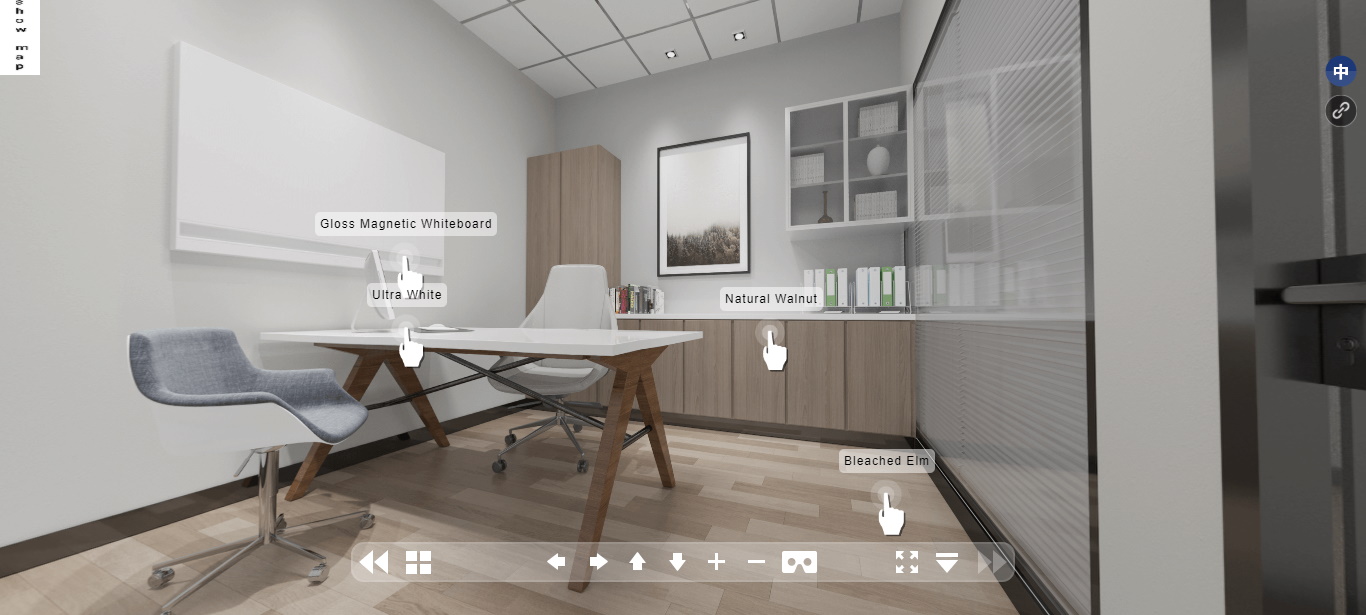 Formica® Compact® Grade Laminate: Including VIVIX® Horiz and Formica® CHguard®;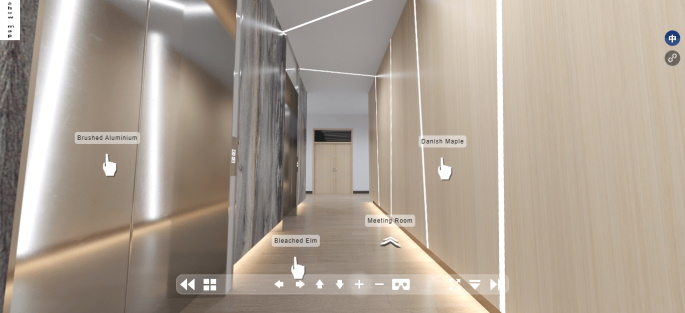 Complementary Ranges: Including Formica® Solid Surfacing - Surell®, Formica® FRguard®+, and Formica® Interior Doors.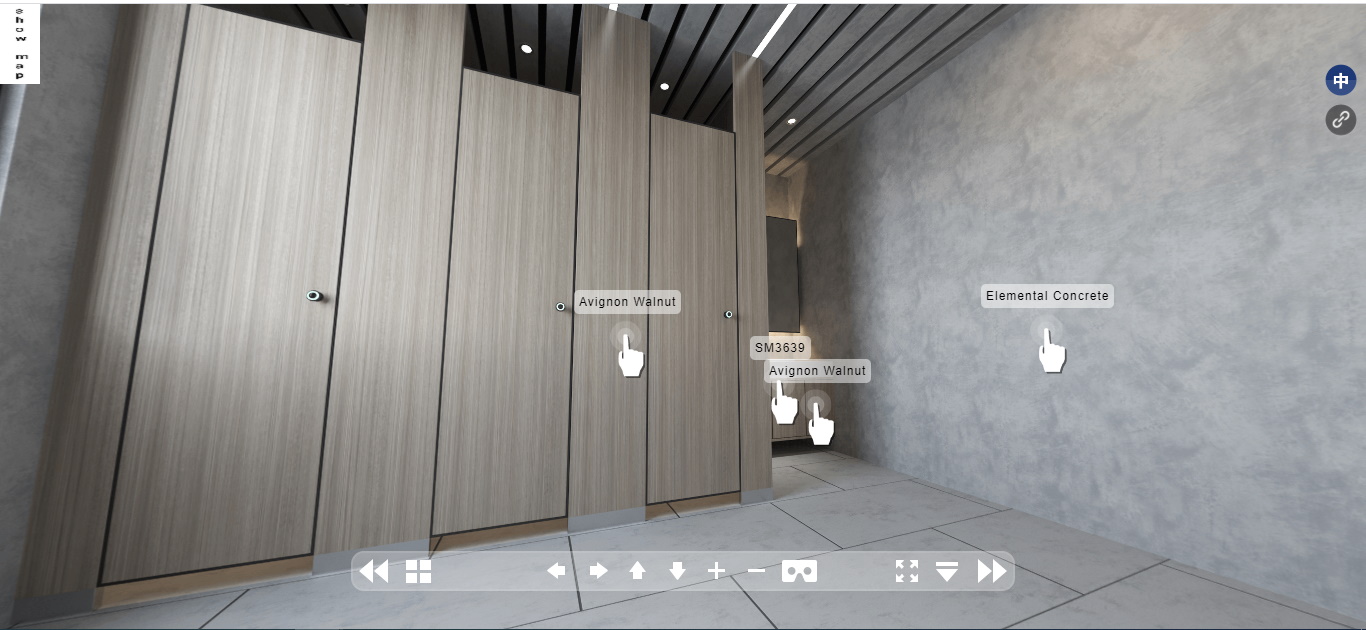 As an innovative visual display technology, Formica's panoramic VR promotes strong interactivity and immersion, hence facilitating connectivity between products and customers. VR is supported not only on mobile devices, but also on desktops and laptops. The showroom display represents Formica's deep understanding of the market, and of its products' applications. Whether our customers' needs are sustainability, durability, beauty or individuality, our products can enrich the imagination of designers and customers alike.
In 2020, Formica® will continue to bring more inspiration and design ideas for the community.
Pls kindly scan the following QR code or https://app.formica-digital.com/vr/ to access.