2021 Incanto
A high-pressure laminate collection that will wonderfully suit your interiors with a touch of true Italian style
As if by magic, this collection ideally takes you to Italy to explore the natural wonders that shape Italian landmarks in an awesome variety of elements, phenomena, and sceneries.
From the northern alpine borders with their magic woods and stunning rock formations, all along its sandy or cliffy coastlines, down to the black lunar landscapes with smoking volcanic vents, Italy seems forged by capricious ancient gods.
These are the true primordial masterpieces that have inspired the Incanto collection and will shape your next surfaces.
Italy is a natural wonder in itself.
This collection is here to celebrate this incanto.
"No form of nature is inferior to art. For the arts merely imitate natural forms."
- Marcus Aurelius, Meditations (c. 170-180)
The story behind the name
The Italian word "incanto" can be translated into spell, charm, enchantment. All these meanings recall the effect of being fascinated or enchanted.
Like the décors of this collection.
An incanto.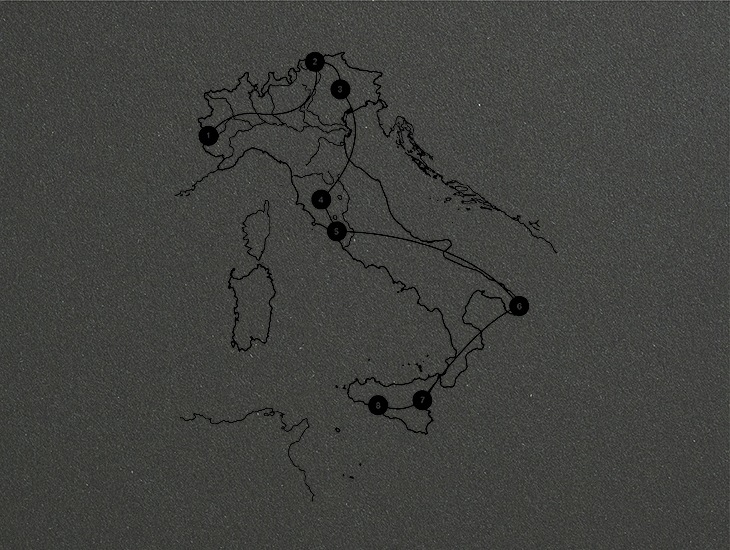 The story behind the concept
As arts have been imitating nature since the dawn of times, the Incanto collection gets its inspiration from the surrounding natural beauty and landscape that have been nurturing and shaping men's ability to transform the natural elements into expressions of art. An alternative "Grand Tour" through the Italian natural masterpieces.
Designed and Made in Italy
The Incanto collection is a selection of 25 décors combined with distinctive textures in three different families – the woods, the stones, the patterns.
Each décor is the result of a precise stylistic choice and has been inspired by the natural surroundings, by the most contemporary trends, and by an innate taste for design and art so peculiar to the Italian culture and way of living.
Inspired by nature. Inspired by beauty.
Now, let Incanto inspire your design projects.