Which Formica® Brand patterns go best with gray cabinets?
So you've heard? Gray is the new beige. Finding the right counter to pair with your gray cabinets can be complex. Formica® Brand has some great options for everyone.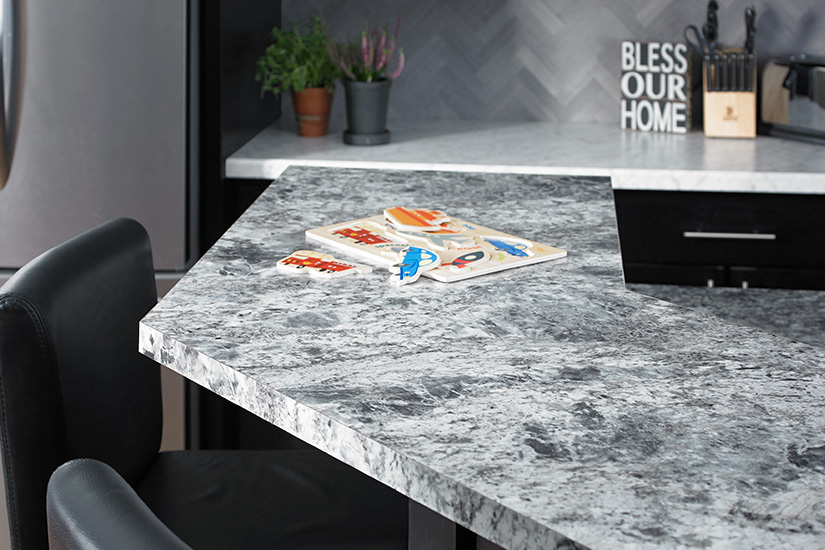 Trendy Traditional
While you've embraced a new modern color palette with gray cabinets the classic crown molding raised panel doors and beading remain your utmost favorite details. Pair that with IdealEdge® by Formica Group and an array of laminate choices and your kitchen will be as elegant as you are.
Warm Hearts
Your 1980s oak cabinets have been updated with a fresh coat of gray paint. The inner craftsman in you wants to liven up the kitchen and incorporate wood tones like Petrified Wood, Black Walnut Timber, and Silver Riftwood that already match the existing trim in your home.
Metropolitan Life
Whether it be industrial or super chic, the vitality you can achieve with this palette is confident and stunning. Your lustrous gray cabinets will fit the color palette below perfectly.
Seamless Transition
You are looking for the space that can be lived in, but never seem used. Is there a counter color or style that hides everything? Whether throwing an impromptu party, or getting ready for a house-showing, your kitchen is always flawless with these patterns and minimal cleaning.