Eight Applications for Formica Infiniti® ColorCore®2 Laminate
See why Formica Infiniti® ColorCore®2 Laminate was a Best of NeoCon Gold Award winner in the 2018 Surface Materials and Finishes category. Not only is this innovative product a visual show stopper, but its fingerprint-resistant super matte finish also offers thermal healing capabilities and antimicrobial surface protection—not to mention color that goes all the way through!

1. Retail countertops
Combine beauty and durability in high-traffic areas where surfaces need to stand the test of time despite countless customer interactions.
2. Healthcare countertops
Formica Infiniti® ColorCore®2 Laminate features antimicrobial surface protection that fends off germs and mold—and stands up to frequent cleanings.
3. Shelving or wall-mounted night stands
Add the unique appeal of floating shelves without brown edge seams to give hospitality guests multiple surfaces for storing their items.
4. Desktops
Create visually stunning, sculpted furniture in corporate settings with a clean, high-end look that's easy to maintain.
5. Reception desks
Welcome visitors and guests with countertop areas that feature the soft-to-the-touch super matte texture of Formica Infiniti® ColorCore®2 Laminate.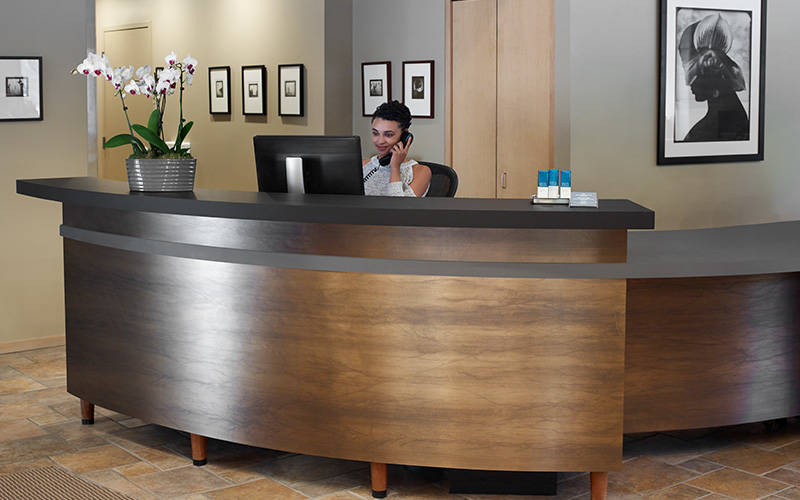 6. Wall accents
Add color and subtle texture to walls that need to stand up to frequent cleaning while providing an interesting design element.
7. Staircase accents
Make a statement on staircase interiors to brighten walkways and intrigue visitors in a variety of commercial settings.
8. Cabinetry
Unlock your creativity and apply Formica Infiniti® ColorCore®2 Laminate to cabinets in a variety of settings such as restaurants, bars, break areas, education, and other environments.